Chambers confident ahead of Klitschko clash

By Dan Rafael
ESPN.com
Archive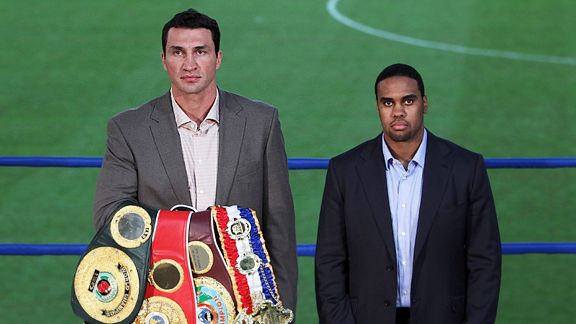 Lars Baron/Getty ImagesField of dreams: Eddie Chambers, right, feels he has what it takes to dethrone Wladimir Klitschko.
Underdog or not, Eddie Chambers exudes confidence.
"This is a tremendous opportunity. I am so excited about it, and I can't wait to get into the ring on Saturday and shock the world," Chambers said this week from Germany.
The 27-year-old Philadelphia fighter was referring to what many view as an uphill battle when he challenges heavyweight champion Wladimir Klitschko at Esprit Arena in Dusseldorf, Germany, where a crowd of more than 50,000 is expected.
Virtually every one of them will be hoping to see another dominant performance from Klitschko, who is making his eighth defense and returning from a nine-month layoff following his domination of Ruslan Chagaev last summer and subsequent shoulder surgery that kept him on the shelf.
Chambers (35-1, 18 KOs), however, says he's in it to win it.
"I want people to see I am one of the better fighters in the world," Chambers said. "I'm excited to fight one of the best fighters of my time and to prove that I'm also one of the best. This is the culmination of all the hard work, and I just can't wait to get it done."
Whatever happens, it will take place without American television coverage, a shocker considering this is a heavyweight championship fight involving a legitimate American challenger. The fight is available in the U.S. only on a pay basis on Klitschko's Web site.
Dan Goossen, Chambers' promoter, said he wasn't upset there will be no television. He's just anxious for Chambers to get his opportunity.
"Eddie is on a mission to show the world he's capable of becoming the next great heavyweight champion," he said. "I can understand the reticence of the networks. Because of [how Klitschko fights], the networks have waned on their interest in Klitschko."
Said Chambers, "I use [no U.S. TV] as more motivation. I agree maybe they're a little tired of watching Klitschko and most people don't think I have a chance and that I don't look like I'm a real threat. I think they're making a huge mistake because this will be one of the best fights of the year. I am going to go in there and give it my all. He'll give it his all."
Chambers has paid his dues and earned his opportunity, regardless of the American networks' distaste for the fight. He's faced good opposition to emerge as a serious contender.
His most notable victories came in his past two fights, decisions against former titleholder Samuel Peter last March and Alexander Dimitrenko on July 4 in Germany, a win that secured him the mandatory shot against Klitschko (53-3, 47 KOs).
Although Chambers will be at a disadvantage in height (6-foot-1 to 6-6) and weight (approximately 210 pounds to 240), he said he isn't concerned. He has speed and plans to use it.
"Most people go in with Wladimir and think they have to adjust their style to coincide with his," Chambers said. "You have to find a way to implement your style. I have good speed. I'm a boxer by nature. I have to find a way to implement that. I plan to. I was able to do it with Dimitrenko."
Indeed, Dimitrenko, while not nearly as good as Klitschko, is almost a physical carbon copy.
Yet Chambers easily outboxed the favorite. He also pounded him to the body, hurt him with both hands and scored two knockdowns.
It's that experience -- fighting on the road against a much bigger man -- that Chambers hopes will pay dividends against Klitschko.
"It was like, 'How lucky are we?' Most people thought, 'Why would you fight this guy?' This is the best opponent we could possibly fight to get prepared for the best heavyweight in the world," Chambers said. "His style and a lot of things he did gave me the confidence that I could go in there and fight with any of the best fighters in the world."
"Eddie has grown tremendously in the last year, and it finally came to fruition in the Dimitrenko fight," said Goossen, who already has seen two of his heavyweights, Tony Thompson and Cris Arreola, get stopped in title fights against the Klitschko brothers -- Arreola by Vitali in September and Thompson by Wladimir in 2008. "He put it all together from an offensive end to with his talent defensively. That is why I believe we will shock the world, but it won't be a shock to us."
Klitschko has a different take.
"I am 33 years old and at the top of my athletic ability," he said. "I have never been so strong, fast and experienced. Eddie is a very talented fighter and has a very difficult style, but I am well prepared to defend my titles. My belts will stay in the Klitschko family."
Besides confidence, Chambers also is now a seasoned pro when it comes to fighting in Germany. This will be his third fight there. He beat Dimitrenko on trip No. 2 but lost an eliminator there to 2004 Olympic gold medalist Alexander Povetkin (the mandatory challenger for the winner of Saturday's fight) in 2008.
Even though Chambers lost in a competitive fight, it turned out to be an important lesson.
"The first time I went [to Germany], I wasn't prepared as mentally as I should have been," he said. "I didn't relax. I was a little on edge. It was my first big fight. It was just something in my mind; I was still kind a kid and not mentally as ready for it. I didn't have as much time to train and I was too uptight. I was just sitting in my room and worrying."
Chambers was much more comfortable when he went there and beat Dimitrenko.
"When I went the second time, I was more relaxed, laughing, enjoying myself and having a good time," he said. "I learned that throughout all the hoopla and pressure, you have to find a way to enjoy it. You have to find that happy medium where you know how serious and how big of a deal it is but also enjoy it. This is something that should be enjoyed. This is the big time, so you should be enjoying it."
"We have mapped out a game plan that will be the plan people will use and see how to beat bigger opponents," said Rob Murray Sr., Chambers' trainer and manager. "We feel very confident. We put the negativity behind us from our first trip here, and we will be up for the challenge and bring back the heavyweight championship of the world to the United States.
"Our plan is to win, and we will win handily. We will win without a doubt. There will be no doubt in anyone's mind."
Donaire-Darchinyan rematch?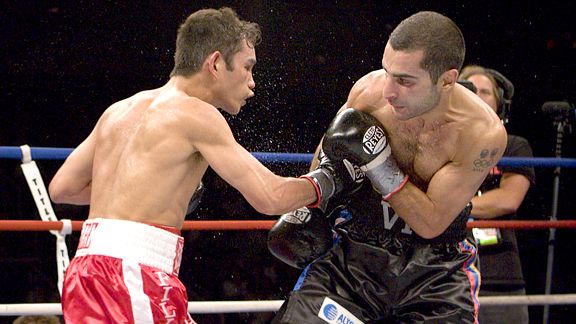 Courtesy Marty Rosengarten for Ringsidephotos.com Let's make a deal: Promoter Gary Shaw is willing to see Nonito Donaire, left, and Vic Darchinyan duel again.
The rivalry between junior bantamweight champ Vic Darchinyan and interim titlist Nonito Donaire is perhaps the most compelling in the smaller weight divisions. Ever since Donaire knocked Darchinyan out in the fifth round of a 2007 upset to win a flyweight title, there has been demand for a rematch between these two fighters with power and personality.
But when Donaire dumped promoter Gary Shaw, who also promotes Darchinyan, to sign with Top Rank, Shaw swore there would never be a rematch.
Donaire (23-1, 15 KOs) went about his business and is 5-0 since beating Darchinyan, including a move up in weight to claim an interim belt. Darchinyan (34-2-1, 27 KOs) has remained a regular on Showtime despite the loss and is 6-1-1 since then, including unifying three junior bantamweight belts but also losing to Joseph Agbeko in a bantamweight title shot. And Shaw has softened his stance; with no significant fights on the horizon for either man, Shaw and Top Rank's Bob Arum began talking seriously about a rematch this week, both told ESPN.com. It would take place in August on Showtime.
"I think we've made it, practically," Arum said. "Gary, for all his bluster, is not a hard guy to finalize a deal with. When you sit and talk to him, you can make a deal."
Said Shaw, "Hope we have enough money to make the fight. Not sure what each fighter thinks the fight is worth. My thoughts are, I make whatever fight Vic wants, and he wants revenge against Nonito."
Ahead of the rematch, Arum and Donaire manager Cameron Dunkin said he'll probably fight May 15 on "Top Rank Live" to prepare.
Unhappy Green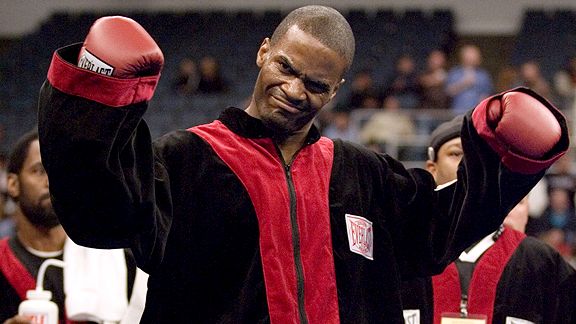 Ed Mulholland/Fightwireimages.comGreen with anger: Allan Green isn't buying into Andre Ward's excuses.
Super middleweight Allan Green, the alternate who replaced Jermain Taylor in the Super Six tournament, was upset when titleholder Andre Ward postponed their April 24 bout this week.
Ward, who has a bum right knee, is expected to return in six weeks. Green said he believes Ward is afraid to face him.
"I honestly don't think he will ever get in the ring with me," Green said. "I don't think this is a fight Andre Ward and his people ever wanted. If I had it my way, he'd take a cortisone shot and fight. I seriously doubt he's ever going to fight me. I hope [the injury is] valid, because there's been a lot put into this from everybody involved and there's no time to play games. If he were fighting Jermain Taylor or Sakio Bika, I'm sure he'd be good to go. I'm a fighter. I fight through bumps, bruises and injuries.
"I fought Tarvis Simms with a bad right shoulder. If your knee keeps getting hurt, it could be something chronic and you're probably not going to be ready in six weeks. If your knee is swollen, just take a cortisone shot, stop bitching and get your ass in the ring."
Showtime still will air the other half of the April 24 Super Six doubleheader on same-day tape, England's Carl Froch defending his 168-pound belt on Mikkel Kessler's turf in Denmark.
Dan Rafael covers boxing for ESPN.com.
QUICK HITS

Williams
• Paul Williams, a former two-time welterweight titleholder and interim junior middleweight titlist, says he can fight at welterweight, junior middleweight or middleweight. In his last fight, he took a majority decision against Sergio Martinez in a middleweight slugfest. So what weight will his next fight be at? Promoter Dan Goossen said it will be a junior middleweight bout against Kermit Cintron, a former welterweight titlist who has been fighting at 154 pounds. "It's done for all intents and purposes," Goossen told ESPN.com. The May 8 HBO fight could take place at the Home Depot Center in Carson, Calif.

Margarito
• Top Rank is planning "Latin Fury 14," a May 8 pay-per-view card in Aguascalientes, Mexico. The card isn't finalized, but Top Rank's Bob Arum told ESPN.com that former welterweight titlist Antonio Margarito, out since his January 2009 knockout loss to Shane Mosley and subsequent license revocation for trying to fight with loaded hand wraps, will make his return on the card. Arum said he's not concerned that Margarito, who wasn't licensed to fight in Texas last week on the Manny Pacquiao-Joshua Clottey undercard, might jeopardize his chances of being licensed in the U.S. if he fights in Mexico without having regained an American license first. "We have no concerns, because he's already served his year," Arum said. Margarito has split from disgraced trainer Javier Capetillo, who placed the illegal pads in Margarito's wraps, and is now training with Robert Garcia. Other bouts Arum said are being discussed for the show: interim junior lightweight titlist Jorge Solis of Mexico against Puerto Rico's Mario Santiago, who would move up from featherweight; rising contender Brandon Rios against Urbano Antillon, who is one fight removed from a knockout loss in a title bout, in a lightweight crossroads fight; and an appearance by flyweight prospect Alonso Lopez (3-0, 2 KOs), son of Hall of Famer Ricardo Lopez.

Dzinziruk
• Last month, promoters Gary Shaw and Artie Pelullo signed junior middleweight titleholder Sergei Dzinziruk of Ukraine to a co-promotional deal after he split with German promoter Universum. Dzinziruk wanted to fight in the United States, and now he'll have his chance. Dzinziruk (36-0, 22 KOs) defends against untested Sherzod Husanov (14-0-1, 7 KOs) of Uzbekistan on May 14 on Showtime's "ShoBox" at the Chumash resort in Santa Ynez, Calif., Shaw told ESPN.com. Dzinziruk, 34, has defended his title five times but hasn't fought since outpointing Joel "Love Child" Julio in November 2008 because of problems with Universum. Shaw said the fight is designed for Dzinziruk to ease back into action and introduce himself to the American audience. "Honestly, I don't expect to see a lot from him because he's got to have a lot of ring rust," Shaw said. "But we brought him over to the U.S. to train and spar. People I respect in boxing tell me he's the best 154-pounder in the world, and they know [titleholder] Sergio Martinez. Whether Sergei will show that spark May 14, I don't know. But should he win, as I expect him to, then it's only big fights after that."

Bradley
• Junior welterweight titlist Timothy Bradley (25-0, 11 KOs), who makes his HBO debut in a nontitle welterweight bout against Luis Carlos Abregu (29-0, 23 KOs), will fight June 19 instead of June 26, promoter Shaw told ESPN.com. Shaw requested that HBO make the change because the Agua Caliente resort in Rancho Mirage, Calif., Bradley's home area, where he wants to put the card on, isn't available June 26 but is June 19.

Calderon
• Although Miguel Cotto, the Puerto Rican star who typically fights on the eve of the annual National Puerto Rican Day Parade in New York, is instead fighting the previous week this year when he challenges Yuri Foreman at Yankee Stadium on June 5 (HBO), Top Rank is still planning a Puerto Rican-themed card for June 12. Arum said the card would take place at the Madison Square Garden Theater and be televised on his Fox Sports en Espanol series "Top Rank Live." Top Rank hopes to have junior flyweight champ Ivan "Iron Boy" Calderon, who has a mandatory defense due against interim titlist Johnriel Casimero of the Philippines, headline. "It's going to be a really good card with Puerto Rican stars," Arum said. "[Top Rank president] Todd [duBoef] has been talking to [Calderon promoter] Peter Rivera about doing a Calderon fight. It's an opportunity to give all the Puerto Ricans in town some good fights. I'm happy to break even and give an upgrade to our Fox show."

Guerrero
• Hot middleweight prospect Fernando Guerrero (17-0, 14 KOs), who has a significant following in his hometown of Salisbury, Md., will headline there April 16 at the Wicomico Youth & Civic Center on "ShoBox" against Michael Walker (19-3-2, 12 KOs), Prize Fight promoter Russ Young told ESPN.com. It will be Guerrero's first bout since December, when he injured his hand knocking out Jessie Nicklow, which forced him to miss a February appearance on ESPN2. Junior middleweight prospect Shawn Porter (13-0, 10 KOs) is slated for the co-feature.

Andrade
• Super middleweight contender Librado Andrade (28-3, 21 KOs), stopped in the fourth round by titlist Lucian Bute in their November rematch in Quebec City, is returning to the Colisee Pepsi to face another Canadian star, former titlist Eric Lucas. They'll meet May 28 in a 10-rounder at 170 pounds. Lucas (39-7-3, 15 KOs) came out of a four-year retirement in December to knock out Ramon Moyano. The fight will be Andrade's fourth fight in Quebec, which he considers a second home. "I am certain many will tell me I set the bar too high and that the challenge is too big, but this is exactly the type of fight I was looking for when I made my return to the ring," Lucas said. "I felt the electric atmosphere of the Pepsi Colisee last Nov. 28 when Lucian won, and Quebec City really touched me. Now I want to experience that euphoria for myself in that city."

Bika
• Canadian promoter InterBox won a purse bid this week for the right to promote the super middleweight title eliminator between Jesse Brinkley and Sakio Bika, both alumni of "The Contender." InterBox's winning bid of $134,616 topped bids by Joe DeGuardia's Star Boxing ($111,000) and Golden Boy ($102,000). The winner of the fight, which is due to take place within 90 days, becomes the mandatory challenger for the winner of the April 17 bout between titleholder Lucian Bute and Edison Miranda.

Estrada
• Several new fights have been added to the "Friday Night Fights" (ESPN2) schedule, including heavyweights Tony Thompson and Jason Estrada squaring off in Memphis on April 16; heavyweight prospects Seth Mitchell and Ashanti Jordan meeting May 7 in El Paso, Texas; Julio Diaz facing Herman Ngoudjo in a May 14 junior welterweight contest in Rancho Mirage, Calif.; and a May 21 card in Laredo, Texas, featuring lightweight Ji-Hoon Kim against Ameth Diaz and junior welterweight Ruslan Provodnikov against Frankie Figueroa.

Ward
• The target date to reschedule the Super Six bout between super middleweight titlist Andre Ward, whose bum knee forced postponement of the April 24 fight, and Allan Green is June 19. … Top Rank's Arum said featherweight titlist Juan Manuel Lopez's first defense, likely against Bernabe Concepcion, will take place July 10 in Puerto Rico and be televised on Showtime. … Ex-heavyweight titlist Ruslan Chagaev (25-1-1, 17 KOs) meets Australia's Kali Meehan (35-3, 29 KOs) in an eliminator May 22 in Rostock, Germany. The winner becomes mandatory for the winner of the April 3 bout between titlist David Haye and former titleholder John Ruiz. … Square Ring announced it signed two-time heavyweight title challenger Fres Oquendo (32-5, 31 KOs) and that his first fight with Roy Jones' company is May 6 against ex-cruiserweight champ Jean Marc Mormeck (34-4, 22 KOs) in Paris. The bout will be Mormeck's second since moving up to heavyweight after losing the cruiserweight title to Haye in 2007. … Puerto Rico's Wilfredo Vazquez Jr. (18-0-1, 15 KOs), son of the former three-division titlist with the same name, makes his first junior featherweight title defense (a mandatory) against Germany's Zsolt Bedak (15-0, 5 KOs) May 29 (Integrated Sports PPV) in Bayamon, Puerto Rico, promoter Tuto Zabala Jr. told ESPN.com.
QUOTABLE

Mosley
"I would like to congratulate Manny on his victory Saturday night even though I think it put most of the fans watching to sleep. Now it's time for the world to focus on May 1, when I promise you nobody will be sleeping except for Floyd after I knock him out and send him back into retirement. Maybe if Floyd comes back a second time, he and Manny will fight one day, but it will only be for the opportunity to fight me again, the man who beat both of them." -- welterweight champ Shane Mosley, taking his shots at Manny Pacquiao, who beat Joshua Clottey last week, and his upcoming opponent, Floyd Mayweather