Jacobs fighting for more than just a belt

By Dan Rafael
ESPN.com
Archive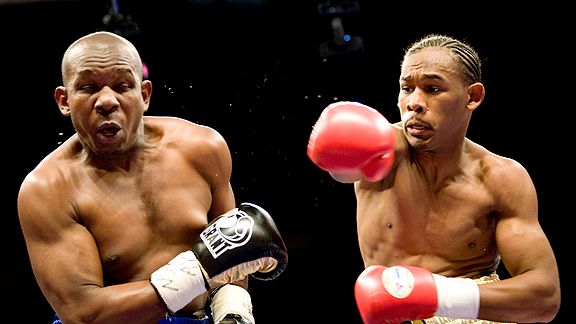 Chris Cozzone/Fightwireimages.com Turning heads: Daniel Jacobs' fighting style has the boxing world buzzing.
Daniel Jacobs, the 2009 ESPN.com prospect of the year, was an elite amateur but just missed making the 2008 U.S. Olympic team.
Making the Olympic squad was a dream for the 23-year-old New Yorker, who is one of the best prospects to come out of the Big Apple in years and hails from the same Brooklyn neighborhood that has produced many fighters, including former heavyweight champions Mike Tyson and Riddick Bowe.
After his amateur disappointment, Jacobs turned pro at the end of 2007 and now, three years later, he's set to face Russia's Dmitry Pirog at Las Vegas' Mandalay Bay on July 31 (HBO PPV, $49.95).
The fight with Pirog is of "big significance" to Jacobs, and not just because he's fighting for a vacant middleweight belt -- one of the belts that a sanctioning organization stripped from lineal champion Sergio Martinez. Jacobs (20-0, 17 KOs) also views the fight against Pirog (16-0, 13 KOs) as his personal Olympics.
"I didn't have a chance to make the 2008 Olympic team," Jacobs said. "When you think about the Olympics, you think about USA versus Russia. You don't think about anybody else other than the Russians. And Dmitry is probably the top, if not one of the top Russian fighters out there, and I'm probably the top middleweight American fighter. So to me, this is my Olympics and this is my gold medal that I never had an opportunity to win, as well as the [opportunity to win the] WBO belt.
"This is going to be a stellar fight because I know I'm hungry. I'm pretty sure he's hungry. He's training hard, and two undefeated fighters who are young and in their prime, it just makes for a great fight. I'm excited and ready to put my skills against his and see the outcome."
In the main event, lightweight champ Juan Manuel Marquez defends against former titlist Juan Diaz in a rematch of the 2009 fight of the year Marquez won via ninth-round knockout. The loaded undercard also features former two-division titleholders Robert Guerrero and Joel Casamayor in a junior welterweight bout and former two-division titlist Jorge Linares against Rocky Juarez in a lightweight fight.
Jacobs' ascension has been fast. He fought 12 times in 2008 and five more times in 2009 before a hand injury in an August win against Ishe Smith put him on the shelf for the rest of the year. Jacobs returned in March and has scored early knockouts in his two fights heading into the title bout. The title shot has arrived quicker than he expected.
"When you think of somebody turning pro, you think about that long road that they have to go to get to that championship level," Jacobs said. "With the team I have behind me, [manager] Al Haymon and Golden Boy, pushing me and getting me the right fights and moving me up the ladder accordingly, I think everything has been going great, and I'm happy and I'm grateful, and I just have to dominate and take advantage of the opportunity."
Jacobs been watching videos of Pirog, whose most notable victory was a 2009 decision against Kofi Jantuah.
"Not only do I watch tapes of Dmitry and watch the YouTube clips, but I dream about this guy," Jacobs said. "I go to sleep thinking about this guy. This guy is all I think about, and this victory is all I think about. So the analysis that I get of seeing him fight is that he's a very crafty fighter.
"He's not the average European fighter. He takes little bits and pieces of American fighters and he added to his arsenal, which is amazing. His hand speed is average, but his footwork is pretty good. His head movement is average, but he's a great fighter and he throws tons of punches. I can't give you my game plan, because then I'd have to kill you, but we have a game plan."
A pro since 2006, Pirog is making his American debut at age 30.
"I have a lot of respect for my opponent, who is also a great fighter," Pirog said through translator Vadim Kornilov. "I really want to get to July 31 because I've fought in Europe and I feel, in America, the fans are a lot more like fans should be and they understand boxing a lot better. I'm going to enjoy the fight a lot more in America.
"I've been looking forward to a fight in America because I think the fans will always appreciate good boxing from both of the boxers participating. I'm hoping to have a good fight, have a good time, and make sure the fans enjoy it from both myself and Danny Jacobs."
A world title bout is a long way from where he started.
"The way I got into boxing is very interesting," Pirog said. "When I was really young, I was actually a chess player. But I wasn't getting enough activity, so I decided to join a sport. I went to a local gym. I was going there initially to play soccer, but I went into a boxing gym. I tried it and I really liked it, and it just stuck to me, and I was boxing from then on."
Martinez-Angulo?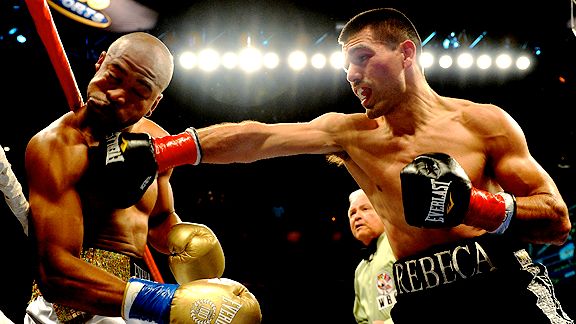 Naoki Fukuda Alfredo Angulo, right, is angling toward a fight with Sergio Martinez.
With Paul Williams balking at an Oct. 2 rematch with Sergio Martinez -- unless he gets more than 50 percent of the money -- Lou DiBella, Martinez's promoter, is looking at alternatives for the middleweight champion in case Williams doesn't come around.
One of the fights DiBella is looking at is against Alfredo "Perro" Angulo, the junior middleweight contender who looked spectacular last week knocking out ex-titlist Joachim Alcine in the first round. DiBella said he and Gary Shaw, Angulo's promoter, are talking about the fight, for which Martinez would drop to about 155 pounds to defend his title against Angulo.
"We believe that's a bigger attraction than any of the other fights that have been discussed for both of us," DiBella said. "Sergio bulked up [to middleweight] for the Kelly Pavlik fight and there are not a lot of fighters he would go down to 155 for, but Angulo is one of them."
HBO continues to press for Martinez-Williams II, but DiBella said he can't make Williams take the fight, nor does he think any less than 50-50 is fair. So even though HBO won't commit yet to Martinez-Angulo, DiBella said he'd shop it to Showtime if HBO passed.
"Gary and I aren't worried about finding a home for Martinez against Angulo," DiBella said. "HBO wants Martinez to fight Williams, but I'm not having any network tell me there is only one fight I can negotiate. Angulo wants to fight a big name. Sergio is one of the big names. Sergio enjoys watching Angulo fight and feels it can't help but be a good fight. Sergio would rather give a kid who's a warrior like Angulo a shot at him than somebody else."
Shaw and Angulo love the fight, but Shaw isn't getting too excited. He thinks HBO may still finalize Martinez-Williams II and won't move forward with serious talks with DiBella until the network tells him the fight is dead.
DiBella also told ESPN.com that he received a call from Golden Boy's Richard Schaefer asking if he was interested in matching Martinez with former undisputed junior middleweight champ Winky Wright in the fall.
"I don't think HBO would be interested in that fight, but right now I don't have a deal for Sergio for any fight, so I am not foreclosing any possibility," DiBella said. "I'll listen to anything right now."
Pavlik-Chavez fading fast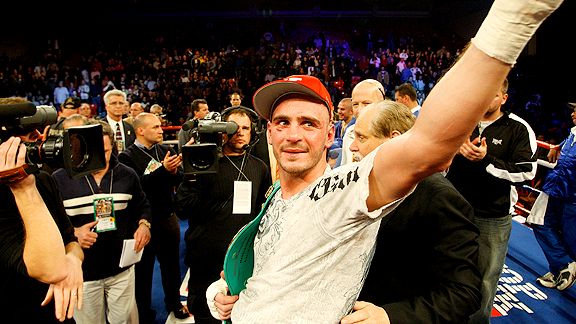 Jared Wickerham/Getty ImagesKelly Pavlik, above, is having trouble finding someone to climb into the ring with him.
Although Top Rank's Bob Arum announced with fanfare two weeks ago his intentions to match former middleweight champ Kelly Pavlik with Julio Cesar Chavez Jr., the fight has been moved to the back burner.
First, the date Arum had in mind for the fight at Cowboys Stadium, Dec. 4, had a conflict with a college football game. Then Chavez's inner circle had second thoughts about matching the still-relatively untested Chavez, a cash cow for co-promoters Top Rank and Fernando Beltran, with Pavlik.
"They're not going to do the fight," Cameron Dunkin, Pavlik's co-manager, told ESPN.com. "It won't take place until it's good for Chavez and I don't think that will ever happen. They're going to wait until they're 100 percent sure their guy wins the fight, and that won't ever happen. So Top Rank will dangle the Chavez carrot to Kelly and me for who knows how long, but they don't have anything for us."
Dunkin said Arum told him he could explore getting Pavlik a fight on his own.
"When Bob says that to you, that ought to tell you what they've got for us, which is nothing," Dunkin said.
There was a possible Oct. 15 fight for Pavlik on the InterBox-promoted undercard of Lucian Bute's super middleweight title defense against Jesse Brinkley in Montreal, but Dunkin said they declined because the $100,000 purse was a pittance compared to what Pavlik has been earning.
Top Rank's Carl Moretti said Pavlik-Chavez isn't dead, but that they wanted to look at Chavez in his Sept. 11 fight, which could come against Pawel Wolak, and "reassess things after that. Everyone thinks Chavez needs to another fight with [trainer] Freddie Roach so they can re-evaluate where he is before we talk about Pavlik."
Chavez and Roach have been together for one fight, a June 26 win against John Duddy.
QUICK HITS

Bradley
• Among the potential major fights at junior welterweight, a Timothy Bradley-Devon Alexander showdown is on top of HBO's wish list for Jan. 29. Gary Shaw, Bradley's promoter, said he's already far down the road in talks with HBO. Alexander, of course, needs to beat Andreas Kotelnik on HBO next week. Shaw said the deal would get done with the network making separate agreements with him for Bradley and with Alexander promoter Don King. "This is one of those deals where they'll pay Devon's side what they'll pay and pay our side what they'll pay and Don and I will split everything else. I'm not dealing with King on money. The easiest way to make this fights is for HBO to deal with each of us independently." Shaw added, however, that if he got a call from Golden Boy for Bradley to face Amir Khan or Marcos Maidana at the end of the year, he would consider an interim fight. "I would want to do the fight and still do the Devon fight in January," Shaw said, assuming a Bradley victory if there is an interim bout. "To me the beauty is that it's a throwback to the old days when guys fought often and they fought names often," Shaw said. "The fans are the real winners. If there is anything that would get Timmy the notoriety he wants, that's it. You beat Maidana or Khan in the fall and then you beat Alexander in January and I think you're right there for a Mayweather or Pacquiao kind of fight."

Khan
• HBO is holding Dec. 11 for Khan's next fight. The junior welterweight titlist will be in Las Vegas for the Juan Manuel Marquez-Juan Diaz rematch on July 31, and if Marquez wins, Golden Boy is hoping to match him and Khan, a fight both boxers are interested in. However, Khan is also interested in facing Bradley, who named Khan as an opponent he'd like to fight after he dispatched Luis Carlos Abregu in his HBO debut on Saturday. Khan answered Bradley right back, saying on his Twitter page, "I'll fight Tim Bradley. It's the first time he's called me out. I'm going to Vegas and I'll talk to Golden Boy. I would love the fight. Good style for me. I'm fighting Timothy Bradley next. I'm gonna tell Golden Boy. Let's see if they want it for real. Talk is cheap."

Calderon
• Junior flyweight titlist Giovani Segura's plans have changed. Instead of defending his belt against Manuel Vargas on "Top Rank Live" in his native Mexico on Aug. 7, Top Rank's Carl Moretti said the company made a deal for Segura, who lives in Southern California, to instead head to Puerto Rico for a unification fight against Ivan "Iron Boy" Calderon on Aug. 28 (Integrated Sports PPV, $39.95). The match, which will take place in Calderon's hometown of Guaynabo, is the ultimate contrast of styles and one of the most significant fights that could be made the small weight divisions. The 28-year-old Segura (24-1-1, 20 KOs), who will be making his fourth defense, is a brawler and puncher. Calderon (34-0-1, 6 KOs), 35, making his seventh defense, is one of the purest boxers of the past decade. News conferences are scheduled for next week in Los Angeles and Puerto Rico.

Barrera
• Although Top Rank plans to match lightweight titlist Humberto Soto against Marco Antonio Barrera late this year or early next year, both will have interim bouts in Mexico. Soto is slated to headline "Top Rank Live" (FS en Espanol) Sept. 4 against Urbano Antillon (28-1, 20 KOs), who has won two in a row since his upset ninth-round knockout loss to Miguel Acosta in an interim title bout in July '09. "How could it not be a good fight," Top Rank's Moretti said. "It's in Mexico with two Mexicans. It's a great fight for 'Top Rank Live.'" Barrera, meanwhile, is scheduled to face former titleholder David Diaz on Sept. 15 (Mexican Independence Day). Moretti said if Barrera wins he'd likely face the winner of Soto-Antillon for the title next.

Judah
• Former two-time junior welterweight titlist and former undisputed welterweight champion Zab Judah returned to the 140-pound division last week to crush Jose Armando Santa Cruz in the third round on "Friday Night Fights" in Newark, N.J., and Judah promoter Main Events is already working on his next fight for Oct. 2, which would also be at the Prudential Center. The card will go forward whether Main Events has a television deal or not, Main Events' Kathy Duva said. She told ESPN.com that she spoke with HBO this week to let the network know that Judah would be willing to fight anyone at 140 that HBO wanted him to. HBO is heavily involved in the division. The response, Duva said was that HBO "would prefer to wait and see what the future holds."

Jones
• Welterweight prospect Mike Jones, who impressively knocked out Irving Garcia in five rounds on "ShoBox" on July 9, could return in September to face Lanardo Tyner, according to promoter Russell Peltz. Tyner scored an upset knockout of Antwone Smith on the undercard, ruining a much-discussed match between Jones and Smith. Now, Tyner may get the fight Jones instead. Peltz said there is also a possibility that Jones could also return Oct. 2 on the undercard of Judah's next fight. However, Main Events' Duva said that in order afford to have Jones on the card, she needs a network to put up money for the show. If he isn't on that card, Jones could headline "Top Rank Live" in Atlantic City on Oct. 2.

Adamek
• Heavyweight contender Tomasz Adamek's fight with former title challenger Michael Grant (46-3, 34 KOs) at the Prudential Center in Newark, N.J., will be available as a $29.95 Integrated Sports pay-per-view. Adamek (41-1, 27 KO), the former cruiserweight champ and light heavyweight titlist, is angling for an eventual title fight with one of the Klitschko brothers and is using Grant as a way to gauge how he will do with a tall fighter. Grant is 6-foot-7, similar in height to the Klitschkos. Adamek, who draws big crowds in Newark from the area's heavy Polish population, has another reason he wants to fight Grant. "By beating Grant I will have chance to avenge Andrew Golota, my countryman who lost to Michael," said Adamek, who also beat Golota. Also on the card: junior middleweight Joel "Love Child" Julio (35-4, 31 KOs).
• Junior featherweight titlist Wilfredo Vazquez Jr. made his first title defense at home in Puerto Rico by knocking out Zsolt Bedak in the 10th round on May 29. For his second defense, promoter Tuto Zabala plans to bring Vazquez to his second home in Kissimmee, Fla., the Orlando suburb where Vazquez has fought 13 times on the regular Telemundo-televised cards Zabala promotes. Zabala said he is making plans for Vazquez to fight at the Silver Spurs Arena on Oct. 16 against an opponent to be determined. Zabala said the fight would headline a pay-per-view card. "He already drew good crowd and good pay-per-view numbers [for the first defense in Puerto Rico]," Zabala said. "It's time to bring him to his second home."

Gamboa
• The featherweight unification fight between Yuriorkis Gamboa and Elio Rojas, scheduled for Sept. 11 on HBO, will take place at The Palms resort in Las Vegas, Top Rank's Carl Moretti told ESPN.com. The co-feature pits Anthony Peterson against Brandon Rios in a lightweight title eliminator with the winner getting a mandatory shot at Miguel Acosta. • Former super middleweight titlist Carl Froch opens his 10-week training camp in Sheffield, England, on Monday to prepare for his Super Six World Boxing Classic fight with Arthur Abraham on Oct. 2 (Showtime) in Monaco. Froch and Abraham are both coming off their first career losses in the tournament and looking to advance to the semifinals. • Junior middleweight prospect Erislandy Lara (12-0, 7 KOs), the Cuban defector and 2005 world amateur champion, headlines "Friday Night Fights" (ESPN2) on Aug. 18. No opponent yet. Another Cuban amateur star, light heavyweight Yordanis Despaigne (6-0, 4 KOs), is in the co-feature.
QUOTABLE
Green
"Paul Briggs isn't getting paid a cent. He dogged it. My chihuahua Rocky has got bigger balls than him."
-- angry Australian cruiserweight contender and promoter Danny Green, speaking to the equally irate crowd while still in the ring Wednesday moments after his 29-second knockout win against countryman Briggs, in which he went down for the count without being hit by a noticeable punch