Aaron Sprecher/Hoganphotos/Golden Boy Promotions
Juan Diaz, left, and Paulie Malignaggi are both in dire need of a victory.

AP Photo/Jae C. Hong
Paulie Malignaggi, left, wants to erase the memory of a heartbreaking loss to Ricky Hatton.

Nick Laham/Getty Images
In his last fight, Paulie Malignaggi earned a decision against Chris Fernandez.

Bob Levey/Icon SMI
Juan Diaz's most notable fight to date was a stoppage loss to Juan Manuel Marquez.
Malignaggi mad at everyone except Diaz
It doesn't take a lot to get former junior welterweight titlist Paulie Malignaggi riled up, so the mere mention of his next fight is like taking a match to a firecracker.
Malignaggi will face former lightweight titlist Juan Diaz at the Toyota Center in Diaz's hometown of Houston on Saturday (9:45 p.m. ET/PT, HBO) in a 12-rounder that headlines a "Boxing After Dark" tripleheader.
Also on the stacked card: Junior lightweight titleholder Malcolm Klassen (24-4-2, 15 KOs) of South Africa makes his American debut (and the first defense of his second title reign) against former two-time featherweight beltholder Robert Guerrero (24-1-1, 17 KOs), and red-hot middleweight prospect Daniel Jacobs (17-0, 15 KOs) takes a major step up in competition against the more experienced Ishe Smith (21-3, 9 KOs) in a scheduled 10-rounder. It will be the HBO debut for the 22-year-old Jacobs.
Malignaggi (26-2, 5 KOs) and Diaz (34-2, 17 KOs) are both in dire need of a notable victory. Lightweight champion Juan Manuel Marquez knocked out Diaz at the Toyota Center in February in the ninth round of a brutal slugfest. Although Malignaggi scored a decision win against Chris Fernandez in a low-profile April fight, most fans remember the fight before that -- when then-junior welterweight champ Ricky Hatton dominated him en route to an 11th-round TKO.
Malignaggi had hoped to return in June to face prospect Mike Alvarado on a Top Rank pay-per-view card, but Alvarado wound up in prison and the fight was called off, leaving Malignaggi to accept an offer to face Diaz, who will be fighting for the first time since earning his college degree earlier this year.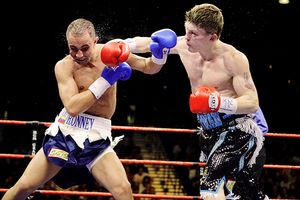 AP Photo/Jae C. Hong
Paulie Malignaggi, left, took a one-sided beating against Ricky Hatton in November.
However, Malignaggi said he took the fight, for which he will earn $187,500, with a couple of conditions. He relented and agreed to fight in Diaz's hometown and to come down to 138½ pounds, which he says will be a great struggle. But he also said he and his promoter, Lou DiBella, got Diaz promoter Golden Boy to agree that the bout would have neutral judges and a neutral referee.
When Malignaggi found out there would be a Texas referee (Laurence Cole) and a judging panel of Gale Van Hoye (Texas), David Sutherland (Oklahoma) and Raul Caiz Sr. (California), he hit the roof. Malignaggi was upset with the appointment of Cole and Van Hoye as well as Caiz, because he doesn't feel it is appropriate for Caiz, a Mexican-American, to be considered a neutral judge in a fight involving Diaz, who is also Mexican-American.
"I feel like I am just being stepped on," said Malignaggi, who is also upset that they will be fighting in an 18-foot ring instead of the 20-foot ring he wanted. "We know I'm going to Texas. We know I agreed to 138½ pounds. We've agreed to the 18-foot ring. We agreed to one Texas judge and a Texas referee, even though I didn't want that. We agreed and bent on all of that. And now they tell me one of the neutral judges is Raul Caiz, who is Mexican? Are they joking me? I at least like to be treated like a man. They're doing everything to raise Juan's hand before we even fight. I don't want to sit on the shelf and not fight, so I am going to fight because I like to test myself against good fighters. But to see who's better, do we have to give him every single advantage? Come on, man.
"Golden Boy likes to talk about how they're saving boxing, but they do the same [expletive] every other promoter does. It's one thing to protect your fighter, but they're going way overboard and stepping all over me."
Most expect the fight to go to the scorecards because neither Diaz, 25, nor Malignaggi, 28, is a big puncher, which is why the judging panel could prove critical.
"Lou is aggravated, but there is nothing anyone can do," Malignaggi said. "It's take it or leave it. They said neutral officials. It just sucks. The politics of the game dictate that if Diaz loses, he'll get another chance because he's with Golden Boy, who has all the dates on HBO. If I get beat, where do I go? I understand the risks of going to the guy's hometown, but they're making it impossible. It's not a knock on Caiz, but I would rather not have a Mexican in a fight against a Mexican where he's supposed to be a neutral judge. It's a must-win situation for me, but it's frustrating. If I get robbed, will anyone fix boxing? It's a joke."
Malignaggi claims Golden Boy CEO Richard Schaefer flip-flopped about the neutral officials.
"Schaefer promised one thing and did another," he said. "So I plan on winning the fight and beating the [expletive] out of Juan Diaz. People act corrupt. They promise one thing and that's how people get hurt. I'm fighting Juan Diaz and he's the only one I don't have a beef with. I have one with Schaefer ... [and Golden Boy's] Dave Itskowitch and [Diaz manager] Willie Savannah. So I feel like I have to knock Diaz's ass out.
"I feel like they put my back to the wall and I have nowhere to back up. I have to come forward and try to knock his ass out. At some point, I will have to make a decision to go for it. Even if I feel I am comfortably ahead, I still have to take that chance. I can't coast."
Schaefer disputes that any promises were made to Malignaggi. Schaefer said Golden Boy asked for neutral officials but "I can't assign judges and referees. I would never promise a fighter neutral judges because I am not the commission. I can only promise what is in my control.
"What we said is we would do our best to have them appoint neutral judges, but it's up to the commission. We talked to the commission but they said it's their call. They said if they don't appoint Texas officials, it looks like something is wrong with their officials. We said we just want to make sure it's a level playing field. They said, 'Are you implying it's not?'"
DiBella appreciates where Malignaggi is coming from and is supportive, but he said there is nothing that can be done.
"You do the best you can do, but it is what it is," DiBella said. "If [Texas commission head] Dickie Cole says these are the officials and you don't like them, don't take the fight, but I told Paulie there aren't a lot of alternatives. If he wants to pull out, pull out. I understand his frustration. My company and I fought very hard for him. We know everything is being stacked against him when you go to the other guy's hometown as the B side. I don't blame him for being upset. I'm honest with my fighters, and I tell them sometimes you have leverage and sometimes you don't. He had to entice Diaz to make this fight, so we gave away a lot. It's certainly an advantage to Juan to have a Texas referee, a Texas judge and a Mexican-American judge.
"But I also believe people's eyes are Paulie's best protection. Go out and perform. If he puts on a great performance, he's won. If he performs so the result is controversial, win, lose or draw, he's already won."
Top Rank re-signs Lopez
Junior featherweight titlist Juan Manuel Lopez (26-0, 24 KOs) extended his promotional agreement with Top Rank, the company announced. Lopez, 26, is 5-0 in title bouts, winning each by knockout, and is one of the rising stars of boxing.
Top Rank has promoted Lopez since he turned professional after representing Puerto Rico in the 2004 Olympics.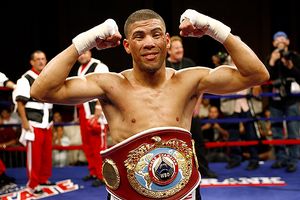 Chris Farina/Top Rank
Juan Manuel Lopez is shaping up to be the next great Puerto Rican fighter.
"There is a great lineage of Puerto Rico superstars -- Wilfredo Gomez, Tito Trinidad and Miguel Cotto," Top Rank president Todd duBoef said. "It is a pleasure that that Juanma and Top Rank will work together to get him to become one of the greatest of all-time on the island. Juanma has had a meteoric rise in his first five years. We believe Juanma's future is very bright for him and for the sport of boxing on the island."
Lopez headlines Top Rank's "Latin Fury 12" pay-per-view at the Madison Square Garden Theater in New York on Oct. 10. He will defend against Rogers Mtagwa (26-12-2, 18 KOs).
Also on the card: Yuriorkis Gamboa, who is being steered toward an eventual showdown with Lopez, defends his featherweight belt against Whyber Garcia; unbeaten heavyweights Odlanier Solis and Kevin Johnson meet; and 2004 U.S. Olympian Vanes Martirosyan faces an opponent to be determined in a junior middleweight bout.
In an untelevised bout, 2008 Russian Olympic middleweight Matvey Korobov (7-0, 6 KOs) will box in his first fight with trainer Robert Garcia in his corner. Korobov, who trained briefly with Dan Birmingham, will relocate from Lantana, Fla., to Las Vegas to train with Garcia, manager Cameron Dunkin said.
Jones headed down under
First, cruiserweight Danny Green of Australia easily dismissed Julio Cesar Dominguez with a one-sided fifth-round knockout last Saturday night. In the next bout, Roy Jones looked as good as he has looked in years in the main event as he took apart former super middleweight titlist Jeff Lacy in a one-sided 10th-round TKO in their light heavyweight fight.
With Jones (54-5, 40 KOs) and Green (27-3, 24 KOs) both taking care of business, it is likely they will fight each other Nov. 21 in Australia with Green's minor cruiserweight belt at stake.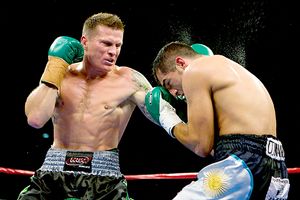 Scott Foster/FightWireImages.com
Danny Green, left, is being considered as Roy Jones' next opponent.
It would be Jones' first fight outside the United States since the 1988 Olympic final in South Korea, where Jones suffered one of the worst robberies in boxing history -- a result that stands even though it was later proven that judges were bribed.
"I would fight Green because it would be for [a minor] world cruiserweight title and I have never won the cruiserweight title. And I would probably be the biggest known fighter to ever fight in Australia in a major fight," Jones said. "Those are the two reasons why I would even accept the notion."
Said Green, "I want to fight Roy Jones in a huge promotion in Australia."
Green landed on the Jones undercard as a way to build up their potential match. Although they don't have a contract for the fight yet, John Wirt, the CEO of Jones' Square Ring Promotions, said that's the match they are working on.
"There's nothing in place, but we had Danny on the card because we knew one of the real possibilities was for Roy to fight Danny in November," Wirt said. "We're planning on continuing the discussions. We've had general parameters of the deal and now we have to get into the details of the deal. Right now the plan is to do it in Australia unless someone steps up to do it in the U.S. and says, 'We'll pay you a lot of money.' What each side will do now is do their homework and figure out where we can make the most money."
Dan Rafael is the boxing writer for ESPN.com.
QUICK HITS

Vazquez
• Former junior featherweight champion Israel Vazquez, idle since winning the rubber match of an epic trilogy with Rafael Marquez in March 2008, is returning. Vazquez, who vacated the 122-pound title and is moving up to the 126-pound featherweight division, is slated to fight Oct. 10 against an opponent to be named at the Nokia Theater in downtown Los Angeles, Golden Boy CEO Richard Schaefer told ESPN.com. Vazquez (43-4, 31 KOs) hasn't fought since the trilogy because of a torn retina that required multiple surgeries. But he was medically cleared and relicensed in California a few months ago. Vazquez and Marquez hoped for a fourth fight in October but the economics couldn't be worked out. "We talked with Richard and we're happy to say Vazquez is coming back Oct. 10," manager Frank Espinoza told ESPN.com. "We're really happy to come back here and fight in Los Angeles. Israel is very, very excited. He needs to fight and get the kinks out, so this is what he needs to do, and maybe we can do the fourth fight with Marquez next year." Schaefer said he is working on television arrangements.

Luevano
• Top Rank promoter Bob Arum told ESPN.com that he is planning the Filipino-themed "Pinoy Power 3" pay-per-view card for Dec. 12. One of the featured fights would be a rematch between featherweight titlist Steven Luevano and Bernabe Concepcion. On last Saturday's "Pinoy Power 2" card, Concepcion lost via seventh-round disqualification when he laid Luevano out with a combination well after the bell ended the round. "We're talking to both camps and both appear willing to rematch that fight," Arum said, adding that the card would take place in Las Vegas or Northern California's Bay Area. Others Arum said he'd like to feature on the card: welterweight Mark Melligen, who stopped Ernesto Zepeda on last week's PPV, and junior bantamweight Z Gorres, whom Arum said Top Rank was in the process of signing. Top Rank would like to feature Nonito Donaire in the main event. The "Filipino Flash" outpointed Rafael Concepcion for an interim junior bantamweight belt in last week's main event, but severely bruised a hand. "We'd like to have Donaire on the card also, maybe against Jorge Arce, but it depends on his hand," Arum said.

Montiel
• Top Rank is tidying up it's "Latin Fury 11" pay-per-view card, scheduled for Sept. 12 in Nuevo Vallarta, Mexico. It has added bantamweight titleholder Fernando Montiel (39-2-1, 29 KOs) to the show. He'll probably defend against Mexican countryman Alejandro Valdez (21-3-2, 15 KOs), pending approval of the WBO. Also added was junior bantamweight contender Gorres (28-2-2, 14 KOs) of the Philippines. Gorres doesn't have an opponent yet. Already set for the show is the junior middleweight main event pitting Julio Cesar Chavez Jr. against Jason LeHoullier, and strawweight titlist Donnie Nietes facing interim beltholder Manuel Vargas. Heavyweight Samuel Peter will continue his comeback on the untelevised part of the card.

Green
• Super middleweight contender Allan Green will return to action Oct. 2 to face Victor Oganov on Showtime's "ShoBox." Green had declined a fight with Sakio Bika on the undercard of the Sept. 19 Floyd Mayweather-Juan Manuel Marquez bout (HBO PPV). Promoter Lou DiBella said the "ShoBox" tripleheader will take place either in Reno, Nev., or at the 7 Clans Paradise Casino in Red Rock, Okla. Green, who is from Oklahoma, is the front-runner to be the first substitute for Showtime's Super Six World Boxing Classic super middleweight tournament if one of the participants drops out. "Being in position where you're ready to step into a major money situation in that tournament and being the first guy Showtime is looking at is attractive. So as long as Showtime is giving Allan the opportunity to fight, this is the right path," DiBella said. "If he can beat Oganov, which I think he will, he's situated to jump right into the tournament as soon as there is a glitch, which you know there will be." Also slated for the card are two fighters DiBella recently signed, light heavyweight Marcus Johnson and welterweight Antwone Smith.

Santos
• Top Rank was the lone bidder in winning a purse bid for the Daniel Santos-Yuri Foreman junior middleweight title bout. Top Rank, which promotes Foreman, won with an offer of $165,000. Don King, Santos' promoter, didn't bid. Santos, who hasn't fought in a year, is entitled to 75 percent ($123,750) and Foreman is due 25 percent ($41,250). Arum said the fight will take place Nov. 14 in Las Vegas on the Miguel Cotto-Manny Pacquiao HBO PPV undercard.

Quintana
• The junior middleweight bout between former titleholder Verno Phillips and former welterweight titlist Carlos Quintana has been postponed, DiBella told ESPN.com (the bout had been slated for Sept. 17 in Primm, Nev.). DiBella lost the site for the card, which he said would be moved back to Dec. 3 at a site to be determined. DiBella said Quintana may take a bout in Puerto Rico ahead of the match. The Dec. 3 card looms as the final live card on Versus, which appears to be getting out of boxing. It is only doing this show because it still owes Tournament of Contenders, DiBella's co-promoter, one more card under its deal to televise "The Contender" last season.

Pacquiao
• Tickets for the Nov. 14 Miguel Cotto-Manny Pacquiao welterweight title bout at the 16,200-seat MGM Grand Garden Arena went on sale this week and scored a near-sellout almost immediately. Top Rank announced that fewer than 1,000 tickets were left. All of the 9,000 seats priced at $150, $350 and $500 are sold out. The remaining tickets are in the $1,000 and $750 categories. "I'm surprised they went so fast in this economy, but it was like a feeding frenzy," Top Rank's Arum told ESPN.com. Arum said there was huge response from other casinos. He said the Wynn bought $250,000 in tickets for its customers and the Venetian bought more than $100,000 worth.

Gatti
• Saturday's "Boxing After Dark" tripleheader will be HBO's first card since the deaths of Alexis Arguello, Arturo Gatti and Vernon Forrest this summer. All three fought their biggest fights on HBO, which will air a memorial retrospective on them during Saturday's show (9:45 p.m. ET/PT).
• Junior middleweight Harry Joe Yorgey (22-0-1, 10 KOs) of Bridgeport, Pa., parlayed his ninth-round upset knockout of Ronald Hearns in March into an HBO appearance. Yorgey has agreed to face contender Alfredo "Perro" Angulo (16-1, 13 KOs) on Nov. 7 in Hartford, Conn., on the card headlined by the Chad Dawson-Glen Johnson light heavyweight rematch. Yorgey was a significant underdog when he handed Hearns, the son of Thomas Hearns, his first professional loss. Both fighters were down in the fourth round, but Yorgey rallied for knockdowns in the fifth and ninth rounds. "I know that Harry will be the underdog, but he's overcome the odds before," promoter Artie Pelullo said. "He's been very dedicated in training and worked hard in the gym to take his career to another level, and that's exactly what he's done. Harry's got the style and the determination to beat Angulo."

Kessler
• Denmark's Mikkel Kessler (41-1, 31 KOs) will have ample crowd support for his super middleweight mandatory defense against Venezuela's Gusmyl Perdomo (16-2, 10 KOs). The Sept. 12 fight will take place in Herning, Denmark, and will be televised on same-day tape by Showtime (10 p.m. ET/PT). It will be Kessler's first bout in 11 months and first since signing with German promoter Sauerland Event. Although Perdomo isn't regarded as a serious challenge, Kessler is in a precarious position taking this fight before he's scheduled to fight in Showtime's Super Six World Boxing Classic beginning Nov. 21 against Andre Ward (in the first bout of the six-man tournament). "Right now, I am not thinking about the Super Six tournament," said Kessler, who has not fought in his home country since June 2008. "All that matters now is a victory over Perdomo. He is a tough challenger, but I am sure I will leave the ring as the winner."

Ward
• Not to be outdone by Kessler, Ward (19-0, 12 KOs) is also taking a tune-up fight, which could certainly derail their Nov. 21 meeting if either loses or is injured. Ward faces club fighter Shelby Pudwill (22-3-1, 9 KOs) on Sept. 12 in Temecula, Calif., on the same "ShoBox" telecast as Kessler-Perdomo. "There was no way we were going to allow Mikkel Kessler to have a showcase fight preceding his Super Six showdown with Andre, and not have the viewers on Showtime witness our 2004 U.S. Olympic gold medalist in action the same night," Dan Goossen, Ward's promoter, said. "Kessler may be the champion, but Andre Ward is coming to take that title."
QUOTABLE

Froch
"He needs to realize that he's going to be coming into the snake pit and he'll be getting the full force of the Cobra's venom. I'm going to be putting it on him from all angles and hitting him with everything. I'll have him wishing he stayed at home." -- super middleweight titlist Carl "The Cobra" Froch, on his super middleweight title defense against American Andre Dirrell, which will take place in Froch's hometown of Nottingham, England, on Oct. 17 (Showtime)
QUOTABLE

King
"Today is my birthday, and my birthday wish is that the CSAC rights this wrong on Monday at their hearing. I would love nothing more than to call California Gov. Arnold Schwarzenegger on Monday afternoon to tell him that his commission has ruled in favor of justice and fair play." -- promoter Don King, who turned 78 Thursday, on his hopes that the result of Nate Campbell's Aug. 1 TKO loss to Tim Bradley will be changed to a no contest after the California State Athletic Commission reviews video evidence that shows Campbell's cut and eye injury were caused by an accidental head butt, not a punch