AP Photo/Eric Jamison
Champions embrace road games
HOUSTON -- Sports teams battle throughout their seasons not only to make it to the postseason, but also to secure home-field advantage. In any sport, it's viewed as a significant benefit. The fans are on your side, the setting is familiar, and sometimes a close call just might go your way.
It's no different in boxing, where champions usually dictate the site of a fight. But on Saturday night (HBO, 10 ET) a pair of them will enter the lion's den of the Toyota Center to defend their crowns against two Houston native sons, knowing how cruel the results can be when you're on enemy turf.
Although lightweight champion Juan Manuel Marquez (49-4-1, 36 KOs) will have many Mexican fans cheering him on in the highly anticipated main event, the expected sellout crowd of about 15,000 undoubtedly will be cheering louder for former titleholder Juan Diaz (34-1, 17 KOs), who has aspirations to one day be Houston's mayor.
And featherweight titleholder Chris John (42-0-1, 22 KOs), making his American debut, has made the long trip from Indonesia to defend his title for the 11th time in the hometown of challenger Rocky Juarez (28-4, 20 KOs).
Both titleholders understand the difficulties of the task at hand as much as the challengers relish the opportunity to win in front of family and friends.
Marquez claimed the title in his 135-pound debut in September by knocking out Joel Casamayor in the 11th round, but instead of a victory-lap first defense, he agreed to face Diaz, the most difficult opponent available -- and to fight in Diaz's hometown.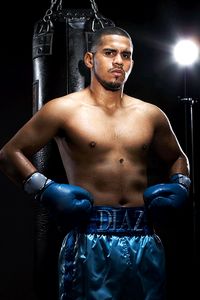 Courtesy HBO Sports
By fighting at home in Houston, challenger Juan Diaz will have an advantage against Juan Manuel Marquez.
An old pro at 35, Marquez, who has won titles in three divisions, said he feels comfortable fighting in Diaz's backyard.
"This is like every fight," he said. "I always prepare very well and this isn't an exception. I feel calm and have no worries whatsoever. Part of the deal is I would take the fight in Houston as long as we had neutral officials and my promoter, Golden Boy, did its job. I am satisfied with the judges as long as they score what they see in the ring."
Said Golden Boy CEO Richard Schaefer, who also promotes Diaz and Juarez: "When we made the fight, it was important for us that there is fair and proper judging. We talked to the commission about it to make sure it was even for both guys. There are a tremendous amount of Mexican fans which I know have purchased tickets and are coming from Mexico, where Marquez is undoubtedly the No. 1 fighter."
Marquez does have a bitter experience of traveling to his opponent's hometown, one he says he's learned from.
In March 2006, when Marquez was a featherweight, he went to Indonesia to face John in a title bout and lost a decision that many viewed as a hometown gift for John.
"One of the most important things is to be strong mentally. That's what I learned from that experience. I learned a lot," said Marquez, who would like a third bout with Manny Pacquiao but could also find himself in a rematch with John. "Be strong mentally, be strong physically and win convincingly and score convincingly."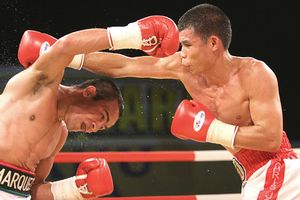 AP Photo
Juan Manuel Marquez, left, knows a thing or two about hometown decisions.
This will be the second fight in row for Diaz, 25, at home and the 13th fight of his career in Texas. So while he has often had the comforts of home when he fights, he respects Marquez for coming to his town.
"He's a man on a mission," Diaz said. "Obviously, we all know how unhappy he was from his two fights with Pacquiao [a disputed draw and split decision]. It looks like he doesn't care about where and who he fights. It shows me a lot because he's a great fighter and I respect him a lot for coming here to Houston and fighting me. Obviously, he knows he has a challenge in front of him. He knows it will be a tough fight and I respect him for coming here and fighting me."
By the same token, Diaz is the kind of fighter who embraces fighting at home rather than feeling pressure because of it.
"I definitely embrace it. Fighting here in Houston, I feel comfortable," he said. "It's where I've been training. I don't have to go anywhere. I love it because I know the fans will be behind me and pushing me. If I get into some tough rounds and the crowd starts to chant my name it will push me to go forward and not lose the fight."
Said Ronnie Shields, who trains Diaz and Juarez, "We are confident that Diaz can and will pull out the win here in Houston. Marquez has been around for a long time and fought the best. We are happy he is not ducking Diaz and he is going to come here to fight in Houston in our hometown. We realize that just because we are in our hometown, we don't get any special treatment and Juan knows he has to be prepared."
John has fought mainly in Indonesia, although has gone on the road to Australia and Japan for title defenses. He's wanted to come to America for a big fight for the past few years and when the opportunity to face Juarez presented itself, he embraced it. So excited to be in America to fight -- regardless of if it is in Juarez's hometown -- that he has been in Houston for about a month on his own dime training and getting used to his surroundings.
"I have had good preparation and I believe everything will be fair," John said. "It doesn't matter where I fight. I am pleased to be in America to show the fans here that I am a good fighter."
Juarez will be fighting for a world title for the fifth time, having previously lost a featherweight title bout to Humberto Soto and three junior lightweight title bouts [one to Marquez and two to Marco Antonio Barrera].
Juarez knows this may his last shot at a world title and, like Diaz, he is happy to be at home.
"I'm motivated because I'm fighting for a world title, but being at home is even greater motivation," said Juarez, noting that he turned down more money to challenge titleholder Steven Luevano on neutral ground in Puerto Rico in April to instead face John in Houston. "Winning a title here in Houston is always something I've dreamed of, but when we're fighting I won't be thinking about where we are fighting. I'll just be trying to win."
Rodriguez relieved
When welterweight Oscar Diaz was released from a San Antonio hospital this week seven months after suffering a brain injury during an 11th-round TKO loss to Delvin Rodriguez in an ESPN2-televised fight, the boxing word breathed a sigh of relief. Diaz, 26, spent two months in a coma after the injury and has finally been released to a rehabilitation facility, where his doctor believes that in time Diaz will be able to walk and talk again.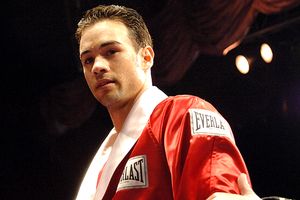 Emily Harney/Fightwireimages.com
Delvin Rodriguez can breathe a sigh of relief now that Oscar Diaz is out of the hospital.
Nobody was more relieved by the news than Rodriguez, who has kept tabs on Diaz since their fight.
"There isn't a day that goes by that I don't think about Oscar," Rodriguez said. "He is a great boxer and more importantly a great human being. I will always keep Oscar and his family in my thoughts and prayers."
Rodriguez, who fought to a draw with Isaac Hlatshwayo in South Africa in a welterweight title eliminator in November, will have his second fight since Diaz's injury on March 6. Rodriguez headlines on ESPN2's "Friday Night Fights" against Shamone Alvarez in a title eliminator at the Mohegan Sun resort in Connecticut.
Dan Rafael is the boxing writer for ESPN.com.
QUICK HITS

Dawson
• The Chad Dawson-Antonio Tarver light heavyweight title rematch has been rescheduled for May 9 (HBO) at the Hard Rock resort in Las Vegas, promoter Gary Shaw told ESPN.com. They were supposed to meet March 14, but Dawson, who outpointed Tarver in October, injured his right hand training Feb. 17. "Chad's hand is progressing as the doctor thought it would and he will be begin training again next week. It's very good news," Shaw said.

Arreola
• Heavyweight contender Cris Arreola (26-0, 23 KOs) will open the April 11 Paul Williams-Winky Wright HBO card at Mandalay Bay in Las Vegas, promoter Dan Goossen told ESPN.com. Arreola had been a possible opponent for heavyweight champion Wladimir Klitschko in June, but Goossen said talks with the Klitschko camp have ended. While Klitschko continues to iron out a deal with his first choice, David Haye, Arreola likely will face Jameel McCline, who has challenged for versions of the title four times. Goossen wouldn't confirm McCline (39-9-3, 23 KOs) as the opponent, but McCline has accepted the fight and been approved by HBO, a McCline camp member told ESPN.com. HBO previously rejected Hasim Rahman and Donnell Holmes and would have accepted Michael Grant, but he passed on the fight.

Cotto
• Miguel Cotto's first defense of the vacant welterweight title he won last week will be June 13 at New York's Madison Square Garden, Top Rank's Bob Arum told ESPN.com.
Cotto stopped Michael Jennings in five lopsided rounds to win a belt in his first bout since suffering his only loss last summer to Antonio Margarito. After the Jennings fight, Arum said Cotto gave him the thumbs up to book the arena for June 13, the eve of the annual Puerto Rican Day parade in New York. Arum said he and Garden executive Joel Fisher agreed on the date even though Cotto doesn't have an opponent yet. Arum has presented HBO and Showtime a list of opponents and asked for their bids. Cotto's opponent will likely be Joshua Clottey, Andre Berto or Kermit Cintron. Beyond June, Arum still has designs on a Margarito-Cotto rematch, even though Margarito's license was revoked in California for trying to use loaded hand wraps in his fight with Shane Mosley in January. "If Margarito's attorneys are successful in overturning it, I would want to do a Cotto-Margarito rematch in the fall. If not, maybe we'll do a Cotto-Mosley rematch. Mosley said he doesn't want to fight Cotto in New York in June and I respect that. So we could do it in the fall if there's no Margarito rematch. And then there's the Ricky Hatton-Manny Pacquiao winner."

Peterson
• It's not a done deal yet, but when Tim Bradley and Kendall Holt meet to unify junior welterweight belts April 4 (Showtime) in Montreal, the televised undercard fight likely will match Lamont Peterson (26-0, 12 KOs) and France's Willy Blain (20-0, 3 KOs) for a vacant interim junior welterweight belt, Arum told ESPN.com. Arum said Showtime has signed off on the fight and he was finalizing details with Blain's handlers.

Miranda
• Edison Miranda (31-3, 27 KOs), the brash talking, power puncher from Colombia, continues his comeback in the wake of last summer's fourth-round knockout loss to Arthur Abraham in a super middleweight bout. Miranda, who won his comeback fight Jan. 14 by stopping Manuel Esparza in three rounds, is headed for London to face Joey Vargas March 20, hoping and impressive performance will help him land a shot at super middleweight titlist Carl Froch of England. "I have seen him fight. He is a good fighter, but he hasn't faced anyone who can hit like I can," Miranda said. "I wish him luck against Jermain Taylor, but win or lose, I want to get him in the ring. It would be an entertaining fight, and that is what I want to give my fans. Everybody knows when Edison Miranda fights someone is getting knocked out. This time it would be Carl Froch that would end up hanging in the ropes. … Someone tell Carl Froch to bring a net to the fight. I will need him to catch my opponent before he crashes into the ringside seats."

Soto
• Top Rank tinkered with its schedule this week, shifting the rematch between interim junior flyweight titleholder Cesar Canchila and Giovani Segura to the main event of a March 14 Azteca America card in Mexicali, Mexico. The bout was originally slated for Top Rank's "Tijuana Thunder" pay-per-view card March 28, but a fifth fight would not fit on the televised part of the show, so the fight was moved. The announced lineup for the pay-per-view looks like this: junior middleweight Julio Cesar Chavez Jr.-Luciano Cuello in the main event; junior lightweight titlist Humberto Soto defending against Antonio Davis; Fernando Montiel, a junior bantamweight titlist moving up in weight, facing Diego Silva for a vacant interim bantamweight title; and former lightweight champ Jose Luis Castillo facing Antonio Diaz in a welterweight fight.

Lopez
• Top Rank also officially announced that Juan Manuel Lopez's April 25 fight in Bayamon, Puerto Rico, which will headline HBO's "Boxing After Dark," was set. Lopez (24-0, 22 KOs) will defend his junior featherweight title against bantamweight titlist Gerry Penalosa (54-6-2, 36 KOs) of the Philippines. The fight has been in the works for more than a month. "It's a great opportunity for me fighting a great champion like Gerry Penalosa here in Puerto Rico in what should be a great fight," Lopez said. "I know Penalosa is a good fighter and has plenty of experience, but I know that I'm ready for this type of challenge. I know what is at stake for my career. It's a big fight in front of my fans and on HBO. I want to be the first to knock him out. I know people are still not sure about me, but a win against Penalosa will go a long way to showing them how good I can be."

Dirrell
• Super middleweight contender Andre Dirrell (17-0, 12 KOs), who returns to headline Showtime's "ShoBox" on March 28, will face David Banks (18-4-1, 3 KOs) of "The Contender" fame, Dirrell promoter Gary Shaw told ESPN.com. Banks has won three in a row since Edison Miranda smashed him in the third round in January 2008 for the ESPN.com knockout of the year. Junior middleweight Ronald Hearns (21-0, 17 KOs) opens the show against Harry Joe Yorgey (21-0-1, 9 KOs).

Povetkin
• Heavyweight Alexander Povetkin's April 4 fight in Germany against 2004 U.S. Olympian Jason Estrada (15-1, 3 KOs) was made official. Povetkin (16-0, 12 KOs) is the mandatory challenger for unified heavyweight titleholder Wladimir Klitschko, so he must win to preserve his expected fall shot at the title. Povetkin was supposed to face Klitschko in December, but an injury forced him to withdraw. The Estrada fight is supposed to be a stay busy fight for the 2004 Russian Olympic gold medalist. "This time frame allows us to give Alexander a tough fight so that he can keep his rhythm," Sauerland Event's Chris Meyer said. "By picking Jason Estrada we have chosen a strong opponent. But that is exactly what Alexander had asked us to do because easy fights do not help him at all."
QUOTABLE

Bradley
"He is talking so much trash and he has never faced a guy like me. He lost twice and he's been down eight times. In his [second] fight with [Ricardo] Torres he went down twice before he knocked Torres out with a head butt. He has a suspect chin and I will take it to him. Holt is lucky Torres did not make weight [for their planned third fight in December] because I think he would have gotten knocked out." -- Junior welterweight titlist Tim Bradley, at the recent news conference to announce his unification bout with Kendall Holt, which takes place April 4 (Showtime) in Montreal
QUOTABLE

Holt
"Bradley is a nice fighter but has no experience, not enough to beat me. He better hope and pray that he will win this fight. He said I have been down, but you can't measure a fighter by his undefeated record. Champions are the ones that find a way to get off the canvas, fight and win. His '0' has got to go." -- Holt, responding to Bradley's comments at the news conference announcing their unification fight