Arum lands new TV deal with Azteca America
When Spanish-language network Telefutura canceled "Solo Boxeo" for economic reasons on Nov. 8, the news came like a shot to the gut to boxing fans. When the popular two-hour, live Friday night boxing series aired for the final time on Dec. 19, after an eight-year run, it left a huge void.
But that void will be filled thanks to Top Rank's new deal with Spanish-language Azteca America, promoter Bob Arum told ESPN.com.
Arum's company, which has a heavily Hispanic roster of fighters, promoted most of Telefutura's cards. For the past year or so, Top Rank has done sporadic fights on Azteca America -- a sister network of Mexico's TV Azteca, launched in July 2001 -- in conjunction with Fernando Beltran's Zanfer Promotions, the Mexican-based company that has partnered with Top Rank to promote fighters such as Erik Morales and Julio Cesar Chavez Jr.
But those sporadic cards will become regular and plentiful on Azteca America, which reaches 89 percent of the total Hispanic population in the U.S., according to its corporate Web site. Not to mention all the non-Hispanic homes where fight fans live.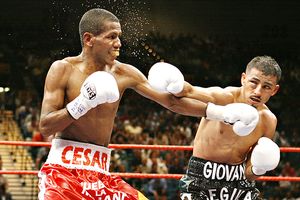 AP Photo/Eric Jamison
With fights like Cesar Canchila-Giovanni Segura 2 on Azteca America, boxing fans will soon forget about the now-defunct "Solo Boxeo" show.
Arum said the exact number of shows hasn't been determined, but it looks like "as many as 52 or as little as 36" in 2009. Top Rank promoted 24 Telefutura cards in 2008.
"To a large degree, this is replacing Telefutura," Arum said. "The big difference is that each of these shows will be shown in Mexico, where boxing is really hot, as well as in the United States. That gives it added clout, added resources, added everything. Telefutura was only in the United States, but the place where boxing is booming is Mexico."
Most of the cards will take place in Mexico, but there will also be shows in California and the Southwest, Arum said.
Another big difference is the new series, which is still untitled, will air some cards on Friday nights and some on Saturday nights. They also will start in prime time on the West Coast.
When Telefutura televised boxing, it was locked into a 9 p.m. ET start, which moved to an 8 p.m. start later in the run.
"We won't have that stupid 5 p.m. time for cards to start on the West Coast like we had with Telefutura," Arum said. "That was impossible. It made it really hard on the venues and on fans, who were still at work when the fights started. With this new series, we will combine our organization with Beltran's organization to put on a lot of fights."
The five shows already in the works have a look similar to the kind of cards that were on "Solo Boxeo." The shows in the works:
• Featherweight contender Orlando Salido and former lightweight champ Jose Luis Castillo are supposed to be in separate bouts on Jan. 17 in Hermosillo, Mexico.
• Featherweight Jorge Solis and Monty Meza-Clay will meet Jan. 31 in Guadalajara in a title eliminator. The winner becomes the mandatory challenger for Cristobal Cruz.
• A doubleheader involving lightweight contender Urbano Antillon and featherweight prospect Mikey Garcia is in the works, scheduled for Feb. 6 in Maywood, Calif.
• Interim strawweight titleholder Manuel Vargas is slated for action Feb. 14 in Lagos de Moreno, Mexico.
• Interim junior flyweight titleholder Cesar Canchila faces Giovanni Segura in a rematch on Feb. 28 in Toluca, Mexico. Canchila claimed the vacant interim belt with an exciting decision against Segura on the July 26 Antonio Margarito-Miguel Cotto undercard. Also in Toluca, Francisco Arce, the brother of Jorge Arce, is supposed to face South Africa's Simphiwe Ndogqayi in a junior bantamweight eliminator.
"This is our first wave," Arum said. "We're going to have another series that I am not telling anybody details about yet. We're going to have maybe two times the number of shows in '09 that we had in '08. We had about 45 in '08. We may have 75 or more [in '09]."
Hatton-Pacquiao update
The biggest fight of the first half of 2009 -- junior welterweight champ Ricky Hatton against pound-for-pound king Manny Pacquiao -- remains on track for May 2 in Las Vegas.
"I don't see any impediments from either side," Bob Arum, Pacquiao's promoter, told ESPN.com. "Papers are being exchanged. It's going to be a big fight."
Arum met with Pacquiao and trainer Freddie Roach in Los Angeles just before New Year's to go over the deal.
"I went over everything with Manny and he liked what he heard," Arum said. "[Golden Boy Promotions CEO Richard] Schaefer has done the same thing with Hatton and everything seems good."
Arum said the fight will "definitely" be in Las Vegas, either at the MGM Grand or the Thomas & Mack Center. But before a decision is made, Arum said he and Schaefer would meet with hotel executives from MGM rival casinos such as Planet Hollywood and Caesars Palace to gauge their interest. They will also offer the pay-per-view fight to HBO and Showtime, even though HBO is the dominant force in pay-per-view and been involved with both fighters for the past few years.
"There are no legal or moral ties to anything, hotels, television networks or anyone and I want to take the opportunity, and so does Schaefer, to listen to what everyone has to say," Arum said.
Valero to Top Rank?
Junior middleweight Julio Cesar Chavez Jr. (38-0-1, 29 KOs), a big attraction among Hispanic fans, returns to headline yet another pay-per-view card March 7 from Mexico, Arum told ESPN.com. Arum said Chavez will face Brazil's Carlos Nascimento (21-1, 18 KOs), whose lone loss came via 11th-round knockout challenging titleholder Sergei Dzindziruk in May 2007.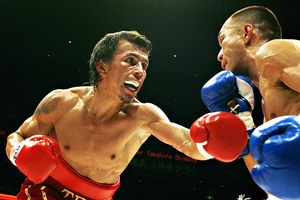 AP Photo/Junji Kurokawa
Edwin Valero is ready to fight Antonio Pitalua under the Top Rank banner.
Although Chavez headlines, a more notable undercard fight is in the works.
Arum said he planned to meet with free agent Edwin Valero (24-0, 24 KOs) this week to sign him.
If Arum completes the deal, Valero, a former junior lightweight titleholder moving up to lightweight, will face Antonio Pitalua (46-3, 40 KOs) for an interim lightweight title (one that will become a full title when Manny Pacquiao officially vacates his 135-pound belt).
"Valero is coming in to sign with us," Arum said. "I need to sign guys who can eventually fight Pacquiao, but with a guy like Valero, we need to build him up first because he is not very well known here."
New trainer, maybe new opponent for Donaire
In another example of a father-son relationship going sour in boxing, flyweight titlist Nonito Donaire Jr. has fired his father, Nonito Donaire Sr., as his trainer. Tension had built between the pair because of issues between Nonito Sr. and his son's new wife, Rachel, manager Cameron Dunkin said.
Donaire will be trained by Filipino countrymen Dodie Boy Penalosa, a former flyweight titleholder, and reigning bantamweight beltholder Gerry Penalosa.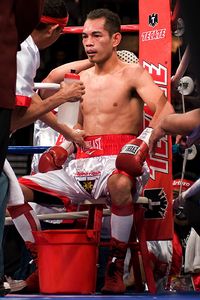 Chris Cozzone /Fightwireimages.com
A new look: Nonito Donaire Jr. has enlisted the services of Dodie Boy Penalosa to work his corner.
Donaire is moving up to junior bantamweight to challenge for a title March 14 in the Philippines (where it will be March 15) on a card Arum said Showtime will televise, although there has been no announcement from the network.
Donaire likely will face titleholder Fernando Montiel. However, Arum said that if bantamweight titlist Gerry Penalosa accepts a fight against junior featherweight titlist Juan Manuel Lopez and vacates his 118-pound belt, the card would be reconfigured into a tripleheader. Arum said the new lineup could feature Montiel moving up to bantamweight to face Eric Morel, Penalosa's mandatory challenger, for the vacated title. Donaire would face Raul Martinez for the junior bantamweight title vacated by Montiel. In the other title bout, junior flyweight titlist Ulises Solis faces Brian Viloria.
Dan Rafael is the boxing writer for ESPN.com.
QUICK HITS

Wright
• Promoter Dan Goossen and Golden Boy's Richard Schaefer are close to finalizing a deal for Paul Williams to face Winky Wright at middleweight, both sides told ESPN.com. The fight would take place April 11 or 18 on HBO. Williams, an ex-welterweight titleholder who claimed an interim junior middleweight title via a dominant eighth-round TKO of Verno Phillips in November, says he can shuttle between welterweight and middleweight. The bout with Wright would be his second at middleweight in his past three fights. Wright has been idle since losing a decision to Bernard Hopkins in July 2007. A December tune-up fight was canceled because Wright suffered a hand injury. Before Williams emerged as Wright's likely opponent, Schaefer said he had talks with representatives for middleweight titlist Arthur Abraham. Wright was willing to go to Germany for the bout, Schaefer said, but the deal didn't pan out.

Ortiz
• Golden Boy and HBO are working on a March 7 "Boxing After Dark" card featuring junior welterweight Victor Ortiz, the 2008 ESPN.com Prospect of the Year, in one fight, Schaefer told ESPN.com. Another bout on the card will feature either junior middleweight James Kirkland or junior lightweight Robert Guerrero. Kirkland could wind up on the Feb. 28 Juan Manuel Marquez-Juan Diaz undercard in Houston instead; Kirkland is from Austin, Texas. "What I would love to do is a tripleheader with Ortiz, Kirkland and Guerrero," Schaefer said. "Three different weight classes and three of the most exciting young fighters we have. I would love to have all three on the same card." Schaefer said he wants to talk to British promoter Frank Warren about matching junior lightweight titlist Nicky Cook with Guerrero, a former featherweight titleholder who is moving up in weight and recently signed with Golden Boy.

Luevano
• The WBO will hold two purse bids for mandatory title bouts Jan. 12. One fight up for bid is Steven Luevano's featherweight defense against Rocky Juarez with a minimum offer of $150,000. That one could be interesting because if Juarez promoter Golden Boy wins it can force Luevano to fight Feb. 28 in Juarez's hometown of Houston on the HBO card headlined by Marquez-Diaz. Luevano manager Cameron Dunkin doesn't want to go to Houston for the bout. The other bout up for auction is bantamweight titleholder Gerry Penalosa's defense against ex-flyweight beltholder Eric Morel; the minimum bid is $100,000.

Lopez
• Top Rank and HBO are making plans for an April "Boxing After Dark" card that would feature junior featherweight titlist Juan Manuel Lopez of Puerto Rico in a defense. No opponent is set, but Top Rank has offered the fight to bantamweight titlist Penalosa, who has called Lopez out. Penalosa, however, has balked at the fight so far because he is unhappy with the purse being offered by his promoter, Golden Boy. The other fight on the card could be Luevano-Juarez, if Top Rank wins the Jan. 12 purse bid.

Cotto
• Top Rank promoter Bob Arum told ESPN.com he has finalized plans for Miguel Cotto's Feb. 21 (Top Rank PPV) comeback fight to be at New York's Madison Square Garden instead of at Boardwalk Hall in Atlantic City, N.J., which had been in the running. Cotto, coming off last summer's 11th-round TKO loss to Antonio Margarito, faces Michael Jennings for the welterweight belt vacated by Paul Williams.

Peterson
• Arum also laid out his plans for the rest of the Feb. 21 split-site doubleheader. The telecast will open in New York with heralded 2008 Russian Olympic middleweight Matvey Korobov (2-0, 2 KOs) in a four-rounder. "Then we're looking to do an Anthony Peterson fight, maybe against [former lightweight titlist] Julio Diaz," Arum said. "If Diaz doesn't take the fight, we'll do Peterson against another good opponent." Also on the New York portion of the card, Arum might try to do welterweight titleholder [and New Yorker] Joshua Clottey's mandatory defense against ex-titleholder Kermit Cintron. That bout would be followed by Cotto-Jennings. Then, Arum said, the telecast "will magically shift" to Youngstown, Ohio, for the main event of the telecast, middleweight champion Kelly Pavlik's mandatory against Marco Antonio Rubio. "We'll have five fights on the broadcast and not a lot of talking," Arum said. Pavlik opens training camp in Youngstown this week, manager Cameron Dunkin said.

Foreman
• If Arum isn't busy enough with all the fights he's planning, there is another one he hopes to plan. He's been promising junior middleweight Yuri Foreman a title shot, and is trying to line him up to face beltholder Daniel Santos. "I'm talking to Mr. King about that one," Arum said of his conversations with Santos promoter Don King. "I would love to do that on Showtime out of the Theater at Madison Square Garden. I would do it as soon as I get a date. I will be meeting with [Showtime's] Ken Hershman after the first of the year."

Quintana
• Former welterweight titleholder Carlos Quintana (26-2, 20 KOs) suffered an ankle sprain while training last week, forcing him to withdraw from a Jan. 16 (ESPN2) junior middleweight bout against Eromosele Albert in Key West, Fla., promoter Lou DiBella told ESPN.com. "It was a bad sprain," DiBella said. "He's probably out another month." DiBella said he is trying to put together a new main event.

Bell
• Former undisputed cruiserweight champion O'Neil Bell, scheduled to make his heavyweight debut Jan. 14 in Hollywood, Fla., pulled out for what Seminole Warriors Boxing promoter Leon Margules said were "personal reasons." Bell (26-3-1, 24 KOs) lost his final two bouts at cruiserweight, a decision and his title to Jean Marc Mormeck in March 2007 followed by an eighth-round TKO loss to Tomasz Adamek in an elimination bout.

Caballero
• Unified junior featherweight titlist Celestino Caballero (31-2, 22 KOs), unable to get a further unification bout with Juan Manuel Lopez and wanting to hang on to his alphabet belts, likely will make a mandatory defense against South Africa's Jeffrey Mathebula (22-1-2, 12 KOs), Margules told ESPN.com, on a date to be determined. There had been a possibility that Caballero would move up to featherweight to face rising prospect Yuriorkis Gamboa, but the networks were cool to the fight.

Ward
• Super middleweight prospect Andre Ward, the only U.S. gold medalist at the 2004 Olympics, is looking to step up in competition in 2009 and promoter Dan Goossen has talked to Margules about Ward facing slugger Edison Miranda in the first quarter, Margules said. Ward has other options, however. Others on the short list include "Contender" third-season winner Sakio Bika, former title challenger Fulgencio Zuniga and Allan Green. There had been talks about a Ward-Green bout early last year, but Green had a previous commitment for a fight.

Taylor
• Super middleweight Jermain Taylor, the former undisputed middleweight champ, and promoter Lou DiBella are exploring their options in the wake of Taylor's lopsided points win against ex-titleholder Jeff Lacy in a title eliminator in November. The victory secured Taylor a mandatory shot at new titleholder Carl Froch, but HBO is not interested in the bout. DiBella said he might take the fight to Showtime if HBO rejects it outright because Taylor's contract with HBO is over. DiBella also told ESPN.com that he has received a number of calls from Roy Jones, who is interested in facing Taylor. In addition, DiBella has had conversations with Margules about a possible match with former light heavyweight champ Glen Johnson.

Rodriguez
• Welterweights Isaac Hlatshwayo (28-1-1, 10 KOs) and Delvin Rodriguez (23-2-2, 14 KOs) will meet in a rematch March 6 (ESPN2) in a title eliminator at the Mohegan Sun resort in Connecticut. They fought to a draw on Nov. 17 in Hlatshwayo's native South Africa. The winner will be in position to challenge titleholder Joshua Clottey.
QUOTABLE

Vazquez
"The fight took place 10 months ago and it's truly an honor to have the boxing writers choose this fight as the best of the year. It was a special night when Rafael and I fought back in March. We were both at the top of our game." -- Junior featherweight champion Israel Vazquez, on his third epic fight against Rafael Marquez, which was named 2008 fight of the year by numerous media outlets, including ESPN.com.