On Sunday in New York City, Meb Keflezighi will start the 26th marathon of his career, a number that fittingly echoes the 26.2-mile length of his signature event. He is the only runner in history to win an Olympic medal (Athens 2004, silver) and both the NYC (2009) and Boston (2014) marathons. Keflezighi (pronounce KEFF-LEZ-GHEE) began that journey amid the poverty and strife of his native Eritrea, which his family fled when he was 10 years old, and stayed the course as a promising schoolboy runner in San Diego and a multiple NCAA champion at UCLA. He revved into a higher gear when he became a naturalized U.S. citizen and turned professional in 1998, making the first of four Olympic teams two years later. Now 42, Keflezighi has covered the equivalent of almost five laps around the world on foot, training and racing. As his final finish line looms, here's a look at analytics that map his heart.
---
Reading the odometer
Keflezighi has meticulously recorded his daily training mileage, along with race distances, in handwritten logs and digital files since he began running competitively in high school. He carries a rough count in his head, but he also finds it confidence-boosting and comforting to see the actual numbers pile up as he's preparing for a big event. "Just backup insurance for the head,'' he said. He put in as much as 136 miles in a week preparing for the Athens 2004 Olympics, where he won a surprise silver medal. As an older athlete, Keflezighi has learned to train more efficiently and strategically, with a lower total volume, to spare his body some pounding, and often spends critical blocks of time at altitude in Mammoth Lakes, California. But he still goes through about 15 pairs of running shoes (size 9.5) per year, periodically trying out new models and staggering the times he breaks them in.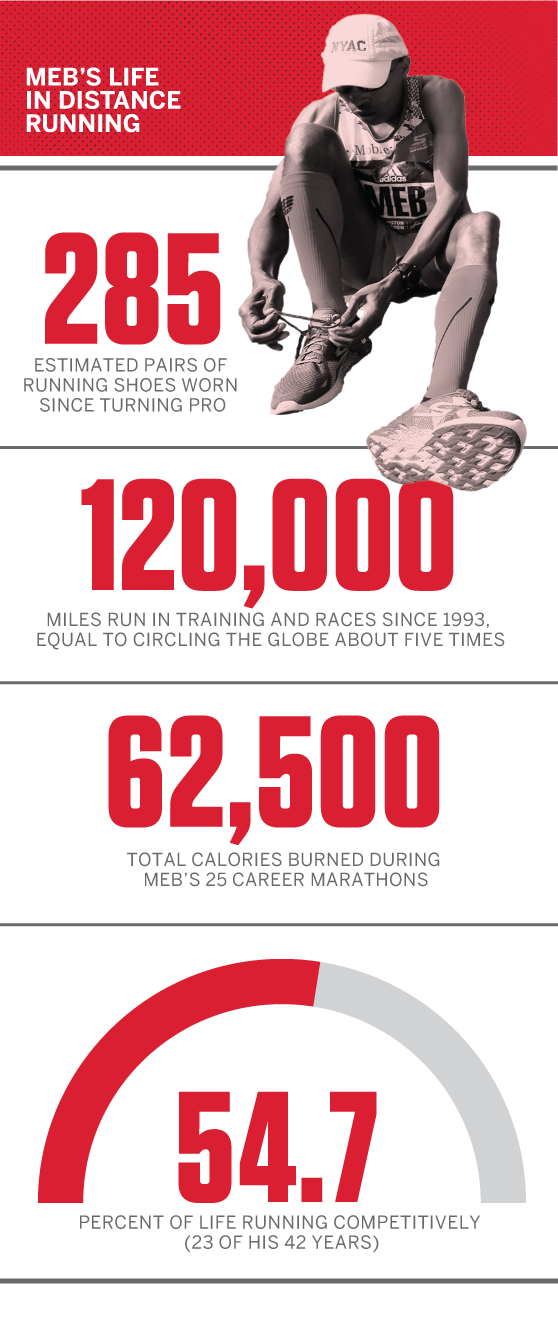 The show, a win and a meaningful place
New York City 2002 marked Keflezighi's marathon debut after a standout career on the track. He was not an instant convert. "I said, 'Never again, first and last,'" he said. Yet the course was to become his competitive touchstone. He returned two years later and defied prognosticators by running a then-personal best time only 70 days after his podium finish in Athens. Keflezighi has completed the iconic race 10 times in all. In November 2007, competing in the U.S. Olympic marathon trials held in New York on a different course, Keflezighi limped over the finish line in eighth place with what was later diagnosed as a pelvic stress fracture -- and learned moments later that his friend Ryan Shay had collapsed and died early in the race. That confluence propelled him on a mission in 2009. "That year, I was a madman,'' he said. "I just said, 'Any Olympian that I race, I'm gonna get you.' New York was my gold medal because I felt like I should have been in Beijing." Meb's other most memorable NYC finish was also his worst on paper: 23rd in 2013. Injuries hampered his preparation and at Mile 19, with his body shutting down, he thought seriously about quitting. Amateur runner Mike Cassidy, who had long admired Keflezighi from afar, caught him with three miles to go and urged him on, staying with him after they entered Central Park. The two men alternated leads and eventually crossed the finish line with their hands clasped triumphantly in the air.

A body of work
Somewhat stunningly for a veteran distance runner, Keflezighi has never undergone surgery for a running-related injury. However, he has had some bad luck with canine road hazards. "I love dogs,'' he said. "But dogs don't like me when I'm running. They want to chase me or attack me.'' While training for the 2005 London Marathon, he backpedaled to evade a charging pit bull and strained his Achilles tendon. He tried to jump over a dog on the 2011 NYC half-marathon course in Central Park and banged up his knee, and had to withdraw from the fateful 2013 Boston Marathon after partially tearing his soleus muscle in yet another dog-initiated mishap. Keflezighi never really came close to going under the knife, but he did contemplate the possibility in late 2007 after the personally devastating Olympic trials race. When he couldn't even roll over in bed without excruciating pain, one doctor thought he had an abdominal tear. A six-week layoff -- the longest of his career -- didn't cure the problem. After he sought a second opinion, he discovered he had a pelvic stress fracture. He rehabbed with strength training, massage, stretching and physical therapy. Turns out some of his best days were ahead.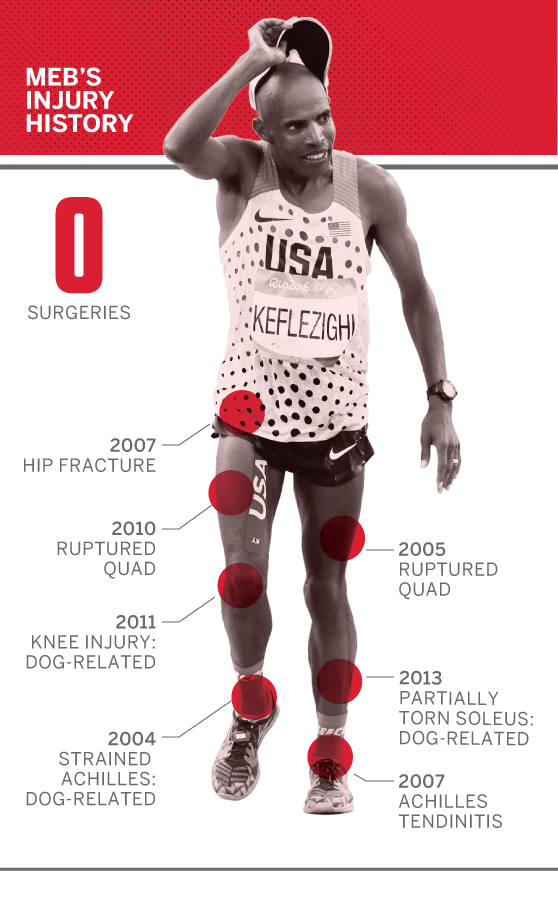 Photos by AP Photo/Kathy Willens; AP Photo/Mary Schwalm; Emmanuel Dunard/AFP/Getty Images; AP Photo/Robert F. Bukaty