Euros Steal Cup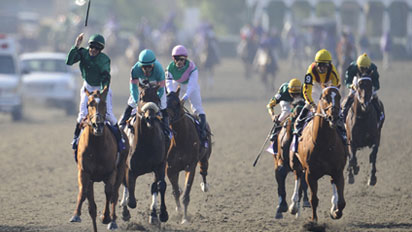 Horsephotos.com
Raven's Pass and jockey Frankie Detorri (left) upset the Classic.
Raven's Pass completed a banner day for the Europeans as he scored an upset in the $5 million Breeders' Cup Classic at Santa Anita. Defending champ Curlin faded to fourth in the stretch.
Story
More from ESPN.com
Special Sections
Digiturf
Virtual horse racing. Try it for free. Own, train, race, win!
The Breeders' Cup World Championships

The Breeders' Cup World Championships are recognized as one of the ultimate tests of a thoroughbred, showcasing horse racing at the highest level of international competition.
Post positions and odds