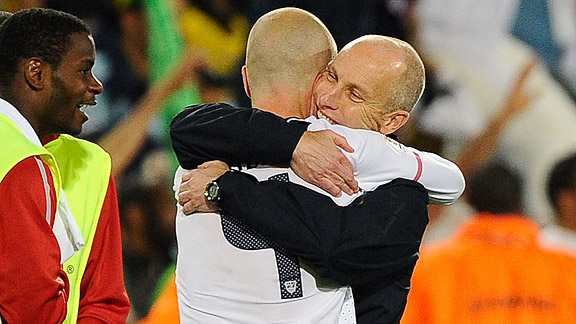 Kevork Djansezian/Getty ImagesBob and Michael put friends, family and fans through a whirlwind of emotion in 2010.
The following is my final blog post on remembering 2010. It's actually a story I wrote for The Magazine some time ago that never ran. I've updated some of it, but rewritten very little. Happy New Year to everyone who loves the Beautiful Game.
How could I have known my brother and his only son would cause my family such pain and suffering? I ask myself this all the time. Were there warning signs I missed? Things I could have done to stop them? Is there something I could have said? All I know for sure is my brother and my nephew continue to subject me, my mother and father, my wife and two sons, my other brother and his wife and three boys, to an agonizing, emotional hell.
Two and a half years ago, as I sat on the outskirts of London, watching them through binoculars from several hundred yards away, it was particularly bad. I squirmed in my seat, wondering what my brother was thinking. I threw my head back in disgust when my nephew made yet another bad decision. I tried to remain calm, but couldn't. I felt sick.
Even though my brother Bob is six years older than I am, I often wonder, should I have intervened in the early 1980s? That's when he decided to squander his Princeton degree, quitting Proctor and Gamble's executive training program -- not to mention the opportunity to help market a really phenomenal instant cookie mix -- after less than a year to become, of all things, a college soccer coach. He started out at Ohio University at 22, when he was a grad student in sports administration and Ohio University needed a coach. He was an assistant at Virginia a year later and, at 24, returned to Princeton to coach a team that included guys he'd played with. We figured it was just a phase.
But after a dozen years of coaching at his alma mater, when you figured coaching soccer would clearly be out of his system, what did he do? He packed up his wife, his son, Michael (then all of nine years old), and two young daughters and headed down to Washington, D.C., to become not a head coach, but an assistant for a team that would be called D.C. United in a league that would be called Major League Soccer. A league, by the way, that was expected to survive about as long as it takes to play the first 0-0 game. At least at Princeton he had security and his family was surrounded by academics.
Looking back, that's kind of funny. Academics. Now, obviously Bob is a smart guy. Banged the SATs, highly ranked in his class and all that. But the only subject that ever really moved him was something most considered a foreign language -- soccer.
Bob, known as "Rob" to family, spent two years in D.C. and we did not see much of each other. But, from what I heard, Michael did nothing but hang around the D.C. United team, picking up stray soccer balls, polishing players' shoes for a buck a pair, joining in the drills and keep-away games from time to time. The only time I ever got to see him play soccer was when he was nine, when he visited our family for Thanksgiving and was asked to guest-play in a youth tournament in New Jersey. All I remember from that tourney is that Michael missed a penalty kick and Bob laughed, saying Michael had been working on bending the ball with DC United's Bolivian midfielder Marco Etcheverry, and, hey, why not try it in a game? With two boys of my own now -- both youth soccer players -- I cannot say I have seen too many dads who laugh when their son experiments with something tricky and misses a penalty kick in a tournament. But that only begins to explain Bob and Michael's unique relationship. And the pain it has caused us.
OK, I'll lose the sarcasm for a bit. The truth is, my brother and nephew have brought me and my family more thrills and proud moments than anything, by a long shot. For those who haven't figured this plot line out yet, Bob is the head coach of the U.S. national team. His son Michael is a 24-year-old midfielder who has been playing professionally since the age of 16 and currently earns his living playing for Borussia Monchengladbach in Germany.
From where I sit most days, they are a true American soccer success story. My brother, now 52, fell in love with the game as a boy, even though my father was a former college baseball and football player who knew nothing of the world's game. Bob passed along that passion to his son, and together they've made the game their life's work. We've got this home video from Christmas Eve 1991, and there's three-year-old Michael staring into the camera, telling us what he wants Santa to deliver the following morning. "I want a soccer ball," he says, actually pronouncing soccer as "shocker." Then, he adds, "I want soccer shorts, soccer shin guards, soccer socks, a soccer goal …" When the video cuts to Christmas morning and Santa has answered his wishes, he immediately dons the gear, abandons countless other wrapped boxes under the tree and heads outside on a frigid morning to take shots on Uncle Jeff, the goalkeeper. To see him now, whether it's watching him play in Germany on my laptop, or playing for the U.S., matching up against the likes of Italy, Brazil and Spain, how could I not be proud?
But with pride comes pain and suffering. Returning to the opening scene, at England's Wembley Stadium in May 2008, I realized that I could no longer write objectively about American soccer, which I had done for ESPN The Magazine and ESPN.com since 1998. Even though I sat in the press box with a press credential, my heart, my head and my stomach told me I was out of place. The press box is a place for journalists to not only watch the game objectively, but also to crack wise with one another about what's happening on the field, on the sidelines and such.
From covering four World Cups before 2010, I am friends with many writers who cover the national team regularly and they should be allowed to partake in the usual rips and jabs without worrying about what they're saying in front of the coach's brother and the center midfielder's uncle. The 2008 friendly against England -- a 2-0 loss -- was not a good one, for Bob or Michael. The U.S. team looked disjointed, Michael made a number of poor passes. At least that's what I remember, because I spent much of the night with head in hands.
I would suspect that diehard, lifelong fans of teams can relate to about 1/100th of what I'm describing here. I'm a Red Sox fan and can remember when the Yankees beat the Red Sox in the 2003 ALCS, I couldn't sleep for three nights. But I could laugh at myself and ask, "Why do I care so much about a bunch of millionaire ballplayers who have no idea who I am?" Try mixing a little blood into your regular, diehard fandom. Read a few Internet message boards, where fans are repeatedly accusing your brother of nepotism. Enter the blogosphere where writers are calling for your brother's head on a platter -- after a win! Heck, go to ESPN.com's own soccer coverage, where the consensus has always been that Bob was a bad choice for U.S. coach in 2006. I'm in the business, so I understand the nature of this stuff, but I can't explain it to my 78-year-old parents, much less to my 14- and 12-year-old-sons. It can be brutal.
[+] Enlarge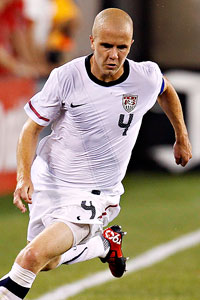 Jeff Zelevansky/Getty ImagesEver since he was three years old, Michael has wanted to do just one thing -- play soccer.
I do draw solace from knowing both Bob and Michael are different than I am. While I cannot make it through a U.S. game without downing half a bottle of Maalox, Bob seems no different to me now than when he was preparing Princeton to play Brown or Dartmouth in the 1980s and 1990s, or coaching in MLS from 1998-2006. He's always been serious and intense about his profession. His buzz phrase to the media, and to me as well, has always been about what happens "on the inside" of his team. It's work, it's day-to-day conversations with players, it's brutal honesty. And, most of all, it's private. I respect that privacy and rarely ask him questions about the team or about players. Bob knows what I do for a living and, really, I don't need to spend the rare night when we can sit down for dinner asking him to go on and off the record with what he's saying.
And Michael? Well, I always remember going on a Princeton road trip to the NCAA Tournament in 1995 (Michael was eight) and trying to introduce him to a fried Chick-Fil-A sandwich and waffle fries. Michael opted for a grilled chicken sandwich and a fruit cup, saying, "This is better for a soccer player, Uncle Jeff." Michael played in MLS at 16 and moved to Holland at 17, where he played two seasons in the Dutch First Division for SC Heerenveen. When I asked him what he did for fun, he basically answered, "Play soccer and watch soccer." He lived in a condo close to the team's training ground and ate at the same two or three restaurants every day.
Michael also learned to speak enough Dutch so he could understand the dialogue and jokes inside the dressing room, and even conduct a postgame interview. During his second full season at Heerenveen, playing midfield for an up-tempo team, Michael scored 16 goals in the Eredivisie, more than any American-born soccer player had ever scored in a European first division. When he played against England last year, the British papers were full of stories about Michael making the move to the English Premier League, perhaps even to a big club like Manchester United. I asked him if he really wanted to do that, to leave a place like Heerenveen where he was playing a lot and scoring a lot. "Of course I do," he said. "A player only has one shot at a career. If I get an opportunity to go to a big club, I have to take that chance, even if it means having to prove myself again."
The move that came was not to the EPL, but to the German Bundesliga and Borussia Monchengladbach. Again, he set up near the team's training center, found a rotation of restaurants, started to learn German and continued to study the game of soccer. This past year, he did get engaged, which makes us all happy. There is more to his life than soccer.
In the time since I sat in the Wembley press box, Bob and Michael have been on a ride that probably should've convinced me to switch from Maalox to Dramamine. There were ups -- the U.S. moved through the first stage of World Cup qualifying with a 7-1 record and opened the second and final stage with a 2-0 victory over Mexico, a game in which Michael scored both goals. And there were downs -- a 3-1 loss in Costa Rica and losses to Italy and Brazil to begin the Confederations Cup in South Africa. There was the Perfect Storm escape -- a 3-0 U.S. win over Egypt that, combined with Brazil's 3-0 win over Italy, moved the U.S. into the final four. There was the thrill of the U.S. defeating Spain, the No. 1-ranked team in the world at the time, to advance to the final. But that win was bittersweet because in the 85th minute Michael received a straight red card for a tackle that -- to my eye -- wasn't even a foul. In the final, with Michael in the stands, the U.S. took a 2-0 lead over Brazil into halftime, only to surrender three unanswered goals to lose, 3-2. Friends who'd never watched a full soccer game in their life were calling me, e-mailing me, telling me they were gutted. And they were proud.
But nothing compares to what they put me through in 2010. This time, however, I have a feeling more American fans know what it feels like to be on such a ride.
And for that, all I can say is thanks.