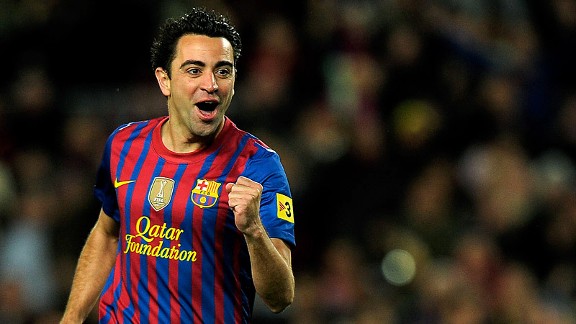 Lluis Gene/AFP/Getty ImagesXavi says that Spain must "keep fighting, maintain that thirst for a title" in Poland and Ukraine.
Lionel Messi earns the plaudits for Barcelona, but much of what he does wouldn't be possible without the man in the engine room, Xavi Hernandez. Watch as he controls the midfield: head in constant motion, swiveling as if on a pivot, to find a weakness in the defense and pick out the perfect pass. Whether it's maintaining possession or helping to launch an attack, Xavi arguably has been the most valuable to both club and country, as Spain has won the past two major international tournaments. Even Barcelona legend Johan Cruyff has given Xavi the big up as the best player in the world.
"If you see a guy like Xavi, who controls the ball and manages the pace of the game, he is also a great player," Cruyff said. "It is very hard to tell who is the best. [In my eyes,] the most spectacular is Messi, but the best is Xavi."
We had the opportunity to chat with Xavi this week. Talking points included Xaxi's new summer football camp. For 13 years, he's directed a camp in Catalonia; this summer, he brings the camp outside Spain for the time, to the U.S. at Lake Myrtle Sports Park in Auburndale, Fla., July 10-14 and July 15-19. It's the first Campus Xavi to take place outside of Spain.
We also chatted in-depth about Barcelona's season, which will conclude Friday with the Copa del Ray versus Athletic Bilbao, his future and fitness and, of course, Spain's defense of the Euro 2012 title.
Let's talk a bit about Campus Xavi Hernandez. I'd like to know why you chose the United States as the first destination outside of Spain.
The idea was born through my brothers. For many years, we'd been holding the Campus here in Catalonia for children of all possible ages and now we're going on 13 or 14 years, since I started as a professional inside Barcelona. This opportunity came through Aguilera, through friendships he has in the U.S. We were delighted; truthfully, we like it and it's a pleasure to hold the Campus here.
I hope many kids sign up. I have a lot of fun with them and, well, teaching the Barca values, which is a "school of life" for me, and teach them all the secrets of this school and the soccer values that I've been taught [is rewarding]. Delighted to be able to go there [U.S.] and we are really looking forward to it -- not only me, but the entire family and the entire Campus "Xavi" family, too.
What advice do you give a youngster who wants to become a professional player?
Well, enjoy [playing] and don't think about becoming a professional. To enjoy and play every possible hour and minute, all his spare time, when he comes out of school, when he's off on weekends. He should play, enjoy, have a good time and, most importantly, make contact with the ball. What I used to like as a boy was to take the ball, touch it, pass the ball, be in constant contact with the ball.
And then, at the Campus, with the coaches or with me -- since I will be present -- we will teach them the concepts that we deal with here in Catalonia or specifically at "Chez Barca." Above all the goal is that they enjoy, learn, listen. Everything related to this age. And then later on, if they have the talent to become professionals, then, hey, even better, right?
[+] Enlarge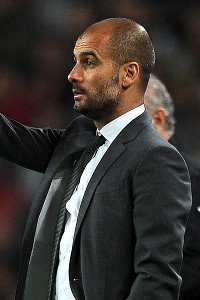 LLuis Gene/AFP/Getty ImagesXavi on Guardiola leaving Barca: "No, I didn't get to talk to him personally, because he is a very reserved and introverted person. His role is as a manager and we want the best for him."
Changing the subject to a pure and tough sports topic: With the Copa del Rey final near, is there a sense of added urgency to win the Copa due to the disappointments in La Liga, the Champions League, and, well, since it will be Pep's last game?
We want to finish the season well. It started fantastically well with the two Supercopas, the Spanish and European. Then we went to the FIFA Club World Cup, where we competed well against Santos. And then, yes, there were two disappointments. La Liga slipped away from us at home versus Real Madrid. Also, the bad luck we had in the Champions League against Chelsea, as everyone saw, because we were superior in both games, but soccer has those peculiarities. Chelsea won the final also with that strong dose of luck in terms of penalties and the game we all saw in general. In the end, we did not have the luck necessary to reach that Champions League final, where we would have liked to face Bayern. We were not able to win those two titles, but we have this Copa final against Athletic, which is a team that has been a revelation and is playing well under [Marcelo] Bielsa.
And we want to finish well, also, obviously for [Eric] Abidal, the illness and surgery he had ... and for Pep as well, because he deserves it after these four years, for the joys and for having helped us become a champion team once again, so that we may say goodbye to him as he deserves and we hope to take the Copa to Barcelona again.
How do you look back at the season's shortcomings? And how important has Guardiola's role been?
We competed until the end in all of the competitions. We reached the Champions League semifinal while we really deserved to advance to the final. Everyone saw that we were superior to Chelsea, but the ball did not want to go in, above all, in Stamford Bridge. Even here at home, up 2-0 and them playing with a man less, we still suffered the misfortune of losing the game -- in this case, the knockout game.
In La Liga, we had the misfortune that during the month of January and February, we distanced ourselves by 10 points from Madrid, which weighed on us. Even so, we competed until the end and had the possibility at the Camp Nou of turning those 10 points into just one point, but the game slipped from our hands. We didn't have that dose of luck that we had the last three years, so perhaps we let this year go a bit.
[+] Enlarge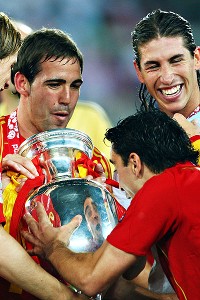 Lars Baron/Getty ImagesXavi reflects on winning Euro 2008, and he'll play a key role once again this summer. But Spain will be without both David Villa and Carles Puyol.
And so, Pep's role has been fundamental for us. He has given us order, discipline, marvelous tactical concepts to be able to compete and to win the 14 out of 18 titles that we have won and, well, now 15 out of 19 if we win this one. It truly has been a wonderful era under Pep and we thoroughly enjoyed ourselves with him. And we hope it can continue being like this, now with Tito Vilanova. Let's hope there is continuity after Guardiola since he will not change much and we will try to compete as we have up to now. The team has not lost the hunger, just that this year we did not have that necessary and essential dose of luck so as to compete until the end.
Did you get to speak with Guardiola personally to persuade him not to leave?
No, I didn't get to talk to him personally, because he is a very reserved and introverted person. His role is as a manager and we want the best for him. I was convinced that he could continue one more year, but he gave his explanations for leaving. He knows the locker room is behind him to the death and that we would all like for him to stay one more year, but he did not think it so and we must respect his decision. He believes that is best for him and for the club, and we are also delighted with him and this decision.
Do you visualize Pep Guardiola as a national team manager in the future?
With the prestige he has, I imagine he could coach any club and any national team; he will receive many offers. I would think he'd want a sabbatical year to rest after the tension of these four years and then see what the future holds for him. We wish him all the best and no doubt it will go very well for him, because he is a meticulous and different manager who is very well respected in the soccer world.
How do you assess the fact that Jose Mourinho will remain in charge of Real Madrid until 2016?
Well, it doesn't change anything. It is our eternal rival. Mourinho has been there two seasons. The truth is we don't pay much attention, because obviously it is our eternal rival, but we try not to look elsewhere. Things have gone well for us looking inside our own doors and we must continue this line. Thinking about ourselves, the team we have, the team chemistry, our philosophy, that Tito is coming in, that he has been Pep's right-hand man and I imagine the chemistry will be the same. We have everything to continue winning titles next year and we will fight for that.
Do you think it's possible that Tito wins as many titles as Guardiola?
Hey, obviously I'd like to think so. I know it is very complicated because no team in history has ever achieved this [under Guardiola], even the six titles in one year was historic, but we will fight. We cannot guarantee titles, but we can promise that we will fight and give our maximum effort and our will to keep on winning titles for Barcelona. Logically, what we did under Pep Guardiola will be very hard to duplicate, but we have a strong team to keep fighting towards the goals, which is to win titles by the end of the year.
How do you see yourself physically and mentally heading into Euro 2012 as compared to the World Cup or the previous European championship?
Good, very good. I am very hopeful, to tell you the truth. First, the Copa final and then, I arrive well physically. The last few months I had muscle problems in the calf, in my left leg, but right now I am doing great, really. I have been training for 15 days at top level and I played against Betis in the last Liga game and truthfully, I feel very well. In truth, I am excited about this Copa final and also the Euro, where we would like to make history as a national team. We would like to make history and repeat the European title from 2008, which would signify the best historical phase for a national team, to win the World Cup and the European championship. We very much look forward to going there, competing and making it far.
Del Bosque has a tough decision to make at forward: Fernando Torres, Fernando Llorente, Roberto Soldado, AlvaroNegredo up top, with David Villa out. But also, do you think Raul merits consideration after the season he had?
Yes, [Del Bosque] will surely consider him. In fact, there is much competition not only at forward, but in every area of the field. Even at goalkeeper, on defense, at midfield. It's true that one tends to always look at forward. There are many qualified players who can make the national team. They have all proven this. Raul himself, Soldado, Negredo, Llorente. They play at a very high level; now there is also Atletico Madrid's Adrian. There are many, many very good forwards and that is good for Spain and for the manager -- he has options. In that sense, the competition and competitiveness of the Spanish soccer player is good, that he is so gifted technically, physically; we have a great team and it will surely be difficult for Vicente to chose the 23 who will go, but it is something Spain welcomes.
Going to the Euro as defending champions, does that change a player's mentality and preparation?
I think it is a positive because before it was more so -- the sense of urgency. Spain had not won practically anything since the European championship in '64; we had not made the semifinals in any important tournament. And now our team is at peace. At peace in terms of winning an important title. We've been winning everything the past four years, the European championship and the World Cup and the team goes ready to compete.
Well, with that peace and tranquility we mustn't let it confuse us. We must keep fighting, maintain that thirst for a title. And we'll see what's in store for us, whether we have the same stroke of luck as in both events we won -- the European championship and the World Cup -- and we will try to reach the final and win it. It will not be easy, that's for sure.
Speaking of difficulties, who are -- in your eyes -- the favorites along with Spain?
Barring any surprises, I'd say the traditional ones. There's Germany, there's Holland, there's France, there's Italy, there's England, then there's also Portugal, who are very competitive. There are many national teams. Nowadays any team ... and it's not to deflect the topic, but that's how it is. They complicate your existence and it is very hard to beat them. Everyone prepares, they work well on defense and it will be hard for us to break through and score the first goal in many games. I picture Spain dominating, but they will really make things difficult for us. But there are many favorites this year, honestly. There are seven, eight teams who need to win, whether it be for historical reasons or due to an urgent nature. It will be very difficult, for sure.
Is there any team you fear more than others?
Spain has no fears. We simply play soccer, not changing our philosophy nor speculating about any rival, but obviously Holland itself, right? If we meet in the final, they are very strong; and Germany is also very tough. Perhaps they are the two teams ... but also, I don't want to disrespect anybody. France, Italy, even Portugal as well have a very good team, they are competitive.
Does Carles Puyol's absence on the defensive line worry you?
Yes, because he is a player who, beyond what he contributes on the field, is a leader, a reliable and established presence inside the locker room. As a person, he is very concerned about the rest of the teammates, the youngsters. He is one of the captains, with a lot of history behind him. It is an important loss for the group which we must overcome, and, well, let us see who comes.
ESPNDeportesLA.com's writer Gonzalo Aguirregomezcorta contributed to this report.