U.S.'s loss could be blessing in disguise
June, 26, 2011
06/26/11
8:55
AM ET
On Saturday night, the U.S. men's national team got the best result possible. Yes, that's right -- losing to Mexico in the Gold Cup final was a good thing. Not in the short term, obviously; the players are clearly gutted after conceding four unanswered goals to a technically superior El Tri. And the U.S. will miss going to the Confederations Cup in 2013, which is perhaps the biggest disappointment of all since the team loses out on a helpful tune-up for the Big Show in Brazil a year later. But in the end, for the good of U.S. men's teams now and in the long term, losing to Mexico could be a blessing in disguise.
If the U.S. had somehow managed to scrape out a win, too many supporters would be looking back at this run to the Rose Bowl final with rose-tinted glasses. It would have been another case in which we overestimate the American team. Victory against Mexico would have felt good, kind of like the way drinking a few beers when you're under the weather makes you feel better -- until you come crashing down again.
Instead, we got a sobering look at the challenges ahead, as the U.S. lost for only the second time in the past 13 games against El Tri on home soil.
With the champagne on hold, head coach Bob Bradley and his players will have to face up to many tough questions. Why, for example, can't the U.S. properly hold a defensive line? And how come Bradley had such an expansive game plan, leaving massive spaces to exploit, after his team went up 2-0? Shouldn't the two holding midfielders, Jermaine Jones and Michael Bradley, offered more in the way of defensive support against Mexico?
The quality of the opposition Saturday night was obviously much better than what the U.S. had faced up to that point in the tournament. But the ease at which El Tri was able to get behind the U.S. back line with simple diagonal balls, you'd have thought they'd devised some revolutionary way to play the game. Does the U.S.'s inability to handle these types of basic situations come down to skill, or coaching, or both? These discussions wouldn't have been front and center if the Americans had won. But they should be now.
There were bright spots in the tournament, such as Steve Cherundolo. He was one of the team's consistent performers, linking up well with either Landon Donovan or Alejandro Bedoya, and adjusting the level of his aggressiveness to suit the situation (more with Donovan, less with Bedoya). But the veteran right back is 32 years old. Same story with Carlos Bocanegra: He had a good tournament, and helped provide much-needed leadership when he was shifted to center back in Oguchi Onyewu's absence. But we all know the numbers: Bocanegra is 32. Gooch is 29. Clarence Goodson is 29. And Tim Ream, the rookie of the lot, has good composure on the ball for a center back but still wasn't good enough to earn a starting place in the Gold Cup.
In other words, we came into the tournament hoping to get a sense of how Bob Bradley would start reshaping the back line, and we don't have much more visibility now. Eric Lichaj showed promise on the left, yet when Cherundolo went down on the right, the U.S.'s option was … Jonathan Bornstein. This will only serve to raise more questions about Bob Bradley not including Timothy Chandler on the roster (yes, his club, Nurnberg, didn't want him to play because of fatigue, but should Bradley have made a stronger stand?)
[+] Enlarge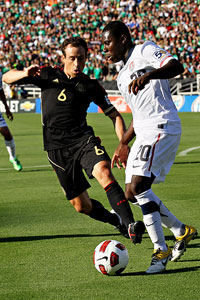 Stephen Dunn/Getty ImagesFreddy Adu turned out to be the biggest surprise for the U.S., but there's still trouble on the horizon.
The U.S. was not good enough. Even its normally dependable keeper, Tim Howard, had a bad night. And it paints a worrying picture when you start to play scenarios in your mind about how the U.S. is going to fare when World Cup qualifying begins and how it'll do in Brazil, if it makes it.
Perhaps we have a clearer sense of where the goals might come from. Freddy Adu resuscitated his career, which had been on life support, and showed that after all the false starts -- the player is enduring his fourth loan stint from Benfica -- he still has more natural talent on the ball than most of his national teammates. And he's just 22. Jozy Atlidore did score a scorcher of a goal, though the verdict is still out in terms of how much faith the U.S. can place in him, particularly given the level of competition the Americans faced. Juan Agudelo impressed here and there with his work rate and desire to take on defenders, even if his decision-making needs sharpening.
You could write a 1,000-page thesis breaking down each position. You could lament that Stuart Holden was out injured. But you could also make the case, once again, that the best players on the pitch continue to be Donovan, Clint Dempsey and Michael Bradley. Will this be the case in three years in Brazil? Bit of a scary thought.
It's not enough to just throw out the sports platitudes about learning from your mistakes. More is needed than that. Brad Gilbert, the tennis analyst, is fond of saying that athletes need to have short-term memory loss after a tough defeat. Forget, recharge, move on. But the U.S.'s defeat won't be forgotten -- or at least it shouldn't. It should be the jumping-off point for a heady postmortem, one that the U.S. wouldn't be undertaking with as much urgency had it triumphed Saturday.