Player strike delays La Liga season
August, 21, 2011
08/21/11
10:23
AM ET
On what was scheduled to be the first weekend of the 2011-12 season, stadiums stand empty across Spain as a dispute between the Association of Professional Footballers (AFE), the players' labor union, and the Professional Football League (LFP), stumbled into deadlock. Strike action was threatened by the former on Aug. 11 over the latter's refusal to revise a salary guarantee fund for players whose wages have gone unpaid, in some cases for months.
The LFP, whose president, José Luis Astiazarán, described the strike as "unjustified," has offered a pool of 40 million euros up to the 2014-15 season to guarantee wages in the case that clubs are not able to do so -- an increasing problem since the economic crisis, which shows little sign of a reverse, struck Spain in 2008. "The clubs have approved a fund that guarantees part of players' salaries, 240,000 euros for each Primera player and 120,000 euros for each in Segunda. These are significant figures," Astiazarán said after a fruitless negotiation between the parties Wednesday. AFE spokesman Luis Gil said after that meeting that the two sides' respective stances were "a considerable distance apart, even further than before, if that were possible."
The AFE says that around 200 players in Primera and Segunda División are owed some 43 million euros in back salary. A further meeting was called Friday, which again failed to reap dividends. Another is slated for Monday morning, when the warring factions will attempt to prevent a second stoppage next weekend. "The Sports Law needs to be applied; if a club doesn't pay its players, it should be relegated," Gil warned.
[+] Enlarge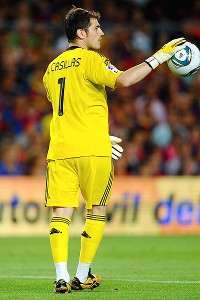 Laurence Griffiths/Getty ImagesReal Madrid goalkeeper Iker Casillas is vice president of the players association in Spain.
Strikes have taken place before in La Liga, notably in 1981 over a similar issue of debt. The AFE halted play on the first weekend of that season, but the clubs got around the problem on match day two by fielding youngsters. A similar strike occurred in 1984, with the same recourse used by the clubs. The judiciary subsequently outlawed the practice of selecting youth team players in such situations.
As well as the issue of mounting debts, previous strike disputes dealt with the removal of archaic laws such as a ban on players of under 23 years of age appearing in Tercera División, the quashing of a rule obliging clubs to field one player under 20, and the retention rule, where clubs could hold on to a player for the length of his contract in return for a small wage hike each season.
This time around, the problem is endemic. At many Spanish teams, ownership is inextricably linked to construction. During the boom years this was all very well, but when the property bubble exploded, the fall of construction as a profitable enterprise dragged many teams down with it, Rayo Vallecano chief among them. Owned until very recently by the Lehman Brothers of Spanish business, the Ruiz-Mateos clan, Rayo earned a remarkable promotion last season as players' wages went unpaid, revenues from its television deal were embargoed and the bus company used to ferry its players to matches itself saw no cash all season. Under new ownership, things appear to be looking up for Rayo's playing staff -- although its coach, José Ramón Sandoval, is under a contract dispute with the club's judicial administrators and it remains unclear whether he and his technical staff will be at the club this time next week.
Zaragoza, with around 110 million euros of debt, became the 20th La Liga club to apply for voluntary bankruptcy in recent years earlier this summer. By contrast, only Portsmouth of the English Championship has resorted to the same recourse.
Are Liga players justified in taking strike action? The turnout for the meetings between the AFE and LFP were a show of considerable strength. Iker Casillas and Carles Puyol were in attendance, among a host of big-name players who will not be directly affected by the ongoing financial meltdown in Spain. "I can assure you the games will not be played," said Casillas, who is also a vice president of the AFE, during the week. "We need to show solidarity with those that are having a tough time. The numbers are there for all to see."
Players' wages are difficult to pin down in a country where there are four or five different ways to say "corruption" and every level of business and politics is intrinsically mistrusted. However, a 2010 report by a Spanish newspaper put the average monthly salary in Tercera at between 300 and 1,000 euros, and Segunda B at around 2,000 to 3,000. Gerardo González Movilla, the former president of the AFE, in 2008 negotiated a minimum wage for Primera players of 110,000 euros per year, and 55,000 euros for players in Segunda. It is more likely that a player in Segunda División will drive a second-hand Seat to training than a club-provided Audi or BMW.
But the Ferrari drivers and bling sporters of Primera will not escape entirely unscathed from the strike. One week has been lost; another hangs in the balance. These matches have to be rescheduled and the LFP has all but ruled out a 37-game season. With the European Championships in Poland and Ukraine awaiting at season's end, the two-week winter break looks like a good place to play any outstanding matches. Ask any England coach or player for a reason as to their generally woeful performances at recent international tournaments and they immediately point to fixture congestion and lack of a Christmas vacation.
Deloitte's Annual Review of Football Finance 2011 makes for interesting reading under the current impasse: "La Liga revenues grew by 8 percent to 1,622 million euros, the highest absolute and relative growth of any of the 'big five' leagues."
Suddenly, 40 million euros over four years doesn't look like a lot of cash. Barça and Real Madrid generated 69 million euros in revenues between them last season.
"We are in a very complex economic situation," LFP president Astiazarán said. "If we accept that there are 200 players who haven't been paid, we are talking about 20 percent of the total. Compared with unemployment in Spain, at least they have jobs."