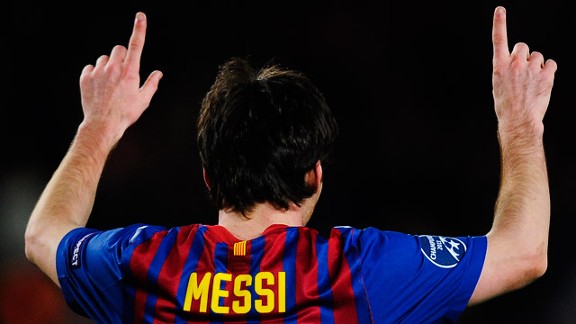 Photo by David Ramos/Getty ImagesThere's no doubt Lionell Messi would be the focal point of an all-La Liga 11.
I often wonder why La Liga and its English counterpart have never staged a two-legged match between a select 11 from each division as a season-ending finale. It wouldn't definitively answer the question of which is the "better" league, but it would at least provide a new angle from which to debate the matter -- and it would be one hell of a game.
To make the thing a little less lopsided, both leagues in this hypothetical tie should be allowed only two players per club, with a free choice of manager. Based on this season alone, here's a Liga side more than capable of putting the Premier League to the sword in a good old-fashioned 4-3-3.
GK: Diego López, Villarreal
Villarreal's Spanish stopper is arguably the most underrated in the league and this season is one of the main reasons why the Yellow Submarine is still in the fight to stay up going into the final weekend. His virtuoso performance against Barcelona is one of the highlights of the season and two incredible saves at the death earned his side a valuable point. He also held Real Madrid at bay, equally satisfying no doubt as the capital club let him go in 2007 and signed ... Jerzy Dudek.
Left back: Jordi Alba, Valencia
The Valencia flier is Spain's answer to Gareth Bale. Equally comfortable at left back or left wing, Alba has combined beautifully with Jeremy Mathieu various times during the season, not least when Unai Emery unleashed the pair against an unsuspecting Pep Guardiola at Mestalla last September. Such was the effect that the Barcelona boss was forced to drag his own occasional suprise winger, Dani Alves, back to help out in defense as the visitor clawed its way to a 2-2 tie. Alba has probably made the left back slot at the European Championships his own.
Right back: Jesús Gámez, Málaga
Perhaps not the most recognizable right back in the Spanish top division, Gámez nonetheless gets the nod over the theatrical and often-out-of-position Dani Alves and the painfully average Álvaro Arbeloa. Gámez is a one-club man who ascended to the captaincy of Málaga during the summer. In 25 starting appearances for the Anchovies this season, Gámez has offered a solid and dependable option on the right of defense for Manuel Pellegrini. Chipping in with five assists and incurring a paltry three cautions, Gámez has provided the kind of stable leadership on and off the field a work in progress such as Málaga needed in a season earmarked for a notable breakthrough in La Liga. One win away from a Champions League place, Málaga has delivered much more than expected.
Center back: Sergio Ramos, Real Madrid
Earlier in the season, when the creaking Ricardo Carvalho was sidelined, José Mourinho switched Ramos to center half and opined that he was probably better in that position than in his usual right back slot. The Portuguese's forecast was proved beyond question as the former Sevilla man put in a series of commanding performances. Solid in the air, with innate positional sense, Ramos has justified his exalted title of second captain by leading on the field when Iker Casillas, for obvious constraints of movement, was unable to. Ramos also chipped in with a handful of goals, including a vital pre-Clásico winner against a dogged Getafe that likes nothing more than throwing a suburban spanner into the machinery of mighty Madrid. Ramos will be expected to do more of the same in Poland and Ukraine now that Carles Puyol has been ruled out with injury.
Center back: Javi Martínez, Athletic Bilbao
Like Ramos, Martínez was asked to adapt to central defense from his usual defensive midfielder role and has performed admirably there. A World Cup winner with the full Spain team in 2010, Martínez showed that he is no prima donna by happily slotting back into the under-21 setup to help lead it to European triumph a year later. A target for a host of top European clubs, Martínez also provides Vicente del Bosque with a viable choice to fill a Puyol-shaped hole when Spain gets its European title defense under way in Gdansk. He'll also be able to mop up after this midfield.
Left midfield: Cristiano Ronaldo, Real Madrid
[+] Enlarge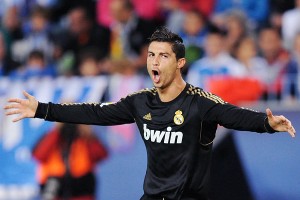 Denis Doyle/Getty ImagesHow would Cristiano Ronaldo mesh with Messi? Wonderfully, we think.
Any Liga team put out to showcase the abundant talent in its ranks would be expected to win, but to entertain while doing so. No player in the modern era polarizes opinion quite like Ronaldo. But whatever personal perceptions he might provoke, the Madeiran is quite simply a phenomenal player. His 45 league goals to date, his second plus-40 haul in consecutive seasons, is an incredible achievement and despite valuable contributions from Karim Benzema and Gonzalo Higuaín -- among other records Real has become the first side in Liga history with three players with 20 goals or more -- there is little doubt that the league title belongs in large part to Ronaldo.
Right midfield: Jesús Navas, Sevilla
Much as Fernando Torres' recent part-revival has reopened the debate over whether El Nińo should be on the plane to Poland and Europe, Navas' so-so season can be directly attributed to an end-of-cycle malaise at Sevilla exacerbated by a double change of manager. Nevertheless, Navas stands joint-fourth in the Liga assists chart, level with Ronaldo and behind only Mesut Özil, Ángel di María and Leo Messi. Last weekend, Navas provided four in a single game against Rayo.
Central midfield: Óscar de Marcos, Athletic Bilbao
Not for nothing is De Marcos being courted by Manchester United. The 23-year-old scored in both legs of Bilbao's Europa League destruction of Sir Alex Ferguson's side and, after making his Lions debut three seasons ago, has become an integral part of Marcelo Bielsa's swashbuckling side. Adding to De Marcos' allure is the fact that he can play basically anywhere on the field and has more in the way of guts than most professional footballers. Earlier this season he saw out a match against Zaragoza with a tear in his scrotum that needed 25 stitches to fix.
Forward: Lionel Messi, Barcelona
Could Messi and Ronaldo play in the same side? We'll likely never find out but it would be practically impossible to stop them if they did. This season the three-time Ballon d'Or winner has smashed Gerd Müller's long-standing record of 67 goals in a European season and has passed the 50-mark in the league alone. Whether Messi will win a fourth consecutive best-player gong depends largely on what happens in Munich in two weeks' time, but the Argentinean maestro is without doubt the best forward on the planet at the moment. As a parting gift to Guardiola -- the little man did not attend the farewell news conference with his teammates for fear of breaking down in front of the world's media -- Messi knocked all four past Espanyol in the city derby at the weekend.
Forward: Radamel Falcao, Atletico Madrid
[+] Enlarge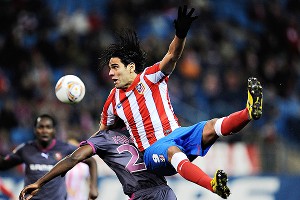 Dani Pozo/AFP/Getty ImagesBehind Messi and Ronaldo, Radamel Falcao may have been the best player in La Liga this season.
"The Tiger" has certainly bared his claws since a club-record 40 million-Euro arrival at Atlético last summer. If the top-scorer chart in La Liga is taken in the same context as the league itself, Falcao looks set to win the race among the non-Messi and Ronaldo participants. With 23 league goals, 10 in the Europa League -- the Colombian will be the competition's top marksman for a second season running if he scores against Athletic in Budapest -- and one in the cup, Falcao has a record of 33 in 46 for Atlético thus far this season. And let us not forget, he plays for Atlético. His strike against Valencia in the semifinals of the Europa League is a contender for goal of the competition.
Forward: Arouna Kone, Levante
Listening to anybody connected with Valencia's second club throughout the season, the mantra that "survival is our goal" began to ring hollow when Levante established itself in the top five. As early as Week 6 the Frogs leaped into the European zone and Levante has dropped out of that exalted company only twice since -- unfortunately for a fairy-tale end to an incredible season most recently last weekend. However, the Europa League is still a possibility for a club that could certainly do with the cash and Koné has earned his spurs in some style. After he spent three seasons at Sevilla with a single goal for his efforts and an underwhelming loan spell at Hannover, Levante took a punt on the Ivorian and he delivered, not least in condemning Real to one of its two league defeats of the season. A clause in his contract stipulated that on scoring 18 goals for Levante, Koné would have to return to Andalusia. It says it all about his newfound love for football that he took his foot off the gas with 17 strikes to his name.
Manager: José Mário dos Santos Mourinho Félix.
Bench: Javi Venta (Levante); Javi López (Espanyol); Adil Rami (Valencia); Nacho Monreal (Málaga); Diego (Atlético); Andrés Iniesta (Barcelona); Hernán Pérez (Villarreal); Beńat (Betis); Carlos Vela (Real Sociedad); Alvaro Vazquez (Espanyol).
PL 11: Tim Krul (Newcastle); Kyle Walker (Tottenham); Fabricio Coloccini (Newcastle); Vincent Kompany (Manchester City); Gareth Bale (Tottenham); Yaya Touré (Manchester City); Mikel Arteta (Arsenal); Juan Mata (Chelsea); Clint Dempsey (Fulham); Didier Drogba (Chelsea); Robin van Persie (Arsenal)