Exclusive Q&A with Jurgen Klinsmann
September, 28, 2012
09/28/12
12:19
PM ET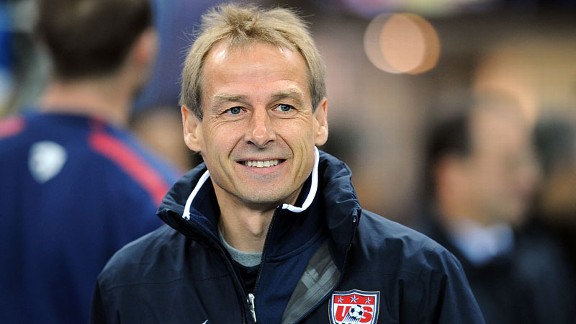 Franck Fife/Getty ImagesThe U.S. national team has high hopes with Jurgen Klinsmann as manager.
Four years after the U.S. men's national team qualified for the final round of regional World Cup qualifying with two games to spare, the Americans head into next month's decisive group-stage matches -- against Antigua and Barbuda, and Guatemala -- needing a win and a tie to guarantee advancement.
That wasn't the way it was supposed to be when Jurgen Klinsmann was hired as the Yanks' coach in July 2011.
After all, the affable German won the World Cup as a player in 1990 and led his country to the semis as manager in 2006. But Klinsmann, once among soccer's most prolific strikers, has struggled to coax goals out of the U.S. He has also straddled the line between implementing a proactive, high-pressure playing style and using the more pragmatic approach that may be needed to successfully guide the U.S. to Brazil 2014.
Along the way, Klinsmann's progressive training methods, roster moves and formation choices have at times confounded U.S. fans. Below, in an exclusive interview, the coach answers some of their burning questions (edited for length and clarity).
Question: Why has the road been so much harder for the U.S. so far than it was in 2008? What has it opened your eyes to about qualifying in this part of the world?
Klinsmann: "Teams in CONCACAF are getting better, and they're all competitive -- there are none you can take lightly. It's a good sign of how the quality of the game has grown within the region. But the situation would be much different going into these final two games in the group stage if we had been able to take at least one point in Jamaica."
---
Q: The field conditions in Kingston weren't optimal, but what else went wrong in that game? Is there anything you'd do differently?
Klinsmann: "We didn't implement the game plan. If you can't pass or dribble, if there are physical battles, you have to adjust. If you win the one-on-ones, you can start to play the way you want to. A couple of guys had problems with that, and that's why we gave away those cheap free kicks that cost us the game. Also, we had three players [Carlos Bocanegra, Maurice Edu and Clint Dempsey] come in to camp that two days before weren't even under contract with teams. They had no rhythm, no fitness base. It's difficult to go from zero to 100 in a few days. I'm not complaining about it -- I take things the way they are. But it impacts us. Things would have looked different with everyone in a rhythm."
---
Q: You've often talked about implementing a proactive style of play based on ball possession, playing out of the back, etc. That's not always easy to do on bumpy fields like the one in Jamaica, and like the one you might see in Antigua. Are you prepared to play with a more direct approach if the situation calls for it?
Klinsmann: "You always have to adjust depending on field conditions, weather and opponent. If a situation requires [using] long balls and crosses, we try to do that. What we always want to do is push the back line up higher and high pressure whenever we can. Yes, we want to implement a style that the players and U.S. fans enjoy. But while we go through that process, we need to get results. So if in Antigua we have to send a tall center back up front [to win headers], we're going to. In those games it's not about what systems we play, the tactics. It's about getting the job done. In other games, you can do it by going the technical route."
---
Q: The U.S. is even on points with Guatemala and Jamaica right now, and with goal differential as the first tiebreaker, scoring will be important in these next two games. That's something this team has struggled with. Where do you expect those goals to come from?
Klinsmann: "I hope they come from all over (laughs). Whoever you put on the field, they have to have that extreme hunger to create chances and score. That's how we measure our players, by their work rate, their toughness, by how much they give to the team. We're extremely happy to have a guy like Herculez Gomez. He has tremendous quality and he sacrifices himself for the team. We were happy he scored that free kick against Jamaica at home.
---
Q: Jozy Altidore is leading the Dutch league in scoring, but he's hasn't scored for the national team since last year and doesn't seem to be getting much service. What can you do to get him more chances?
Klinsmann: "The Dutch league is very open -- he gets three or four chances a game. In international games, there's less space. It's hard to get chances; you have to create them yourself. Yes, you always want people to feed your strikers who are good at finishing, but on the other hand, when teams are locked in, you have to work, work, work and force your luck, and sooner or later you'll get rewarded for that. I think Jozy can do a lot better, and he knows that.
---
Q: You were full of praise for Danny Williams after the home win against the Reggae Boyz. Do you now see him as a central midfielder -- the position he plays for Hoffenheim in Germany -- going forward?
Klinsmann: "It's been a challenge having four or five defensive-minded midfielders. That's why we often end up playing three of them, because they're good. But they aren't playmakers. They're not going to get in the box and win you a penalty. I knew that Danny's best role was as a No. 6. That's where he broke though over the last year in the Bundesliga. So while you're trying to find the best guy for every position, when you have very good players who play similar roles you have to improvise. I'd rather have three high-end wingers instead of five quality No. 6's." [laughs]
---
Q: Do you see Michael Bradley as a No. 6?
Klinsmann: "No, I see Michael and Jermaine [Jones] as No. 8's, guys who can go both directions. But if you play, for instance, a 4-4-2 with Landon [Donovan] on the right and Brek [Shea] on the left, then you can only have two in the middle. With Danny, Michael, Jermaine, Kyle [Beckerman] and Mo [Edu], we have five options."
---
Q: Eric Lichaj has started Aston Villa's last three Premier League games, and 12 of 15 dating to last season. But he hasn't been in camp with the U.S. since you've been the coach. How close is he to getting a call-up?
Klinsmann: "Eric has always been on our list and the more he plays, the closer he gets. Right now it's not the right time to bring in a bunch of new players. Every coach wants to see young players coming through the system, and I'm definitely looking forward to seeing Eric for myself, with the group. 2013 will be a big year with qualification and also the Gold Cup. We'll have to build two rosters. Hopefully there's an opportunity for Eric coming up in the near future if he keeps starting at Aston Villa."
---
Q: You did name Joshua Gatt, an uncapped player from Molde in Norway, to your last roster before he withdrew with an injury. Are you saying you're less willing to take chances like that now, heading into the final two group games?
Klinsmann: "If a player at maybe a smaller club gives a specific edge for a specific game based on their characteristics, you can make some exceptions. We thought Josh Gatt, with his speed, could have helped us against Jamaica. The same as the players, we as coaches have to adjust."
---
Q: Landon Donovan is still perhaps the highest-profile American player, but he's talked about possibly leaving soccer altogether on several occasions recently. When did you last speak to him? How does he fit into your plans between now and 2014?
Klinsmann: "The last time we spoke was in Mexico [a 1-0 U.S. win in August]. You try to get a feel for a player, but those are things players have to work out for themselves. I hope his goal is still 2014 [World Cup]. He has many thoughts, about going back to Europe maybe, after his good experiences with Everton, but he's old enough to make his own decisions."
---
Q: What's the latest regarding Stuart Holden?
Klinsmann: "I spoke to Stuart a couple of weeks ago. He told me he hopes to be back in training in October. We always stay connected -- he's such a good kid, and we all just hope he's back on track because he gives everything he has to the program."
---
Q: Fabian Johnson scored last weekend for Hoffenheim; he clearly has the ability to attack. Might you move him into midfield at some point?
Klinsmann: "Having Fabian at left back is outstanding because he plays a position where we were lacking in the past. He's one of the best left backs in Germany. Now people are noticing it because he's starting to score goals. [As for] playing him further up the field, we don't have another left back with the same quality for how we play, and again, we have so many midfielders that we'll keep him there for right now."
---
Q: You clearly favor a rather progressive approach with your players. In what ways have you tried to help them improve individually?
Klinsmann: We simply want to empower them. We try to give them tools to do that, to get an extra 5 to 10 percent out of them. It's a holistic approach: We're trying to make them understand that they are responsible for everything. You are the one that decides if you're going to have a glass of wine or if you'd rather drink water. You decide how you live your life, if your Twitter messages are appropriate or not. I can tell them that Jamaica will battle and foul and be physical, but I can't go on the field. I tell them every time we get together that [2014] is their World Cup. I've played in mine."