Commentary
Bunbury and Agudelo shine in friendly
Updated:
January 24, 2011, 1:56 PM ET
By
Jeff Carlisle
| ESPN.com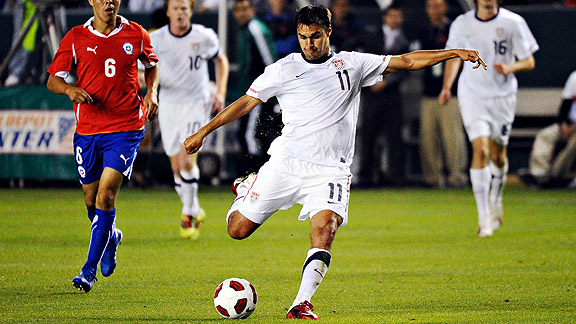 Kevork Djansezian/Getty ImagesAgainst Chile, Chris Wondolowski was decent as the lone striker, but he had more success when he dropped deep into midfield.
CARSON, Calif. -- The history of U.S. soccer is littered with players who started their international careers brightly before fading away because they failed to make the incremental steps needed to be impact players over the long term. Yet Saturday's 1-1 tie with Chile was notable for several performers who showed steady progress following their international debuts last year.
And really, that was what this particular match was all about. Ever since the start of this World Cup cycle, U.S. manager Bob Bradley has made a point of handing numerous players their first cap. Saturday's match was just the latest example, with seven players making their first international appearance. The result was secondary.
"From the start of this camp, we talked about how in international games, things go faster, about how our movement needs be better and things need to be cleaner," Bradley said. "So you work for a few weeks to establish an idea of what that's like. In that respect, it was exactly what we had worked toward. It was a fast game, Chile's way of playing is such that they put pressure on you. … There were some moments where we lost some balls that were dangerous, but there was also a strong response when we were down, and that was quite good."
On the basis of what transpired, the buzz surrounding forwards Teal Bunbury and Juan Agudelo will increase, although it should stop well short of a full roar. For the first 60 minutes of the game, the U.S. huffed and puffed against a resolute Chilean defense. To be fair, the 4-2-3-1 alignment trotted out by Bradley didn't come close to playing to the strengths of lone striker Chris Wondolowski, whose midsized frame doesn't really allow him to provide the kind of hold-up play needed. And the entire team had difficulty coping with the frenetic pace of the game and the pressure Chile applied, which the visitors used to score through Esteban Paredes in the 53rd minute.
But when Bunbury and Agudelo entered the match, there was a notable improvement in the U.S. attack. Bunbury's bigger frame had to be respected, as did Agudelo's combination play and ability to take defenders on. The latter two traits were on display in the 74th minute when a quick combination with Alejandro Bedoya resulted in Agudelo being taken down in the box by Chilean defender Sebastian Toro. At first glance, the call from referee Francisco Chacon Gutierrez looked soft, but replays showed Toro did catch the foot of Agudelo, adding some legitimacy to the decision. Bunbury slotted home the penalty a minute later, resulting in the two players celebrating with a slightly off-kilter rendition of the Dougie dance.
Bunbury and Agudelo went on to show they were more in sync from the run of play and nearly combined for the game winner in the 85th minute, only for Chile goalkeeper Paulo Garces to deny Agudelo's tight-angled drive.
"On and off the field, our chemistry is growing," said Bunbury of his relationship with Agudelo. "We hang out a lot off the field, and on the field we just try to work off of each other. We're always trying to push each other and make each other better, and I feel that really showed tonight."
"I guess that he's my brother from somewhere," Agudelo said. "We just get along real well."
But the player who probably did the most to help himself, at least in the near term, was Tim Ream. Aside from a few hiccups, the New York Red Bulls defender was solid in nearly all aspects, and his communication with his teammates helped keep the U.S. organized. His performance was also much more even than it was in the friendly against South Africa in November, giving an indication that he's ready to take the next step.
Of course, it wasn't all positive for the U.S. team. Overall, the team's passing was ragged, and some elements of the squad never did quite come to grips with the game. But Bradley insisted he was satisfied with the performance and wasn't ready to write off any player from the current roster.
"When you assess the whole game, we need more games like this," he said. "There's no two ways about it."
[+] Enlarge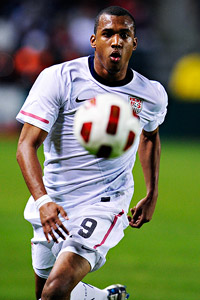 Robyn Beck/AFP/Getty ImagesTeal Bunbury was aggressive in running at people, and he slotted home his penalty with aplomb.
That is especially true of players like Ream, Bunbury and Agudelo. The temptation will be to hail them as the Next Big Things in American soccer. They're not yet. They're just ready for the next step.
Player ratings: (1-10)
Nick Rimando, 4.5 -- His handling was competent enough, but he didn't do enough to command his box, flapping at a cross in the 30th minute.
Zach Loyd, 4 -- His penchant for alternating good and bad plays caught up to him on the Chilean goal, as he was on the wrong side of his man in the buildup. Showed some decent dribbling skills, but his first touch and passing were lacking at times.
Tim Ream, 7 -- Aside from one early communications mix-up with Gonzalez, he was a calming presence in the back. Solid with his distribution as well as his one-on-one defending, Ream would seem to be the best bet from this group to see time in the upcoming friendlies scheduled over the next two months.
Omar Gonzalez, 5.5 -- Not quite as composed as Ream, but put out his share of fires. He certainly deserves more looks going forward.
Sean Franklin, 4 -- The Galaxy defender endured a nightmarish first 30 minutes, consistently getting beat out wide. That said, he recovered to make some key plays late in the half, including one clearance of a dangerous cross. He went on to look much more collected in the second stanza.
Brek Shea, 5 -- Put in plenty of work on the defensive end and was active in the attack. But he was pushed off the ball far too easily in some duels, which is odd given his size. That said, it was a much improved performance from his deer-in-the-headlights debut last year against Colombia.
Dax McCarty, 6 -- Started out blazing, delivering plenty of good passes and nearly scoring with a long-range blast. He seemed to tire late in the first half, and his distribution blew hot and cold for the remainder of the match. Still, he was one of the driving forces in the U.S. attack.
Jeff Larentowicz, 4.5 -- The game seemed to be a bit too fast for the Colorado midfielder, as he was caught in possession a few times. He raised his game in the second half, but his touch let him down a bit too often.
Alejandro Bedoya, 5 -- Didn't see enough of the ball, and struggled defensively early on. Had more success in the second half when he tucked inside and made more slashing runs, and his clever touch to Agudelo led to the U.S. penalty.
Mix Diskerud, 5.5 -- Decent performance, although he didn't get much help from referee Gutierrez, as he was whistled for fouls without earning any of his own. He overcomplicated things at times, but he still had some decent touches and his work rate will ensure that he gets more looks at the international level.
Chris Wondolowski, 5 -- Showed some decent vision, but operating as a lone forward doesn't suit him. Had more success when he dropped deep into midfield, but was starved for service. Overall, he didn't do badly in what was a tough assignment.
Subs:
Marvell Wynne, 3.5 -- His speed served him well at times, but his failure to adequately mark Paredes on the Chilean goal was costly. A missed opportunity for the Colorado defender.
Sean Johnson, 5 -- Had absolutely no chance on Paredes' goal, but otherwise handled himself well in what was mostly a quiet half.
Teal Bunbury, 6 -- Gave the team a noticeable boost when he entered the match with Agudelo. He used his size well, was aggressive in running at people and slotted home his penalty with aplomb.
Juan Agudelo, 7 -- Continues to be a difference-maker, and his mazy run won him a penalty. The big question now is where will his development be better served, with the full team (against much tougher opponents) or at the U-20 level?
Anthony Wallace, 5 -- Added some stability to the left side and made some good forays up the flank.
Eric Alexander, NR -- Brief cameo for the FC Dallas midfielder.
Jeff Carlisle covers MLS and the U.S. national team for ESPN.com. He is also the author of "Soccer's Most Wanted II: The Top 10 Book of More Glorious Goals, Superb Saves and Fantastic Free-Kicks." He can be reached at eljefe1@yahoo.com.
U.S. soccer correspondent
Jeff Carlisle covers MLS and the U.S. national team for ESPN FC.