Commentary
MLS's old-fashioned derby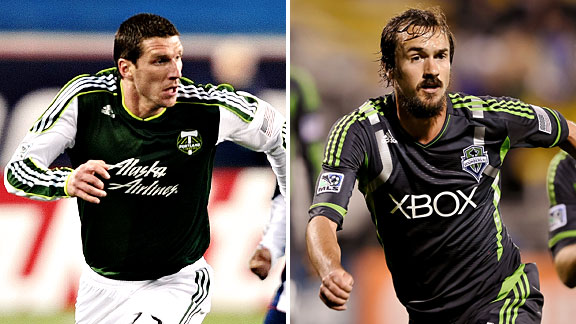 Icon SMI, Getty ImagesWhile Saturday's match marks the first time Portland and Seattle will face each other in MLS league play, the rivalry has an immense history that spans generations.
At the completion of the 2007 United Soccer Leagues season, Roger Levesque went in search of a new team. The Seattle Sounders, the side for which he had toiled for five years, wasn't sure it was going to field a team in the USL in 2008 after it was announced it would join MLS in 2009. So Levesque did what some considered unthinkable. He decided to play in a friendly for Seattle's bitter rival, the Portland Timbers.
"There was a warm welcome from the [Portland] organization and the team," said Levesque via telephone. "Not so much the fans."
That's putting it mildly. As Levesque took the field that night against Toronto FC, at what was then known as PGE Park, a giant banner was unfurled in the stadium's north end, home of the Timbers Army. It read: "True Fans Hate Levesque."
Levesque, among the more mild-mannered and approachable players in MLS, was booed every time he touched the ball. His attempt to come over and make peace afterward was met with vitriol. As Timbers Army member Scott Swearingen recalled, "Levesque was not allowed near the north end."
Timbers owner Merritt Paulson was incensed at Levesque's treatment, necessitating a crash course in the Portland-Seattle rivalry by Timbers Army member Jeremy Wright.
"Paulson was like, 'What's the matter with you guys? Roger Levesque is a good player. He will make our team better,'" recalled Wright. "I said, 'Merritt, let me tell you why Roger Levesque is reviled in the north end.' I listed off his transgressions over the years. He looked at me and went, 'Oh, OK. I didn't know that. But he's still a good player.' We ended on a more understanding note, but he still couldn't understand why he couldn't put that player on the field."
[+] Enlarge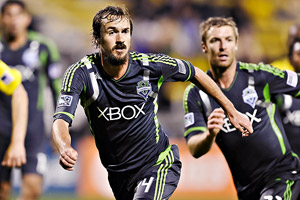 Jamie Sabau/Getty ImagesSeattle's Roger Levesque knows how intense the Sounders-Timbers rivalry can get.
The incident is just one of many reasons why the Portland-Seattle rivalry, one that will be renewed Saturday at Seattle's Qwest Field, is already among the most intense in MLS. The two cities are a mere three hours from one another by car, ensuring a sizable away contingent. There's the big city/smaller city angle, with Portland having, as Paulson puts it, "a bit of a chip on its shoulder."
And while Saturday's match marks the first time the two teams have faced each other in MLS league play -- the Timbers joined MLS this year -- the rivalry has an immense history that spans generations. Portland played its inaugural game in the old NASL against the Sounders back in 1975, with the Sounders prevailing 1-0. And whether it was in the NASL, the USL or the U.S. Open Cup, the two teams routinely squared off in games with more on the line than just bragging rights.
The Sounders claimed the past two U.S. Open Cups, but they had to go through Portland both times to do it, prevailing in front of a hostile crowd on both occasions. Then there is the banter between the fans. Portland tries to paint Seattle as a town that jumped on the Sounders bandwagon only when the team joined MLS.
"We're very proud of the fact that when there was no light on us, nothing shining on us, we were this little Division 2 team, and we're still doing what we're doing today," said Wright. To which Sounders fans respond with a collective, "But look at us now." Their sheer numbers make them the best-supported team in MLS, and the fact that they made the step up to MLS first doesn't escape their attention, either.
ESPN FC on Twitter
Don't miss a moment of the latest soccer coverage from around the world. Follow us on Twitter and stay informed. Join »
"We like to sing songs at them saying, 'You're in MLS because of us,'" said Keith Hodo, president of the Emerald City Supporters, a Seattle fan group.
But for Levesque, all of this is the fuel that feeds memorable games.
"The game is pretty important, just from the history perspective, and the pride in the team and the city," he said. "That definitely adds a little something extra to it."
Levesque, who eventually returned to Seattle in 2008 after his controversial one-off with Portland, will take comfort in the fact that Saturday's contest will take place at home. While Timbers Army member Garrett Dittfurth estimates that upwards of 1,000 Timbers fans will make the trek north, their numbers will be dwarfed by the 35,000 or so remaining Sounders fans inside Qwest Field, nearly all of whom will be counted on to deliver a perpetual serenade to the visitors.
[+] Enlarge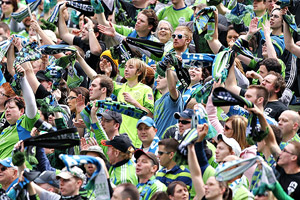 Otto Greule Jr/Getty ImagesPortland should expect a hostile welcoming at Qwest Field on Saturday night.
"We've got a litany of songs that we break out only against Portland," said Hodo. "Well, maybe 'litany' isn't the right word."
Indeed, most of the songs supplied by Hodo were unprintable. That said, he has an almost reverential awe for the atmosphere that has been created at past matches, regardless of the venue.
"When you get a chance to play a rival, there's really nothing like it," he said. "On a normal match day, we usual wait until the day of the match to get people riled up and ready to go, and then get them singing in the stadium. But during a [rivalry] week, people are already talking about it. There's already a buzz."
Given the rich history of this rivalry, it appears that feeling will continue long after Saturday's game is over.
D.C. does the "tighten up": D.C. United's season looked like it was coming apart at the seams following games against New York and Houston that saw the Black-and-Red concede a total of eight goals. But after giving up just one goal in its win over Seattle and producing a clean sheet in a draw against FC Dallas, things are looking up for Ben Olsen's side. And the DCU manager indicated that the difference was equal parts tactics and personnel. Tactically, Olsen indicated that his back line was playing a bit deeper than in games past.
"We still want to press," said Olsen via telephone. "We just want to have a little bit better rhythm defensively. If it's not on to [press] we want to hold and make sure we're compact. It in no way means we're going to sit back and defend for 90 minutes."
[+] Enlarge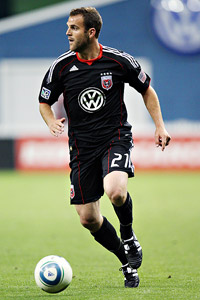 Ned Dishman/Getty ImagesDaniel Woolard has helped shore up D.C. United's back line.
In terms of personnel, injuries to Jed Zayner and Marc Burch dictated putting Daniel Woolard and rookie Perry Kitchen in the outside back positions, while another rookie, Ethan White, played centrally alongside Dejan Jakovic.
"What you get with [Woolard and Kitchen] is they're defenders first," said Olsen. "For the last two games they've done a pretty good job of closing up shop. Ethan brings some much-needed bite to the back line and an amazing amount of athleticism. And he covers channels well. If the ball goes over Kitchen or Woolard, he does a pretty good job of making a play."
So will Olsen dare change things when Zayner and Burch heal up?
"That back four has done a pretty good job over the last two weeks and it would be tough to change it," he said. "But we evaluate things every day. We've got a deep team and we want to breed competition within the team every week."
Philly still searching for offense: When the Philadelphia Union entered the season, offense figured to be the least of its problems, especially with an attack featuring Sebastien Le Toux, Danny Mwanga and new acquisition Carlos Ruiz. But seven games into the season, Philadelphia has tallied a league-low five goals. And assistant coach John Hackworth, who will man the sideline against L.A. on Wednesday while head coach Peter Nowak attends a charity event in his native Poland, said he's still looking for answers.
"I honestly think that we haven't gotten the production in games that we've seen in training," Hackworth said via telephone. "I truly believe that it's just a matter of time, and not something that can't be fixed."
Hackworth indicated that the focus on improving last year's porous defense may have had an unintended consequence.
"Our team has been pretty tough to break down" he said. "That may have taken away our mobility at the other end."
Hackworth said he and Nowak have tweaked some things for Wednesday, and while he didn't elaborate, one change may involve the deployment of Le Toux, who has just one goal and an assist on the season. "We're going to look at some issues and see if we can't get Le Toux the ball in better spots."
Jeff Carlisle covers MLS and the U.S. national team for ESPN.com. He is also the author of "Soccer's Most Wanted II: The Top 10 Book of More Glorious Goals, Superb Saves and Fantastic Free-Kicks." He can be reached at eljefe1@yahoo.com.
U.S. soccer correspondent
Jeff Carlisle covers MLS and the U.S. national team for ESPN FC.