Commentary
Panama gets deserved win over U.S.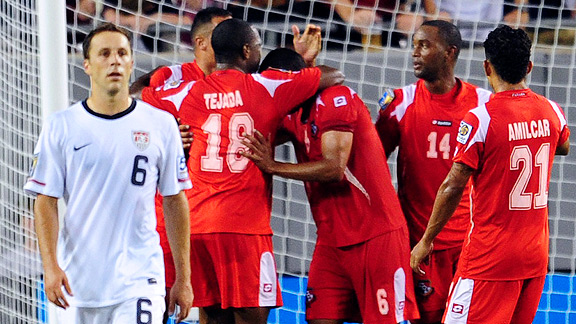 Mark Ralston/AFP/Getty ImagesDespite a second-half surge, the U.S. lost its first group-stage match in Gold Cup history when Panama beat the Americans 2-1 in Tampa, Fla.
When the U.S. men's national team was thumped 4-0 by Spain one week ago, the thinking was that things couldn't get any worse. But after being deservedly beaten 2-1 by Panama in the Gold Cup -- the first group-stage loss by the Americans in the tournament's history -- it's difficult to imagine how much lower the U.S. can sink.
The match against Spain at least had some built-in caveats. A largely reserve side took the field that day. Oh yeah, and Spain just happens to be the reigning World Cup champion. There were no such excuses on this night. Manager Bob Bradley had his first-choice lineup on the field, and, clearly, Panama is not even in the same galaxy as Spain in terms of quality.
Yet this was a defeat that was by no means a fluke. Even if you take the Americans' furious second-half fight back into account, they were second best to Panama in every category on the night. Some of the individual performances were shocking, especially for the central defensive pairing of Tim Ream and Clarence Goodson, who looked nothing like the composed pair that performed so well against Canada.
ESPN FC on Twitter
Don't miss a moment of the latest soccer coverage from around the world. Follow us on Twitter and stay informed. Join »
In the center of midfield, the tandem of Michael Bradley and Jermaine Jones seemed sapped of energy. The two dropped too deep for much of the first half and basically allowed Panamanian counterparts Gabriel Gomez and Amilcar Henriquez to spray passes wherever they liked.
But what will trouble Bob Bradley the most was the obvious lack of intensity that was evident for almost the entire first half. Only Clint Dempsey and Tim Howard looked ready for the game from the opening whistle. And tactically, Panama worked to perfection its game plan of sitting back, then attacking in numbers on the break.
Add it all up, and Panama found itself up two goals at the half. Luis Tejada scrambled home the first after 19 minutes after Howard could only palm away Armando Cooper's wide-open header. Gomez doubled the advantage in the 36th minute when he slotted home a penalty conceded by Ream, who took down Blas Perez after the Panamanian forward had nicked the ball off him.
And Panama missed some golden opportunities to make it three, with Tejada hooking an effort just wide late in the first half.
The U.S. finally woke up after halftime and pulled a goal back through Goodson in the 66th minute. It also had some glorious chances to equalize through Chris Wondolowski, Bradley and Landon Donovan. But it was a classic case of too little, too late.
The obvious lesson to be learned from this game is that the U.S. needs to start matches better, but it's a lesson that was also obvious at last year's World Cup. Indeed, it's something the Americans have been guilty of countless times in Bob Bradley's tenure. It calls into question just how effective he and the senior players are in getting the team prepared to play.
How damaging is this loss to the U.S. hopes of winning the tournament? Considerably so. As poor as this performance was, the U.S. will still be counted on to advance to the knockout rounds. But now, instead of being able to rest players in the final group-stage match against Guadeloupe, Bradley will have to play more of his regular lineup. In a tournament with a highly compressed schedule, there is a real risk that too many of the team's key players will be fatigued in the knockout rounds. They also could face a much tougher quarterfinal opponent such as Honduras.
Then again, after this performance, the U.S. really can't afford to be looking that far ahead. The Americans will need to take care of business against Guadeloupe, and only then can they begin the process of washing away the sour taste of a humbling defeat.
Player Ratings: (1-10, 5 = average)
G Tim Howard, 5.5 -- Couldn't really be faulted for either goal and came out bravely to snuff out a few dangerous situations.
D Carlos Bocanegra, 5 -- Held down his side relatively well, even while practically camping out in the opposition half.
D Tim Ream, 3 -- Showed his inexperience by conceding a silly penalty. Although his passing remains his strong suit, he's out there primarily to defend, and that still needs shoring up.
D Clarence Goodson, 4 -- Seemed perpetually one step behind the play, and his distribution out of the back was poor, as well. Made amends by scoring the U.S. goal, but this will still not be a performance he remembers fondly.
D Steve Cherundolo, 6 -- Did what he could to get forward, and although his crossing was off target in the first half, he found the range in the second. He was among those players who seemed reluctant to close down the Panamanian flank players on his side.
M Landon Donovan, 5 -- His game lacked spark in the first half, but that could have been said about the entire team. The U.S. always needs him to at least be impactful, and although his set pieces were threatening, he wasn't dangerous enough from open play.
M Michael Bradley, 5 -- Was far too passive defensively in the early going and allowed Gomez too much room to operate. He did take some responsibility by trying to initiate the attack, and his flick-on helped set up Goodson's opener. He'll have nightmares about missing a 90th-minute chance, however.
M Jermaine Jones, 4 -- Alternated good defensive plays with poor attacking ones, as his passing was off. His petulance in taking his shirt off when he was substituted likely will not go down well with Bob Bradley.
M Clint Dempsey, 6 -- Seemed like one of the few players who brought the needed intensity from the opening whistle. He also provided the only hints of creativity in the first half and was just as involved in the second.
F Jozy Altidore, 4 -- It was Altidore who was supposed to be marking Cooper in the lead-up to the first goal. His attacking game picked up in the second half, but he needs to do better than show up for 45 minutes.
F Juan Agudelo, 5 -- Tried hard but was largely ineffective. He couldn't really complain about being substituted.
Subs:
M Sacha Kljestan, 6 -- Added some much-needed energy to the U.S. attack. One of the few players on the night who enhanced his reputation.
M Alejandro Bedoya, 6 -- Another substitute who had an impact. On another night, he might have won a penalty, but he probably got what he deserved from the referee.
F Chris Wondolowski, 3 -- Even Wondolowski will be wondering how he missed a wide-open chance from all of four yards.
Jeff Carlisle covers MLS and the U.S. national team for ESPN.com. He is also the author of "Soccer's Most Wanted II: The Top 10 Book of More Glorious Goals, Superb Saves and Fantastic Free-Kicks." He can be reached at eljefe1@yahoo.com.
U.S. soccer correspondent
Jeff Carlisle covers MLS and the U.S. national team for ESPN FC.