Commentary
Timothy Chandler pledges his allegiance
Updated:
September 20, 2011, 2:53 PM ET
By
Jeff Carlisle
| ESPN.com
[+] Enlarge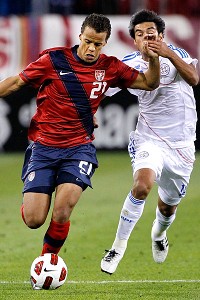 AP Photo/Mark HumphreTimothy Chandler, who has only played for the U.S. in friendlies, said he has no interest in switching his international allegiance to Germany.
Some rumors refuse to die, and so it is with the rumblings that U.S. international defender Timothy Chandler is thinking of switching his allegiance to Germany, even as the player insists no change is in the offing.
The son of a German mother and an American serviceman father, Chandler made his U.S. debut last March in a friendly against Argentina, and played impressively at right back. Since then he has appeared three more times, but given the fact that all of these appearances took place in friendlies, Chandler remains essentially an international free agent, meaning should Germany come calling, he could decide to turn his back on the U.S. and play for the country of his birth.
But on Tuesday, Chandler reiterated his commitment to the U.S. cause. "I'm proud to play for the U.S. national team," he said via telephone. "I never said anything about [playing for] Germany."
Such a scenario has been on the minds of U.S. fans ever since this summer. Chandler, at the urging of his club, Nuremberg, opted to skip the Gold Cup, a competition that would have tied him to the U.S. irrevocably. The reason given for the decision was that Chandler needed time to recover physically after a draining initial season in the Bundesliga. But that didn't stop media and fans alike from speculating that Chandler was really hedging his bets in case Germany tried to recruit him.
In the past week, such gossip continued to simmer. An article in the German publication Bild speculated that the Nuremberg defender was a potential solution to the German national team's opening at right back now that captain Philipp Lahm has moved over to his preferred position on the opposite flank. Players such as Christian Trasch, Jerome Boateng and Benedikt Howedes have played at right back recently for Germany, but none of these performers plays the position at club level. Conjecture about Chandler heated up to a full boil when former U.S. international Tony Sanneh, who spent part of his playing career at Nuremberg and still has ties to the club, tweeted last week that Germany national team manager Joachim Low was in Nuremberg for the express purpose of convincing Chandler to play for Germany. The country has already qualified for Euro 2012, and its two remaining qualifying matches would appear to be an opportune time to not only see how Chandler does, but to lock up his international future as well.
ESPN FC on Twitter
Don't miss a moment of the latest soccer coverage from around the world. Follow us on Twitter and stay informed. Join »
Sanneh stated on Twitter, "Rumor is chandler gonna play for germany. Lowe visits nberg today."
Chandler attempted to put the issue to rest, denying that he has had any contact with Low or with the German football federation. "I have no contact with Germany," Chandler said. "Only the newspapers talk about this. I know that [Low] was here in Nuremberg, but I haven't had any contact with him."
As for Sanneh's comments, he said, "I don't know why Sanneh [tweeted] this."
Reached by telephone, Sanneh reiterated that what he had heard was a rumor. But he also recalled that Josip Simunic, his teammate when the two were at Hertha Berlin, found himself in a similar situation, and that the club can wield considerable influence in such decisions. Born in Australia to Croatian parents, Simunic could have represented either country. Yet Hertha made it abundantly clear where it preferred Simunic to play.
"[Hertha] didn't want Simunic flying back to Australia all the time," Sanneh said.
Sure enough, Simunic threw his lot in with Croatia, and while such a decision is always deeply personal, the much shorter travel times no doubt pleased his club.
As for Chandler, he indicated that Nuremberg wasn't taking a similar tack, be it from teammates, coaches or management. "There's no pressure from Nuremberg. It's my own thing," he said in reference to his international career.
It is Chandler's misfortune that such questions will persist until he appears in an official match for the U.S., which won't happen until next June at the earliest when World Cup qualifying begins. This is especially true in light of U.S. citizens such as Giuseppe Rossi and Neven Subotic, who opted to play internationally with Italy and Serbia, respectively.
Chandler did express some weariness over the constant inquiries about his international future, especially since he has repeated his desire to play for the U.S. at every turn. And in terms of the U.S. team, the hiring of former German national team head coach Jurgen Klinsmann as U.S. manager has him feeling upbeat. Chandler attended his first camp with Klinsmann earlier this month and played in friendlies against Costa Rica and Belgium.
"It was a good first camp with Klinsmann," he said. "I think he's brought a little bit of soccer from Germany to the United States. In Germany, you want to be playing quick to the front. With Klinsmann, in all the training sessions, we want to play very fast, strong going forward, never back or to play with the goalkeeper. You could see this against Costa Rica. We played very good, very fast. I think we have a very good team, and Klinsmann will bring a lot of good things."
The U.S. will be hoping that Chandler will be a part of that process for years to come.
Jeff Carlisle covers MLS and the U.S. national team for ESPN.com. He is also the author of "Soccer's Most Wanted II: The Top 10 Book of More Glorious Goals, Superb Saves and Fantastic Free-Kicks." He can be reached at eljefe1@yahoo.com.
U.S. soccer correspondent
Jeff Carlisle covers MLS and the U.S. national team for ESPN FC.