Commentary
Smith departs Rapids amid bad blood
Updated:
November 8, 2011, 5:22 PM ET
By
Jeff Carlisle
| ESPN.com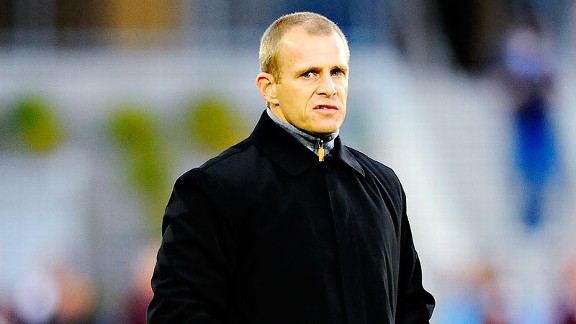 Ron Chenoy/US PresswireGary Smith wants you to know that his acrimonious ousting as head coach of the Rapids was down to two things -- a lack of respect and power.
As Gary Smith discussed his ousting as head coach of the Colorado Rapids after three seasons, one word that came up over and over again was "respect," or, in Smith's mind, the lack of it. But as the Englishman elaborated, a deeper issue emerged -- namely, power.
Everyone connected with the Rapids organization has said publicly that Smith had the final say on personnel matters. But according to Smith, his authority in this area had steadily eroded. His previous public comments had indicated his disagreements lay primarily with technical director Paul Bravo. But now that he has been let go, Smith said that the problem extended to general manager Jeff Plush and, rather bizarrely, chief marketing officer Tim Hinchey, with all three having an increased role in the construction of the roster.
"Paul, Jeff, Tim, they were involved in the player decisions, and they were the source of a lot of conflict," Smith said via telephone. "Ninety percent of the decisions were made after heavy arguments. These guys feel they are in a position of power to do that.
"When I took the job, I was told I would have the final say. But over time that required more confrontation, more energy, and I was sick and tired of the backbiting."
Without question, the Rapids endured a difficult season. The added burden of participating in the CONCACAF Champions League as well as injuries to key players saw Colorado finish tied for sixth in the overall standings. The Rapids did defeat the Columbus Crew in a first-round wild-card match. But with the team already coping with the injury absences of Conor Casey and Pablo Mastroeni, another wave of injuries struck Jamie Smith, Drew Moor and Caleb Folan, leaving the Rapids with little left in the tank. They were ultimately dispatched by Sporting Kansas City 4-0 over two legs.
Although the ending was no doubt disappointing, because Smith led the Rapids to the 2010 MLS Cup, the only major title in the team's history, you would have thought that his position was secure. As it turned out the opposite was true. And Smith indicated the disagreements related to personnel weren't about how much money to spend overall but more on who to spend it on.
ESPN FC on Twitter
Don't miss a moment of the latest soccer coverage from around the world. Follow us on Twitter and stay informed. Join »
"Not once did I ever come into conflict about wanting a designated player or needing more money, either personally or in terms of support," he said.
Smith went public with his displeasure in an October interview with The Denver Post but later tried to make peace with Bravo, realizing that he didn't want to leave the team he had spent three years putting together. It proved to be too late.
"This is solely a decision Jeff has made," Smith said. "He wants to take this in a different direction, and that shows little respect given what I've achieved."
Smith now joins Steve Sampson as the only coach to be fired within a year of winning an MLS Cup, with the latter being dismissed midway through the 2006 campaign. Sigi Schmid left Columbus for Seattle after winning the 2008 MLS Cup when an agreement on a contract extension with the Crew could not be reached. Frank Yallop departed from San Jose in 2003 to take up the reins of the Canadian national team.
Plush, for his part, denied that the conversations with Smith had been contentious, insisting that although there were numerous disagreements early in the Englishman's tenure, these abated as the team began to have more success. What he didn't dispute was a difference of opinion in how much back-and-forth there should be when making player decisions.
"We feel it's important to get a difference of opinion, to have a collaborative process," Plush said. "That's what we've seen in some of our other sports organizations. Gary wanted more of that power to rest in his chair. That's not necessarily right or wrong, but we have a mindset of collaboration."
He added that Smith's public comments had no impact on his decision. "This was just a case where the relationship ran its course," he said.
As for what Smith will do next, he indicated he had instructed his agent to begin putting out feelers to other clubs, although he didn't elaborate on whether his focus would be to remain in the U.S. or head back to his native England. Smith added he was in no hurry. "I'll look to make contact with clubs that might be interested, but right now I think some rest and a bit of recovery is in order," he said.
With the expansion draft set to take place in two weeks and the MLS SuperDraft following in January, the Rapids won't have that luxury.
Jeff Carlisle covers MLS and the U.S. national team for ESPN.com. He is also the author of "Soccer's Most Wanted II: The Top 10 Book of More Glorious Goals, Superb Saves and Fantastic Free-Kicks." He can be reached at eljefe1@yahoo.com.
U.S. soccer correspondent
Jeff Carlisle covers MLS and the U.S. national team for ESPN FC.