Commentary
Donovan's changing role for U.S.
Updated:
November 9, 2011, 1:23 PM ET
By
Jeff Carlisle
| ESPN.com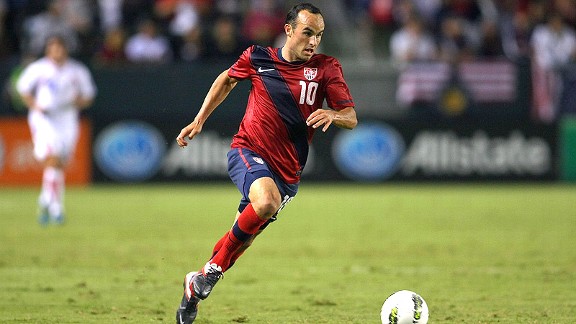 Victor Decolongon/Getty ImagesOnly twice in his 11-year international career has Landon Donovan's production been lower than it was in 2011. What does the future hold?
As the Los Angeles Galaxy marched through the playoffs on their way to the MLS Cup final, one conclusion was obvious: Landon Donovan still may be the Galaxy's captain, but he is no longer the team's attacking fulcrum.
To be clear, Donovan had his moments in Sunday's 3-1 win over Real Salt Lake in the Western Conference final. It was his cross to Omar Gonzalez that led to the Galaxy's first-half penalty, one that Donovan converted. His perfectly weighted through ball to Robbie Keane allowed the Irishman to clinch the victory with L.A.'s third goal of the night.
But such effectiveness from Donovan in the attacking half has been rare during the playoffs. David Beckham and Mike Magee have inflicted the vast majority of damage in the final third. Magee leads the league with three playoff goals, with Beckham assisting on each of them. Keane looks at last to be returning to full fitness, allowing him to help L.A.'s attack in terms of its buildup and finishing.
Donovan, meanwhile, has almost become an afterthought in terms of the attack, the kind of player expected to put in a hardworking shift on the right side of midfield and little more. This has led to speculation that the quad strain that forced Donovan to miss the last three games of the regular season is still bothering him. But the sight of him sprinting 80 yards to break up a New York attack in the second leg of the Western Conference semis -- his most noteworthy postseason contribution before his assist on Keane's goal -- dispelled most concerns that the U.S. international is ailing.
So is this what it has come down to at this stage for the Galaxy midfielder? Are we left with Donovan as decoy and defensive specialist?
"

I can hear the 'beep' from here. [Donovan] is backing out of responsibility.

"

-- Television analyst Eric Wynalda
"Donovan is a very good soccer player," said Fox Soccer television analyst Eric Wynalda. "He does so many good things. But I can hear the 'beep' from here. He's backing out of responsibility."
Galaxy head coach Bruce Arena insists that's not the case. "I don't think Landon is doing anything different," he said via telephone. "It's what Landon offers every game. We haven't asked him to change."
But perhaps the circumstances have. For just the second time in his Galaxy tenure, Beckham has been present for an entire season, at least when he hasn't been attending the royal wedding or a former teammate's testimonial. And his move into the center of midfield has allowed him to be the main conduit for the Galaxy offense. Keane's addition also has served to spread out the scoring responsibilities.
"That affects things," Arena admitted. "Juninho is also a more mature player, and that has taken more responsibility away from Landon."
Outwardly, Donovan appears to have no problem ceding the limelight to his teammates and engaging in more grunt work. When asked about his defensive play against New York, he said, "As a captain, that's your job."
There can be no arguing with the results. L.A. won the Supporters' Shield comfortably, and it enters the MLS Cup final on Nov. 20 as the heavy favorite against the Houston Dynamo.
[+] Enlarge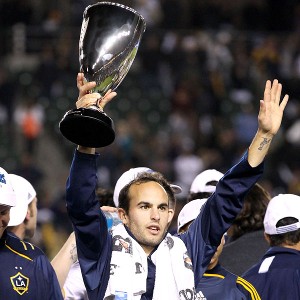 Stephen Dunn/Getty ImagesDovovan and the Galaxy won the Western Conference final over RSL. Now he's decided to skip the U.S.'s upcoming friendlies to focus on MLS Cup.
But when Donovan suits up for the U.S. national team, more will be needed. Suffice it to say, Donovan has struggled this year when donning a U.S. jersey. Only twice in his 11-year international career has Donovan's production been lower than it has been in 2011, in which he has just a solitary goal and two assists. And only on rare occasions has Donovan delivered the kind of performance that recalled his heroics from the 2010 World Cup.
Granted, there have been extenuating circumstances. The U.S. is navigating its way through a difficult transition, and in most cases, younger players have yet to show that they are ready to step in for some of the older players in the squad. You cannot overlook the change in coaches from Bob Bradley to Jurgen Klinsmann. Club commitments also have limited Donovan to two appearances out of the five games that the former German national team manager has been in charge. And none of those has come with attacking sidekick Clint Dempsey in the lineup. With Donovan occupied by preparations for MLS Cup, he'll again miss out on friendlies against France and Slovenia.
"Regardless of who you are, on the national team right now you're trying to figure out where you fit in," said ESPN television analyst Alexi Lalas. "It takes time. Donovan hasn't figured it out, and Klinsmann hasn't figured it out, either, but I certainly expect him to be part of Klinsmann's setup."
ESPN FC on Twitter
Don't miss a moment of the latest soccer coverage from around the world. Follow us on Twitter and stay informed. Join »
Can Donovan be the player to step up when it counts, or will he be content to exist on the periphery? Certainly his international career has been about delivering during big moments, such as the Americans' final World Cup group-stage game against Algeria when his stoppage-time winner propelled the U.S. into the second round. And you only have to see the way the U.S. has struggled to score goals under Klinsmann to realize how important a piece Donovan remains to the U.S. side.
Lalas is among those who are convinced that Donovan will come good. "It's dangerous to underestimate what Donovan can bring in his current capacity," Lalas said. "It's not necessarily sexy, but it is effective."
Sexy or effective? Chances are that Klinsmann will prefer to see both the next time Donovan suits up.
Jeff Carlisle covers MLS and the U.S. national team for ESPN.com. He is also the author of "Soccer's Most Wanted II: The Top 10 Book of More Glorious Goals, Superb Saves and Fantastic Free-Kicks." He can be reached at eljefe1@yahoo.com.
U.S. soccer correspondent
Jeff Carlisle covers MLS and the U.S. national team for ESPN FC.