Commentary
Porter's mission for U.S. Olympic team
Updated:
December 14, 2011, 11:12 AM ET
By
Jeff Carlisle
| ESPN.com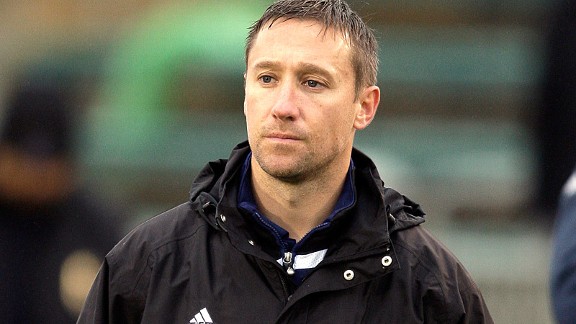 AP Photo/Gerry BroomeU-23 national team coach Caleb Porter must put approximately 50 players through their paces to settle on an 18-man squad for the CONCACAF Olympic qualifying tournament in March.
Caleb Porter's tenure as head coach of the U.S. U-23 national team has been a study in delayed gratification.
Hired on Oct. 20 to lead the side that will hopefully represent the U.S. at this summer's Olympics, Porter has had to watch from afar as he finished out the collegiate season with the University of Akron. At a U-23 training camp in Germany last month, it was Claudio Reyna and U.S. U-20 head coach Tab Ramos -- and not Porter -- who put the assembled players through their paces.
At last, that is set to change. Starting Thursday, Porter will lead a group of 30 players in Lakewood Ranch, Fla., for the second of what are expected to be five camps ahead of the CONCACAF Olympic qualifying tournament in late March.
Five players to watch
These players will be on Caleb Porter's radar as he prepares the U.S. for Olympic qualifying:
Some eyebrows were raised when Adu, a veteran of the 2008 Olympic team, was left off the roster for the camp in Germany, but the Philadelphia Union attacker was included on the Florida roster, and Porter expects the midfielder to play "a major role."
Joe Gyau
Currently with the U-23 team of German club Hoffenheim, Gyau has long been one of the jewels of the U.S. youth system, with his ability to take players one-on-one doing plenty to catch the eye. Only question is whether it's still too early for the 19-year-old.
A starter with D.C. United, Hamid's size and athleticism in goal have been impressive, and he's been tabbed as Tim Howard's backup on the full national team since Klinsmann took over.
Josh Gatt
Gatt's blazing speed and skill on the ball have made him a favorite of Molde manager -- and former Manchester United forward -- Ole Gunnar Solskjaer, helping the club win the 2011 first division title.
Terrence Boyd
A reserve player for Borussia Dortmund, Boyd has put his size and strength to good use, with 10 goals in 15 games so far this season. He's a late addition to the Florida roster after participating in the camp in Germany. -- JC
"I've been antsy, to be honest with you," said Porter by telephone. "Until you really get in the trenches with the guys, get in front of them, get in training and get a chance to start developing relationships with them and start to imprint your philosophies, it feels like you're detached from it."
There is an impulse to think that there is little at stake as it relates to the U-23 team. After all, the Olympics fall far down the pecking order of international tournaments. But in the scope of the U.S. national team program, it carries a fair amount of importance in that it provides yet another opportunity for young players to get international experience. At the 2008 Olympics in Beijing, Jozy Altidore, Stuart Holden and Maurice Edu all used the tournament to advance their careers, and eventually landed spots on the 2010 World Cup roster. Current U.S. national team manager Jurgen Klinsmann is on record as stating that he expects "six or seven" U-23 players to eventually make the U.S. World Cup roster in 2014.
And as if that didn't provide enough urgency, there are the vagaries of the Olympic process itself. Porter has a short window to cull his pool of what he estimates to be around 50 players and turn that into a cohesive 18-man squad. The qualifying tournament itself is ridiculously compressed, with games every two days during the group phase. Then there is the fact that clubs are not obligated to release players, since the Olympics are not an official FIFA event. Without question, this won't be an issue for MLS players, but for those performers playing overseas, getting releases can be difficult, a factor that 2008 Olympic head coach Peter Nowak remembers all too well.
"For qualifying, we weren't able to get Michael Bradley, and of the other guys we wanted, only Jonathan Spector was released, and he was only available for the semifinal against Canada," said Nowak, now manager of the Philadelphia Union. "The challenge is to talk with the European coaches and if they won't release guys right now, maybe they'll do it for the Olympics."
Porter indicated that such approaches -- with all the give-and-take those negotiations entail -- have already begun. And while he's optimistic that he'll be able to get the players he wants, he was preparing for any eventuality.
But his short-term focus in Florida will be to see players up close, around 12 of whom participated in the first camp. He also intends to begin planting some seeds in the players' minds. "I want to start to imprint the culture of how we're going to do things, from a style of play standpoint, from a system of play standpoint, and just introducing in training how we're going to do things on both sides of the ball," he said.
Porter said he'll likely institute a 4-3-3, which has proved so successful for him at Akron, a stint that includes a national championship in 2010. It's a formation that, if adopted, provides plenty of flexibility. But he also said Klinsmann will have input as to how the team will play. Granted, Klinsmann has been doing plenty of tactical experimenting of his own at the senior level, but look for Porter to emphasize high pressure on defense and lots of possession and playing the ball out of the back in attack.
"If one of the national teams is playing differently, it doesn't help," Porter said. "There's no progression; there's no vertical integration. That's the idea that Jurgen has, to have more cooperation from coaches that look at the big picture. Every coach has to win with their team, but they have to play with a model that all of U.S Soccer is behind. I have to win, I have to qualify, but I also have to prepare guys to play with the full team."
[+] Enlarge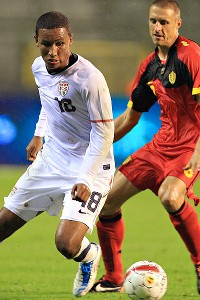 AP Photo/Yves LoggheDomestic players like Juan Agudelo are eligible for the Olympics, but their national-team training will take precedent over the U-23 squad.
And therein lies another potential area of conflict. Domestic players like Brek Shea and Juan Agudelo are eligible for the Olympics, but have already established themselves with the full team. In terms of when games are taking place, there are no conflicts, with both the Olympic qualifying tournament and the Olympics themselves falling outside the dates for World Cup qualifying. But Porter said he expects both Shea and Agudelo to be with Klinsmann at the full national team camp in January at precisely the same time Porter will be conducting a camp of his own, robbing him of precious time to incorporate those two players with the rest of the team.
Klinsmann also may opt to not ruffle the feathers of overseas clubs by asking that players such as German-based Tim Chandler and Danny Williams only be released for World Cup qualifying.
It amounts to a delicate balance that only time will make clear, although Porter insists that Klinsmann hasn't put any limitations on his choices.
Porter is planning three more get-togethers between the start of the new year and the qualifying tournament in March, although all of the particulars haven't been hammered out. The team will meet for 10 days in January, with another camp of similar length tentatively slated for the end of February. A final gathering in March will take place shortly before the qualifying tournament.
"Moving into January, I feel like we'll start to key in on who can really help us," Porter said. "These first two camps, especially; I think we wanted to just get a look at guys, and we didn't want to leave any stones unturned."
Nowak noted that in his experience, the quick turnaround between games in the qualifying tournament, coming as it does when most MLS clubs are in preseason, demands that friendly games be part of the preparation as well. "It wasn't until after the second game of qualifying that we really found our rhythm," he recalled.
Porter is planning to schedule two games in Central America after the January camp, and is hoping to add more. When it's all said and done, he will announce his qualifying roster in March.
"We have to have the best guys, whether they're MLS, overseas, college, whether they're 18 or 22 [years old]," Porter said. "We have to get the best guys, and nothing is going to dictate my decisions other than I'm going to pick the best group of players that I can find. And also collectively, the team has to fit together."
It's one that is expected to overcome group opponents Canada, El Salvador and Cuba and then a likely semifinal matchup with Honduras, although the group stage has thrown up surprises in the past -- most recently in 2008 when Mexico failed to progress.
ESPN FC on Twitter
Don't miss a moment of the latest soccer coverage from around the world. Follow us on Twitter and stay informed. Join »
"I was optimistic before the draw came out, and I continue to be optimistic," Porter said. "It's not a matter of if, but when [we'll qualify]. We're very confident, but we're realistic as well that there are some very good teams. You have to perform, and at the international level, if you don't, you'll get punished. So we're realistic about that, but at the same time we're confident as well."
In the meantime, the nuts and bolts of that process are just beginning. "It's fun. I've already enjoyed the process," he said. "It's been very stimulating and it's a bit of a puzzle, a chess match. This is a very unique situation in just managing and balancing the considerations going into qualifying. I think we have enough time to do it, and we have a clear plan of how we're going to do it."
And Porter will be hoping that there will be plenty of satisfaction -- for him and the team -- by the time the London Games are over.
Jeff Carlisle covers MLS and the U.S. national team for ESPN.com. He is also the author of "Soccer's Most Wanted II: The Top 10 Book of More Glorious Goals, Superb Saves and Fantastic Free-Kicks." He can be reached at eljefe1@yahoo.com.
U.S. soccer correspondent
Jeff Carlisle covers MLS and the U.S. national team for ESPN FC.
Soccer on ESPN.com

Follow Soccer on ESPN: Twitter
Coverage on ESPN FC
Euro 2012 in Review