Commentary
U.S. soccer's 12 points to ponder
Updated:
December 26, 2011, 2:58 PM ET
By
Jeff Carlisle
| ESPN.com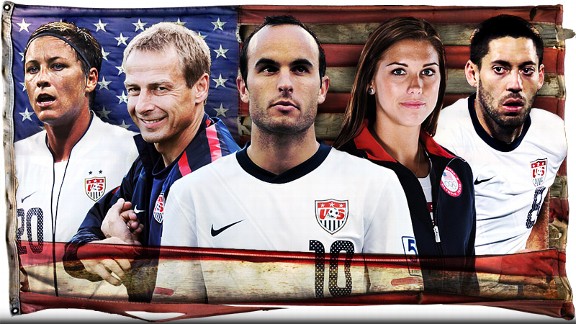 ESPN.com IllustrationThere's plenty to ponder for U.S. soccer in 2012, including the Olympics for the women and World Cup qualifying for the men.
As years go, 2011 produced plenty of memories in U.S. soccer circles. Even in a post-World Cup year, the U.S. men's team generated its share of headlines -- from its Gold Cup disappointment and the firing of Bob Bradley to the hiring of Jurgen Klinsmann. On the women's side, the national team's World Cup journey should have been sponsored by Dramamine, with enough changes in altitude to test the strongest of stomachs.
But soccer is a sport that marches relentlessly forward. There is always another tournament on the horizon and a seemingly endless supply of plot lines to monitor. So while the memories of 2011 will give fans plenty to ponder, so will these 12 storylines to follow in 2012.
12. Big year for the U-23s
U.S. U-23 manager Caleb Porter has a big task in front of him and not much time to do it. He has three months to cobble together a side that in March will hopefully qualify for this summer's Olympics. If all goes well, a trip to London beckons, where the U.S. will try to progress past the group stage for the first time since 2000. And while the Olympics don't rank all that high on the list of international tournaments, they can act as a springboard for a player's career. Six players from the 2008 Olympic team made the 2010 World Cup roster, and Klinsmann is expecting a similar number to reach the big show this time around.
11. Which Olympic players will step up to help the senior team?
At present, Porter has identified roughly 50 players who are in contention to make the Olympic team. Included in that list are players like Jozy Altidore, Freddy Adu, Tim Chandler, Juan Agudelo and Brek Shea -- all of whom have seen considerable time with the full national team. Then there are players like Mixx Diskerud and Teal Bunbury, who have had a few cameos at senior level. And some intriguing prospects are in the pool of those who have yet to make their senior international debut. Josh Gatt and Joe Corona were on the cusp of a call-up before Bob Bradley's firing. Joe Gyau has been making steady progress at club level with Hoffenheim's reserve team, and the same is true for Borussia Dortmund's Terrence Boyd, who has 10 reserve team goals. U.S. U-20 holdover Gale Agbossoumonde, whose gypsy-like career has seen him land in Germany with Eintracht Frankfurt, will be watched keenly to see if he can tap his vast potential.
10. Will Pia Sundhage persist with her switch to a 4-2-3-1?
With an Olympic quest of her own set to take place this year, U.S. women's national team manager Pia Sundhage has tried to keep things fresh by tweaking her side's tactical system. Instead of the 4-4-2 used at last summer's World Cup, Sundhage plans to experiment with a 4-2-3-1. The formation should make it easier for creative players -- such as Megan Rapinoe, Carli Lloyd, Lauren Cheney and Heather O'Reilly -- to play on the field at the same time, as well as provide a bit more defensive cover in midfield. There is one drawback however, which leads us to No. 9.
9. Will 2012 be Alex Morgan's breakout year?
At first glance, it seems an odd question given that Morgan scored in the Americans' dramatic World Cup final defeat to Japan. But the fact remains that Morgan was reduced to a super-sub's role throughout 2011, as she was often second choice behind Amy Rodriguez. Granted, by tournament's end, Morgan's play seemed to warrant a spot in the starting lineup. But if Sundhage does indeed go with a lone striker alignment, that would appear to leave Morgan as the odd woman out given that the role is the domain of Abby Wambach. If Sundhage wants to get her rising star on the field, she may find herself tweaking the team's alignment once again.
8. Klinsmann's tactical direction
The U.S. men's head coach has been playing a game of musical formations since his arrival, starting with a 4-5-1 before a dearth of goals led him to play with two forwards and a diamond midfield that delivered a 3-2 friendly win over Slovenia. It stands to reason that Klinsmann will continue to experiment in the early parts of 2012, and while the German will continue to emphasize more possession in attack and more pressing on defense, it will be interesting to see precisely the tactical path the team takes.
[+] Enlarge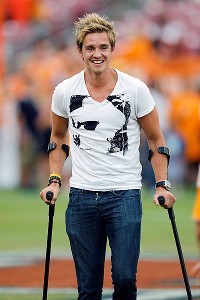 Bob Levey/Getty ImagesStuart Holden is recovering from surgery that will keep him out of action until the spring.
7. Can Stuart Holden find a modicum of good health?
The Bolton midfielder can't catch a break. Or looked at another way, he's endured far too many. At precisely the moment Holden's recovery from a March knee injury seemed complete, he suffered a major setback, and underwent knee surgery that is set to sideline him until this spring. While there's always a danger in pegging one player as the solution to the U.S. national team's problems, an in-form Holden would make Klinsmann's life a whole lot easier, given his ability to flummox opponents with his composure on the ball, passing vision and impeccable hair.
6. Will any new faces break into the women's team?
The short answer is: Not likely. Part of this is because of roster dynamics. While the World Cup allowed teams to stock a 21-player roster, the Olympic rosters are limited to 18 players, likely resulting in one goalkeeper and two field players being cut. That leaves precious little room for any new blood. In terms of the starting lineup, there might be a bit more fluidity. Becky Sauerbrunn's performances, regardless of where she has played along the back line, have been very composed. The new formation, should Sundhage stick with it, could allow a player like Lori Lindsey to garner more minutes as well.
5. The back-line evolution for the U.S. men
The good news is that stalwarts such as Steve Cherundolo and Carlos Bocanegra continue their steady performances for the U.S. side. But with both players on the proverbial wrong side of 30, that counts as somewhat worrisome as well, especially with Tim Chandler appearing to be ensconced at left back. Equally alarming is the fact that the options Klinsmann has experimented with -- Tim Ream and Michael Orozco-Fiscal -- have looked unconvincing. Granted, Ream appeared to recover some of his confidence during the MLS playoffs, and has impressed during an overseas training stint with EPL side West Bromwich Albion. But if players like Omar Gonzalez and Geoff Cameron continue to be excluded, Klinsmann may find himself with limited options when the World Cup rolls around.
4. Last go-round for some U.S. women
The quirk in the women's international calendar that sees the Olympics held just a year after the World Cup makes it easier for veteran players to stick around for one more shot at glory. For that reason, this will likely be the finale for some mainstays in the U.S. side like Shannon Boxx and Christie Pearce, the latter of whom is the last holdover from the World Cup-winning side of 1999. With Sundhage making noises about wanting to manage her native Sweden at the next World Cup, this also could be the last time she oversees the U.S. team in an international tournament.
3. Will the U.S. women close the deal?
As inspiring as the Americans' run to the World Cup final was, the side fell agonizingly short. Fortunately, the Olympics provide an opportunity to erase some of those memories, and already some breaks are stacking up in the Americans' favor. Because last summer's World Cup counted as a de facto Olympic qualifying tournament for European teams, Germany's quarterfinal defeat to Japan will see it miss out on the Games entirely. The U.S. has also historically fared better in the Olympics than in World Cups, as the Americans are the two-time reigning Olympic champion. Of course, the U.S. women have to qualify first, and come January they'll need to avoid the kind of upset that nearly prevented them from qualifying for the World Cup.
ESPN FC on Twitter
Don't miss a moment of the latest soccer coverage from around the world. Follow us on Twitter and stay informed. Join »
2. World Cup qualifying begins for the U.S. men
Klinsmann has been de-emphasizing results, and with a record of 2-4-1 who could blame him? But that will change in June when the U.S. will attempt to qualify out of a group that includes Antigua and Barbuda, Guatemala, and Jamaica. On paper, the U.S. should have few problems, but all it takes is one bad result to put the nerves on edge. And with just six total games in the qualifying round, there will be little margin for error. Given how tricky the away games at Guatemala and Jamaica figure to be, there is potential for a hiccup or two. Adding to the intrigue: There are few international fixture dates in the first half of 2012, so Klinsmann's opportunities to experiment are quickly coming to an end.
1. Is this the year Clint Dempsey becomes the national team's attacking hub?
For much of the 2010 World Cup cycle, Dempsey received second billing to Landon Donovan. While some might argue that this was based more on reputation, Donovan's three goals at the 2010 World Cup in South Africa cemented his place as the team's top attacking threat. But this began to change in 2011, when a combination of injury and club commitments resulted in the pair never suiting up at the same time under Klinsmann. Donovan seemed to lack the jump in his legs over the latter half of the year, and he admitted after the MLS season that he had been hobbled by an undisclosed injury. He has since signed up for another loan stint with Everton, but in the meantime, Dempsey has been in scintillating form at club level for Fulham and excelled in an attacking midfield role for the U.S. against Slovenia. Given such performances, 2012 could very well be the year when Dempsey's influence eclipses that of Donovan.
Jeff Carlisle covers MLS and the U.S. national team for ESPN.com. He is also the author of "Soccer's Most Wanted II: The Top 10 Book of More Glorious Goals, Superb Saves and Fantastic Free-Kicks." He can be reached at eljefe1@yahoo.com.
U.S. soccer correspondent
Jeff Carlisle covers MLS and the U.S. national team for ESPN FC.
Soccer on ESPN.com

Follow Soccer on ESPN: Twitter
Coverage on ESPN FC
Euro 2012 in Review