Commentary
Clasico madness is coming
Updated:
February 9, 2011, 7:22 AM ET
By
Graham Hunter
| Special to ESPN.com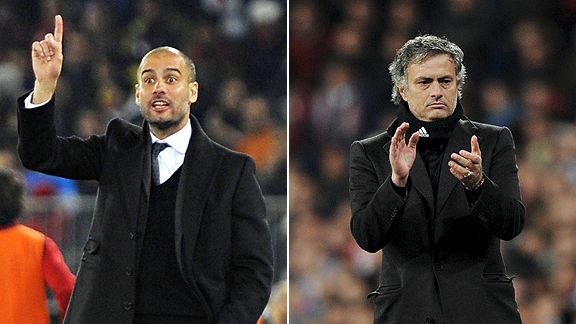 Getty ImagesWe are very close to enjoying -- and enduring -- at least four Real Madrid versus Barcelona Clasico matches between now and the end of the season. Let the mind games begin.
It is Jose Mourinho who most often concedes that his team's next game starts from the moment he sits down to speak in the pre-match press conference and doesn't finish, as far as he's concerned, until he has sealed the result with his personal message in the post-match media briefing.
Apart from winning trophies, this is what Mourinho does best -- put a spin on the game, influence opinion, as well as provoke, confuse and manipulate opponents and the media. I regard him as a brilliant exponent of the dark art.
Mourinho is often funny, always pointed, never a waste of our time to listen to and, it's worth pointing out, more articulate than the majority of people whose opinions we court in this crazy world of football. It is also worth accepting that he is sometimes plain wrong.
But interestingly enough, Pep Guardiola tore a leaf out of the Special One's playbook this past Saturday night after Lionel Messi's hat-trick defeated Atletico Madrid 3-0. "If we play like that in the Cup final," Guardiola complained, "then Real Madrid will beat us."
That's right. Pinch yourself, sit down in case the surprise causes a fainting fit, and then check that there isn't a plague of locusts outside your window. It is at least eight weeks before Barca could possibly have to face Mourinho's Madrid again -- this would happen only if the two sides get through the next round in the Champions League and are drawn in the quarterfinals -- and yet Guardiola is already looking ahead to the Copa del Rey final between the teams. That match is 10 weeks away.
Given that Guardiola lives and breathes the maxim that casting your thoughts or aspirations forward unnecessarily will almost automatically rob you of the glory you are anticipating, it's remarkable that it was the Copa del Rey final that he chose to cite.
Facing Arsenal in the Champions League next week or the thorny trip to Gijon this weekend could have been evoked as a warning for his players to sharpen up, and not one eyebrow would have been raised. All it means is that even "Pep The Wise" is just another one of us who is a little bit affected by the fact that we are very close to enjoying -- and enduring -- four Real Madrid-Barcelona Clasico matches between now and the end of the season.
Last week's fascinating Copa del Rey semifinals ensured that the weekend of April 17, when Los Merengues and Los Cules do battle in their second La Liga match of the season, will be followed by a massively anticipated cup final between Spain's eternal rivals on April 20. Tickets are already trading at 1,000 euros or more despite the fact that the venue has not been confirmed.
All it needs is the quixotic god of football whim, who can almost always be counted on, to pair Madrid and Barcelona in a home-and-away battle in the quarterfinals or semifinals of the Champions League (assuming Arsenal and Lyon are defeated) and that's your four Clasicos.
In Spain, the word morbo can mean that people have a special, driving fascination in something which they know is bad for them or which is a bit on the naughty side. Well, the added morbo here is that should these two enemies be paired in the Champions League quarterfinals, the ties would be played on April 5/6 and 12/13. That means all four Clasicos would be fought out in a brutal 15-day war of attrition.
Should it be the semifinals (April 26/27 and May 3/4), the pressure would be massive but the dates slightly more forgiving. Then there's the potential the sides meet in the Champions League final.
[+] Enlarge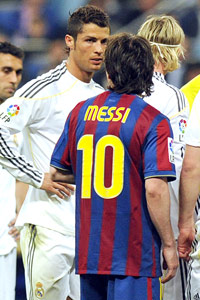 Pedro Armestre/AFP/Getty ImagesCristiano Ronaldo and Lionel Messi could be seeing a lot of each other. They also face each other in an international friendly on Wednesday
This year the venue is Wembley, a mythical shrine for Barcelona given that Johan Cruyff's Dream Team became European Champions for the first time at the previous version of that stadium. How Madrid would love to snatch the dream away from the Catalans on this hallowed ground.
The sides have never met in a European final, nor have they ever played four Clasicos in 15 days. Madrid and Barcelona haven't contested a Copa del Rey final for 21 years. And, don't forget, the teams are now almost guaranteed to kick off next season with the Spanish Supercup, which is contested between La Liga's winner and the Copa del Rey winner.
Given that the Supercup is played home and away, we could have a minimum of five Clasicos in 2011. This would be more morbo than Spain could handle.
After all, Mourinho has a long history of waging no-holds-barred combat against Barcelona. As coach of Chelsea and then Inter Milan, he had a remarkable series of 10 matches against Barca in the five years and two months between February 2005 and April 2010. It seemed like there was a UEFA magnet drawing the Special One and the special team to one another.
Perhaps his record of three wins, three draws and four defeats doesn't quite explain how much Barca felt that playing Jose's teams so regularly was like having a Rottweiler clamp its teeth around your ankle.
Mourinho's teams eliminated Barca twice from the Champions League. What's more, aside from last season's Champions League group game when Barca beat Inter 2-0, all three of Barca's other victories in that 10-game sequence came only when Mourinho's team had a man sent off -- Didier Drogba in 2005, Asier Del Horno in 2006 and Thiago Motta last April.
Diehard Barca fans will point to the utter humiliation which Real Madrid suffered at the hands of Guardiola's team this past November. Five-nil, could have been ten-nil; no controversy, no reply from the Special One or his team and one of the great displays of modern times.
However, Guardiola is already planning ahead. Just like generations of parents warned misbehaving kids that the bogeyman would come and get them, he threw in the nightmare of Madrid beating Barca in the Cup final April 20.
Mourninho, meanwhile, has warned that "the favorites don't always win finals," a clear indication that the psychological jousting has begun -- 10 weeks out.
What adds still more morbo is that this is the first season in a long time that Madrid has cared so much about the Copa del Rey. Florentino Perez hasn't brought Madrid a trophy as president since 2003. Madrid hasn't won this trophy since 1993. And it has been seven years since it was in the final, when David Villa was one of the scorers in a scorching 3-2 victory for Real Zaragoza despite David Beckham and Roberto Carlos getting the Galactico's goals.
There have been 109 Copa del Rey finals and only five, until now, featured Barcelona and Madrid. April 20 will be a collectors' item in historical terms yet it could nestle amid three other crucial Clasicos.
Nobody on the Madrid squad owns a Copa del Rey winner's medal, but Iker Casillas openly admits he aches for one. Most of Barca's squad won this tournament two years ago. And Barca won the last final between the sides, 2-0 in 1990, and leads the five-match series 3-2.
The fact that both coaches are already willing to start plotting, planning and muttering about what will assuredly be a tumultuous final is just an indication that Clasico madness is upon us. And unless you support Arsenal or Lyon, pray for the two to be drawn in the next round of the Champions League. Then we can all buckle up for what promises to be the most bumpy, hysterical, fascinating and enjoyable month of April in the history of organized professional football.
Graham Hunter is a Barcelona-based freelance writer for ESPN.com who specializes in La Liga and the Spanish national team. You can reach him on Twitter at twitter.com/BumperGraham.
Spain writer
Graham Hunter is a Barcelona-based freelance writer for ESPN.com who specializes in La Liga and the Spanish national team.