Commentary
Real Madrid's run-and-gun approach
Updated:
September 14, 2011, 3:22 PM ET
By
Graham Hunter
| Special to ESPN.com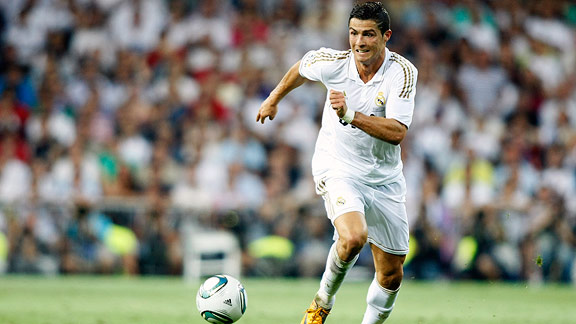 Daisuke Nakashima/AFLO/Icon SMIAs Cristiano Ronaldo's assist this past weekend demonstrated, Madrid relies on lightning-quick breakaways to damage opponents.
If you have a sarcastic sense of humor, there were probably two contenders for "Goal Assist Pass of the Weekend" in Spain. The contender? Well, it's cruel, but Barcelona forward David Villa's tremendously odd pass-back in the general direction of his own keeper, Victor Valdes, who was some 60 meters away, was delightfully placed for Real Sociedad to score its equalizing goal.
The winner, of course, was Real Madrid forward Cristiano Ronaldo's first-time, curving ball from the left wing which bisected Getafe's last defender and keeper Miguel Angel Moya, who was going through his personal "I can get it, no I can't" comedy of errors before Karim Benzema calmly scored.
In Santiago Bernabeu Stadium, you might have spotted Madrid manager Jose Mourinho running to Ronaldo to shake his hand and embrace him when that glorious, heat-seeking pass allowed Benzema to put Madrid up 3-1. Aside from the relief of a two-goal cushion, the immense satisfaction Mourinho felt in that goal has a variety of explanations.
ESPN FC on Twitter
Don't miss a moment of the latest soccer coverage from around the world. Follow us on Twitter and stay informed. Join »
The roots of why he was so pleased lie in some of the key moments from Real Madrid's Clasico meetings with Barcelona last season and from Mourinho's DVD analysis of manager Pep Guardiola's team.
Real Madrid was most threatening to Barcelona during the four meetings following Barca's 5-0 humiliation of Madrid last November, in the moments when Los Blancos caught Guardiola's team on the break. One such counter, when Ronaldo's lightning speed turned defense into attack in the Champions League semifinal at Camp Nou, led to Gonzalo Higuain scoring, only for his "goal" to be incorrectly disallowed.
Madrid defender Marcelo's equalizer arrived in the same way -- lightning-quick counterattacking which broke Barca's defensive organization and pressing.
And in Madrid's Copa del Rey victory, Los Blancos consistently created scoring chances when they shifted the gears and caught Barca too high upfield.
Guardiola's players control the ball and put their opposition under pressure in almost all their matches because they possess brilliant talents, and that is what all Barcelona footballers are programmed to do. As a result, they play quite high up the pitch, and the two wing backs, Dani Alves and either Eric Abidal or Adriano, are used like wide midfielders or wingers.
Hence Valdes' immense worth to this Barca team. He consistently faces long periods with nothing to do but then equally consistently produces stupendous one-on-one saves when an opponent produces its one, or perhaps two, blitzkrieg counterattacks.
Graham Hunter

For more Graham Hunter, check out his columns on all things La Liga and Spanish soccer.
• History beckons for Barca
• No time for nostalgia
• Messi's rise to greatness
• Torres should play for Spain
• Real Madrid's title quest
• Madrid's Pepe problem
• Di Maria is odd man out?
• Jokers wild for Spain's national team
• Yellow Submarine on verge of sinking
• Ronaldo's rant, Atletico's despair
• Barca beats Madrid again
• Spain's three kings
• Ibra's book of nonsense
• Spain's balance of power
• Rossi's injury huge blow
• La Liga's ultimate late bloomer
• Messi chasing Barca record
• Laporta's fall from grace
• Barca's off-the-pitch battle
• Real Madrid's game plan

His sweeper-keeper skill often compensates for Barca's looking a little exposed and sluggish when the side is properly caught out by a rapid surge from its opponents.
However, the majority of Real Madrid's breakaways when the teams met last season came via Ronaldo's extraordinary pace -- either when he dribbled with the ball and shot at goal or sprinted upfield and gave a setup pass. No matter who you are or how quick you are, the ball moves more quickly.
Now Barca is not Madrid's only rival.
Mourinho bought talents like Fabio Coentrao, Jose Maria Callejon and Nuri Sahin with a view to having more options in breaking down stubborn, defensive La Liga rivals. And the link play we are currently watching between Mesut Ozil, Ronaldo, Angel Di Maria and Karim Benzema when Madrid leads in a match is Barcelona-esque. If Los Blancos dominate a game, they will attempt to play with ingenuity, combination passing, individual skill and intelligence.
But Mourinho knows they must add a new weapon if they are to unseat Barcelona. During the preseason his players went through practice drill after practice drill on how to move the ball vertically at high speed with the minimum of touches and maximum efficacy in front of the goal. If you can find it, take a look at the buildup play to Madrid's third goal. It was the perfect result of enormous preparation and teaching by its coach. A defensive header was won 11 meters in front of Madrid keeper Iker Casillas' goal, and when that ball dropped to Ozil, Madrid's most technically skilled player, he volleyed it over his own shoulder to keep the momentum instead of bringing it down and looking for options. Di Maria uses two brief touches to send Ronaldo away, and the Portuguese hits that exquisite pass across the width of the pitch to Benzema.
Six touches, just under nine seconds and almost the full length of the pitch -- a brilliant weapon if Mourinho's men continue to perfect it and add it to the delightful finesse they are already beginning to show when they are bossing a game this season. Mourinho came away from the game complaining about his team's overall form, but he was quietly encouraged that he'd seen an advancement in the players' learning how he wants them to, finally, unpick the Spanish champion.
[+] Enlarge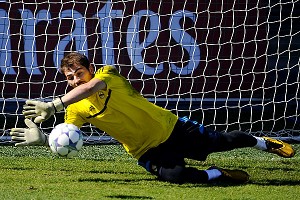 Pierre-Philippe Marcou/AFP/Getty ImagesIt's going to be 10 years in May since Iker Casillas he last lifted the European Cup.
Props to Casillas
Speaking of Casillas, this has been an important week. It's the 12th anniversary of his debut for Real Madrid in the hostile but spectacular football arena that is Athletic Bilbao's San Mames. It's also the week in which the tournament he and all Madridistas most crave, the Champions League, resumes battle.
It's hard for me to believe that it's going to be 10 years in May since he last lifted this grand trophy, coming on to replace the wonderful Cesar Sanchez at Hampden Park in Glasgow and using almost every part of his body to repel Bayer Leverkusen as Los Blancos' fitness betrayed them and the Germans pummeled his goalmouth.
There have been immense highlights since then -- some of his saves defy belief and I will never, ever know quite how he managed to stop Arjen Robben from scoring in the World Cup final. But looking at the creaky way Ricardo Carvalho is beginning to defend at the age of 33, especially when Madrid's full backs convert to wing backs and push high up the pitch, Casillas may need to provide a few more of that type of save if he is to lift "The Cup with the Big Ears" once again.
One of the good guys
Not only do I love to watch Malaga's Santi Cazorla play, but he's a guy who has earned my admiration.
When you are in his presence, you are around one of the most likeable, quick-to-smile fellas in Spanish football with a tremendously down-to-earth attitude. As a player, he has such clever movements, such restless energy, such extraordinary skill that if this were not the era of Andres Iniesta, Xavi, Xabi Alonso, Cesc Fabregas, David Silva and Marcos Senna, then little Cazorla would probably have 50-plus caps for Spain by now.
[+] Enlarge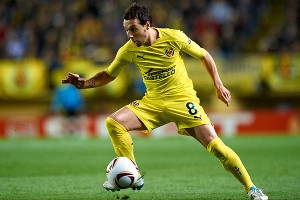 Manuel Queimadelos Alonso/Getty ImagesSanti Cazorla left Villarreal for Malaga, where he's scored two goals in three league games.
At his Villarreal peak, just after his wonderful cameo role in helping Spain win Euro 2008, Cazorla turned down a big-money move to Real Madrid partly because he felt he owed the Yellow Submarine something and partly because he wanted to play football every week. His subsequent injuries cost him other opportunities to transfer to a larger club, not to mention a World Cup winner's medal. Now that he has left Villarreal for Malaga this season, Cazorla is putting his faith in Manuel Pellegrini, his former coach.
Sure, Malaga is now cash-rich and Cazorla's wages will be handsome. But he is one of those good guys who live to win games and lift trophies. His choice of Malaga indicates that he wants to be part of a building project, that he wants to assume more responsibility and that he sees value in Spanish football outside the traditional power bases. All of which is, at the very least, refreshing.
Cazorla's sale helped balance the books at Villarreal, where the economic crisis has hit its small community. Fine. But Cazorla's personal wager that Pellegrini will be good for the player's career a second time around started badly when Malaga was exposed at Sevilla in a 2-1 loss on Aug. 28.
"We will work, we will get better and we won't play like that again," Pellegrini promised after that dispiriting defeat.
So this week's festival of football, when Malaga put four past Granada -- including two goals for our man -- was an early indication. Cazorla means to lead rather than be part of the Malaga push for Spanish glory. It'll be fun to watch. Me? I believe in Santi Claus.
Graham Hunter is a Barcelona-based freelance writer for ESPN.com who specializes in La Liga and the Spanish national team. You can reach him on Twitter at twitter.com/BumperGraham.
Spain writer
Graham Hunter is a Barcelona-based freelance writer for ESPN.com who specializes in La Liga and the Spanish national team.