Commentary
Barca's looming battle off the pitch
Updated:
September 27, 2011, 3:15 PM ET
By
Graham Hunter
| Special to ESPN.com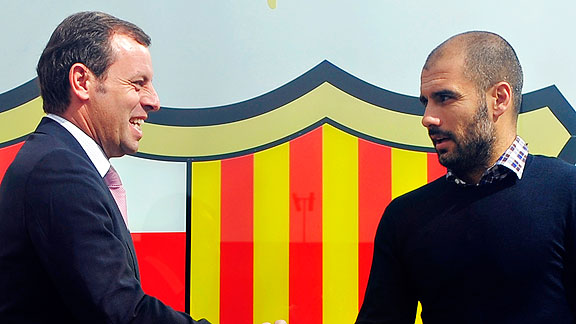 AP Photo/Manu FernandezIn happier times: Pep Guardiola and Barcelona president Sandro Rosell shake hands after Guardiola signed a contract extension in February that will keep him at Camp Nou through next summer.
Recently, the most intense examinations of greatness at FC Barcelona have all centered on Lionel Messi. Is he the greatest footballer of all time? Is he really better than World Cup winners Diego Maradona and Pele? And what, for that matter, defines greatness -- an entire sporting career, or a short burst of unparalleled brilliance? Only those things that happen on the field of play, or a person's entire life?
You've probably debated these points a hundred times in the pub or at work. But we need a new magnifying glass now because the focus is off Messi temporarily -- despite his hat trick against Atletico Madrid this past weekend -- and firmly on Barcelona president Sandro Rosell.
ESPN FC on Twitter
Don't miss a moment of the latest soccer coverage from around the world. Follow us on Twitter and stay informed. Join »
There's a question hanging over the 47-year-old Catalan. Does he have the patience, wisdom and restraint to overcome the sting of his manager's words after that Barca victory (more on that below) to become a truly great president?
I'll try to explain the enormous test of personality Rosell faces.
The relationship between Rosell and his presidential predecessor, Joan Laporta, is as bitter as a freshly cut lemon. During the handover in 2010, their respective accountants vehemently disagreed over the level of annual losses. The accepted version is that what Laporta claimed was a profitable final year was, in fact, a 79 million-euro loss.
One of the ordinary FC Barcelona members, or "socios," decided to seek legal redress, claiming that Laporta and seven other former directors owed the club members partial reparation (just under 25 million euros) based on financial guarantees that any president and board must lay down before taking power at Camp Nou.
In October, Rosell and his board put that issue before the mass membership and, albeit by a small margin, the socios decided that the club must adopt the legal claim and press forward.
[+] Enlarge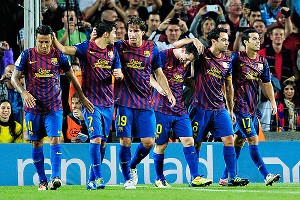 Josep Lago/AFP/Getty ImagesLionel Messi is surrounded by tremendous talent, but will backroom politics ultimately threaten his future at the club?
Rosell abstained personally and, quite rightly, asked the members to think long and hard about what was going to be a revolutionary move -- one bound to cause a significant level of collateral damage. The upshot is that, following a legal judgment in March, unless Laporta and his seven former colleagues each lodge 2.9 million euros with the Spanish League by the end of this week, action will begin for that value to be legally impounded from their possessions and personal wealth.
It is an extraordinary and horrendously complicated situation. But not my principal focus of interest. If there is a legal issue to be sorted out, let the law take its course and let justice be done.
However, Laporta and Rosell have been taking potshots at each other for a large chunk of the time since Rosell quit as Laporta's vice president in 2005. I would call the state of their relationship outright enmity.
So when Pep Guardiola fielded the second question of the night after Barca defeated Atletico Madrid 5-0 on Saturday and chose to make plain his strong support for Laporta, it caused an uproar.
Answering a question about what is going on in the legal tribunals -- which some suspect was deliberately chosen to appear early in the press conference -- Guardiola said: "I feel a great affection for the previous board because they chose me. What's happening right now makes me sad. I understand the law, but that board of directors did extraordinary things. They took the club when it was in a much more precarious situation than now, they re-launched it and built a wonderful team. I don't know how this will end [the conflict between Laporta and Rosell and the legal action by the members against Laporta & Co.], but I know that they are suffering greatly and that they don't deserve that. I know I'm putting myself in the middle of something … but all boards do things which are good and some which are not so good. I hope everyone can reflect a little and that people can realize that we are where we are thanks to a great number of people. This is all doing great damage to the club."
Between Saturday night and Monday morning there were briefings by board members to Catalan media. The board's official spokesman, Toni Freixa, went on a radio program to say that "We didn't expect Guardiola's words, but we respect them. We don't take them to be him positioning himself with Laporta and we won't withdraw our legal action, because it was what the members wanted."
Graham Hunter

For more Graham Hunter, check out his columns on all things La Liga and Spanish soccer.
• History beckons for Barca
• No time for nostalgia
• Messi's rise to greatness
• Torres should play for Spain
• Real Madrid's title quest
• Madrid's Pepe problem
• Di Maria is odd man out?
• Jokers wild for Spain's national team
• Yellow Submarine on verge of sinking
• Ronaldo's rant, Atletico's despair
• Barca beats Madrid again
• Spain's three kings
• Ibra's book of nonsense
• Spain's balance of power
• Rossi's injury huge blow
• La Liga's ultimate late bloomer
• Messi chasing Barca record
• Laporta's fall from grace
• Barca's off-the-pitch battle
• Real Madrid's game plan

All fine so far.
But as you know, institutions work far more intensely behind the scenes.
Guardiola's deliberate statement, which did position himself to a large extent with Laporta, came after Guardiola, Laporta and a man who Rosell dislikes even more strongly, Johan Cruyff, dined together last week.
Where I think the test begins for Rosell is to what degree this gnaws at him. Will he feel undermined and vindictive? And how will he react as weeks and months go by? After all, even the most exceptional leaders tend to respond negatively to insubordination, perceived or real. Pressure and the lust for control tend to make them seek enemies everywhere and to lose the shade of gray which makes us all more palatable human beings -- at least in how we regard and treat others.
The greater the pressure, the less rational and more vindictive the reaction.
So what are the midterm tests that will show the outside world whether Rosell is a run-of-the-mill president or a great one?
For starters, Guardiola's future at the club. His contract expires this coming summer, and while the manager himself has spoken about not quitting unless he feels he is losing the attention and motivation of his squad, he's also demonstrated that he's not afraid to walk away. Remember, Guardiola left Camp Nou as a player in 2001 because he didn't feel properly valued or respected by the reigning president and his board. It shocked people, particularly die-hard Barca fans, that he would take such action, but Guardiola is a strong, independent and determined man.
While I don't agree with those who have decided that Guardiola spoke out this past weekend because he has already decided to make this his last season with the club, there is the clear potential for relations between coach and president to deteriorate. If Rosell sees Guardiola as an enemy and embarks on contract renegotiations that appear to be half-hearted in nature, he could easily lose his coach.
[+] Enlarge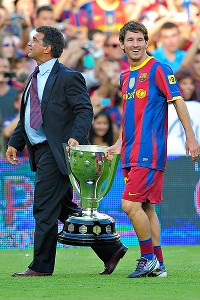 Josep Lago/AFP/Getty ImagesBarcelona's former president Joan Laporta with Messi in 2009.
If Rosell, as some presidents would do, sees this "slight" as an opportunity to go and sign a vanity player without the full approbation of his coach because Guardiola "owes" him some leeway in light of having given public support to Laporta, Rosell will certainly lose his coach.
These hypothetical instances are far from improbable in a situation of division and tension. And there, way in the distance, is the crown jewel, Leo Messi.
Should relations between Guardiola and Rosell become acrimonious, how would that affect the world's best player? Messi is the man who scored the hat trick against Atletico, who elevates Barca from good to great, who is very happy in his skin at the moment and who, in theory, would stay at Camp Nou in the company of his greatest supporters -- Gerard Pique, Cesc Fabregas and Pep Guardiola -- for years to come.
Messi continues to tempt me to say that he must be the greatest footballer ever. But what's easier to measure is that he is by a country mile the greatest footballer on the planet right now and essential to Barcelona.
Should Rosell either now or in the near future without Guardiola at the reins seek a big-name signing so that he has "his Messi," the footballer to define his presidency, it could be the moment at which this marvelous squad comes unstuck. Not for one second am I suggesting that Rosell is a stupid or short-sighted man. Nor am I saying that he will automatically be a vindictive one. But I know from experience that when a high-profile, ambitious man feels someone by his side has consorted with "the enemy," things can go pear-shaped quite quickly, and it takes someone of unusual character to turn the other cheek and concentrate on the good of the club.
Sandro Rosell has been presented with an opportunity -- to show that in presidential terms he possesses the same measure of greatness as both his coach and his best player. His choices and actions will be fascinating to observe.
Graham Hunter is a Barcelona-based freelance writer for ESPN.com who specializes in La Liga and the Spanish national team. You can reach him on Twitter at twitter.com/BumperGraham.
Spain writer
Graham Hunter is a Barcelona-based freelance writer for ESPN.com who specializes in La Liga and the Spanish national team.