Commentary
Rossi's injury huge blow for Villarreal
Updated:
November 2, 2011, 10:35 AM ET
By
Graham Hunter
| Special to ESPN.com
[+] Enlarge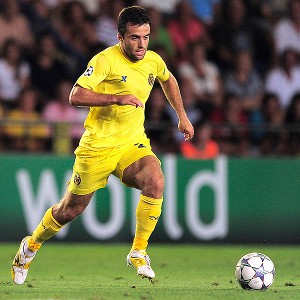 Josep Lago/AFP/Getty ImagesGiuseppe Rossi's cruciate ligament injury is a big blow to both Villarreal's campaign and Rossi's career, which had been reaching an apogee.
Sometimes in a time of crisis a little black humor can raise the spirits, and presumably that's what Spanish sports daily Marca had in mind when it compared Villarreal's current run of bad luck to the plague of locusts related by the Christian Bible in Exodus chapter 10, verse 14. Marca printed the words: "The locusts went up over all the land of Egypt, and rested in all the borders of Egypt. They were very grievous. Before them there were no such locusts as they, neither after them shall be such." I'm certain this was done to suggest that things can't get any worse.
But it was a drastic metaphor for the tough times at El Madrigal.
This commercially restricted club (the community is small, the stadium has a low capacity and the club is punching above its natural weight) is suffering exponentially more during the economic downturn and, specifically, the construction slump in Spain. So it was predictable that there would be belt-tightening.
Villarreal CF is extremely well-run. It plans well, it has invested firmly in its nursery teams and it attempts to sign players using forward planning and intelligence. But the club's owner, Fernando Roig, owes a large sector of his wealth that he has invested in the Yellow Submarine to the ceramics industry, which patently suffers when Spain is spending less money on new buildings or renovating existing property. If Roig has slightly fewer resources and the Villarreal public is struggling with unemployment, it all adds up.
OK; so far, so simple.
The summer sale of Santi Cazorla -- who, along with Giuseppe Rossi, was the only world-class footballer in the Villarreal squad -- was important to balance the books. But the sales-purchases chart has shown a gentle decline in quality in recent seasons. Money talks.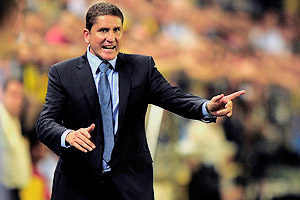 Jose Jordan/AFP/Getty ImagesVillarreal coach Juan Carlos Garrido has had to cope with a rash of injuries to his players, including Christian Zapata, Cani, Javier Camunas, Marco Ruben, Marcos Senna, Rossi and Nilmar.
So for a club that is trying to re-structure with a smaller budget to be hit with the current spate of injuries is cruel. This week, coach Juan Carlos Garrido has had to cope with a rash of injuries to his players, including Christian Zapata, Cani, Javier Camunas, Marco Ruben, Marcos Senna, Rossi and Nilmar. Excluding goalkeepers and reserve or youth players, Garrido had 13 first-team stalwarts available.
Injuries are part of sport and a host of clubs around Europe would immediately, and correctly, complain if I tried to argue that Villarreal is either unique in suffering so heavily or that it deserves special sympathy when it is enjoying the revenue and the competitive profile of the Champions League. However, Villarreal's contributions to Spanish football -- its attacking ethos, its importance to the community, its intelligent planning -- have been notable.
Some years ago, Roig explained that when there are between 9,000 and 10,000 season-ticket holders drawn from a Villarreal population of around 50,000, that translates to a city of 300,000 boasting 60,000 season-ticket holders -- something that would be considered extremely rare and praiseworthy. His argument remains sound.
Given everything that Villarreal has stood for over the past decade, I wish the Yellow Submarine a change of luck.
Graham Hunter

For more Graham Hunter, check out his columns on all things La Liga and Spanish soccer.
• History beckons for Barca
• No time for nostalgia
• Messi's rise to greatness
• Torres should play for Spain
• Real Madrid's title quest
• Madrid's Pepe problem
• Di Maria is odd man out?
• Jokers wild for Spain's national team
• Yellow Submarine on verge of sinking
• Ronaldo's rant, Atletico's despair
• Barca beats Madrid again
• Spain's three kings
• Ibra's book of nonsense
• Spain's balance of power
• Rossi's injury huge blow
• La Liga's ultimate late bloomer
• Messi chasing Barca record
• Laporta's fall from grace
• Barca's off-the-pitch battle
• Real Madrid's game plan

However, given that they normally view the short- to mid-term future with clear, shrewd eyes, it must be Rossi's injury that most worries them. Sure, that's partly because he is undoubtedly the team leader. His scoring and assist figures were world-class last season. He netted better than a goal every other game domestically (league and cup), and almost a goal per match as Villarreal soared to the Europa League semifinal, only to be beaten by Andre Villas-Boas' Porto. Rossi's global total was 32 goals in 56 matches, but if you add assists, 10, then he had his DNA on Villarreal hitting the net 42 times.
Messi-esque.
This season, even on a weakened side, the pattern was repeating. And what has stood out is that the U.S.-born Italian international leads by example. Rossi's work rate never drops, he is intelligent in his movement, and is enthusiasm personified when the team's morale is drooping. Perhaps he's neither the loudest nor the most bullish on the team, but over the years that I've been covering this club the increase in his teammates looking to Rossi for inspiration and leadership has been palpable.
So Rossi's cruciate ligament injury incurred during the 3-0 defeat at Real Madrid this past Wednesday is a horrible blow, both to the club in a time of extreme need and to Rossi just when his career is reaching an apogee.
That goes for club and country, given the increasing pressure Rossi had been putting on Italy coach Cesare Prandelli to be an automatic pick.
From Villarreal's point of view, however, there is another challenge that runs parallel to replacing the goals and leadership that have been temporarily lost. If it is going to be financially difficult to make marquee signings like it once did with Juan Roman Riquelme, Diego Forlan and Rossi himself, then perhaps the long run of first-class European performances that Villarreal has enjoyed in recent seasons is in jeopardy.
Villarreal is in 13th place in La Liga, three points off bottom place. In the Champions League, it's propping up Group A with zero points, having lost all three matches heading into the return leg against Manchester City on Wednesday.
Perhaps Villarreal will mount a rear-guard action. Perhaps prolific young reserve striker Juanlu will enjoy the test of fire that awaits him. In the meantime, Rossi begins the long road back. A cruciate ligament injury asks two key questions of a player. One, can he hack the ultra-demanding physical side of the rehabilitation? Two, how does he use the seemingly endless hours of free time, which is often used to reflect and measure the future?
ESPN FC on Twitter
Don't miss a moment of the latest soccer coverage from around the world. Follow us on Twitter and stay informed. Join »
Rossi has demonstrated his loyalty to Villarreal and patently enjoys the team, the local area and the brand of football in La Liga. But stepping, or limping, out of the breakneck pace of life as a top footballer provides a little bubble of isolation that can start a process of well-evaluated and firm decision-making.
Simply because Villarreal is struggling and simply because Rossi faces a physically and psychologically testing six months doesn't guarantee he'll return in a "carpe-diem" mood and push for a move to one of the European footballing behemoths, which would immediately snap him up should he become available. But I am willing to bet that an intelligent, talented young man like Rossi will use some of the long months ahead of him to consider this dilemma. It would be unjust to him and his club to suggest that those deliberations might go one way or the other. But let's wish him a speedy, strong recovery -- and an improved, persuasive performance from Villarreal in the meantime.
Should this prove to be Rossi's last season at El Madrigal, he deserves to go out on a high. Should he choose to confirm his commitment to the club, he equally deserves to be using his notable skills in a successful, entertaining team. Animo Giuseppe, animo Villarreal.
Graham Hunter is a Barcelona-based freelance writer for ESPN.com who specializes in La Liga and the Spanish national team. You can reach him on Twitter at twitter.com/BumperGraham.
Spain writer
Graham Hunter is a Barcelona-based freelance writer for ESPN.com who specializes in La Liga and the Spanish national team.