Commentary
Crucial time for Spain's three wise men
Updated:
November 23, 2011, 10:39 AM ET
By
Graham Hunter
| Special to ESPN.com
Getty ImagesVicente Del Bosque, Jose Mourinho and Pep Guardiola run the three main football franchises in Spain, each of which faces big challenges in the coming weeks.
They are the three wise men of Spanish football, even though one is a Portuguese. Vicente Del Bosque, Pep Guardiola and Jose Mourinho run the three main soccer franchises in this country, each of which has a season of destiny looming ahead. But there are crucial days and weeks facing all three of them right now, long before the battle days of April, May and June arrive.
Over the next four weeks we will see a Madrid derby, the Real Madrid versus Barcelona Clasico, two Champions League matches, Sevilla versus Madrid, a Club World Cup bid for Barca, and the UEFA European Football Championship draw. It's going to be an intense period with massive implications for each man and the team he calls his own.
To a certain extent their fates are interlinked and the fascination of how each man deals with a stressful situation should draw the gaze of every right-minded sports fan. The human drama is about to up its ante in tandem with the football spectacle.
Vicente Del Bosque
It's frustrating to see his side hauled all over the globe for friendlies (to England and Costa Rica in the last international break), gradually extinguishing the competitive fire which burns so brightly inside his world champion squad, but the man with the moustache now just has to wait. Next week in Kiev he will discover Spain's opponents at the 2012 Euros. The worst draw that could befall them would be Spain, Germany, Portugal, France. The best would be Spain, England, Sweden, Denmark. But although he'll attend the draw, smile, and offer stern quotes, Del Bosque knows it's not about the rivals at the moment. His great challenge is nicely linked to a lovely quote in the Oscar winning "Chariots of Fire." Scottish Olympian Eric Liddell is speaking to a crowd about his religious faith after winning an athletics meet. He asks them: "So where does the power come from, to see the race to its end? From within."
The world champions are tired, ragged, aggravated and in search of their identity. If the Euros were this month, I'd bet every single penny I own that they wouldn't defend their crown.
But this isn't June. By then some of Spain's old warhorses will have got up to speed again, scarred but not scared. By then some of its thoroughbreds will be frisky and full of running power again. Their strength to see this race through to its end needs to come from within -- deep, deep within.
Graham Hunter

For more Graham Hunter, check out his columns on all things La Liga and Spanish soccer.
• History beckons for Barca
• No time for nostalgia
• Messi's rise to greatness
• Torres should play for Spain
• Real Madrid's title quest
• Madrid's Pepe problem
• Di Maria is odd man out?
• Jokers wild for Spain's national team
• Yellow Submarine on verge of sinking
• Ronaldo's rant, Atletico's despair
• Barca beats Madrid again
• Spain's three kings
• Ibra's book of nonsense
• Spain's balance of power
• Rossi's injury huge blow
• La Liga's ultimate late bloomer
• Messi chasing Barca record
• Laporta's fall from grace
• Barca's off-the-pitch battle
• Real Madrid's game plan

And their trainer, well, he will need to find his form.
Del Bosque spoke, and spoke well, recently in front of the Spanish Olympic Committee. He talked about hunger and complacency. His task is to rediscover, or re-inspire, the former and smash the latter. "The hardest thing," he said, "is to keep on winning after you have won. You inevitably run the risk that the group of players starts to 'lord it' a bit and becomes too laid-back."
Emphasizing the importance of having a "healthy" atmosphere on the training ground and in the dressing room, Del Bosque added: "The discipline you maintain in a team needs to be based on rules and respect. I'm not a great believer in orders or being overly controlling. We're famous for being 'good boys,' but I can tell you that isn't always the full picture. However, if anyone thinks that Spain has a permissive regime, then they are simply wrong. There's a saying that 'Don't be too weak or you'll get swallowed up, but don't be too bitter or they'll spit you out.' My way of leading the group is that tactics you can learn, but style is self-taught."
Del Bosque has a wry sense of humor which was evidenced with his next anecdote. "These days you have to convince before you impose your will," he said. "Previously the coaches decided everything … right up to what kind of bread the players might eat. Which is the work of a nutritionist. A coach has to be involved in the vital stuff and not waste time and energy in others. One of the old coaches I had used to make us sit in silence for an hour before the game in order to 'concentrate.' These days, you should see our dressing room an hour before the game! They put on some [musical] racket which even God wouldn't listen to … but it works in getting the group fired up."
Finally, in what sounded like a direct dig at Mourinho but possibly wasn't meant to be, Del Bosque added: "I can't understand the type of coach who's always furious about something. One has to remain both affable and highly demanding. Nor can I identify with the kind of guy who is always up and bouncing about the technical zone at the edge of the pitch. If they opened up our technical box a bit, that kind of coach would follow the play down to the corner flag. A good coach needs to take successful decisions throughout the match and they will not end up being good ones if he's continually protesting to the referee."
All these ideas, tendencies and philosophies are within Del Bosque's control. The Euro draw, the work that his players put in over the next few months and the path the other two great footballing franchises take are not.
[+] Enlarge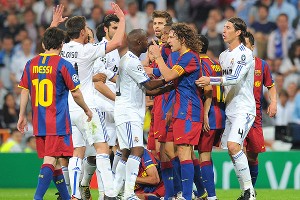 Lluis Gene/AFP/Getty ImagesSpain's manager Del Bosque will hope that December's Clasico doesn't end up causing more mayhem and bad blood.
It's quite conceivable that Operation Clasico (four Madrid-versus-Barcelona matches in 16 days last season) might further assume the guise of a Japanese endurance game show and ratchet up the tension even more this term. If the two clubs happen to meet in the Champions League semifinals, then fate has it that this time it could be (wait for it) three Clasicos in six days, because the second league meeting between the sides is sandwiched neatly between the two UEFA calendar dates.
Just over a month before Spain will kick off its defense of the European championship (and with a Spanish Cup final in May that could conceivably feature another Clasico), the potential for feuds, venom and mayhem is very nearly unlimited. The rest of Europe must be laughing up its sleeve. The man with the moustache very definitely will not be.
Jose Mourinho
Much of football analysis is pure opinion -- some with a firmer grounding in reality than others. But it's my belief that the level of performance Real Madrid is currently producing is the best football any of Mourinho's teams has ever produced. OK, they haven't proved themselves in the red heat of trophy battle as Porto, Chelsea and Inter Milan managed to do. That lies ahead of them. But the ferocity, the talent, the unity, the speed, the lashings of goals -- Los Blancos look good when you put them under the microscope.
Mourinho certainly used to conform to the hypothetical coach Del Bosque was criticizing for always being at the edge of his technical area and constantly badgering the referee. But from the point at which Real Madrid lost four points in two games against Levante and Racing Santander this season, Mourinho has become the Special One again. Another of Del Bosque's tutorial points holds good here. "These days you have to convince before you impose your will" was the phrase of a man who has as many Champions League medals as either Guardiola or Mourinho, and more world titles than either of the two "youngsters."
The word from the Real Madrid training ground -- and from the boardroom, where they are beginning to enjoy the fruits of their faith (and to salivate at the prospect of toppling Barca) -- is that Mourinho is on form, willing to listen, more interactive, more disposed to a smile and the use of his whippet-fast sense of humor. He's in the zone. His ability to convince before he imposes has never been in question. It's his specialty. It's just that over recent months, with the weight of fighting the world bearing down on his shoulders, it became more important for him to impose than convince.
Reversing that trend has made Real Madrid a leading candidate to win the treble this season. Much as Del Bosque adores his Camp Nou troops -- Xavi, Andres Iniesta and David Villa in particular -- he is a dyed-in-the-wool Madridista and the last man to lead that mighty club to the Champions League title. His rational mind will be begging for an end to the season without full-blooded war between Barca and Madrid. His heart will be urging Mourinho forward. Fair enough, too.
Pep Guardiola
So what was there for the Catalan vanguard to take from Del Bosque's Olympic discourse? Well, obviously the phrase that "The hardest thing is to keep on winning after you have won." Right now, Barca has the appearance of a straight-A student who has graduated to university, has exams looming and keeps saying to himself, "Right, I'll study tomorrow," without getting down to it and, eventually, being caught out by what should have been a simple test.
From day one, Guardiola and assistant coach Tito Vilanova (with still greater clarity) have spoken about the degree to which FC Barcelona can burn a man out. Add the relentless demands for excellence that emanate from Guardiola's every team talk and the incredibly high bar the team has set for itself and it's a surprise that there aren't more strained hamstrings, quick tempers and broken relationships.
ESPN FC on Twitter
Don't miss a moment of the latest soccer coverage from around the world. Follow us on Twitter and stay informed. Join »
But above all, Guardiola is in a period of mentally reviewing whether he desires a renewed contract at Barca and another year of the stress and strain that it brings. It's not widely known that when Guardiola learned that Eric Abidal had to be treated for a tumor last season and was set for high-priority surgery, the Barca coach phoned his friend Manel Estiarte in tears. That's not a weakness; it's a testimony of his humanity and the fact that he's kept a part of the real Pep Guardiola bottled up and out of reach of the ravaging stresses that accompany his level of success.
The facial operation that Vilanova has undergone this week to investigate what's wrong with a saliva gland at the side of his jaw and cheek will, it is to be hoped, find nothing sinister. Guardiola is not playing with words nor being disingenuous when he says his friend's well-being is both globally and personally far more serious than the result Barca achieves in Milan on Wednesday in the Champions League.
And when a man's best friend suddenly has a medical jolt, it's often the time when life makes you think a little bit harder about this and that … but especially this. The Dec. 10 Clasico and the assault on winning the FIFA Club World Cup are both vital appointments for Guardiola & Co. What's more, Vilanova will be irate if anyone has to stand accused of having slipped below their best by being distracted with his recuperation. But will Guardiola be affected by the hard-to-win-after-winning virus himself? Will Vilanova's misfortune catalyze Guardiola's thoughts about staying one way or the other?
These questions remain to be answered, but the next four frenzied weeks will begin to give us an idea of what will happen when the season is over.
Graham Hunter is a Barcelona-based freelance writer for ESPN.com who specializes in La Liga and the Spanish national team. You can reach him on Twitter at twitter.com/BumperGraham.
Spain writer
Graham Hunter is a Barcelona-based freelance writer for ESPN.com who specializes in La Liga and the Spanish national team.
Soccer on ESPN.com

Follow Soccer on ESPN: Twitter
Coverage on ESPN FC
Euro 2012 in Review