Commentary
Seeds of doubt at Real Madrid
Plus: Barcelona at the Club World Cup and Valencia's big gamble
Updated:
December 14, 2011, 3:22 PM ET
By
Graham Hunter
| Special to ESPN.com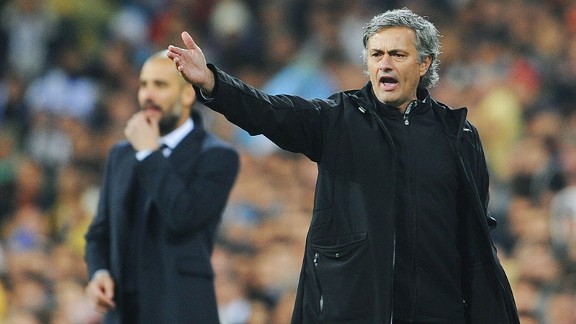 Pierre-Philippe Marcou/AFP/Getty ImagesReal Madrid may still win La Liga, but Jose Mourinho's inability to find a way to get the better of Pep Guardiola and Barcelona raises some questions.
It would be hypocritical of me now to try to talk in terms of Real Madrid president Florentino Perez being a man of football vision because, for a long time, I have tried to argue my firm point of view that he is a football myopic.
Madrid's Mr. Magoo.
But, just for a moment, let us embrace the ridiculous idea that I might be wrong. Let's imagine that Perez, who has every right to try to build a football club in whichever image he thinks is appropriate, spent the weekend after the embarrassment of Saturday's Clasico reflecting rather than brooding. In this scenario, he has his kippers and porridge for breakfast, attends to his correspondence, dispenses with the servants and, tightening his cravat and hugging his velvet smoking jacket close to him, picks up his solid-gold fountain pen and starts scratching out some conclusions on filigreed writing paper at his mahogany desk.
Mrs. Perez is banished from the room and, in any case, has gone to church to pray for the return of Vicente Del Bosque.
On Perez's ever-growing list of questions and potential solutions there is a repeated phrase -- Will Jose Mourinho ever get the better of Pep Guardiola?
The sub-points include: Note to self: Make big public show of supporting Mourinho. Note to self: Betray no fear. Final note to self: Mention how the league can still be won.
But the rest of the document has the more troubling musings of a dark, cornered mind. He asks: How can the most out-of-form and developmental Barcelona side of the past 3½ years (since we last beat them here!) possibly come to our stadium, gift us a goal start and then still take our pants down?
Why did Xabi Alonso, our best player this season, look as if he had lead in his legs? Is this Mourinho's fault? Was he over-played in the past few weeks?
Why is it that Mourinho, a trophy machine, has tried every single different way to beat Barca -- toe-to-toe, knuckle-duster, bob and weave, and now a flurry of haymakers -- and it's still us who are flat out on the canvas?
[+] Enlarge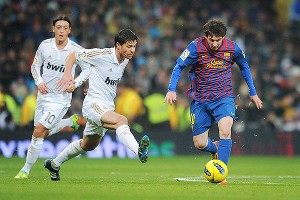 Jasper Juinen/Getty ImagesXabi Alonso was gassed in the latter stages of the second half. Did he play too much in the games leading up to the Clasico?
Is the basic flaw in our players, who have trampled all over the domestic and foreign opposition since Santander? Have they flattered to deceive?
Or is it the case that Guardiola is simply superior in using his resources, superior in tactical predictions and reactions -- and if that is the case, then is the pursuit of FC Barcelona futile so long as they are steered by a master and we have an apprentice at the wheel?
Did I see wounded pride and anger at defeat among my players Saturday during the loss, or did I see the beginnings of a fracture?
I trust Iker Casillas, and if he spots that we are being criminally overrun in midfield and at the back and starts yelling about it during the first half, why didn't the coach register that problem and then solve it?
Here end the thoughts of a lonely man. Will he come up with the correct conclusions? Good luck to President Magoo and the Gordian knot he's left himself with.
This is just about the same stage as last year when Madrid was destroyed 5-0 but still became a pretty thorny rival for Barcelona again by Easter time. Madrid's loss of three points at home, while deeply embarrassing, is not the end of the league by even the most exaggerated stretch of the imagination.
Graham Hunter

For more Graham Hunter, check out his columns on all things La Liga and Spanish soccer.
• History beckons for Barca
• No time for nostalgia
• Messi's rise to greatness
• Torres should play for Spain
• Real Madrid's title quest
• Madrid's Pepe problem
• Di Maria is odd man out?
• Jokers wild for Spain's national team
• Yellow Submarine on verge of sinking
• Ronaldo's rant, Atletico's despair
• Barca beats Madrid again
• Spain's three kings
• Ibra's book of nonsense
• Spain's balance of power
• Rossi's injury huge blow
• La Liga's ultimate late bloomer
• Messi chasing Barca record
• Laporta's fall from grace
• Barca's off-the-pitch battle
• Real Madrid's game plan

Is Barcelona capable of humiliating its hated rival but still dropping points here and there, on the road after more Champions League football, at home if it suffers any problematic injuries in the spring? If that were to be the case, then Mourinho could, feasibly, remain inferior to Barcelona and Guardiola but still win the title. In such a case would the Special One, Perez or the players waste too much time beating themselves up because they lost a battle but won the war? I think not.
But Real Madrid has hit a ceiling. Recent weeks have seen physical and footballing excellence, no doubt about that. The players deeply enjoy the training atmosphere and push for intensity, the fitness had looked impressive, squad rotation was working and the Madrid defense -- with Alvaro Arbeloa and Sergio Ramos reducing the Pepe stupidity factor -- was certainly more sound.
However, the instant Lionel Messi gets the ball against Madrid and chooses to accelerate on another ramble of discovery ("I wonder what will happen if I head off at this angle and then cut back before zig-zagging" is what must be zipping through his brain), Los Blancos become gibbering wrecks. That Barca achieves numerical superiority in midfield -- whether through the arrival of Dani Alves in the middle of the first half, pushed up so high that it left three at the back, or the decision to tell Cesc Fabregas to drop a little deeper from his position on the left wing -- shows how it has a steel-jaw grip on Madrid's throat.
Mourinho's statistics against Guardiola make him look second-rate, which he's not.
But while anyone can suffer when put under the heat lamp by some of the greatest football inquisitors Spain has ever produced, the Special One's inability to plot answers and to come up with an escape strategy must be worrying even Mr. Magoo.
Another trophy?
So the Spanish and European champions push on to Tokyo and, potentially, a meeting in the final with Neymar and Santos at the Club World Cup.
This is the stage, albeit a different country, which brought heaving shoulders and racking sobs from Guardiola two years ago when his side, somehow, scraped through in the most dramatic fashion to defeat Estudiantes. If you remember, Messi scored the winner -- leaning in to finish a cross by using the club badge on his chest to make Barca the world champion for the first time. Honestly, God is a great scriptwriter.
So do not be fooled about whether this coming week is more or less important to the Barcelona manager. The planning that he put into practice from summer onward, to be at peak fitness now rather than in mid-November, was constructed before he knew when the Clasico was going to be. This half of the season has been angled so that his team stands the maximum chance of coping with the jet lag, which is significant, and dealing with a team that has had a couple of weeks of training with no competitive matches so players can get rid of little niggles and knocks.
ESPN FC on Twitter
Don't miss a moment of the latest soccer coverage from around the world. Follow us on Twitter and stay informed. Join »
One of the things I have noticed about the Guardiola regime -- which must be about 100,000 times clearer and more impactful to his players, who live and work around him almost every day -- is that he makes complicated things seem simple.
What is on my mind here is that there has been lots of debate about how Barcelona should manage its domestic season: whether it was legitimate to play its cup game against Hospitalet early, whether it was legitimate to push up its Liga match against Rayo before leaving for Tokyo. Then Pep says: We are playing for the chance to be world champions.
In the UK, there is next to no validity or importance placed on this mini-tournament, and it has largely been that way since the 1960s, when both Celtic and Manchester United faced awful, physical muggings against brutal South American sides.
Guardiola knows that he is in the process of forging a mentality among his players, staff, the presidential board, the media and the fans that winning is vital -- a mentality that will live on after he eventually leaves the club. Playing well and growing your own talent are laudable, sometimes extraordinary, achievements. But to him, it is about winning. Remember the old election slogan -- "It's the economy, stupid!" Well, Guardiola's would be: "It's about winning." Everything else is a means to that end.
So if Barcelona cannot, for some reason, return home with the Club World Cup trophy, the pleasure Guardiola felt at wining the Clasico, when there was no trophy up for grabs, will be vastly, vastly diminished.
[+] Enlarge
Manuel Queimadelos Alonso/Getty ImagesValencia has plans to replace the Mestalla with a new stadium.
Valencia's calculated risk
If you have ever played the game Monopoly you will know that it is almost always the daring players who ram their money into houses, hotels and stations who win. You can hoard your money, you can stay out of jail, you can collect $200 when you pass Go. But unless you develop, spread your web and take risks, you won't catch and financially penalize the other competitors. In other words, you won't win.
With that, I give you Valencia. Almost immediately we find that it has lopped 180 million euros off its debt in the past two years, and now comes the announcement that it has reached an agreement on a new debt package to resume the construction of the new Mestalla.
That despite the financial crisis and the real estate crisis that are hitting Spain as hard, if not brutally harder than, the rest of Europe. The old stadium is not yet sold, nor is it clear how the true value of that real estate can be realized. But I admire president Manuel Llorente so much. Valencia has seized the opportunity, Monopoly-style.
It is a risk. An enormous one. Who knows, perhaps we are stuck with these financial conditions for another five, 10, or 15 years? Valencia has land that is earning it nothing, costing the club loads and which, if fully developed, could start to help it eat into debt.
Valencia hopes to keep attracting fans, to keep playing attractive football, to keep making it to the Champions League. But Llorente knows the score. If you attract big crowds to a lovely stadium, charging more, then you start to make money. Turnover increases. The banks and creditors are happier. Tourists start to choose weekends in Valencia because they know they can always see top-quality Spanish football and there will be reasonably priced tickets available. Valencia's name will grow, top players will be happier to sign for the club (all things being equal), and that momentum can propel the team toward being competitive either in the Champions League or, potentially, in a European elite league should the top clubs push that through.
Valencia want to be ready. They want in.
The risk is that the team fails, the stadium is empty, the debt is too big. However, without calculated risk, nothing good comes to companies or clubs.
News that the new Mestalla will be completed and then used is hugely exciting, not just for Valencia but for Spanish football in general. Well done, Los Che -- amunt Valencia!
Graham Hunter is a Barcelona-based freelance writer for ESPN.com who specializes in La Liga and the Spanish national team. You can reach him on Twitter at twitter.com/BumperGraham.
Spain writer
Graham Hunter is a Barcelona-based freelance writer for ESPN.com who specializes in La Liga and the Spanish national team.
Soccer on ESPN.com

Follow Soccer on ESPN: Twitter
Coverage on ESPN FC
Euro 2012 in Review