Commentary
Why is Di Maria odd man out at Real?
PLUS: Get ready for another clasico between Real and Barca next week
Updated:
January 11, 2012, 2:18 PM ET
By
Graham Hunter
| Special to ESPN.com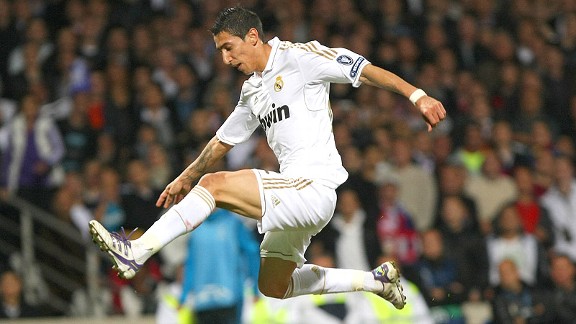 AP Photo/Claude ParisReal Madrid should look to increase Angel Di Maria's wages, because he can have a huge impact on any game -- and especially against Barcelona.
There is an urban myth that Gabriel Milito's proposed deal to move from Independiente to Real Madrid in 2003 was influenced by the Spanish club's president taking a look at the defender's "unconventional" looks and hairstyle and deciding that, in an age of Galactico marketing, this wasn't a guy to sell many Madrid shirts in Tokyo and Beijing.
Irrespective of the fact that Madrid's doctors were quoted as saying they had doubts about Milito's recovery from a knee injury, there has always been scuttlebutt that Florentino Perez ultimately didn't feel that the Argentine was the blue-eyed handsome boy Real Madrid's marketers wanted. The plug was pulled despite a transfer fee, financial terms and length of contact all having been agreed.
That Milito's subsequent successful career included a 2004 Copa del Rey final win over Madrid for Real Zaragoza, plus a 10-trophy spell at FC Barcelona, has only added a huge dash of spice and spite to the rumors. People don't really care whether the Perez-Milito thing is fact or not anymore. It's a good tale made all the sexier for the way Milito appeared to spend the next eight years paying Perez back.
The reason it comes to my mind is the situation of Milito's countryman, Angel Di Maria, at Real Madrid right now.
Born a few kilometers from Lionel Messi's family home in Rosario, and only about eight months after Barca's little Ballon d'Or genius, Di Maria grew up on the mean streets. It was a tough area, his dad and mom worked immensely hard to provide for the family (the elder Di Maria slogged away in a coal yard), and the player knows what it is like to struggle for a living.
For all the copious talent Di Maria has been born with, this isn't a guy who was hit with the handsome stick. His ears are like mine -- like the handles on the European Cup -- and, like Milito, he has unconventional looks. So the fact that we are discovering one of the most skilled, most influential players at the Bernabeu, who is on a far lower wage than he deserves, makes me wonder what the heck it can possibly be that leaves him underappreciated financially.
You see, Di Maria has added judgment, maturity, hard work and an ability to rise to difficult circumstances to his natural ability.
Always capable of a sweet flow of cross balls from either wing (his was the sublime one-two with Marcelo and millimeter-perfect center for Ronaldo to head the winning goal in last April's Copa del Rey final versus Barcelona), this guy is now showing a far greater passing range. The epitome of his development probably came at Sevilla just before Christmas.
Graham Hunter

For more Graham Hunter, check out his columns on all things La Liga and Spanish soccer.
• History beckons for Barca
• No time for nostalgia
• Messi's rise to greatness
• Torres should play for Spain
• Real Madrid's title quest
• Madrid's Pepe problem
• Di Maria is odd man out?
• Jokers wild for Spain's national team
• Yellow Submarine on verge of sinking
• Ronaldo's rant, Atletico's despair
• Barca beats Madrid again
• Spain's three kings
• Ibra's book of nonsense
• Spain's balance of power
• Rossi's injury huge blow
• La Liga's ultimate late bloomer
• Messi chasing Barca record
• Laporta's fall from grace
• Barca's off-the-pitch battle
• Real Madrid's game plan

Madrid had been humiliatingly thrashed at home by Pep Guardiola's Spanish champions, and Barca were now en route to Japan to win the Club World Cup. So it would have been easy for Los Blancos to arrive in Sevilla not particularly up for the battle.
For his part, the 23-year-old Di Maria had chosen to fly home for the funeral of his father-in-law, then hurry back in time for the crucial away match. It's a 12,500-mile round trip, and he completed it in just over three days.
But Di Maria started in Sevilla, absolutely ran the game, scored once in a 6-2 win, created some of the sweetest goal assists in recent years and looked absolutely imperious. So to find that there is a posse of wealthy English clubs sniffing around him -- no doubt on the advice of a well-informed agent -- and to understand that it's because he feels his salary is vastly behind ordinary players in the Madrid squad, not simply that of Cristiano Ronaldo or Iker Casillas, is a shock.
In Di Maria, Real Madrid has not only a special player but one who can make the difference between Los Blancos and Barcelona on a regular basis. He is now confident and talented enough to move into the center of the pitch and still create goal chances with delicate, measured passes in tight spaces. It's a joy to watch him, and there's a lot more to come. To have him on your playing staff, or as a teammate, should be priceless.
Presumably, Real Madrid will see the light and upgrade his contract. But the strange thing is that he shares an agent, Jorge Mendes, with Real's manager, Jose Mourinho.
Di Maria must be wondering, "Why am I the ugly duckling of the pay scale if my performances put me in the top 1 or 2 percent of players in the squad?" Especially when his manager has been promoted to a dominant position at the club in terms of buying and selling players after general manager Jorge Valdano was removed in the summer. It's a mystery, and if Los Blancos don't solve it, then they haven't a clue.
[+] Enlarge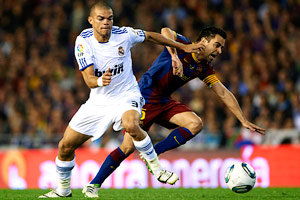 Manuel Queimadelos Alonso/Getty ImagesReal Madrid defeated Barcelona in last season's Copa del Rey final. The two archrivals look set to meet each other in the quarterfinals next week.
Here we go again
Meanwhile, the race to get Di Maria fully fit for next midweek will be on. Real Madrid's rather fortuitous 1-0 win at Malaga has put it through to what seems sure to be a Copa del Rey quarterfinal Clasico. (Barcelona leads Osasuna 4-0 after the first leg at Camp Nou last week so, barring a miracle, Spain's archrivals will be pitted against each other yet again.)
We had seven of these bitter, fascinating and sometimes stunning Barca-Madrid contests last season, and I seem to have been in the minority in absolutely loving every last minute of them.
Since Mourinho and Guardiola started going up against each other as coach of Madrid and Barcelona, there have been eight meetings, 25 goals, 59 bookings and nine red cards. It has been football carnage.
This competition is one of only three trophies Pep Guardiola has failed to win of the 16 available to him since he took over in June 2008. Even for Barca and Madrid, the Copa del Rey is the third-most important of the three trophies left this season, along with the league and the Champions League. The fact that -- barring a miracle by Osasuna -- these rivals will face off in the quarterfinals, less than a year since Real defeated Barcelona in the last season's final, all but guarantees that the next two midweek meetings in the Copa del Rey will be red-hot.
Even after Barca's recent run of clinically defeating Madrid when it really matters, I dare to suggest that Mourinho's team would start as a slight favorite.
Unlike the Liga meetings, the dates of which are known for months in advance, this is a random draw, so there's little time to prepare.
ESPN FC on Twitter
Don't miss a moment of the latest soccer coverage from around the world. Follow us on Twitter and stay informed. Join »
Guardiola's ability to stoke the fires of fitness so as to be roaring hot for meetings with Madrid and for the knockout stage of the Champions League is undermined by the fact that it's just a fluke the two sides have been drawn in the Copa del Rey (in a ceremony by Madrid's director of football, no less).
And the lead that Barcelona let slip last weekend at Espanyol paints the champion as slightly vulnerable. But will Di Maria be fit? How bad was the injury sustained by Sami Khedira at Malaga? How angry is Mourinho with Alvaro Arbeloa for getting himself sent off and banned for the first leg at the Bernabeu next week? Will Ronaldo silence those who now whistle and jeer him (since missing two clear chances in the Clasico defeat in December) with a winning performance across the two meetings with Barca?
With the league well within Madrid's steely grasp, thanks to its five-point lead, would it suddenly paint Spain a very bright shade of white should Los Blancos be able to knock Barcelona out of the Copa del Rey for the second successive season? Personally, I can't wait to find out.
Graham Hunter is a Barcelona-based freelance writer for ESPN.com who specializes in La Liga and the Spanish national team. You can reach him on Twitter at twitter.com/BumperGraham.
Spain writer
Graham Hunter is a Barcelona-based freelance writer for ESPN.com who specializes in La Liga and the Spanish national team.
Soccer on ESPN.com

Follow Soccer on ESPN: Twitter
Coverage on ESPN FC
Euro 2012 in Review