Commentary
Did Toronto jump the gun?
Updated:
September 15, 2010, 1:37 PM ET
By
Jeff Carlisle
| ESPN.com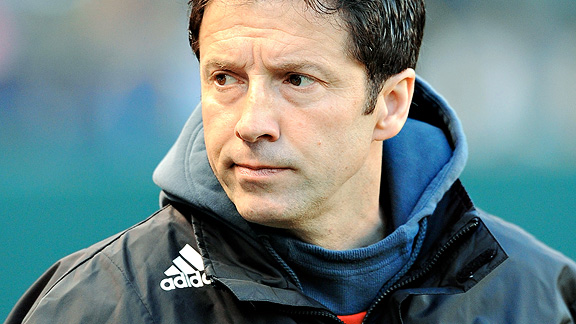 Kevork Djansezian/Getty ImagesAfter just 24 games, head coach Preki was shown the exit as Toronto decided it was time for a change.
The guillotine finally dropped on Toronto FC Tuesday. The only surprise is that in one fell swoop, two heads rolled instead of one.
With TFC's playoff hopes dwindling following a 1-0 defeat by D.C. United on Saturday, owners Maple Leaf Sports & Entertainment relieved director of soccer Mo Johnston and head coach Preki of their duties, replacing them temporarily with former Toronto academy director Earl Cochrane and assistant coach Nick Dasovic, respectively.
Without question, Johnston's ouster was a long time in coming. Toronto is set to miss the playoffs for the fourth year in a row, a spell that would match San Jose's barren run from 1997-2000, and the one constant throughout TFC's period of futility has been the involvement of Johnston, who was the team's inaugural head coach before moving upstairs. That Johnston burned through countless players and four coaches during his time in charge speaks little of his long-term thinking.
As for Preki, his dimissal is puzzling. The former U.S. international is a quality coach, as evidenced by his job with a middling roster at Chivas USA. His teams never racked up many style points, but they made the playoffs in each of his three seasons in charge. Along the way, the Serbian developed a reputation as a coach that ruled with an iron whistle. Former Chivas USA captain Jesse Marsch even went so far as to call his coach "surly."
Perhaps Marsch was understating things. Preki eventually wore out his welcome with the Goats, and it was his drill-sergeant style that proved to be his undoing in Toronto. An eight-game unbeaten streak in league play from May 8 to July 10 put the team in solid position to reach the postseason, but the team has won just once since then. In the process, a full-scale mutiny erupted among the players.
Upper management felt it had no choice, and had to take action.
So why is it that what worked with Chivas failed in Toronto? Preki's service as a Chivas assistant prior to taking over from Bob Bradley in 2007 was no doubt beneficial. It provided the Chivas players with a level of familiarity that their counterparts in Toronto lacked. The team had also enjoyed some success prior to Preki taking over, and when Chivas continued to reach the postseason in subsequent years it gave the manager substantial cover. Players may have groused privately, but winning, as it always does, left them little room to complain.
The irony here is that management's rationale for firing Preki is precisely the same as the one for hiring him. Lest anyone forget, it was his reputation as a disciplinarian that landed him the job. Toronto ended the 2009 season by losing to bottom-of-the-table New York, 5-0, in a game where victory would have secured a playoff spot. Following that debacle, it was thought if TFC possessed a harder, more resolute edge, a playoff spot would be in the future. Enter Preki. True to his reputation, he instilled steel on the defensive side of the ball, although Toronto's attack remained woefully inadequate, ranking next-to-last in goals scored.
What does Toronto want in a coach and director of soccer? What's the long-term vision for the club? It's not clear. Small wonder that the playing staff felt empowered enough to stage a rebellion, a group that is now officially out of excuses.
To be sure, Preki is not blameless here. Few, if any, of the players he has acquired since his arrival have had much of an impact. A more subtle approach to man-management, one that balances cracking the whip with an idea of when to ease up, would have served him better. That said, 24 games in charge is scant time to complete a makeover.
Given the way coaches are recycled in MLS, Preki will no doubt get another chance, and it will be interesting to see if he will modify his approach as a result of this experience. As for Toronto, it will have to change some things, otherwise the instability that has plagued the team since its inception will continue.
NEWS AND NOTES
Mapp-making in Philly: When Justin Mapp was traded to the Philadelphia Union on July 26, ending his eight-year tenure in Chicago, there were legitimate questions about which direction his career would go. Would he continue his baffling downward spiral, or would he try to rescale the heights that had him in the national team mix back in 2007?
[+] Enlarge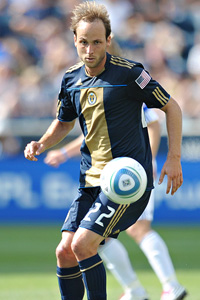 Drew Hallowell/Getty ImagesJustin Mapp has jump-started his career at Philadelphia.
Nine games into his stint with Philadelphia, it looks like Mapp has chosen to reignite his career. He's become more dangerous, running at opponents and arresting his tendency to drift in and (mostly) out of games. He has made game-breaking plays, too. He fired home the game-winner in a come-from-behind win over New England on Aug. 28, and delivered the assist on Sebastian Le Toux's tally last weekend in a 1-0 win over Chicago. Clearly, the change of scenery has had a galvanizing effect on Mapp's game.
"You definitely want to earn your teammates' respect, show them that you can play and do your part to fit in," Mapp said. "I don't know if I had something to prove, but you definitely want to help out and show that you're going to be contributor to the team."
Resurrecting the game ofspiraling players is beginning to become a habit for manager Peter Nowak. Le Toux has emerged as an MVP candidate with 11 goals and 10 assists, and now Mapp, who worked previously with Nowak when he was an assistant with the U.S. national team, looks reenergized.
"We've tried to get Justin's confidence back, give him a bit more freedom," said Nowak. "Of course, the values and principles of our game must be in place, but giving him this kind of freedom, he's become himself again."
Gordo the giver: Alan Gordon has been called a lot of things in his career, most of them unprintable, but last Friday against New England, the Chivas USA forward took on a new label -- the provider -- as his two assists helped the Goats to a 2-0 win.
Particularly notable is his perfectly timed through ball that allowed Justin Braun to open the scoring after just six minutes. And while his generosity with the ball no doubt came as a surprise to those in attendance, Gordon said that it shouldn't have.
"I've been giving out assists my whole career," Gordon said. "It's something that is underestimated about me. But I'm a good passer of the ball, and I'm glad to be able to contribute in any way."
Gordon isn't set to become the second coming of Carlos Valderrama, but a quick glance at his career stats reveals a player that has helped set up his share of goals. In 2008, Gordon doled out a career high seven assists, and while there likely isn't enough time to reach that mark this season -- he currently has just two assists -- his budding partnership with Braun may allow him to improve his stats further.
"It was pretty much the first night that we were partnered up together, and I think it worked well," said Gordon of playing with Braun. "He has a lot of energy and he's a busy guy up there, and I can just pick my spots and use my experience to just get him the ball and he's going to get on the end of it."
It ain't broke, but Backe fixes it anyway: The New York Red Bulls acquired Mehdi Ballouchy from Colorado on Tuesday in exchange for Mac Kandji. It's a move that has "head-scratcher" written all over it. Ballouchy's high degree of technical prowess is well known, although he's struggled in terms of the end product. And if the move was made simply to provide cover in midfield, especially given Rafael Marquez's injury troubles, there is some logic behind it.
But Backe is talking about Ballouchy as if he is the answer to a midfield problem that didn't exist, stating that he'll be "the link between our midfield and our forwards." Really? Who sits then? Certainly not Dane Richards, who has been electric of late. Joel Lindpere has been solid, too, and Tony Tchani and Marquez have formed a highly effective partnership in the center of midfield. Regardless of where he lines up, Ballouchy's presence weakens the team defensively. Time will reveal Backe's plans, but you have to wonder if this is a case of managerial over-thinking.
Jeff Carlisle covers MLS and the U.S. national team for ESPNsoccernet. He is also the author of "Soccer's Most Wanted II: The Top 10 Book of More Glorious Goals, Superb Saves and Fantastic Free-Kicks." He can be reached at eljefe1@yahoo.com.
U.S. soccer correspondent
Jeff Carlisle covers MLS and the U.S. national team for ESPN FC.