Commentary
Alive and kicking
A year after nearly losing his life, Charlie Davies is regaining his stride
Originally Published:
October 7, 2010
By
Charlie Davies, as told to Luke Cyphers
| ESPN The Magazine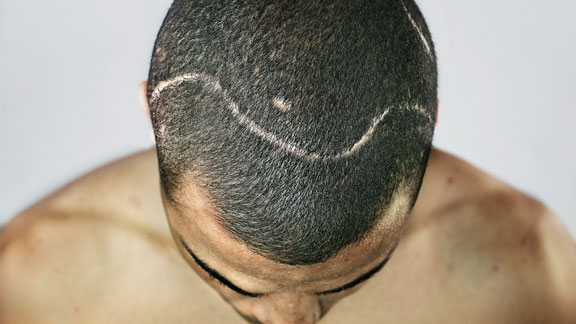 Chris Floyd for ESPN The MagazineThose familiar with Davies' injuries say it's a miracle he's playing at all.
In the fall of 2009, Charlie Davies was on top of the world, having just helped the U.S. national soccer team qualify for the World Cup. But on Oct. 13, everything changed. One day before the Yanks' final match of the qualifying round, Davies suffered severe injuries when the car in which he was riding crashed near Washington, D.C., killing a fellow passenger. Davies broke the fibula, tibia and femur of his right leg (stabilizing the limb required insertion of two titanium rods); tore a ligament in his left knee; fractured his left elbow, eye socket and nose; suffered serious head trauma; and lacerated his bladder. Nobody knew if he'd play again. Except Davies. Following a grueling rehab, the 24-year-old forward is back on the field with the reserve squad for Sochaux, his French pro club. His next goal: rejoin the first team. Though his coach says that won't happen until at least January, those familiar with Davies' injuries say it's a miracle he's playing at all. We asked him to detail his remarkable recovery.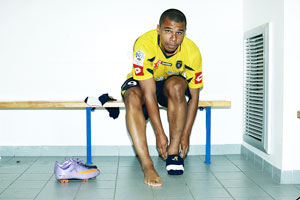 Chris Floyd for ESPN The MagazineBefore his injury, Davies, a former wrestler, gave the U.S. team a one-two-three punch: speed, tenacity and finish (four goals, 17 caps).
When I woke up, I looked down at my stomach, saw the medical staples up past my belly button, and thought I was in a hostel, like the movie, where they wanted to steal my organs. I panicked and started picking out the staples. By the fifth one, blood started gushing, and a nurse ran over. "Why am I here?" I said, and she told me about the accident.
"Anybody could say that!" I yelled.
"Mr. Davies, you were in a serious car accident, and you're in Washington, D.C.," she responded.
That's the last thing I remembered for about a week. In fact, the first three weeks were a haze because of all the medication. Apparently I told my family I played in the NFL and had to get back for the Super Bowl. I do remember the drains in my head to draw off the excess blood from the facial fracture repairs.
It's tough to describe how hard it was to walk again. Putting pressure on my right leg and believing it would hold me up felt like trusting somebody with your life on a 300-foot cliff. In the fourth week, I moved across the road to the national rehab hospital. With a lot of help, I took my first steps on crutches -- and I broke down and cried. It was the first time I ever saw my dad shed tears.
About five weeks after the accident, I went to Delaware to rehab with trainer James Hashimoto, who had worked with me on the U.S. team. He had me cover 50 feet to the end of the hall and back on crutches. That felt like a marathon -- I was out of breath, exhausted, ready to faint. Every movement hurt because I had to rip up scar tissue.
U.S. Soccer blog

ESPN Insider's Doug McIntyre and Luke Cyphers give all the inside info on the U.S. national team in their Insider soccer blog.

Soon, though, he had me doing athletic things -- little hurdle exercises, even dancing a crippled version of the "Stanky Leg." Granted, there were setbacks with my leg, but my left arm was worse. I couldn't feel my left hand or use my fingers for several weeks. It turned out I was lucky because a single nerve was still firing near the elbow. "You've got a lone soldier working for you," the doctor said. "You still have hope." Would feeling return? I asked.
"Maybe. Maybe not."
Around Christmas, my thumb finally moved, then the rest of my hand. I thought, There is a God.
The elbow was more stubborn. For two months, Hash would strap me to a table and pull on my arm full force to straighten it. It was the most pain I can imagine a human being experiencing. But he couldn't budge it. Bone had grown into the joint, and I needed an additional surgery in February.
Still, I was making progress. I kept reaching benchmarks, and by January, I believed I had come back. I started running in place on an AlterG treadmill, which takes pressure off your limbs. We set it on 60% of my body weight; I'd cheat to 70% when Hash wasn't looking -- "Extra" was my middle name. My U.S. teammate Oguchi Onyewu was there rehabbing his torn patellar tendon, and he wouldn't take pain meds, so neither would I. In February, I sent videos of my agility drills to teammates. They'd respond: "You kidding me? You were almost dead. What are you taking?"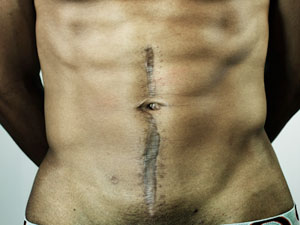 Chris Floyd for ESPN The MagazineDavies' injuries scarred the U.S. national team, too -- no forward scored a goal at the World Cup.
The rude awakening came after I moved to France and started training with my club in March. There was no AlterG; it was the real thing with world-class athletes. And it felt as if I'd never played soccer before. My go-to move was always a stepover, followed by an explosive run past the defender. I couldn't get the stepover right, and I'd hear my teammates' aggravated sighs when I'd lose the ball a second or third time. That frustration created a whole new pain -- anxiety headaches.
I had an even tougher time in May. Since Day One, making it back for the World Cup was my whole motivation. When I felt like quitting, with 20 minutes left on the treadmill, I pictured coach Bob Bradley staring at me, saying, "If you don't finish, don't even think about the World Cup." That would keep me going.
So when I got that call from Bob, telling me he was proud of my progress but that I wasn't ready for training camp, my world crumbled. But, looking back, in my heart I know I couldn't have competed then at the international level. I have no bitterness and now no deadlines: I'll be ready when I'm ready.
Going to practice the day after that disappointment still wasn't easy. Luckily, I had help. My background as a high school wrestler gave me a mental toughness you don't learn in soccer. In wrestling, you're on your own -- ­ push-ups and sit-ups are your friends.
Thankfully, I also had my fiancée, Nina. She's been there from the beginning, when I had to go to the bathroom in a bedpan, through every milestone: my first steps, first header in training, first goal in a reserve match. My favorite? In a late-April practice, my teammates had been taking it easy on me, not coming in hard on tackles. Then in a possession drill, big Loïc Poujol went in full force and got none of the ball and all of my right leg. I went flying -- and popped back up with the biggest smile.
I appreciate how hard this game is now. You can rebuild your body, but you must also rediscover your form, rhythm, confidence and consistency. The old me was there, just not often. Early in training, I'd do something perfectly, then it wouldn't happen again for a week or more. Beyond that, to get back with the first team I have to convince my coach I'm ready. I don't know when that will happen.
But I'm seeing the old me more often. A few weeks ago, after finally returning to play in reserve matches, I had a guy one-on-one and figured it was time to pull out my go-to move. I did my stepover to the right, then blew past my man on the left, took a shot and forced the keeper to make a good save. When I looked back, my bench was standing up, and the crowd was clapping. It hit them before it hit me: I'm almost there.
ESPN The Magazine: October 18, 2010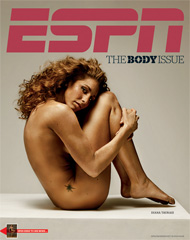 BUY YOUR FAVORITE BODY ISSUE COVER
Check out ESPN The Magazine's October 18, 2010 issue -- the Body Issue -- below.
Features
Video