Commentary
The U.S. needs a true No. 10
Updated:
October 11, 2010, 4:51 PM ET
By
David Hirshey
| Special to ESPN.com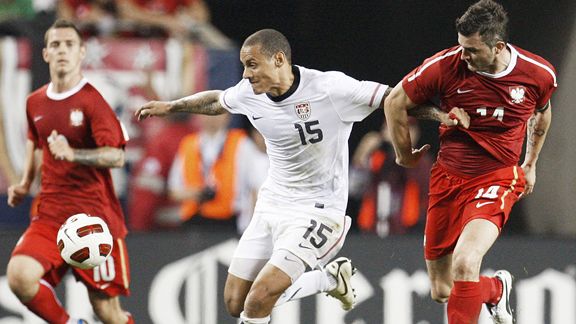 AP Photo/Nam Y. HuhJermaine Jones is a welcome addition to the U.S. men's team, but he's not the game-changer who Bob Bradley so desperately needs.
Forgive me if I don't join the giddy chorus in proclaiming Jermaine Jones as the future of American soccer. For starters, the missing American soccer link isn't going to be a 28-year-old, box-to-box, ball-winning midfielder. If you were hoping that the German-born midfielder would be the love child of Lothar Matthaus and Michael Ballack when he finally made his debut for the U.S. national team this past Saturday, now you know that he was more hood ornament than engine for Bob Bradley's Brave New World.
Jones is not a game-changer so much as he is an upgraded cog -- an uber Ricardo Clark -- in Second Chance Bob's system. A more imposing version of Michael Bradley, he's exactly the type of player who we have no trouble growing on American soil: athletic, direct, indefatigable. He's got some skill, too: that exquisite 30-yard floater to tee up Jozy Altidore for the game's first goal (and Altidore's first national team goal in what felt like forever) was a thing of beauty.
But is Jones really the missing ingredient that the U.S. needs to lift it above and beyond its perennial the-best-team-in-CONCACAF status, let alone to make it a legitimate contender for a final four World Cup spot?
If you're at all like me, by the end of Saturday's 2-2 draw against Poland, you found yourself thinking, "Good pickup, Bob, but how many more years do we need to wait for a real No. 10?"
For those of you just learning to love the Beautiful Game, the number 10 is both real and metaphor. It's the jersey often given to a team's most gifted player (a Pele or Maradona), but it's also a term applied to any soccer genius who has the ability to turn a game on its ear (a Johan Cruyff, for example -- a No. 10 in spirit who wore No. 14 on his back). To rank the best No. 10s of all-time, click here. To rank the best of the current crop, go here.
Currently, the best player that America has ever produced, Landon Donovan, wears No. 10 for club and country. But Lan the Man is more of a natural wide player whose speed and guile wreak havoc on the flanks rather than a consummate playmaker who brings a sense of calm and invention to the otherwise frenetic U.S. attack. In short, he doesn't fit the expectations and requirements of the number.
I'm talking about what the Italians call a fantasista -- a player who embodies the magical soccer qualities of touch, vision, imagination and even artistry. Or as the Fiorentina manager Aldo Agroppi once said of Roberto Baggio, "angels sing in his legs."
[+] Enlarge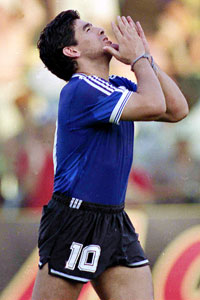 AP PhotoMaradona embodied the true spirit of a No. 10.
The maestro's baton is passed -- usually with the outside of the foot -- from one creative genius to the next, residing currently with the likes of Xavi, Mesut Ozil and Wesley Sneijder. And then there's the greatest player of his generation, Barcelona and Argentina's Lionel Messi, who embraces the standard definition of the No. 10 and then slaps on the extra dimension of prolific goal scoring, a 10 in the land of 10s, if you will.
The sad fact remains that the U.S. hasn't had a natural No. 10 since Tab Ramos hung up his cleats next to his broken cheekbones in 2002. Claudio Reyna, Ramos' heir as midfield fulcrum through the 2006 World Cup, was a skillful player with a lively soccer brain, but he was never really able to dictate the rhythm of the U.S. attack against the tougher opponents.
The U.S. has gone nearly a decade without a true No. 10, leaving me to wonder if the creative void in the middle isn't symptomatic of the tactical style to which both the last manager, Bruce Arena, and Bradley have stubbornly adhered, based almost certainly on their success as storied products of the American college soccer aesthetic. With their pedigree, they tend to scout and favor players who like to hurtle around the field for 90 minutes, willing to run through a Sepp Blatter-sized wall for college, club and country.
My guess is that the combination of liking a certain type of player, in conjunction with a relative lack of comfort with the flair that is so traditionally the province of the South American soccer senseis, has led to Bradley historically ignoring the type of player who thrives in the fabled 10 hole.
First, Jose Francisco Torres was thought to be too brittle to merit more than a cameo in the World Cup. And on Saturday, Alejandro Bedoya was very much "off the pace" in his 30 minutes of action against Poland. What Torres and Bedoya have in common, beside their immaculate ball control and deft touches, is that they are both Hispanic (Torres has a Mexican father, Bedoya is of Colombian descent) and are therefore, along with Brazilian-born midfielder Benny Feilhaber, closer to the roots of the No. 10 phenomenon than other American players.
Any of this remind you of another helter-skelter soccer culture? For all of their pretensions to soccer beauty, the English are as bereft of a true No. 10 as their American brethren. Seriously, can you name, as defined above, an England No. 10 since legendary dribbler/booze hound Paul Gascoigne's liquid skills dried up after one memorable World Cup in 1990 and his sweet turn at Euro 1996? Yes, we all know that Gazza wore No. 19 in 1990, but to anybody remotely knowledgeable he was more of a true No. 10 than the likes of Gary Lineker, Teddy Sheringham, Michael Owen or even Wayne Rooney, players who have each been afforded the privilege of wearing those iconic digits.
David Hirshey

For more from David Hirshey, check out his columns on all things soccer.
• The All-EPL Team, 2011-12
• Saying goodbye to Chinaglia
• Time to dethrone King Kenny Dalglish?
• In praise of Fulham
• The comeback artists
• Call it a comeback
• Death by Manchester
• The battle for third
• Spurs' title credentials
• EPL's best starting XI
• City handed first EPL loss
• Chelsea pushed to brink
• Fragile egos crossing
• City and United
• Is Newcastle for real?
• The bad-behavior derby
Which brings us back to Bob Bradley's conundrum. In order to advance the quality of his team, he must start embracing the very type of player who he has traditionally shunned. In this, he shares a seat with England's Fabio Capello, as both seem addicted to the notion that energy, drive and hustle -- a team, in other words, of Dirk Kuyt clones -- is sufficient to break the will of more talented opponents. As long as these myopic tendencies remain in place, neither of these squads has the slightest chance of unseating the Spains, Hollands, Brazils, Argentinas or probably even the Mexicos of the soccer world.
The good news is that contrary to the pre-World Cup rumors that the No. 10 had been added to the endangered species soccer list along with the out-and-out striker, it appears to be enjoying something of a rebirth. Imagine how much fun it would be if the U.S. ever decides to discover and bring along one of its own again.
David Hirshey has been covering soccer for more than 30 years and has written about the sport for The New York Times, Time, ESPN The Magazine and Deadspin. He is the co-author of "The ESPN World Cup Companion" and played himself (almost convincingly) in the acclaimed soccer documentary "Once in a Lifetime."