Commentary
Regrets, he's had a few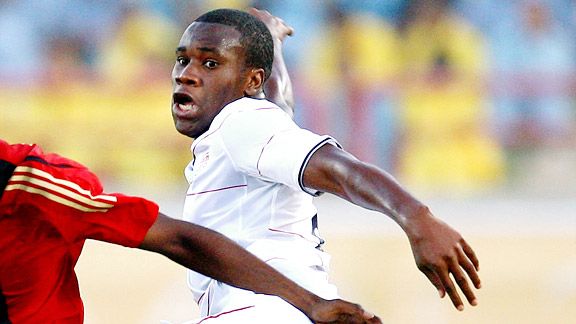 Julian Finney/FIFA/Getty ImagesGale Agbossoumonde was called up to the U.S. men's national team for its match against South Africa. Will it help jump-start his troubled career?
It seems like a simple, all-American story about an immigrant -- a refugee, no less -- beginning to make good on his potential.
On Wednesday, the tantalizingly talented Gale (pronounced gah-LAY ag-BOSS-ooh-mon-day) Agbossoumonde turns 19 and could make his debut for the U.S. national team in the friendly against South Africa in Cape Town.
Among the few soccer cognoscenti who have caught a glimpse of him, the central defender's arrival has been highly anticipated, especially given the national team's rickety, aging back line and Agbossoumonde's breakout performance at last year's Milk Cup.
The blogs have been abuzz about him for some time now, with people alternately labeling him "the real deal," "a rising star," "the best young American player" and "the next Oguchi Onyewu." Some even project him to be "better than Onyewu," thanks to his "unlimited upside."
But if you think this is a tale of a kid with the world at his fabulously gifted feet, arriving to the big leagues to make his opening statement, you don't know the half of it.
---
Agbossoumonde has all the things you look for in a young defender -- more so than promising colleagues such as Omar Gonzalez, Ike Opara or Tim Ream. "He's got international center-back height, he's physically imposing, he's athletic, he's powerful, he's got a level of quickness, and he can recover because he has good speed," said U-20 U.S. national team coach Thomas Rongen. "He's got all the physical attributes to be a very good player. If you look at his technical qualities, he can tackle, he can head a ball, he can play 1-v-1 defense. But he's pretty smart, as well, and he can give us an advantage in possession of the ball. He's very comfortable on the ball and a good passer. Fundamentally, technically, he's very sound."
Coaches are high on Agbossoumonde's on-field intelligence. They say he is the rare young player with the body and ability to defuse opponents' attacks, but he also understands his role at the base of his team's offense.
Agbossoumonde is one of the few U-20 players in recent years who Rongen mentioned to U.S. national team coach Bob Bradley, who evidently was sufficiently impressed to call him up for the Nov. 17 friendly against South Africa.
"

He is a very, very talented kid. He has good feet, a first touch.

"

-- John Harkes
"Gale has a ton of potential. He's a physical specimen [6-foot-2 and 185 pounds] that any coach would automatically look to have on his team," said Dion Daniels, director of the elite IMG Academy, where Agbossoumonde spent a year and a half before turning pro. "He knows the game very well. He's just naturally talented. There are not too many center backs that can dribble through players the way that he does. His ability when he was at the academy was far and above anybody else's."
Agbossoumonde represents, in Daniels' words, "a statement of what a player should look like and how a defender should defend."
"He is a very, very talented kid," said former U.S. captain John Harkes. "He has good feet, a first touch. He's a pretty dynamic kid, for his physical size. When you look at the big picture of things, any player that is coming through the system that is going to push and challenge other guys is great."
That's all well and good, but for potential to bear performance, it must be given a chance to flourish before it flounders.
---
Traffic Sports USA is the American arm of Traffic Sports Management, a Brazilian company. It calls itself a sports marketing agency, but it also dabbles in the third-party ownership of players that is becoming more prevalent in South America. As was famously the case with Argentina striker Carlos Tevez, investment groups such as Traffic buy the rights to the player, pay him a salary and rent him out to the highest-bidding club until they can sell him at a profit. Traffic owns the rights of 70 mostly Brazilian players it has scattered around the world.
It also owns Agbossoumonde.
In the spring of 2009, Agbossoumonde, just a few months before representing the U.S. at the U-20 World Cup, had graduated from the IMG Academy and went to Spain for a series of trials. Atletico Madrid had become curious after its youth team scrimmaged the U-20s and had learned that Agbossoumonde had no club. But after trials with Sevilla, Real Valladolid and Atletico, Agbossoumonde went home, shunning offers from all three.
"I didn't want to stay at Atletico," said Agbossoumonde over the phone. "I wasn't ready, maybe I was childish -- I don't know. At the time, I wasn't really sure I wanted to go to Europe. So I told all the teams I was going to go to MLS."
Agbossoumonde planned to spend a few years in Major League Soccer before exploring options in Europe again. But when the league's offer came in, he felt lowballed. "When the MLS offered me the contract, I was like, 'Come on, are you really serious?'" The low six-figure Generation Adidas contract, designed to bring in outstanding prospects by exempting them from the salary cap and offering the rare guarantee on its duration, felt like an insult. (Gonzalez's and Opara's contracts with MLS are each good for base salaries of $80,000 with add-ons that nearly double that figure. Ream makes $40,000.)
"

Maybe it was a lot to them. But it wasn't the contract that I wanted. So I decided to go to Europe.

"

-- Agbossoumonde on turning down MLS
"Maybe it was a lot to them. But it wasn't the contract that I wanted, a financial kind of thing," Agbossoumonde said. "So I said I wasn't interested. They said that was their best offer. So I decided to go to Europe." (Major League Soccer, as per its policy, refused to comment on salary negotiations.)
In stepped Traffic, which courted Agbossoumonde by touting its connections in Europe. If he signed over his transfer rights, the company promised to pay him a salary higher than what MLS had offered, give him a run of games with its minor league team, Miami FC, and help him prepare for the U-20 World Cup, to be held in Egypt in September. After that, Traffic would sell him to a European club of his choosing in the January transfer window.
"I thought I would have better leverage if I signed with Traffic," said Agbossoumonde. "They told me that all these teams were interested. I wasn't even going to stay there. I was going to be signed with a team right after the World Cup."
On Aug. 6, 2009, Agbossoumonde signed a contract with Traffic through the end of 2010 with an option that allows Traffic to unilaterally extend the contract by two more years. He didn't realize he had signed on for so long. "I thought it was a one-year thing. I should have paid more attention," Agbossoumonde said.
Agbossoumonde's agent, Aaron Maines of the Wasserman Media Group, who is independent of Traffic, told ESPN.com that the reason for the length of the deal was to ensure a steady paycheck in case a move to Europe didn't materialize immediately.
"I thought it was the right thing to do," said Agbossoumonde.
---
You would have thought that Agbossoumonde, referred to as "Boss" by his teammates, got his share of adversity out of the way early in life.
A civil war in his native Togo forced the Agbossoumonde family, comprised of five boys, two girls and the one-year-old Gale, to make for a refugee camp in Benin, where they would spend almost seven deprived years. With nothing else to do, the boys played barefoot soccer with balls made from melted rubber wrapped with plastic bags. In 2000, shortly after his father died, Agbossoumonde and his family were brought to Syracuse, N.Y., by the Catholic Charities Refugee Resettlement program. Soccer became a coping mechanism for the now 8-year-old, an easy way to blend into a completely alien culture and make friends.
Agbossoumonde stood out for his soccer ability. By the time he was 15, he had been turned from an attacker into a central defender and brought to Bradenton, Fla., to enroll in the U-17 national team residency program. He failed to make it to the U-17 World Cup as a 15-year-old, however, and was cut from the program by incoming coach Wilmer Cabrera. Agbossoumonde then hooked up with the neighboring IMG Academy, and he became a stalwart on the U-16 and U-18 teams.
In just over a year, Agbossoumonde left a fond impression on Daniels, who runs the academy. "Gale was always a bit of a joker," he said. "He was always very lighthearted and always had fun." That's hard to imagine now.
---
"I regret signing with [Traffic]," Agbossoumonde said. His voice sounded weary, punctuated by sighs, like air fleeing a flat tire.
Agbossoumonde's regret stems from the fact that he has not found a permanent club yet -- he's been bouncing around Europe on trials, while playing on the practice squad for Estoril -- and believes that Traffic has been neglectful in looking out for his future and securing him the best deal possible.
"They own my rights, unfortunately," he said. "I have to do what they say and I have to play for what team they say -- whatever they work out. I pretty much don't have a say in what my career is right now. They don't give me straight answers. They just say, 'Oh, we have teams here and teams here that are interested.' They just aren't honest, you know? I feel like I'm stuck right now. It sounds like I'm bad-mouthing them, which I really shouldn't be doing, but pretty much I'm stuck."
After playing in six games for Miami FC in August and September 2009, and turning in a strong showing at the U-20 World Cup on an underperforming team, Agbossoumonde thought Traffic was going to ship him off to a club in Europe. It didn't happen.
But like his Traffic-owned peers, Agbossoumonde is an asset, an investment that Traffic (whose name, it must be said, is insensitive at best) has gambled it will make a profit on in the long run.
Rather than sell him, Traffic sent Agbossoumonde on a six-month loan to Sporting Braga, a well-regarded Portuguese team, in January 2010, after he impressed the club in training at the end of December. After the loan period was up, Braga had the option to buy him outright.
After two days on Braga's U-19 team, Agbossoumonde was promoted to the senior squad. He played regularly in the reserve league, but suffered a season-ending knee injury in March before he had a chance to make his senior debut.
"

I think he's become a victim of overzealousness of people -- being shopped around [and not playing] meaningful games.

"

-- U-20 coach Thomas Rongen
When it came time to act on its option in the summer, Braga decided to buy. The details of what happened next are murky. What is clear is that a new ownership took over Braga during the negotiations between the club and Traffic, and the deal collapsed.
"From my understanding, when I left the club, they were going to pick up my option and bring me back," said Agbossoumonde. "But when [Braga] tried to work it out with Traffic, it didn't work out. I don't know what Traffic asked for. There was a new director who took over and he didn't agree with Traffic. That's what they told me -- that it was a money issue. I think it's bogus. I heard from several sources that Braga wanted another player from Traffic, too, and buy both of us or none, and that Traffic didn't want to."
According to Traffic, it had a transfer sum prearranged with Braga, which the Portuguese club tried to renegotiate. When new club management arrived, it wasn't interested in negotiating at all.
Whatever the root of the collapse of the Braga deal, the upshot, plain and simple, is that Agbossoumonde was back on the market. He's been a soccer vagabond since.
---
Traffic figured it would send Agbossoumonde to Estoril, a second-division club in Portugal, which the company also controls. There he could get some minutes and stay in shape until a buyer was found. But here, too, there was a hiccup.
"What I'm really unhappy about is that Traffic was supposed to send me to Estoril so I could play," said Agbossoumonde. "But the last day before the deadline I found out I wasn't registered yet. They had to do it really, really quick and it didn't happen [in time], so I can't play in games." (A Traffic spokesperson said it didn't have enough time to register him.) Instead, he is just practicing. But even that is fraught with frustration, as the club has six other center backs, making practice minutes and reps tough to come by.
Meanwhile, Traffic has sent him crisscrossing through Europe for auditions. One day he's in Belgium, the next in Germany and the third in France, bouncing from a test game to a tryout to a practice with different clubs. The rest of the time he practices with Estoril.
"I shared my concern with him," said Rongen. "I think he's become a victim of overzealousness of people. He has become a good example of what's happening in the world -- young players that are being shopped around, that are in trial situations, become practice players who don't play meaningful games."
"Whatever trial I go on," Agbossoumonde said, "the team says, 'Yes, we want to bring him back,' and then every time they [Traffic] up the money of what they want. I know the team wants me to stay there and then what I hear from Traffic is that it didn't work out."
Traffic director of soccer Fernando Clavijo -- a former U.S. national team player, MLS coach and National Soccer Hall of Famer -- denies that Traffic promised to sell Agbossoumonde after the U-20 World Cup. "We made a commitment to the player to help him for four years," he said, adding that Traffic didn't fail Agbossoumonde in finding him a suitable place to play and practice.
"The player is getting everything he needs to succeed," Clavijo said. "We are looking to accommodate Gale. We're going to try to find him the right fit. We're not in a rush to throw him into any uncomfortable situation that might hurt his development."
(Two separate sources who requested anonymity corroborated Agbossoumonde's charges of poor treatment by Traffic to ESPN.com.)
A state of limbo is the worst possible place for a developing player, especially one with a lot of work left to do to fully exploit his outsized talent. Imagine going to a job interview every single day. The burden would be mentally crushing. So it is for Agbossoumonde.
"I don't really know where I'm going to be tomorrow," he said. "I'm not focused. It's hard to focus when I'm just bouncing around. I get nervous, you know? I'm nervous about how I'm performing and stuff, because it's a trial. I'm always going through mixed emotions."
---
While the senior national team call-up would suggest Agbossoumonde is on the verge of a breakthrough, the opposite is more like it. In a friendly U-20 tournament in Peru in September, Agbossoumonde, a one-time captain of the team, showed up so out of game shape as a consequence of his erratic training schedule that he was relegated to a substitute's role after the opening game.
Just a few weeks ago, Rongen described him as "physically and emotionally totally shot."
"He's been with us for two years now," said Rongen. "He's not made the next step and that's worrisome, to be honest … I can tell the last few months the kid has struggled emotionally with being away from home and having to play for a contract and not getting one at the end of each day."
Nevertheless, Agbossoumonde has been given another chance this week against South Africa. The international call-up was probably a reflection of the fact that most regulars did not make the trip to Cape Town, leaving Bradley with few options and a chance to see Agbossoumonde up close.
At 19, Agbossoumonde might catch up with his potential yet.
Leander Schaerlaeckens is a soccer writer for ESPN.com. He can be reached at leander.espn@gmail.com.
Contributing writer, ESPN.com
Leander Schaerlaeckens is a contributing writer for ESPN.com. He has previously written for The Guardian, The Washington Times and UPI.