U.S. 2022 World Cup bid falls short
Updated:
December 3, 2010, 12:05 PM ET
Associated Press
ZURICH -- The tiny desert nation of Qatar beat out the United States as the 2022 World Cup host, with FIFA brushing aside doubts about blistering heat to bring soccer's showcase event for the first time to the Middle East.
More from ESPN.com

In the most bizarre bidding process ever, it was only fitting Russia and Qatar landed the rights to host the 2018 and 2022 World Cup tournaments, writes Ravi Ubha. Story
---

Jeff Carlisle looks at how the United States' failed bid to host the World Cup will affect U.S. Soccer president Sunil Gulati's legacy. Story
• Ubha: FIFA's new frontiers
• Schaerlaeckens: U.S. bid hampered
• Young: England has self to blame
The 22 voters on FIFA's executive committee, some accused of corruption in the weeks leading up to their meeting, picked Russia to stage the 2018 tournament, another first-time host. Both votes were taken Thursday and the results announced minutes apart.
Qatar, an oil-rich nation that has been independent since 1971, has a population of about 1.7 million -- 500,000 less than Houston. At 4,416 square miles, it is smaller than Connecticut.
"We go to new lands," FIFA president Sepp Blatter said.
Qatar, which has promised to overcome heat of up to 130 degrees with air conditioned outdoor stadiums, led on every round of balloting that initially included Australia, Japan and South Korea. The lowest vote-getter was eliminated after each round until only the U.S. and Qatar remained. Qatar won the final vote 14-8.
"Basically, oil and natural gas won today. This was not about merit, this was about money," former U.S. national team star Eric Wynalda said in a telephone interview with The Associated Press. Qatar "is a country that is really going to struggle to host this event. A successful World Cup would mean the attendance would be twice the population."
The U.S. Soccer Federation, which spent millions of dollars on its bid and brought over former President Bill Clinton for its closing presentation, was hoping to bring the World Cup back to America for the first time since 1994 and boost the steady but slow growth of the sport in the U.S.
[+] Enlarge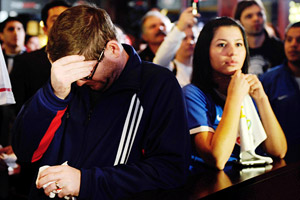 Kevork Djansezian/Getty ImagesFans in Los Angeles were disappointed when FIFA didn't choose the U.S. to host the 2022 World Cup.
"I consider it a disappointment for me personally, for sure, and a setback as we're trying to move this sport forward," USSF president Sunil Gulati said. "Getting the right to host this event 12 years from now, with that sort of buildup time, was the equivalent of putting your foot on the accelerator and really taking a big jump.
"And so from that perspective, it's certainly an opportunity lost. Do I think we're going to get to where we want to get eventually? The answer is yes."
Russia was chosen over England and joint bids by Spain-Portugal and Netherlands-Belgium. "We cannot really express how happy we are," said Alexey Sorokin, CEO of Russia's bid. "It's a great victory."
Following corruption allegations that led to two executive committee members being excluded from the final votes, the decisions were bound to be controversial even before they were made.
American sports executives are now left to wonder what they have do to host another major international event. Last year, the International Olympic Committee chose Rio de Janeiro over Chicago and others for the 2016 Olympics despite a personal lobbying effort by President Barack Obama.
"I don't know that the sports community looks at the process for the 2016 Chicago bid as being carefully planned and well executed. I don't believe that anyone would really look back at this process and believe that we did anything wrong," Major League Soccer Commissioner Don Garber said from Zurich.
"It could just be there's not enough support for bringing these kinds of events to our shores as there might have been decades ago," he said. "Perhaps our market is developed enough -- it doesn't require these events. But perhaps the reputation of our country is such that we're not able to win the support of many other countries that are making these decisions that don't believe we need or deserve these large international tournaments."
At the White House on Thursday, Obama said, "I think it was the wrong decision," when asked about FIFA's 2022 choice, but added that he still thought the U.S. team would acquit itself well.
World Cup Hosts
| Year | Country |
| --- | --- |
| 2022 | Qatar |
| 2018 | Russia |
| 2014 | Brazil |
| 2010 | South Africa |
| 2006 | Germany |
| 2002 | Japan, South Korea |
| 1998 | France |
| 1994 | United States |
| 1990 | Italy |
| 1986 | Mexico |
| 1982 | Spain |
| 1978 | Argentina |
| 1974 | West Germany |
| 1970 | Mexico |
| 1966 | England |
| 1962 | Chile |
| 1958 | Sweden |
| 1954 | Switzerland |
| 1950 | Brazil |
| 1938 | France |
| 1934 | Italy |
| 1930 | Uruguay |
Qatar, which has never even qualified for a World Cup, used its 30-minute presentation to underline how the tournament could unify a region ravaged by conflict. Presenters also promised to dismantle the stadiums built for the tournament and give them to needy countries.
The nation promised to spend $50 billion on infrastructure upgrades and $4 billion to build nine stadiums and renovate three others. One advantage of the having the tournament in a small country: The stadiums will all be within an hour of each other.
Qataris and others -- including workers from south Asia -- immediately started dancing in the streets along Doha's Gulf waterfront. Some blew the vuvuzelas that became synonymous with the World Cup in South Africa.
FIFA's inspection report highlighted a danger posted by heat -- the average high in late June is 106 degrees. Qatar said the World Cup thrived despite hot temperatures during tournaments in Mexico in 1970 and 1986, and the U.S. in 1994.
"On behalf of millions of people living in the Middle East, thank you," Qatar bid chair Sheikh Mohammad bin Hamad Al-Thani said. "Thank you for believing in us, thank you for having such bold vision. ... Thank you also for acknowledging this is the right time for the Middle East. We have a date with history which is summer 2022."
Bid chief executive Hassan al-Thawadi promised Israel would be allowed to participate if it qualifies.
"We are a very, very hospitable place that welcomes people from all parts of the world," he said. "Bringing the World Cup to the Middle East now ... will showcase to the world that the Middle East is home to a lot of people, it's opening its arms to the rest of the world. In doing so, such misconceptions will be dissolved."
Al-Thani also said groundwork was being laid for women's league.
"This is another perception, another perception that women are oppressed in the Middle East and this is a wrong, wrong perception," he said. "We hope with the World Cup being awarded to Qatar, we can change that."
The World Cup was played in the United States for the first time in 1994, setting a record with 3.58 million tickets sold, and the U.S. Soccer Federation had hoped a second World Cup in America would help the country move into the game's elite, giving a big lift to Major League Soccer in the process. The U.S. also has hosted the women's World Cup twice.
Now the U.S. will have to wait until at least 2026 for the men's tournament, when it may have to compete with bids from Europe, soccer's financial base. The 2014 tournament will be held in Brazil.
"I think it's a big setback," said Walter Bahr, a member of the 1950 U.S. World Cup team that upset England. "Financially, I think it's a big blow, and soccer-wise, it's a tremendous blow."
By selecting Qatar, FIFA precluded a 2026 bid from China, since the same continent cannot host consecutive World Cups.
The 2018 vote was especially crushing for England, the motherland of soccer, which has not hosted the World Cup since winning it for the only time in 1966. England's final presentation Thursday included Prince William, Prime Minister David Cameron and Los Angeles Galaxy midfielder David Beckham, a former captain of England's soccer team.
England received just two votes and was eliminated first, with Russia getting nine, Spain-Portugal seven and Belgium-Netherlands four. Russia received 13 in the second round, winning the vote because it had a majority.
"You will never regret" the decision, Russian Deputy Prime Minister Igor Shuvalov said. "Let us make history together."

Copyright 2010 by The Associated Press