Commentary
Making sense of nonsense
Updated:
December 3, 2010, 4:44 PM ET
By
David Hirshey
| Special to ESPN.com
Once the shock and awe of England and the U.S. not being deemed corrupt enough to host the World's Most Easily Purchased Sporting Event began to wear off after a couple of beers -- OK, seven -- I started planning for 2018 and 2022. Sure, they're eight and 12 years away, but as Bill Belichick would tell you -- if he ever spoke -- a winning effort begins with preparation. So here are a few things you might not read in the Russian and Qatari media if the Press Freedom Index (which ranks the former as the 140th most open media worldwide and the latter as the 120th) is anything to go by.
Russia 2018: Putin on the Ritz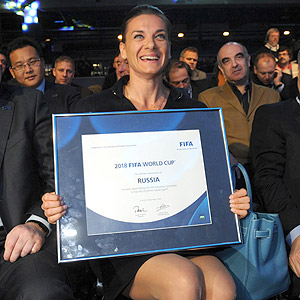 Press Association/AP ImagesRussia had a leg up -- OK, two -- on the competition, as Russian pole vaulter Yelena Isinbayeva posed with a winning bid certificate.
I must admit that when I first heard that badass Russian Prime Minister Vladimir Putin had stayed home rather than joining the parade of genuflecting dignitaries in Zurich, I was suspicious. I mean, wouldn't it be just like Vlad the Impaler to resort to Sir Alex-like mind games and try to psych out his rivals by acting as if the Big Prize was in the bag -- or bags, as the case may be? But no, Putin had a much more noble reason to stay away. He wanted to be above the fray of the "unscrupulous competition" that threatened to "smear dirt" on the voting process. Nor did he want to besmirch the good name of his admirer Sepp Blatter, who had been quoted as saying "You cannot deny Russia if they bid for something."
Better to stake out the high moral ground and let the spotlight shine on his comrades Roman Abramovich and Andrei Arshavin. After all, in the Battle of World Cup Pitchmen, Chelsea's billionaire owner and Arsenal's mercurial star had dribbled circles around England's royal duo of Prince William and David Beckham. (Poor Becks. This was probably the closest he'll ever get to another World Cup and he didn't even make it past the first round.)
But as soon as Russia's name had been called, Putin flew into Zurich to thank FIFA for having faith in his country. Given that only three of the 16 stadiums needed to play the games currently exist -- which, by the way, is three more than Qatar can boast -- Russia's infrastructure was nowhere near as impressive as England's. Yet it had other things going for it. Putin has promised no visa hassles, free transportation for ticket-holders, and the kind of security that is famous for discouraging any rebellious sorts.
Putin didn't even mention the smoldering allure of Russian women -- WAGS in Gulags! Tonight at 10 -- but have you ever seen a Russian tycoon (think Abramovich and Nets owner Mikhail Prokhorov) who didn't have a leggy and lithe supermodel draped all over him? Thanks to the magic of unlimited petrodollars, the domestic Russian league is also on the rise, and by 2018, maybe even Arshavin will have rounded back into form for the home side. With Putin's legacy in the crosshairs, something tells me that the standard Russian Mafia playbook might be put on permafrost during the buildup to this World Cup. After all, when it comes to financial chicanery, organized crime could learn a lot from FIFA.
Qatar 2022: Crank up the air conditioning, please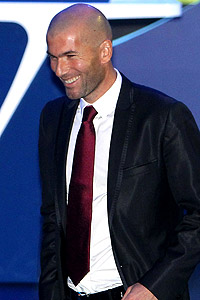 Karim Jaafar/AFP/Getty ImagesQatar had Zinedine Zidane backing its bid in Zurich.
Who wouldn't have jumped at the bookie's odds when Qatar first announced its interest in hosting the Cup? Qatar? A speck of land smaller than Connecticut with a largely transient population in a fiercely Muslim nation with no soccer infrastructure? Oh, and the temperature hits about a buck twenty in the summer. Nothing that 12 years, an unfathomably large bankroll and wall-to-wall air conditioning can't solve in a flash.
First off, relax about the booze. Yes, Doha is tiny and not a fan of the demon drink -- current laws dictate incarceration and/or deportation for public intoxication or short skirts (looks like I won't be bringing Snooki). But Qatar's emirs have accepted that the alcohol will flow like oil in the FIFA Fan Zones. Not only will the corporate beer sponsor be the only show in town; they'll be the only show in the entire nation.
The true genius of Qatar's bid lay in its stadium plan. Each bright and shiny new arena will be disposable, with the stadia being dismantled right after the World Cup and shipped to points-unknown-that-might-somehow-correlate-with-those-on-the-executive-committee-who-voted-for-Qatar. Or maybe they'll just go to poor countries that need the infrastructure.
As I see it, Qatar's problems are threefold, starting with the fact that its soccer team is ranked 113th in the world, behind such titans as Uzbekistan and Niger. In the past 10 years, Qatar has cycled through seven coaches looking for a quick payday. (Sven-Goran Eriksson, please pick up the courtesy phone at the Doha airport.) The good news for the Maroon is that there is no danger of making history as the first host to crash out in the first round, because South Africa spared them that indignity this summer.
They will, however, have to deal with the issue of kickoff times so as not to kill every player and spectator with sunstroke before halftime -- Arabic leagues are used to playing games late at night to beat the sweltering conditions -- and the time-zone slip (+3 GMT, +8 ET) means we'll all have a fighting chance of watching games over pints instead of hooked up to an IV of coffee. Remember Japan/South Korea 2002, and a month of sleepless nights so as not to miss a second of the marauding Turkish side romping at 3 a.m.?
David Hirshey

For more from David Hirshey, check out his columns on all things soccer.
• The All-EPL Team, 2011-12
• Saying goodbye to Chinaglia
• Time to dethrone King Kenny Dalglish?
• In praise of Fulham
• The comeback artists
• Call it a comeback
• Death by Manchester
• The battle for third
• Spurs' title credentials
• EPL's best starting XI
• City handed first EPL loss
• Chelsea pushed to brink
• Fragile egos crossing
• City and United
• Is Newcastle for real?
• The bad-behavior derby
Given all these drawbacks, you have to question the logic of FIFA picking Qatar over the U.S., where the tournament could pretty much be staged this coming weekend. Didn't America fill FIFA's coffers with record profits in 1994 and show them that the U.S. knew how to put on a global party with record attendances? Since when did developing new "soccer frontiers" trump money and comfort on FIFA's agenda?
Not that I'm bitter about Qatar's selection. The Middle East could use a big global event to hang its fez on. Just don't complain when the air conditioning breaks and you yearn for the cool breeze coming off the Pacific Ocean.
David Hirshey has been covering soccer for more than 30 years and has written about the sport for The New York Times, Time, ESPN The Magazine and Deadspin. He is the co-author of "The ESPN World Cup Companion" and played himself (almost convincingly) in the acclaimed soccer documentary "Once in a Lifetime."