Commentary
Top 10 worst MLS draft picks of all time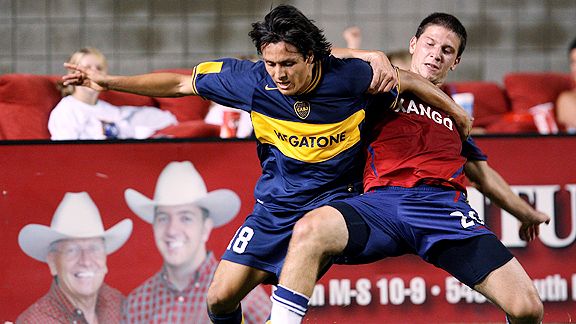 Melissa Majchrzak/WireImageAt 16, Nikolas Besagno became the second-youngest pick ever, but he never lived up to his potential.
After giving you the 10 smartest draft picks made in Major League Soccer's 15-year history ahead of Thursday's 2011 MLS SuperDraft, we present the 10 picks who didn't exactly work out -- with the luxury of hindsight, of course.
10. Ali Curtis, forward, 2nd overall pick in Round 1 of 6, by the Tampa Bay Mutiny, 2001
After a stellar college career in which Curtis won the 1999 Hermann Trophy and the 2000 MAC Award, both annointing him the best college player in the country, expectations were high. But Curtis delivered just eight goals over three seasons and washed out of the league by 2004. And consider that much better players, such as Santino Quaranta and Brian Mullan, not to mention strikers Brian Ching, Eddie Johnson and Edson Buddle, were available in that same draft. At age 32, Curtis now works as a director for player relations and competitions for MLS.
9. Jason Moore, midfielder, 1st overall pick in Round 1 of 3, by D.C. United, 1999
Infatuated with his speed, United plucked Moore out of an exceptionally weak class, whose best graduates were John Wolyniec, Jay Heaps, Richard Mulrooney and the year's last pick, Stefani Miglioranzi. Moore lasted just a year with United and played regularly in two more seasons for Colorado. By 2003, his career was over, with just a lone goal and 11 assists under his belt.
8. Jerson Monteiro, forward, 8th overall pick in Round 1 of 4, by the Chicago Fire, 2007
The Angolan forward had scouts buzzing enough for him to go in the first round. How little the Fire got in return. For passing on Robbie Findley, Brad Evans, Dane Richards and Omar Cummings, Chicago received just 154 professional minutes and one goal from Monteiro before it traded him to D.C. United for a draft pick. In 2008, Monteiro joined the Atlanta Silverbacks in the minor leagues, where he has scored three goals in 22 appearances.
7. Jason Garey, forward, 3rd overall pick in Round 1 of 4, by the Columbus Crew, 2006
As a senior at Maryland, Garey scored 22 times in 25 games, and won the Hermann Trophy and the College Cup. While he hasn't been bad in the pros, his 15-goal yield in five seasons has been meager for the Crew, who passed on Sacha Kljestan, Dax McCarty, Jozy Altidore and Jonathan Bornstein for him. This winter they traded Garey to Houston for a 2015 fourth-round draft pick.
6. Steve Shak, defender, 1st overall pick in Round 1 of 6, by the New York MetroStars, 2000
Shocking many, the MetroStars passed on Carlos Bocanegra, Nick Garcia, Danny Califf and Bobby Convey in favor of Shak, whom then-coach Octavio Zambrano had coached in youth soccer. Shak was thought to be a third-round prospect at best and certainly delivered like one, playing in 32 games for the MetroStars and six for the Rapids. Since the 2002 season, in which the Rapids gave him just one minute of playing time, Shak has competed in the minor leagues.
[+] Enlarge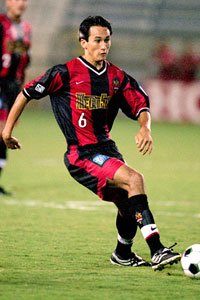 Eliot Schechter/Getty ImagesThe MetroStars passed on Carlos Bocanegra and Bobby Convey, among others, for Steve Shak.
5. Leo Cullen, defender, 1st overall pick in Round 1 of 6, by the Miami Fusion, 1998
Cullen's career hasn't been a total wash since he was made the Fusion's first-ever pick. He got regular minutes with Miami and later the Revolution, and he played for the U.S. three times. But if you consider who else was available in the 1998 draft -- Clint Mathis, Chris Klein, Jeff Cunningham, Mike Petke, Tyrone Marshall, Pablo Mastroeni and Daniel Hernandez -- Cullen looks like a disastrous pick. He retired in 2005, had a spell as an agent and is now the assistant soccer coach at the United States Military Academy at West Point.
4. Chris Gbandi, defender, 1st overall pick in Round 1 of 6, by the Dallas Burn, 2002
Imagine if you could go back in time and pick a so-so left back over Taylor Twellman, Brad Davis and Shalrie Joseph. Would you? Of course not. At the time, however, it seemed like the best choice for Dallas. After missing his rookie year with an injury, Gbandi played five passable seasons before leaving for Norway, while New England picked two franchise players, Twellman and Joseph.
3. Chris Carrieri, forward, 1st overall pick in Round 1 of 6, by the San Jose Earthquakes, 2001
Carrieri promised San Jose fans that he would win them a championship after the Quakes made him the first man chosen from the college ranks in 2001. Two months into the season, he was traded to Colorado for journeyman striker Junior Agogo. (Funny enough, the Earthquakes did win the title without him.) Carrieri wasn't at all bad with Colorado, scoring 11 goals in his second season in the league. After being turned into a midfielder his third year, in which he had eight assists, he found no more work in MLS. He since has spent his days in the minors, save for a lone appearance with the Fire in 2004. Given that he, too, came out of the Johnson-Buddle-Ching class, his selection was a total bust.
2. Joseph Ngwenya, forward, 3rd overall pick in Round 1 of 6, by the Los Angeles Galaxy, 2004
When rating draft picks of the past, perspective is paramount. Nobody would call Ngwenya a bad striker. But his performance hasn't been befitting of a first-round pick, as he has scored 17 goals (including one in an MLS Cup final) in 102 MLS games for three teams. And now for that perspective, which relegates Ngwenya to one of the league's all-time worst picks: Clint Dempsey, Clarence Goodson and Michael Bradley were still available when the Galaxy opted for Ngwenya.
1. Nikolas Besagno, midfielder, 1st overall pick in Round 1 of 4, by Real Salt Lake, 2005
It seems silly now that Besagno was thought of as the second coming of Freddy Adu, just a year after the pre-washed-up Adu went No. 1. At 16, Besagno became the second-youngest pick ever. But if you thought Adu underdelivered, Besagno reinvented the word, playing in all of eight MLS games before RSL gave up on him in 2008, leaving Besagno to scrounge for work in the minors, where he remains to this day. While his draft class wasn't deep, Brad Guzan, Chris Rolfe, Michael Parkhurst and Ugo Ihemelu would have been much better choices.
Leander Schaerlaeckens is a soccer writer for ESPN.com. He can be reached at leander.espn@gmail.com.
Contributing writer, ESPN.com
Leander Schaerlaeckens is a contributing writer for ESPN.com. He has previously written for The Guardian, The Washington Times and UPI.