Commentary
Kenny Cooper starts new chapter
Updated:
January 19, 2011, 1:18 PM ET
By
Jeff Carlisle
| ESPN.com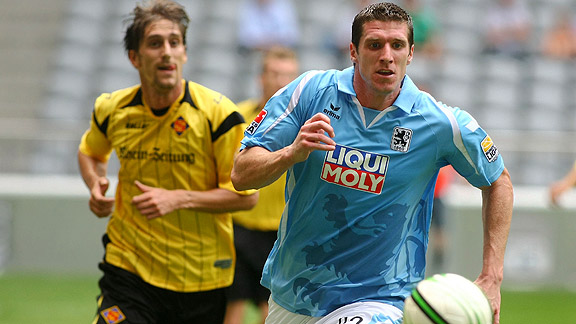 Johannes Simon/Bongarts/Getty ImagesWith his prime years slipping away, 26-year-old Kenny Cooper has decided to leave Germany and return to MLS, where he'll play for the Portland Timbers.
Late Monday night, as Kenny Cooper was packing up his belongings in preparation for his return to the U.S., he marveled at the metamorphosis his abode in Munich had undergone. "Literally, 30 minutes, one of our rooms had books and DVDs, and now it's completely down and gone," he said in a telephone interview. "I'm thinking, 'Just like that, huh?'"
The room's rapid transformation is symbolic of his time in Germany. Soon after joining TSV Munich 1860 in the summer of 2009, Cooper scored on his debut. Yet, that promising start gave way to two serious injuries sandwiched around a failed loan stint at then-English Championship side Plymouth Argyle. The second injury, a broken right ankle, occurred last July on the first day of preseason training. So with his prime years slipping away, Cooper, 26, opted to return stateside, with the Portland Timbers officially announcing his signing on Monday.
Just like that, his 18-month European odyssey was over.
Cooper would never look back at his time overseas as a disappointment. The Dallas-area product is the kind of person who can find a silver lining in the darkest of places. His current return to MLS is no different, with Cooper having nothing but kind things to say about his now-former German employers.
"[Munich 1860] has unfortunately had some financial trouble, and I hope my move will be good for the club and also good for me," Cooper said. "I think that I'm coming to something really exciting and something I'm really looking forward to. I'm coming back to a league that I enjoyed my time in, and I'm coming to a club that has a lot of excitement about their first year in MLS. I feel very fortunate to have this opportunity and I'm really looking forward to it."
Portland coach John Spencer is, too. It's been a busy week for the Scot. In last week's MLS SuperDraft, he snagged Darlington Nagbe, arguably the brightest attacking talent available. Now, in Cooper, he's added a forward who was a Best XI selection in 2008 and scored 40 goals in 90 appearances with FC Dallas.
[+] Enlarge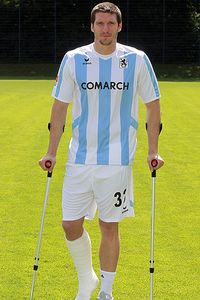 Johannes Simon/Bongarts/Getty ImagesKenny Cooper's latest injury, a broken right ankle, occurred last July on the first day of preseason training with TSV Munich 1860.
But despite putting up such impressive numbers, there have been aspects of Cooper's game that have been confounding at times. At 6-foot-3, he looks the part of a target forward, but he loves to run with the ball at his feet. There have been moments when Cooper could be seen drifting outside, practically ceding the center of the field. It raises the question of where precisely his best position is.
It's not a concern for Spencer, who insists that he'll station Cooper "as close to goal as possible." Cooper's recent penchant for injury isn't keeping the manager up at night, either. Rather, Spencer is more concerned with putting the building blocks in place so that the striker's strengths can be exploited.
"I think for [Cooper], you don't tie him down," Spencer said. "He has great pace, great power, and when you get some of that turning and running at you it's almost unstoppable at times. I wouldn't say, 'Listen, this is the way you need to play for us.' I think it's more of, 'Go out there, use your ability [and] experience to find space, and turn and drive at people.' He's not just a one-dimensional forward."
Cooper's work ethic is second to none, a trait that is especially valuable on an expansion team that will be lacking in chemistry in its early days.
"When he was in Dallas, you heard stories of them having to drag him off the field, which for a big-time player is a tremendous attribute and attitude to have," Spencer said. "Hopefully, that will rub off on a lot of the younger guys that we've got here."
And if Cooper's past tenure in MLS is any indication, the goals should come just like that, too.
Clark on the mend
Cooper isn't the only U.S. international looking to put his injury troubles behind him. Houston Dynamo midfielder Colin Clark, who at his peak provided his former club, Colorado Rapids, with some scintillating wing play, is attempting to return from his second ACL reconstruction in as many years.
The good news is Clark indicated his rehab is going according to schedule, albeit with a little more doctor prescribed caution after reinjuring his left knee in August. The injury came just over a year after he first blew out his ACL during a Colorado training session. He was subsequently traded to Houston, along with allocation money, for Brian Mullan a month later.
"I've been taking it a lot easier this time than the first time, but everything feels great," said Clark via telephone. "I've not had any issues with it. It's just a matter of going out to see the doctor probably in early February and having him do some testing and giving me the final say as far as being cleared to play. And from there, it will be a normal preseason for me, just getting into shape for the first game of the season."
In an effort to make sure the repair work done during the second surgery holds up, Clark has spent most of his rehab strengthening his lower body, particularly in the hip area. The progress has been encouraging. Clark said he is expecting to start working with the ball next week.
Perhaps the biggest hurdle will be mental. Will Clark be completely free of worry that his knee will hold up when he engages in a full sprint? What about that first tackle that he sustains in a game?
"It's something that I've thought about, but to be completely honest, I don't think it's going to slow me down," Clark said. "My family and I, we've always said things happen for a reason. I think [this injury] was to get me here to Houston, and so I'm really excited to be working with [manager] Dominic [Kinnear] and turning this ship around. When it comes down to it, of course, it will be in the back of my mind at some point, but it's nothing I'm too concerned about."
If Clark can fully recover, it will be a boon to the Dynamo, a team that has long thrived on dominant flank play. Not only will Clark provide some speed out wide, but he will take some attention off of Brad Davis, who remains the most creative player in Houston's attack.
At the moment, though, Clark is focused solely on getting back on the field. Not even the sight of Colorado -- the team that traded him -- winning this past season's MLS Cup is slowing him down.
"It was tough because Colorado is home to me, and that's where I started my career," he said. "But I think I'm in a better situation than I was in Colorado. I think I'm working with one of the best, if not the best, coaches in the league. And it's nice to have a great history with the club having two championships and a good core group of guys still coming back. "
[+] Enlarge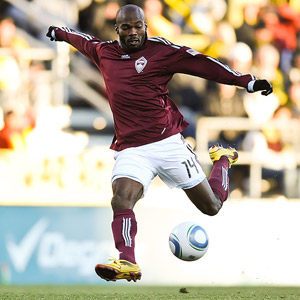 Jamie Sabau/Getty ImagesOmar Cummings' pursuit of a temporary loan move to Aston Villa was scuttled by work permit issues.
No loan for Cummings
If this offseason has been notable for anything, it's the number of loan deals that have failed to materialize. First there was David Beckham and his non-loan (at least for the moment) with EPL side Tottenham Hotspur. Then Toronto's Dwayne De Rosario had a training stint with Scottish club Celtic, but it didn't lead to something more long term. The latest MLS player to be denied a loan was Colorado forward Omar Cummings. His pursuit of a temporary move to Aston Villa was scuttled by work permit issues, even as manager Gerard Houllier sang his praises.
Jamaica, which Cummings represents internationally, is outside the top 70 in FIFA's current rankings. That doomed Cummings because the English FA requires that a player's national team be ranked at or higher than 70th place in the FIFA rankings on average over the two years before the application is filed as a condition to qualify for an immediate work permit. Villa could have appealed, but with Colorado adamant that Cummings returns before the start of the season on March 19, there was little point.
"The appeals process could have been quite long and drawn out," Colorado coach Gary Smith said. "At that point, the time for [Cummings'] loan would have been cut short. Now we know he's coming back in preseason and will be working toward the regular season. That's a massive boost for both me and the team."
Cummings has two years remaining on his contract, making it likely that the dance that took place this winter will be repeated.
"I think we can expect a lot of interest for Omar," Smith said, "as long as his current form is maintained."
Jeff Carlisle covers MLS and the U.S. national team for ESPNsoccernet. He is also the author of "Soccer's Most Wanted II: The Top 10 Book of More Glorious Goals, Superb Saves and Fantastic Free-Kicks." He can be reached at eljefe1@yahoo.com.
U.S. soccer correspondent
Jeff Carlisle covers MLS and the U.S. national team for ESPN FC.