Commentary
Parity is a problem for MLS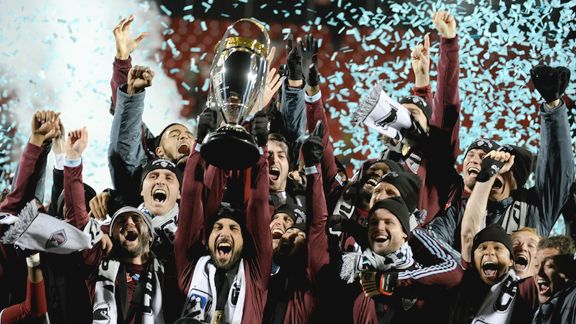 Harry How/Getty ImagesMLS promotes competitive balance so every team -- such as the 2010 champion Colorado Rapids -- has the chance to succeed. But is that the best way to increase the game's popularity?
It's an age-old discussion. Do you prefer a league dominated by a few great teams or one taken up entirely by the middle classes? Oligopoly or perfect competition? Parity or lopsidedness?
It's also a topical discussion. On the one hand, La Liga continues to be a two-team race, if that, with Barcelona and Real Madrid. In Portugal, FC Porto will probably win the title this season, making it the 75th time in the league's 77 year existence that either Porto, Sporting Lisbon or Benfica has taken the title. On the other hand, the hegemony of the so-called Big Four in England's Premier League has been smashed by a crisis at Liverpool and the increasing influence of such clubs as Manchester City and Tottenham Hotspur.
Major League Soccer, with its stringent salary cap, is often paraded as a paradigm of parity. There's truth to this, with 12 teams qualifying for the MLS Cup final in just 15 years, and plenty of last-to-first stories over the years with the league's only dynastic club, D.C. United, sitting dead-last for 28 of 30 rounds in 2010.
But is competitive balance, or parity as some prefer to call it, the best available option to MLS? Or is it a euphemism for mediocrity? Let's take a closer look.
The case for competitive balance:
In a league like MLS, a premium is placed on equal opportunity. "Our goal is that each team every year has a chance to win the MLS Cup and that their market and fan base believes they have a chance to win," said MLS senior vice president for competition Todd Durbin.
Therein lies an important distinction. "We don't like to use the word parity," Durbin said. "The system is designed to ensure that everybody has the opportunity to be successful, not to make everything perfectly equal."
A belief in the importance of each team having a fair chance is at the core of MLS' operation and has allowed fans to watch their teams excel. "I think that's what makes our league exciting, unique and, ultimately, successful," Durbin said. "If you look at the way our rules are set up, it's about providing equal opportunity. That's why we have a salary budget and drafts and allocations. It's to give teams an opportunity to work within the system to put the best team on the field."
So instead of having a few teams use their financial clout to dominate the competition -- which is something that would make more games inconsequential, especially in a league without promotion and relegation -- MLS clubs must excel through their soccer savvy.
As Durbin points out, there have been several teams that have put together successful runs -- D.C. United in the 1990s, the L.A. Galaxy soon after, and the Houston Dynamo more recently. "You're always going to have that matchup in our league in certain years where certain teams are the Davids and others the Goliaths," Durbin said. "The difference in my mind from a league where the David is always the same team and the Goliath is always the same team, [is that in our] league other teams have a chance to overtake the teams at the top."
Of course, one team can spend more than another. But thanks to the salary cap and designated player restrictions (three per team), MLS has structured the league in such a way that it prevents any one team from running away with the title year in, year out. This is evidenced by the fact no club with a designated player on its roster has ever won an MLS Cup.
These same restrictions may be keeping wages down and a lot of good players away, but MLS is a league where, like the country it is played in, equal opportunity is the rule.
The case against competitive balance:
Unlike other soccer leagues in smaller countries, where it's easier and cheaper to attend your team's away matches, the traveling fan experience really doesn't exist in MLS. So home games are dominated by home fans, who'd sooner see their side win 5-0 than 1-0.
So it stands to reason that, as a league, you have more happy customers when a few of the bigger teams -- which have the biggest fan bases -- win. Conversely, many fans of smaller clubs like being David in the David-and-Goliath equation. There's a certain charm to supporting a minnow, dreaming of glory and relishing the cohesion among fellow supporters fostered by the collective agony of waiting for that utopia.
Imbalance also leads to better soccer, with talent concentrating on a few eye-popping teams.
And it seems that, against popular belief, competitive balance is not good for business. According to an economic model created by Salford Business School's sports economist David Forrest based on the English Premier League, if you were to hypothetically achieve a perfect balance in every game, where it is impossible to predict the outcome, the television audiences would grow by just 6 percent. If, however, you were to allow each team to double its payroll, television viewership would increase by 25 percent.
In other words, television spectators don't care about seeing close games; rather, they want to see the best possible product on the field. They want to see good players show off their skill.
"If you put in some measure like the total wage bill of the clubs on the field -- a proxy for the quality of the club's players -- this is what really dictates the size of the television audience," Forrest said. The numbers seem to back this up, as the two most talent-laden teams in soccer, Barcelona and Real Madrid, also have its richest broadcasting deals at around $200 million each per year. "The television audience likes the highest quality. The distribution of that talent between the two clubs is less important. What drives the audience is the number of quality players they can see."
The same holds true for fans attending matches. As Simon Kuper and Stefan Szymanski laid bare in their book, "Soccernomics," England's first division lived through an era of relative parity from 1949 to 1968, when it witnessed 11 different teams win the league in 20 years. However, over that span, stadium attendance fell from 18 million to 15 million visitors per season. From 1989 through 2009, when just six teams won it, and when Manchester United won it 10 times, attendance increased from 8 million to 13 million fans per year at a time when, the authors point out, "people had many more choices of how to spend their free time."
"The attendance is the highest not in the most balanced matches but in the matches where the home team has the best chance of winning," Forrest said. "It's been very difficult to demonstrate the significance of competitive balance to the fans."
Forrest even believes that the salary cap isn't keeping MLS in business, as it often claims, but is harming its bottom line. "I can understand the appeal of competitive balance," Forrest said. "Without limitations, clubs stretch themselves to the limit and teeter on the brink by pushing up wages and that's maybe damaging the profitability of the companies. The system in the U.S. is to avoid an arms race and that superficially seems to make sense to the owners.
"But the industry could suffer from this because there's no longer a mechanism for talent concentrating in your league," Forrest added. "And what follows is a mediocre product. Fans do seem to concern themselves with the quality of the product and they associate quality with star players, who cost a lot of money. So you're holding back the league in terms of quality and growth of the market with the salary cap."
So what's your call?
It seems an odd predicament to have to choose between customer satisfaction and a better-quality product -- factors that are usually aligned, rather than opposed. But MLS can either continue to try to appease as many people as possible in a big, disparate country with a nascent taste for soccer by giving every team as fair a chance as possible. Or it can pursue a free-market model which doesn't just improve the quality of the product, but makes it more watchable.
We know where MLS stands. "For us, the strength of our league and what differentiates us from every other soccer league in the world is that every team truly has the chance to be our league champion," Durbin said.
Fair enough, but if the world's other leagues offer a lesson to go by, it's this: Developing a few strong teams in the short run will ensure that fans keep coming, in greater numbers, in the long run. People love to root for or against the powerhouse clubs and to watch the spectacle of an amazing upset, but that can't happen in a league that promotes competitive balance like religion.
Leander Schaerlaeckens is a soccer writer for ESPN.com. He can be reached at leander.espn@gmail.com.
Contributing writer, ESPN.com
Leander Schaerlaeckens is a contributing writer for ESPN.com. He has previously written for The Guardian, The Washington Times and UPI.