Commentary
The Gospel of Eric Cantona
Updated:
February 18, 2011, 2:18 PM ET
By
David Hirshey
| Special to ESPN.com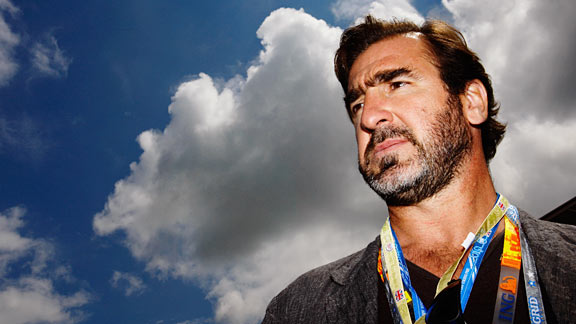 Mark Thompson/Getty ImagesEqual parts philosopher, provocateur and performance artist, the Man United legend is now the director of football for the New York Cosmos.
NEW YORK -- The first thing you notice about Eric Cantona is that his collar is still up, 14 years after he bestrode Old Trafford as if it were his personal kingdom. Granted, he's wearing an Army-green sweater and not a red Manchester United jersey, but time hasn't diminished the swagger that saw him score some of the most memorable goals in the history of soccer -- and execute a leaping kung-fu kick on a fan that would have put Nigel de Jong to shame.
No wonder the British consortium that owns the new New York Cosmos anointed Le Roi as the man to bring the fabled franchise back to life. After all, Cantona spent his career making something out of nothing on the soccer field. And let's face it: Right now the Cosmos have no players, no stadium, no league.
But they do possess two priceless assets -- the name of the last professional American team the rest of the world took seriously and a charismatic Frenchman as their director of soccer.
Apart from his gray-flecked beard, the 44-year-old Cantona looks remarkably like the virtuoso who helped transform United from a club with massive support but minimal silverware into a juggernaut that won four league titles and played the kind of swashbuckling soccer that has since become its trademark. He was voted United's player of the century when he retired in 1997. Even today, it is not uncommon to hear the Old Trafford faithful burst into rapturous chants of "Ooh-ah, Cantona" or songs like "On the first day of Christmas my true love sent to me, Eric Cantona …"
Equal parts philosopher, provocateur and performance artist, Cantona still retains the mad glint of a man who doesn't care if the rest of the world is in on the joke.
When we met in his suite at an uber-trendy hotel in SoHo, I told him that in 1996 he had broken my Gooner heart with two thunderbolts of such ferocity that Arsenal goalkeeper David Seaman, then England's No. 1, could only admire them as they flew by him.
"Which one hurt more?" he asked with an impish grin. "The free kick or the volley?"
"Actually," I said, " I was hoping you'd apologize for both."
"I apologize for nothing," he fired back.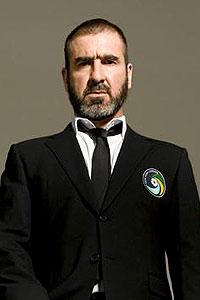 New York CosmosAs the Cosmos' director of football, Cantona said the team's style of play will be "all about Johan Cruyff."
The conversation then swerved back and forth from Cantona's mythic career to his romantic vision for the Cosmos to his love for Johan Cruyff. His English is heavily accented, and he often speaks in half-baked Cantona-isms that sound more profound than they really are. (A decade later, philosophers are still trying to deconstruct his most celebrated koan: "When the seagulls follow the trawler, it's because they think sardines will be thrown in the sea.")
Only one subject was off the table: the French national team. Though he scored 20 goals in 45 appearances for Les Bleus, Cantona was famously dropped from the squad in 1988 for calling the manager Henri Michel "a bag of s---" on television. So I thought he would have at least been amused by the French team's mutiny at the 2010 World Cup when Nicolas Anelka was sent home for criticizing coach Raymond Domenech.
"Plus ca change …" I said, trotting out the extent of my high school French. "What did you think of the World Cup farce?"
Suddenly, a "red mist" descended on Cantona and he glared at me with the slightly menacing look of a man who was still capable of leaping over the table between us and implanting his shoe in my sternum.
"I don't know about the French team," he snarled. "Maybe I don't know because I don't care."
I took the hint and moved on.
DH: I don't know if you saw the Champions League match Wednesday between Arsenal and Barcelona, but Robin van Persie scored a Cantona-like goal that was so outrageously cocky the keeper never saw it coming.
EC: I was traveling to New York so I didn't get to watch the game but I saw the highlights later. No one expected Van Persie to shoot from that angle, but that is the beauty of football. Sometimes you surprise the goalkeeper and sometimes the goalkeeper surprises you. In my career, I tried to do more of the first than the second.
DH: What do you think of the way Barca plays with all their tippy-tappy passing? Is that a style you admire and hope to emulate with the Cosmos?
EC: This is nothing new. It goes back to Cruyff and Total Football. He brought it to Barcelona when he was the manager in the early '90s, and they have perfected it. It's all about knowing what you're going to do when you receive the ball. Who is free, where is the space, always with one touch. But not everyone can play that way. At Manchester United, there were very good players who did other things. Roy Keane. Paul Ince. They were not going to pass you to death.
DH: How do you think those United teams would fare against the Barcelona of today?
EC: When I played, you could only use a few non-English players in European competition. But if we could use all our foreign players, then we would have the same chance against Barcelona that Arsenal has. I always wanted to play against the best. All my life, I need to test myself, to risk the art inside me.
"

I always wanted to play against the best. All my life, I need to test myself, to risk the art inside me.

"

-- Eric Cantona
DH: Is that why you were always getting in trouble as a player -- because you were risking your art?
EC: I think life is a big game we play. It's a circus, but the press wants to treat everything so seriously. They try to analyze the money, the power, the player. I enjoy watching them trying to analyze me. So when I go to a press conference, I don't play their game. I play my own game. I talk about seagulls. It's not about what I say. It's the action that means something, not the words.
DH: But the action you're most famous for is jumping into the stands and kicking a fan who called you names. If the words mean nothing …
EC: I never said I was an example. I don't want to be a role model. I don't think I'm more important than somebody trying to insult me. I'm a human being. He's a human being. We're equals and if I want to kick another human being, I do it. Who is wrong? Me for acting like a man or the press for making me into a superior person who comes from another planet?
DH: Is it just a coincidence that the other most famous incident of a player losing his sangfroid also involved a Frenchman? Is there something in the water in Marseille, where you and Zidane grew up, that turned you both into excitable boys?
EC: There is nothing wrong with Marseille. We both came from immigrant families who worked very hard so we could play football. Marseille gave us a good education about life.
DH: Have you ever talked to Zizou about his head-butt in the 2006 World Cup final?
EC: No, we don't speak about these things. He's younger than me, so I have not spent much time with him. I think the craziest thing he did in the World Cup final was the way he took the penalty kick. That is what I prefer to remember, not the head-butt.
DH: Zidane has since said that he's sorry for his cheap shot. Do you have any regrets about what you did at Selhurst Park?
EC: Yes, I regret not kicking him harder. We are not all saints. I know there are some players who take their image very seriously.
DH: Yes, I believe you'll be working with one on the Cosmos. Fellow by the name of Pele. He's the honorary chairman of the club, and he takes this role-model business very seriously. On the other hand, the Cosmos' "international ambassador" Giorgio Chinaglia is more like you. He doesn't care what people think of him as long as he's winning trophies.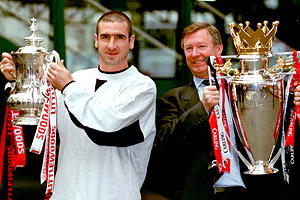 AP Photo /Peter Wilcock/PAEric Cantona helped usher in a golden period for Manchester United in the 1990s.
EC: Pele and I are very different personalities. And I know about Giorgio from watching the film about the Cosmos, "Once In A Lifetime." I am not worried. I don't think we all have to be the same person. One of the great things that Ferguson did at Manchester United and still does is to make sure not everyone is the same. He wants to have strong personalities, which is important to win games, but look at the difference between Beckham and Keane or Neville and Solskjaer. I know many managers who want everyone to be the same because that is easier, but I like players who are not afraid to be themselves. What is most important is to make them feel comfortable, to give them the confidence so they feel free to express themselves. It works not just in football, but in life.
DH: What happens, though, when players become so confident they feel they are bigger than the team? Ferguson let Keane and Beckham go when he thought they had crossed the line.
EC: If you feel they are no longer right for the personality of the team, then you get rid of them and find others. But if I had a choice between strong personalities and someone who never says anything to upset the manager, I take the one who thinks for himself.
DH: There is so much money in the game today that there are far more players who are motivated by their bank accounts than in your day. What did you think, for instance, of Wayne Rooney threatening to leave United if he didn't get a pay raise to $300,000 a week?
EC: I have no problem with players taking their share, because without players you have no game. But money cannot be your motivation. If the money is crazy, you can go play for another team. But the demands don't always come from the player. There are people around him who are trying to manipulate him. I think the question we have to ask the players at the Cosmos Academy is "Why do you want to play professional football?" Do you want to be a great player, or do you want to become rich and famous? What is your dream? If you just want to become a professional and make money, I don't want you on my team. But if you want to become the best player in the world and score a goal in the last minute to win the game, then I will help you become that. Me, when I was 4 years old, it was my dream to play with the best. When I got older, they paid me to play, but I would have played for nothing. I didn't become a football player to become rich. Yes, rich as a person. Trophies. Memories.
[+] Enlarge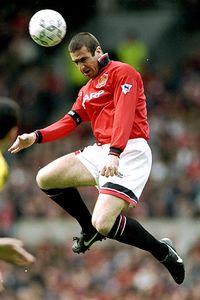 Shaun Botterill/Getty ImagesHeads up: Cantona played for United from 1992 to 1997, scoring 82 goals.
DH: With so many of the world's big clubs, including Manchester United, piling up massive debt, are you concerned about the future of the game?
EC:What I think is a shame is that people from lower backgrounds can't afford to go to the stadium anymore. These are the real fans of football. The game is in their blood. Football is not for rich people. Sure, rich people love football, but it is not such a big part of their life like it is for the working class. I think clubs should make a quarter or half of the stadium where the tickets are not expensive, where these people don't have to make a big sacrifice to go to the game. It's their children who will grow up to be the great professional players, not the children of rich people.
DH: What kind of game do you envision the Cosmos playing?
EC: When Johan Cruyff was coaching Barcelona, one of his players was Pep Guardiola, who now manages the team. Guardiola was not big and strong and when Barcelona was playing Mallorca, he went up against Miguel Angel Nadal [Rafael's uncle], who was tall and powerful. Cruyff said to Guardiola, "Don't jump with him, because you will have no chance to win the ball. Try to realize where the ball will be going and be there. Think ahead. Anticipate." Clever tactics like that. Cruyff is an inspiration to me. When I was a kid and he was a player at Ajax, I wanted to play like him. Controlling the game. It's all about Johan Cruyff.
DH: If it's all about Cruyff, why don't you add him to your stable of legends in the Cosmos front office?
EC: Because now we have Eric Cantona.
David Hirshey has been covering soccer for more than 30 years and has written about the sport for The New York Times, Time, ESPN The Magazine and Deadspin. He is the co-author of "The ESPN World Cup Companion" and played himself (almost convincingly) in the acclaimed soccer documentary "Once in a Lifetime."