Commentary
Cue the I-told-you-so's
[+] Enlarge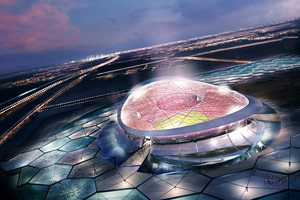 Qatar 2022 Illustration/Getty ImagesQatar has promised us state-of-the-art stadiums for the World Cup, but it said nothing about arresting reporters.
As I sit down to write this column, I find myself grateful not to be in Qatar. And probably not to be setting foot in the place for at least another decade or so. Because for what I'm about to write, I would get in trouble. The press is not free in Qatar, which ranks 121st on the 2010 Press Freedom Index.
Censoring your own press is one (unacceptable) thing, but to crack down on international media coming to take a look at your country ahead of a tournament you moved heaven and earth to land is quite another.
Earlier this week, two Swiss television journalists said that they were in Qatar to report a story. In spite of a promise from Qatar's foreign service in Switzerland that they would be free to do so, they were arrested and interrogated. A Swiss ambassador had to step in. They were fined by a judge without being made aware of the charges and their camera equipment was confiscated and not returned to them for 13 days.
Cue the I-told-you-so's.
When Qatar pleaded with the world to let it host the 2022 World Cup, it promised that all would be grand and on the up-and-up. We would all hold hands and skip across the blooming meadow below a rainbow whenever we weren't at the world's finest soccer games in even finer stadiums, which would be given to the needy after the tournament.
With one promise already broken, the question reemerges: Why did FIFA want a World Cup in Qatar?
But while pondering the above, the opposite question is even more pertinent: Why should Qatar want the World Cup?
And that's where I'm at a loss.
There are five major incentives to stage a World Cup:
1. Money
While popular opinion believes the contrary, it's incredibly hard to stage a profitable World Cup. FIFA will make plenty, of course, but the host country almost always finds itself in debt when it's all said and done. From the looks of it, Qatar isn't likely to put this tournament on a shoestring budget -- far from it. Regardless, it's hard to believe that a fabulously wealthy nation like Qatar would seek profit from something like a World Cup anyway.
ESPN FC on Twitter
Don't miss a moment of the latest soccer coverage from around the world. Follow us on Twitter and stay informed. Join »
2. Infrastructure
World Cups are a really good excuse to levy some taxes and get the political apparatus behind infrastructural upgrades for your country, like your railroad network, airports and facelifts to your cities. South Africa was able to accelerate the development of its communications network by decades. But Qatar has all the infrastructure it requires. And its government doesn't need a seminal event like the World Cup to get its politicians to budge on this kind of expenditure, since it can pretty much do as it pleases. For the World Cup, the airport in Doha will be trebled in size. This makes no sense for Qatar. The airport is as big as is necessary to meet the Qataris' current needs. Making it bigger will mean that once the tournament has come and gone, two-thirds of it will be superfluous. This is true for all major upgrades to infrastructure in Qatar.
3. Happiness
As was explored in the book "Soccernomics," World Cups make local people happier. But in Qatar, in addition to press freedom, forced labor, gender equality, capital punishment, gender issues, gay rights and religious freedom remain major issues. And non-Muslims are forbidden from eating and drinking in public during the Ramadan fast and alcoholic consumption is highly restricted at all times. The distribution of wealth is incredibly lopsided, with unfathomable riches for few and poverty for most. So it's tough to imagine that this will be a World Cup organized for the benefit of the people.
4. Image
World Cups can work wonders for a country's image. South Africa came away from hosting it in 2010 with a gargantuan PR-boost that might one day, through tourism, repay the country for the billions it spent on the tournament. By staging a spectacular World Cup and showing themselves as the most gracious of hosts, the South Africans left a good impression on virtually all visitors. Whether Qatar will accomplish the same is questionable. Unlike in South Africa, there is very little to do in Qatar, and few places to eat. If visitors are likely to spend their time in Qatar bored and desperately hot, they aren't likely to ever return. Or tell their friends to go. And incidents like the one with the Swiss TV crew aren't exactly going to encourage folks to book their next vacation in Qatar.
5. Develop your game
This was the major driving force for the U.S. to make another bid. But Qatar has never seemed terribly bothered about putting together a competitive national team. Sure, it tried to poach Barcelona coach Pep Guardiola, dangling a net annual salary of almost $30 million in front of him, but to no avail. Qatar has never made noises before about becoming a major soccer nation.
In sum, none of the usual incentives for hosting a World Cup apply to Qatar. So why was it so adamant that it be awarded this tournament? In its bid, Qatar spoke of building a bridge between the Western world and the Arab world, and putting on the most spectacular World Cup of all time. But what exactly does Qatar get out of all of this? It's long since shown to be capitalist enough not to act merely in service of the greater good.
I just don't get it.
Leander Schaerlaeckens is a soccer writer for ESPN.com. He can be reached at leander.espn@gmail.com.
Contributing writer, ESPN.com
Leander Schaerlaeckens is a contributing writer for ESPN.com. He has previously written for The Guardian, The Washington Times and UPI.