Commentary
The future of U.S. soccer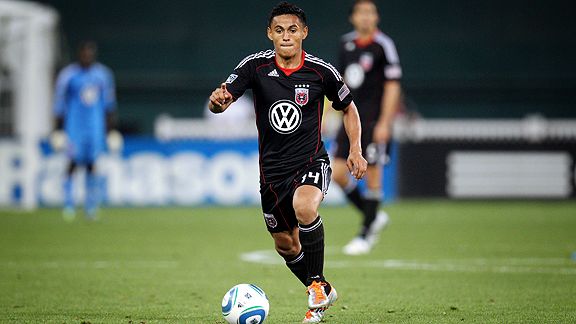 Ned Dishman/Getty ImagesWe can expect MLS academies to start producing more prospects, such as D.C. United's Andy Najar, at the expense of the college game.
It behooves any country with serious aspirations on the world soccer scene to entrust the development of its young players to the pros. To the country's professional clubs, that is. Like in most endeavors, privatization tends to lead to more efficiency, and Major League Soccer's nascent academies are slowly but very concertedly wresting youth soccer away from the traditional avenues. At the start of the 2011 MLS season, there were 33 MLS academy products on the league's rosters.
As with most American sports, a soccer education historically flowed from little leagues to clubs, to high school, to more clubs to colleges and finally to the pros. In other countries, elite players are being scouted from the age of 5, enter the academies of pro clubs from age 6 and stay within the same framework until they either wash out or make it to the senior team.
The U.S. is beginning to see the value of the other approach. MLS academies have become ubiquitous within the league -- all 18 MLS clubs have one; the New York Cosmos, which hasn't even been let into the league yet, has two -- and are increasingly well-funded, with budgets ranging from $500,000 to $1 million a year each. They don't generally accept players younger than 14 or so, but as the league's infrastructure grows, the academies will drastically alter the American soccer structure. And in so doing, they will also create all kinds of issues in the coming decades.
Once the growing pains have receded, MLS academies will offer superior training to young players, attracting a vast majority of the good talent. It's easy to see the benefit: Academies play year-round and free of charge; draw the best coaches from a shallow pool; and offer role models, a professional environment, exposure to the pro game and stability for developing players.
ESPN FC on Twitter
Don't miss a moment of the latest soccer coverage from around the world. Follow us on Twitter and stay informed. Join »
Virtually all MLS academies are completely free of charge from the day a player enters them until he signs a pro contract, is dropped or leaves for college. While costs are covered, there is no financial compensation of any sort for academy players, so they retain their full NCAA eligibility. But it's still a bargain, when you consider that traditional club travel teams can run a family's tab into five figures per year.
But most of all, the academies offer stability.
"One of the problems [with American youth soccer] is that we have kids bouncing around all over the place," U.S. Soccer youth technical director Claudio Reyna told me last year. Kids frequently switch youth clubs, join travel teams, transfer to other high schools, all in pursuit of better soccer. But, said Reyna, "that turnover needs to calm down a little bit. It's better for the development of a kid if they're at one place in the same sort of comfortable environment, rather than move around."
The rise of the pro clubs' academies is already having repercussions for the high school game, as pro academies look to protect their investments. "Our academy players cannot play for their high schools," FC Dallas spokeswoman Leigh Anne Gullett said. "It's to keep them from overtraining or picking up injuries. They already train and play a lot for the academy without adding another team commitment."
D.C. United has been telling its academy players also representing their high schools that United has to come first. Eventually, the club will ban high school soccer for its academy members. "We will get to a point eventually where our players have to commit year-round to D.C. United," said general manager Dave Kasper. "And we're not far away from that."
But it's the college game that could suffer the most as academies become the most popular avenue for players. College soccer, while still the main source of American-raised talent to MLS, is inefficient in preparing players for the pros. "The promising players in other countries are entering into the first or reserve team [of a professional club] by that age," said former UNC standout and U.S. national team defender Eddie Pope. "Our players don't get enough playing time in college. There is a lot of downtime [because of NCAA regulations] that could be used to practice. I experienced that personally when I was in college and played against Argentina's U-23s, and those guys were professionals at that point and they just beat us off the field."
It's quite conceivable that college soccer will eventually become largely irrelevant as a breeding ground for MLS. With more talent opting for MLS academies and choosing to forgo college scholarships to stay with the club and try to earn a contract, the quality of the college game will dwindle.
"In the short term [the academies are] not going to have that big of an effect on college soccer," Kasper said. "Long-term, it's going to have a bigger effect. As academies mature, [college soccer] could be watered down to some degree."
"I do see over time that more and more of our top young players are going to come from our academies," said Todd Durbin, the MLS executive vice president for player relations and competition.
[+] Enlarge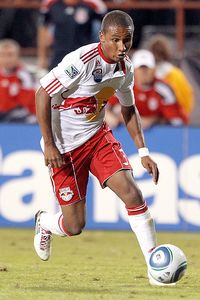 Ezra Shaw/Getty ImagesJuan Agudelo began his career with the N.Y. Red Bulls academy.
One day, college soccer's only attraction could be the chance to shave thousands of dollars off a higher education for players with little hope of signing professionally. And it may become a last chance for those who want to carve a more circuitous route to MLS.
Speaking for the league, however, Durbin believes that the college game will remain relevant. "Currently, our footprint is 18 teams," he said. "Although we're in the major markets, there are still a sizable number of players who are going to continue to play youth soccer and college soccer for at least three to five years [because there is no MLS academy nearby]. It may be at some point in time that there aren't quality players coming through college and the draft. But I believe for the foreseeable future, the [college] draft will continue to be a cornerstone [to MLS]."
And, said Durbin, "The reality is there are only going to be so many players coming from our academies to our first teams, so a number will go on to college." As a consequence, he said, this could actually raise the level of play for NCAA soccer.
But the arguments of the college apologists will eventually become outdated. MLS will expand further, covering more territory. And the plan is for academies -- which can currently cull talent from a radius of 75 miles from their stadium (plus two out-of-area players not in anybody else's radius) -- to expand that recruiting zone. European boarding-school style arrangements for players from far away are inevitable; the Vancouver Whitecaps and Real Salt Lake already have them.
Furthermore, as academies start producing a higher percentage of the first team's roster, there will be less talent left over for colleges. Yes, the college game could get better, but the gap with the pro-level talent will also get bigger. From an MLS club's standpoint, signing homegrown players after the required 12-month minimum spent in the club's academy is already more attractive than going through the draft, since academy products labeled as homegrown who make the 10-man supplemental roster but not the club's 20-man senior roster don't count against the salary cap. They also have good value in the market, since a homegrown player who is traded -- the way Tristan Bowen and Josh Janniere have been -- retain their homegrown status for their new teams, too. And these players will likely also have a higher success rate, since they're from the area, have been around the pro game and have a better understanding of its prerequisites and pitfalls.
You can see how this will play out. The college game will dwindle and the MLS SuperDraft will become more or less obsolete, a tool useful only to grab some bodies for the reserve squad or to sign the lone late bloomer. This means one of the league's all-American tools of ensuring the parity, or equal opportunity, it so cherishes -- funneling talent to weaker teams -- will be rendered impotent.
Durbin counters that this effect will be modest, since "teams will always have the ability to go to the international marketplace and find and sign players." But the foundation of a healthy club's roster will be made up of homegrown players, as bringing foreigners into MLS is a laughably inexact science.
Ultimately, no prospect who is serious about becoming a professional would favor high school and college soccer over an academy. And it's worth noting that the two most lauded prospects in MLS, Andy Najar and Juan Agudelo, came straight from academies and skipped not only college but most of their high school careers, too.
Club soccer, high schools and colleges will be what remain for those that didn't make the cut of an MLS academy. And while this will be decidedly to their detriment, it will ultimately serve the greater good of the American game.
Leander Schaerlaeckens is a soccer writer for ESPN.com. He can be reached at leander.espn@gmail.com.
Contributing writer, ESPN.com
Leander Schaerlaeckens is a contributing writer for ESPN.com. He has previously written for The Guardian, The Washington Times and UPI.