Commentary
Luke Rodgers' sudden impact in N.Y.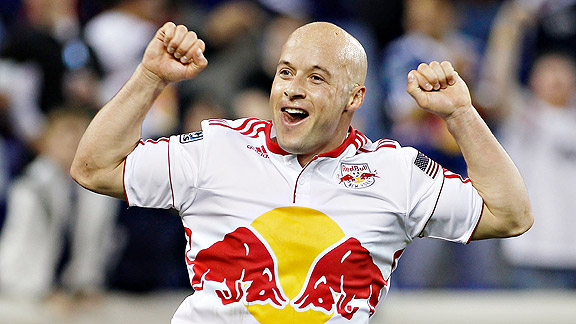 Mike Stobe/Getty ImagesLuke Rodgers has added some strength and speed to the Red Bulls' attack.
HARRISON, N.J. -- Luke Rodgers tears about the field sure of purpose, either oblivious or indifferent to the firestorm he set off by daring to call out U.S. soccer's golden boy, Landon Donovan, for his in-game crimes against morality last week. And this from a guy with an English police record severe enough that it took the better part of a year to convince the U.S. government he wasn't a menace to society.
Yes, the New York Red Bulls have a new firebrand striker, the sort of man whose temperament is really only suited to soccer.
Rodgers, 29, is hard to miss, even though he's only 5-foot-7. He bears a striking resemblance to the "Austin Powers" character Mini-Me, a bald, bullish yet savvy forward who has honed his craft toiling in the mediocrity and anonymity of the English lower leagues. He has deceptive strength and quickness for his stocky, muscular frame, lurking for chances in the shadow of the last man and barreling into opponents even if winning the ball is a mere pipe dream. Rodgers squirms, muscles and wrestles past defenders. He is a worker in a team of technical players, a much-needed sailor among captains.
In a surprising 3-2 home loss to Chivas USA on Sunday, Rodgers did all of the above. He also got shoved down after beating Chivas defender Heath Pearce into the box, earning his side the penalty that made it 2-2 in the 34th minute.
[+] Enlarge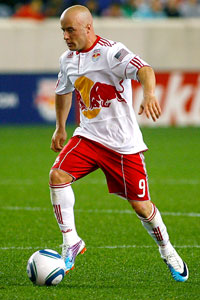 Andy Marlin/Getty ImagesSudden impact: Luke Rodgers has three goals -- two of which were game winners -- so far this season for the Red Bulls.
"He's a busy guy," Pearce said. "He's running all the time. He's kind of that blue-collar striker who just makes the hard runs, makes the dirty runs and opens up a lot of room for other players as well as creates his own space. Even though he's small, he's got an engine and he never turns off. There were times when I was looking for a break in the game and he just kept on going."
Typically, in the 93rd minute, with the Red Bulls frantically pursuing an equalizer, Rodgers threw himself at a ball scampering just past the far post, knowing full well that he would be slamming violently into the post. When he did, he got right back up and renewed his pursuit of a goal.
"It really, really hurt, but I think because my adrenaline was so high, I didn't really feel it," Rodgers said in the locker room after the game, wearing a gold watch and a sparkly belt over designer jeans, a T-shirt and some white tennis shoes. "But tomorrow it's gonna hurt, you-know-wha'-I-mean?"
It's a fruitful style. Before being signed by the Red Bulls at long last in January, Rodgers spent 5½ seasons in League 2, England's fourth tier; four in League 1, the third tier; and one in the fifth, amassing 111 goals in all. So far this season in MLS, he has three goals (two of which were game-winning shots) and an assist and has kept mega-prospect Juan Agudelo out of the lineup, who has yet to fully recover from a preseason injury.
"It's quite strange how quickly I've settled in," Rodgers conceded.
That quick adaptation has been a boon for others, too, who have fed off his hard work. Like Thierry Henry. Since the two formed a full-time partnership up front five games ago, the once-sputtering French star has bagged five goals and three assists.
"We do find him a lot," Henry said with a grin, when asked if Rodgers made his life easier.
But when Rogers steps off the field and his adrenaline high recedes, his fiery nature doesn't follow suit. There was the time in 2002 when he physically confronted an opponent in the parking lot after a game. And then there was the girl whose face was ravaged by an errant firework set off by Rogers in 2003. In 2009, Rogers was arrested for his involvement in a fracas in a nightclub.
Six teammates who were asked about Rodgers' checkered past said they didn't care.
"He's a great guy to have around," defender Tim Ream said. "He's a little spitfire. He says what he thinks, and he plays hard. He fits right in with his jokes and the things he has to say and the way he carries himself."
[+] Enlarge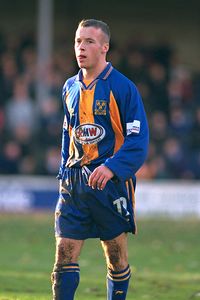 Allsport UK /AllsportRodgers in action with one of his former teams, Shrewsbury Town, back in the day.
"I love Luke Rodgers," said eccentric goalkeeper Bouna Coundoul. "He's the type of guy who is going to fight from the beginning until the end. He can create chances out of nothing. There's few forwards in this league who follow all the chances until the end [the way he does]. When he plays against you, he's a headache, because he keeps knocking, knocking, knocking, until he gets something out of it. I love playing with him -- a nice guy to have on your team."
As a testament to their affection for him, Rodgers' teammates bought him a Mini-Me doll, which sits above his locker.
The men in charge of the Red Bulls' player policy also have a deep appreciation for what Rodgers has to offer.
"Normally you don't go to League 1 or League 2 in England to get a striker for MLS," said head coach Hans Backe, who coached Rodgers for seven months during his short spell in charge of Notts County late in 2009. "But it was more getting the striker who would be a pain in the ass for every center back in the league because of his work and his passion and his movement, and he was the player I felt would fit in well in the MLS."
Backe had been trying to add Rodgers to his squad since his contract expired last summer. But Rodgers' criminal record threw a wrench into the plans. "When I went down to get my visa it got denied, and I had to phone [Backe] and tell him I hadn't got it," Rodgers said. "I thought that would be it then. But he said, 'No problem, I'll get on [the phone with] the attorney.'"
ESPN FC on Twitter
Don't miss a moment of the latest soccer coverage from around the world. Follow us on Twitter and stay informed. Join »
It took until January for the visa to come through. In the interim, Rodgers re-signed with Notts County. But he was so keen on joining Backe in New York that Rodgers had a clause in his contract that would allow him to go to the Red Bulls if he received his visa.
The feeling was mutual, as Backe was intent on signing Rodgers, believing that the player's troubling track record belied his actual personality. "The way I learned [about] him at Notts County, he was a very nice guy," Backe said. "I can't say that I was concerned."
"We weren't worried about his reputation at all," said Erik Soler, general manager of the Red Bulls. "He did a couple of stupid things when he was younger. He had been unlucky a couple of times, but there was no risk for us at all taking him here. Hans was very adamant that this would be a great player for us, and he's been ever so right."
Backe didn't much care about Rodgers' Donovan-aimed invective, either. "I don't bother," he said. "He has the right to do it if he wants. I don't think it was too bad. That's the character he is."
Rodgers plans on bringing his girlfriend, young daughter and twin brother over from England to live with him as his supporting cast and hopes they will stay long-term. "His situation is very different now," Soler said.
And if you ask Rodgers, he feels his rap sheet isn't fair anyway. "I keep reading how I've been involved in seven bar fights, but it's very rare that you'll catch me out drinking," he said. "I got in one bar fight because the doorman punched the girl I was with. Ridiculous. That's the only reason I did what I did. Nine out of ten men would react the same way I did, I'm sure. I know everyone likes to add a bit of sugar to the story, but that's the only bar fight I've been in."
Rodgers has the look of a man who has long since given up on trying to convince people that he isn't what they say he is. "There's nothing you can do about it, is there?" he said. "I just get on with it. It doesn't bother me."
He won't change who he is, or what he says, or how he says it, even if it leads to a depiction of him that he feels is distorted. Which probably means his thick Midlands accent will go untarnished. And for that, defender Carlos Mendes is grateful.
"I think the accent is pretty amazing," Mendes said with a smile. "And that's the only reason why I like him, because half the time I don't know what he's saying."
Leander Schaerlaeckens is a soccer writer for ESPN.com. He can be reached at leander.espn@gmail.com.
Contributing writer, ESPN.com
Leander Schaerlaeckens is a contributing writer for ESPN.com. He has previously written for The Guardian, The Washington Times and UPI.