Commentary
U.S. faces a tough Jamaican side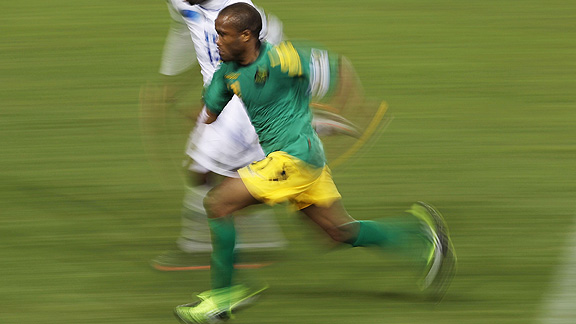 Al Bello/Getty ImagesDane Richards' blinding speed gives Jamaica a formidable weapon against the U.S.
After one solid, one lackluster, and one unconvincing performance in the 2011 CONCACAF Gold Cup group stage, the U.S. faces its most formidable foe yet in Jamaica in their quarterfinal bout on Sunday (3 p.m. ET, Fox Soccer).
On Tuesday, the U.S. failed to win its group for the first time in Gold Cup history. It had previously beaten Canada 2-0 before losing to Panama 2-1 and couldn't muster more than a 1-0 victory over Guadeloupe in a wretched showing of offensive inefficiency -- or ineptitude, if you prefer. While its opponents failed to put a single shot on the U.S. frame, the Americans got 19 opportunities to tee off on the Guadeloupe goal, getting nine of those efforts on target.
And that inability to level a completely unintimidating side begets a considerable nervousness about facing Jamaica, which has thundered through the tournament, winning all of its games.
Jamaica has not always been a paradigm of a national team program, having appointed a new manager 12 times between March 2000 and June 2009. But since Theodore Whitmore was appointed for his third time two years ago -- without the interim tag at long last -- a newfound stability has reigned. In the group stage of this Gold Cup, the Reggae Boyz beat Grenada 4-0, Guatemala 2-0 and Honduras 1-0, making it one of just two teams, along with Mexico, to take all nine points available and the only side that hasn't conceded yet. And keep in mind that against Honduras, one of the stronger teams in the tournament, Jamaica rested six regulars.
Jamaica features an experienced, deep and dynamic squad that is well organized, positionally sound and supremely athletic. And whereas previous incarnations of this team, rebuilt after the 2009 Gold Cup, were prone to giving away possession, this squad takes care of the ball and knows how to finish out a game, as it demonstrated in the second half against Honduras when it withstood long spells of pressure.
It plays a complex 3-5-2-ish system that is sometimes hard to recognize as such. And one that Whitmore and most players are loath to explain. "KFC never gives out its secret [recipe], so I never give out mine," Whitmore said with a chuckle.
What to watch for
Jamaica's speedsters up front and in midfield, led by New York Red Bulls winger Dane Richards, who is Jamaica's most dangerous man up front or in the hole, have a tendency to drift to the right of the field, creating a difficult overload situation for the defense. Against the U.S., that puts them in the jurisdiction of the Yanks' weakest position -- left back. Whoever is tasked with doing battle with Jamaica's speed there, most likely Jonathan Bornstein, will need considerable help from the rest of the defense. But beware, Jamaica's left wing back, Demar Phillips, the second-quickest man on the team behind Richards and the author of both of Jamaica's goals against Guatemala, is liable to blaze up the other wing, jumping into a potential gap created by the overload. -- LS
Close scrutiny reveals that only the three center backs and a holding midfielder in front of them are chained to their spots for Jamaica. The rest of the team -- two marauding wings backs, two more central midfielders and two forwards -- is free to drift and swap positions as it pleases. It looks and feels like a Caribbean-flavored version of the Dutch house-style of the 1970s. "We're playing Total Football right now and no one is assigned this one position," confirmed captain and Sporting Kansas City defender Shavar Thomas. But while the Jamaicans like to keep the field wide, rather than build up the play slowly through a target man, they prefer breakneck interchanges in the midfield, leading inevitably to a through ball for somebody to run onto. This maximizes the scorching speed of nearly all of their players.
"It really works for us with the personnel that we have," said forward Ryan Johnson. "It puts us in a natural position so we can cover for each other fairly easy because we all have good speed. And the formation we play allows us to each give of us an assignment and a good amount of space. There's a lot of switching positions and overlapping, and it's exciting soccer to watch and fun to play."
If it is employed as efficiently against the U.S. as it was in the group phase, the Americans will want to brace themselves for a difficult afternoon. Jamaica has excelled in precisely the same areas where the U.S. has struggled -- quick passing and hard-to-mark position changes.
Jamaica's active wing play and use of through balls down the middle will occupy much of the time of U.S. wingers, most likely Landon Donovan and Clint Dempsey. The Reggae Boyz will also force central midfielders Michael Bradley and Jermaine Jones (assuming they get the start) to sit deep to help shield the Americans' slow defense. This could result in yet another game in which the U.S. doesn't get much going by way of attack because it has little offensive-minded presence in the middle of the park.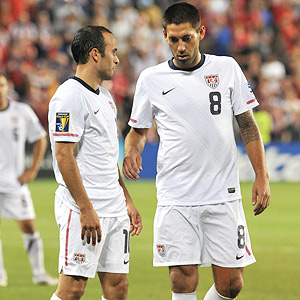 Al Messerschmidt/Getty ImagesJamaica's active wing play will put a lot of pressure on Landon Donovan and Clint Dempsey.
Look for the U.S. to try to exploit the gap that sometimes occurs behind Jamaica's central midfielders when they push forward and make sure that Donovan and Dempsey, or their replacements, keep Jamaica's wing backs busier than they keep them.
Jamaica, which has set a semifinals target for itself, will be eager to dethrone one of the region's superpowers and announce its return to prominence after years of futility. "This is the game that we want to play," said Johnson, who, like many of his teammates, played college soccer and is now in Major League Soccer, in his case the San Jose Earthquakes. "We finally got our chance. We feel confident that if we put the right performance out there, we will be victorious."
Truth be told, if Jamaica can keep the U.S. on its heels with its aggressive approach, there's every chance of that happening.
"It's going to be fun, man," said Johnson.
Yes, but probably not for the U.S.
Leander Schaerlaeckens is a soccer writer for ESPN.com. He can be reached at leander.espn@gmail.com. Follow him on Twitter at @LeanderESPN.
Contributing writer, ESPN.com
Leander Schaerlaeckens is a contributing writer for ESPN.com. He has previously written for The Guardian, The Washington Times and UPI.