Commentary
Time to give Pia Sundhage some credit
Updated:
July 11, 2011, 4:39 PM ET
By
Ravi Ubha
| ESPN.com
DRESDEN, Germany -- When things go wrong, blame the coach. It's easy and happens in every sport.
After the U.S. suffered a 2-1 upset loss to Sweden last week at the Women's World Cup, Pia Sundhage was understandably in the firing line. Why did Sundhage stick with Amy LePeilbet at left back? Should striker Abby Wambach have been replaced by the fresher legs of impressive newcomer Alex Morgan? The debates lingered.
[+] Enlarge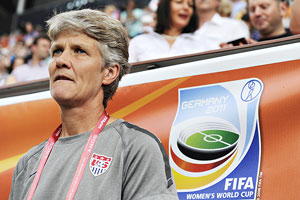 Odd Andersen/AFP/Getty ImagesU.S. head coach Pia Sundhage has been the picture of cool during this topsy-turvy Women's World Cup.
Fast-forward to the Miracle on Grass on Sunday, when the U.S. defeated Brazil after a penalty-kick shootout, and no one's questioning the stoic coach. Yes, Wambach and Hope Solo rightfully received much of the plaudits, but let's not diminish the Swede's role.
It's time to give a coach some credit.
Sundhage's lack of panic, even with her team down a player midway in the second half of Sunday's game, laid the foundation for one of the most memorable, inspiring rallies in World Cup history. "She gives us a positive vibe," Shannon Boxx, a mainstay in central midfield, said Monday at the team hotel in Dresden. "It's been nonstop since she's been here. Always positive, look for the positives -- and I think we did when it came to overtime."
World Cup goes viral
Women's soccer is a hard sell in the U.S. But it seemed that just about everyone back home took notice of Sunday's quarterfinal win over Brazil at the World Cup. Actor Tom Hanks tweeted, "I LOVE these women!" while NBA behemoth LeBron James offered up a "congrats ladies!" on Twitter. Green Bay Packers quarterback Aaron Rodgers also piped in. "Amazing game," he said via Twitter. "Now let's get the cup ladies!!"
Highlights of the penalty shootout victory were shown at Yankee Stadium on Sunday, and two key contributors, striker Abby Wambach and goalkeeper Hope Solo, appeared on "Good Morning America" on Monday.
"It's pretty cool and fun to hear that the big names you watch and idolize are watching women's soccer," midfielder Shannon Boxx said. "I think you're hearing, 'I've never watched a soccer game before, but now I'm watching them.' We're here to play and have fun ourselves, but we're also here to promote women's soccer."
The U.S. display won over the locals, too. Unlike the Brazilians, there were no dives or remonstrations with overmatched referee Jacqui Melksham. Chants of "USA, USA" reverberated around the Rudolf-Harbig-Stadion in Dresden by game's end, almost like a home game. Rightly or wrongly, five-time world player of the year Marta was even booed.
"We won them over because we were resilient, played the game fair and never died," winger Heather O'Reilly said. "I think people respected us." -- Ravi Ubha
The U.S. didn't dwell on the referee's performance, no easy feat given the incorrect decisions made by Aussie Jacqui Melksham, who was downright incompetent. The Brazilians were the ones wasting energy with play-acting, which was not smart in a game of such magnitude. It would have been all too easy for the Americans to hang their heads, but they kept fighting. All the while, their head coach was the model of composure and confidence.
Sundhage, by her own admission, always has been calm, someone who loves life and finds it difficult to get angry. She takes a measured approach at halftime when not pleased with the display of her team or a particular player. "Very often I throw them a lot of questions to make them aware of what we need to do in the second half," said Sundhage, a stalwart up front in her playing days with Sweden. "I just say, 'These [few] things are important.' Then I throw them another question."
Sundhage laughed heartily when it was pointed out that she prefers throwing out questions instead of boots that hit star players, à la Manchester United manager Alex Ferguson. "These three years I think I've been pissed maybe three times [in her three years in charge of the team]," Sundhage said.
"I think she has to tell us she's pissed so that we know that," Boxx said. "Otherwise, she'll walk away, and then we're like, 'Uh, she's probably mad at us right now.' She doesn't really show us, but later on, she'll say, 'I was really mad at you guys.'"
But Sundhage's demeanor was only one of the reasons the U.S. mounted the comeback. Amid Sunday's chaos, it was difficult to remember that Sundhage made some productive tactical moves. Shortly after central defender Rachel Buehler was dismissed for apparently taking down Marta, Sundhage shifted from four at the back to three, risky given the space it opens. From then on, however, the U.S. picked up its pace, not content to sit back, soak up pressure and pray for penalties.
"Pia did a great job," Boxx said. "Afterward, the players talked about how well she knew what she wanted to do and got us to do it. It worked."
Sundhage's substitution in the 55th minute ultimately changed the match's complexion. One winger, Megan Rapinoe, came on for another, Lauren Cheney, and the blond wonder produced one of the balls of the tournament when she set up Wambach with a precision pass for the 122nd-minute leveler.
ESPN FC on Twitter
Don't miss a moment of the latest soccer coverage from around the world. Follow us on Twitter and stay informed. Join »
Wednesday's clash with France will bring its own challenges, but Sundhage won't be overawed. That much we know.
London-based writer Ravi Ubha covers soccer and tennis for ESPN.com. You can follow him on Twitter here.
2011 Women's World Cup
Which team will be holding the trophy after the final on July 17 in Frankfurt? Tune in to ESPN or ESPN3 to find out.
Women's World Cup
Date:
June 26-July 17
2011 champion:
Japan
Where:
Germany
Topics:
Women's World Cup
SUNDAY
SATURDAY
FRIDAY
THURSDAY
WEDNESDAY
TUESDAY
MONDAY
SUNDAY
SATURDAY
NEWS
MORE COVERAGE