Commentary
Move over, soccer moms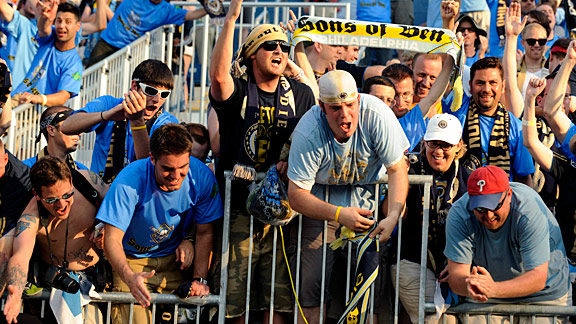 AP Photo/Barbara JohnstonFan groups like the Sons of Ben, made up mostly of young, city-dwelling men, represent a considerable turnabout in MLS's core demographic.
PHILADELPHIA -- In the River End of the Philadelphia Union's PPL Park, the air is thick with that primitive soccer musk of beer, sweat and smoke bomb. All around you are the Sons of Ben, 1,600 strong on a Wednesday night, singing, drumming, drinking, chanting, jumping, cheering, serenading and jeering in deafening unison.
"We're the best-behaved supporters in the league ... when we win," they sing to the tune of "Coming 'Round the Mountain."
"We're the biggest bunch of bastards when we lose ... if we lose."
During the game, the Union fall behind 3-0 and then 4-1 to the New England Revolution in the first half. The Sons of Ben keep their ruckus at fever pitch, even as frustration mounts. In the second half, the Union stage an improbable comeback and even have several chances to win before settling for a 4-4 draw. Afterward, the Union players openly marvel at their own fans' patience. "Amazing," said midfielder Freddy Adu. "They never gave up. We really build off of that. They helped us tonight tremendously."
---
Over Major League Soccer's 16-year history, hard-core fan groups like the Sons of Ben have grown from novelty, in places like Washington, D.C., Los Angeles and Chicago, to ubiquity, defining recent expansion markets such as Philadelphia and the Seattle Sounders, Portland Timbers, Vancouver Whitecaps and Toronto FC. The fan groups, made up mostly of young, city-dwelling men who don't yet have families, represent a considerable turnabout in MLS's core demographic. In the early years, the league marketed itself to soccer moms from the suburbs, the polar opposite of the crowd that has now become the face of its fan base.
[+] Enlarge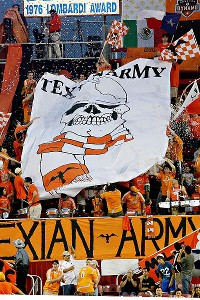 Thomas B. Shea/Getty ImagesThe Texian Army cheers on the Dynamo against Real Salt Lake.
"I think the league evolved," said MLS executive vice president Nelson Rodriguez. "The culture of the sport [itself] and the cultural relevance within the United States has evolved." He concedes that MLS may have miscalculated its original marketing strategy. "We very well may have underestimated the potential of that [younger, male] demographic."
The league says it is happy with its new base. "We are thrilled by the increasing number of passionate and noisy fans attending our games," said Rodriguez. But he added that "providing the opportunity for a safe and enjoyable experience for all fans -- young and old, new and experienced -- is of the utmost importance to MLS." Many clubs have found reconciling the new crowd with the old one to be a tricky proposition. Families have taken issue with some of the language used by the fan groups. Strides have been made, though. The Union have worked at putting like-minded fans together. The team gives prospective season-ticket holders a questionnaire on how they prefer to consume a game, which helps it identify the most suitable section for them. "This year we've heard less complaints than last year," said Sons of Ben member Justin Lee. "I believe that the soccer moms are starting to get us."
The Sons of Ben are an excellent example of a fan base helping define a club and altering the league's demographic. In January 2007, three Philadelphians set out to land an MLS franchise for their beloved city. "We were kind of fed up with the fact that Major League Soccer wasn't in the fourth-biggest city in the country," said one of the founding members, David Flagler. "It just seemed kind of wrong, so we thought of everything we could do within our limited resources to help make it happen."
They named themselves after fellow Philadelphian Benjamin Franklin. Their acronym: SoB. "That was half-intentional," Flagler admitted with a grin. "We're not going to say that it wasn't in the back of our minds when we came up with it."
The SoB started showing up at other MLS teams' games, singing to New York Red Bulls fans that even without a team they had just as many trophies as they did. "We were just annoying people," said Flagler. Within nine months, their membership had mushroomed to 500 as they campaigned online, lobbied politicians to pledge funds for a stadium and signed a petition that doubled as a pledge to buy season tickets. They collected 6,000 signatures in two months and delivered them to a senator and MLS.
[+] Enlarge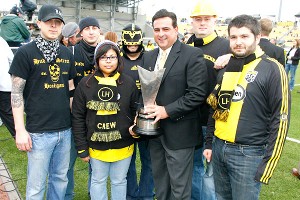 Greg Bartram/Getty ImagesMembers of the Hudson Street Hooligans, La Turbina Amarilla and Crew Union join Columbus GM Mark McCullers in posing with the Supporters' Shield in 2008.
On Feb. 28, 2008, Major League Soccer announced the addition of the Philadelphia Union. The SoB refuses to take credit. "I think eventually there's a Union," said Bryan James, SoB's first president. "But I think our existence and persistence helped smooth a lot of the rough edges."
MLS said the presence of a pre-existing fan base is a major factor in the team-allocation equation. "It's undeniable that the Sons of Ben had a very direct impact on how Philadelphia was perceived as a potential market and a potential club," said Rodriguez.
"They did make a great case for putting a team in Philadelphia because they were loud and they showed that the team would be supported," said Union CEO Nick Sakiewicz.
By the time the Union kicked off their first game in 2010, the Sons of Ben had 3,700 dues-paying members who occupy their own place at home games -- the sections abutting the Delaware River, dubbed the River End. Although membership is down to 3,100 in the Union's second year -- attributed to a common sophomore year drop-off in interest -- the SoB has evolved into a tightly coordinated group that serves both as a hard-core fan club and an umbrella organization for off-shoots.
---
When you hang around the Sons of Ben at a pregame get-together, you're struck by their diversity. Like many MLS fan groups, the SoB is made up of people who gravitate to alternative lifestyles. Members sport tattoos, piercings, studded denim jackets, heavy black boots, kilts and everything else not for sale at the Gap. They are inclusive and tolerant, making for a sweaty cauldron of genuinely lovely and accepting people.
"The Sons of Ben is such an eclectic group but faction-less, because we're all here with a common interest, to support the team," said Kate Hynes, who works for a law firm in downtown Philadelphia. She wears horn-rimmed glasses but, sitting in a folding chair amid the 20- and 30-somethings, insists that at 56 she's not the oldest member. She discovered pro soccer in 2006 and joined the SoB in 2008. "I had my deposit down on seats before we had a name for the team," she said. "Coming here is my oasis in my desert of stress. I have a teenage daughter, a blind 94-year-old Alzheimer's father, five cats, a three-legged dog, a house, two cars and a full-time job -- this is my escape."
"This is the most unique group of people I've met," said Lucas Murray, a 30-year-old journalist and member. "There are people who have come together for this team that otherwise never would have been friends. It's quite remarkable."
MLS has essentially become the pet league of the counterculture. Perhaps what makes MLS attractive to people outside of the mainstream is that the league is still an unconventional pursuit, its own subculture of sorts. But the biggest draw is its interactivity. Trevor Machinia is a 25-year-old with buzzed hair, a piercing through his septum and earrings that stretch the penny-sized holes in his earlobes. He's been coming to Union games for over a year and became an SoB member shortly after. "I'm a huge fan of hard-core music," he said. "And I like to be involved at shows and I think that you can really come to a soccer match and get involved in a way that you can't in any other sport."
"The European environment of the game attracts a lot of people," said SoB president Matt Ansbro. "They can't go to a Phillies game or a Flyers game and do the things we do here."
---
Hard-core fan groups regularly interact with their MLS clubs and have established good relationships, save for a few exceptions. Ansbro says he talks to the Union's front office two or three times a week to run SoB initiatives by the club. "Anytime we've wanted to do anything," he said, "we've talked to them and they've given us a lot of leeway."
In MLS, fans shape their own game experience. At the SoB's request, the Union have no mascot or cheerleaders and there's no club-sponsored crowd entertainment -- no tinned music, no big-screen games, and no sing-alongs. "They don't force any type of fan interaction," said Ansbro. "They leave everything to us to create."
Hard-core fan groups
To say the Sons of Ben are unique would be doing an injustice to many devoted fans around Major League Soccer. Ranging from the pioneering groups like D.C. United's Barra Brava, the Chicago Fire's Section 8 and the Galaxy's L.A. Riot Squad to modern-day bastions such as the Timbers Army and Emerald City Supporters, Major League Soccer now has 101 known supporters groups. They number anywhere from a dozen or so members to more than 3,000 strong. The Chicago Fire lead the league with 14 recognized bands of hard-core groups. For more information on the league's fanatical supporter groups, click here.--LS
The Seattle Sounders were keenly aware that the fans held the key to their success. "When we started, we knew what we wanted to be," said Gary Wright, the Sounders' senior vice president. "We wanted to bring the world's game and what's different about it to this region -- and what's different about it is the fan culture." They've let their fan club, the Emerald City Supporters, foster a game experience similar to that at legendary English grounds and have pulverized MLS attendance records, averaging 36,173 per game in 2010. "I don't think people come to see the ECS, but I think it's definitely a big part of the Sounders' success," said Emerald City Supporters president Gregory Mockos. "MLS used to sell the game that was played on the pitch and solely that, but now they sell the entire match-day experience. It's decent football and a good time in a hip crowd that's into it. We contribute to that product. Do people come for the atmosphere? Most definitely. People in Seattle know the Sounders fans are crazy and that you have to be crazy to watch with them."
Unlike in Europe, where hard-core fan groups frequently butt heads and force showdowns with the clubs they support, MLS and its fan groups are aware of their symbiotic relationship. MLS fan groups, by and large, get considerable input into their clubs. The Union adopted the SoB's blue for their own colors and then let SoB suggest changes and sign off on its own stands when PPL Park was built. "As they became more organized and relevant in the soccer world in Philadelphia," said Sakiewicz, "we felt it was smart to reach out to them and let them design their own section."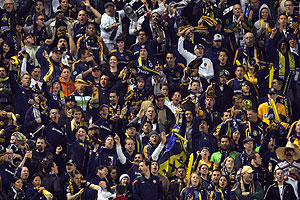 Victor Decolongon/Getty ImagesThe L.A. Riot Squad is one of the oldest hard-core fan groups in MLS.
The Portland Timbers let their fan group, the several-thousand-strong Timbers Army, design its own stand in the refurbished Jeld-Wen Field and included it in discussions on stadium rules. When the club advertised ahead of its inaugural season, the Timbers opted to depict well-known Timbers Army members on their billboards. The Timbers killed the logo they originally designed for their MLS incarnation, after decades in other leagues, because the Army hated it. And at the Timbers' first home game in MLS, the front office opted to forgo a professional singer to perform the national anthem, but set up microphones in front of the Army sections and let the fans sing the anthem in unison on national television. "Potentially, 4,000 people, uncoached and unaccompanied, anything could have happened," said Dave Hoyt, president of the 107ist, the Army's nonprofit arm. "To allow us to take something on of such a high level of difficulty was very gutsy by them and very appreciated by us."
The Timbers even allow the Army to keep a commission on the tickets it sells. That has helped the Army raise $200,000 this season, which it spends on its own operations, replenishing its merchandise stock (sold nearly at cost) and charitable efforts such as sprucing up Portland's soccer fields.
The Seattle franchise let season-ticket holders decide on the team's name. The Emerald City Supporters, who had stood behind the minor league Seattle Sounders, disliked all three of the options -- the Seattle Alliance, Seattle FC and the Seattle Republic -- and successfully campaigned to retain the name "Sounders" through a write-in vote. The club now has fans on advisory boards, too, and will let fans vote on whether general manager Adrian Hanauer is retained after the 2012 season.
In all, said Flagler, "MLS is much more fan-friendly than any other major league in the country."
And since they feel validated as a part of the club, MLS fan groups are inclined to reciprocate when the club's interests are at stake. The "You suck, a------" chant, which has become ubiquitous in MLS when opposing teams take goal kicks, was starting to cost the Union advertising dollars. So the club reached out to the Sons of Ben and persuaded them to try to get rid of it. "I took a lot of heat for it," said James. "But it had to be done." Today, the chant is hardly ever heard at PPL Park.
---
Unlike some of their counterparts in Europe and Latin America, the MLS hard-cores take a strong stance against fan violence. "We don't promote any of that crap," said Ansbro. "We're all here to have fun. If you start swinging, we're going to throw you out." The group's elders command respectful behavior. When a member threw a plastic soda bottle onto the field during the Revs game, he was immediately reprimanded.
"Everybody feels very comfortable in the stadiums in the U.S.," said French Union forward Sebastien Le Toux. "The Sons of Ben know their limit and in Europe sometimes they don't know when to stop."
The River End at PPL Park is so safe Ansbro brings his 10-year-old son and has plans to take his 5-year-old daughter in a few years. Fellow SoB member Lee says he's holding off for another year until he'll bring his 18-month-old daughter. "Because her lungs haven't developed enough for the smoke bombs," he said. "That's the only reason."
The Sons of Ben say they have known one violent incident in their existence. On July 29, a non-SoB member, who bought his ticket in the River End through a broker, threw a beer bottle onto the field. Others members pointed out to elders who it was. The man got annoyed and started punching people around him, including a woman. He was banned for life from the stadium. The man who had sold him the ticket turned out to have purchased a SoB membership for the sole purpose of buying season tickets in the River End -- only SoB members are eligible -- and selling them online at a markup. He was removed as a member. The SoB is working to stamp out ticket resales to brokers.
---
Eventually, as MLS and its fan base mature further, the quickly swelling groups of young hard-cores could push out the families. "You're seeing that shift," said Lee. Most clubs have several fan groups, many of them with more than 1,000 members. And they are getting more serious, traveling to away games en masse (the SoB plans to travel to New Jersey for an Oct. 20 matchup with the rival Red Bulls).
ESPN FC on Twitter
Don't miss a moment of the latest soccer coverage from around the world. Follow us on Twitter and stay informed. Join »
"I think it's getting to that point now where the model for the league in the beginning was soccer moms and dads and kids," said New England Revolution goalkeeper Matt Reis, who was heckled mercilessly during the game against the Union. "It's kind of gotten to where it's the 18- to 35-year-old demographic and they're looking to get people that are a little bit more rowdy and a little bit more passionate. I think that's how it is in the rest of the world and hopefully that's what soccer in this country is going to get to. It shows people care about it. It's a Wednesday night game and they have a great crowd here -- they're into the game, they're chanting, they're yelling. I think it is good for the game."
This would indeed point to an alignment with the rest of the world. The Union, of course, maintain that they aren't seeking to push out families in favor of a young audience. "When our fan groups like Sons of Ben grow to the point that they are taking other sections of seating, we will know it is time to expand the seating capacity of the stadium," said Sakiewicz. "We pride ourselves on having a section of seating available to a variety of fans. So whether you are a supporter group member, a fan that is part of a corporate group, youth soccer club or a soccer family we will always make a point to accommodate a section of seating."
That said, standing in the River End during a game, you can't help but be optimistic that MLS is veering toward an organic and testosterone-driven experience. That is perhaps the biggest sign of soccer's growth in this country.
Leander Schaerlaeckens is a soccer writer for ESPN.com. He can be reached at leander.espn@gmail.com. Follow him on Twitter at @LeanderESPN.
Contributing writer, ESPN.com
Leander Schaerlaeckens is a contributing writer for ESPN.com. He has previously written for The Guardian, The Washington Times and UPI.