Commentary
Freddy Adu is right on track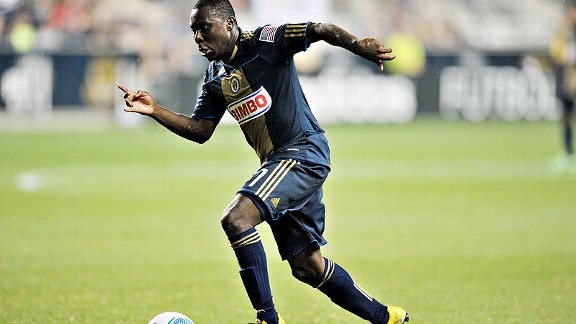 Drew Hallowell/Getty ImagesHe was anointed the next Pele at 14 before his career went off track. But Adu doesn't see it that way.
PHILADELPHIA -- The narrative of Freddy Adu is a straightforward one, right? He's the prodigy who appeared in a soda commercial alongside Pele at age 14 -- the subtext of their pairing starved of subtlety -- but never did become a soccer superstar. He's a cautionary tale of the great American hype machine.
Granted Adu's first sit-down interview since his return to Major League Soccer in August, I set off to Philadelphia in early October. I intended to write a story about a prodigal son returned home with his tail between his legs after a four-year trek through Europe, starting with storied Portuguese club Benfica and regressing acutely to the glory-famished second division in Turkey. I'd come to write about the restoration of a boy wonder, returned to his father in football, for a last crack at being the man he was supposed to be long before he was a man.
But I found something else.
---
When he was 13, Adu was anointed the next soccer great. He'd already led his Maryland high school to a state championship and was soon deemed ready for MLS, mostly on the strength of his dazzling performances in scrimmages against professionals. A deal was brokered for him to join D.C. United as the first overall draft pick in 2004 because of the club's proximity to his home. At 14, he was both a rookie and the league's highest paid player, making about $750,000 annually between his Nike and MLS deals.
And Adu was a god-send to Major League Soccer, desperate for buzz after contracting two teams in 2001 and generally flagging. At United, however, he appeared mostly as a substitute, in spite of considerable pressure on head coach Peter Nowak, who was determined to bring him along slowly. During the 2005 playoffs, Adu was suspended one game for complaining to the press about his playing time under Nowak. By the 2007 season, he had been traded to Real Salt Lake for a fresh start.
Adu starred at the 2007 U-20 World Cup that summer, instigating a $2 million transfer to Benfica. But the Portuguese powerhouse went through three coaches during Adu's first six months there, and while the first two played him regularly, the third wanted no part of him. Over the next three years, he was loaned to AS Monaco, Belenenses and Aris Thessaloniki, playing sparingly and seeing the loan cut short at every stop. Last January, Adu was loaned to Caykur Rizespor in the Turkish second division, where he played regularly, earning a surprising call-up to the U.S. national team, for which he'd played intermittently since 2006, for the 2011 Gold Cup. In August, Adu was granted his release from Benfica and, after a deal to Chivas USA collapsed, signed with the Philadelphia Union.
All the while, Adu became synonymous with talent gone to waste.
During lunch at a wonderful old bistro on Rittenhouse Square, I reminded Adu of a quote he gave to Sports Illustrated in 2003 for the article that helped propel him to fame and Next Big Thing-ness. "A lot of people have been hyped up to be great but just disappeared. I promised myself I wouldn't be one of them," he said at the time.
"And I'm not," he said now, picking through a Nicoise salad. "Obviously, everybody has their own expectations of you, but you have to have your own expectations for yourself. For me, I'm right on track."
"

Watching the [2010] World Cup from home hit me hard. Watching the guys I'd trained with for years doing so well and not be there with them, that really hurt.

"

-- Freddy Adu
My jaw nearly dropped, but the arguments he put forth over the next hour made sense. "Obviously, when I went to Europe it didn't turn out the way I wanted it to," Adu said. "I know a lot of people may look at it and say, 'Ah, man, he's not going to live up to anything and he's not going to be anything.'"
Time, it turns out, is on Adu's side. He's been through the grinder, on loan and unwanted. He's been washed up, or so we've been told. He's made poor career decisions. Remember this, though: Adu is only 22, with more experience at his age than most American players can hope for until their mid to late 20s.
And while the world was projecting Adu to become a starter for his national team at the 2006 World Cup by age 17 -- like Pele had -- Adu had a very different trajectory in mind, one that he is still on target for. "By the age of 25, I wanted to be playing in England or Spain -- and not just playing but be a regular starter for my team," said Adu. "I'm 22 this year. In three years' time, I see myself playing in one of those leagues." If that sounds like revisionist history, Adu swears he hatched this plan when he was 13. "A lot of people might not know this, but that's been my goal all along," he said. His contract with the Union will expire after the 2014 MLS season, a World Cup year, and not coincidently when he turns 25.
"I wanted to be an established regular for a team in like Portugal or France before that. That's why I chose to go to Portugal instead of going straight from here to England or Spain," said Adu, adding that multiple teams in those countries were interested, including Tottenham Hotspur. "That's how I was envisioning everything. I thought I'd spend five years there and then move on. That was always the goal but it never happened like that. I was just unlucky. I was very unlucky."
There is merit to Adu's gripe about bad fortune. He has stumbled into a succession of unfortunate situations. This arguably started with his first professional club, D.C. United. At United, he walked into a team that had won a huge heap of hardware and had a tight-knit core of veteran players who earned their accolades. "It wasn't easy for me going in being the highest-paid player in the league and getting all the attention I did as a 14-year-old and fitting in with guys who feel like they've been there and done that and are not getting that attention and that money," said Adu. "There was some problems there, definitely. It was a target on your back all the time as a kid. That stunk."
"He was the richest guy in the room the day he walked in," said Thomas Rongen, Adu's coach through six years on the U-20 national team. "There was a lot of unhealthy friction there."
[+] Enlarge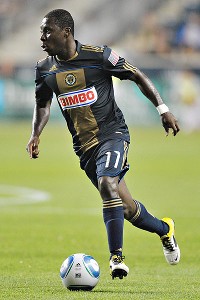 Drew Hallowell/Getty ImagesAdu started six regular-season games for the Union this year, scoring two goals.
The odd confluence of being both a rookie and United's undisputed star made for a complicated relationship with his teammates. "You're a rookie, you're expected to act and be treated like a rookie but at the same time you're also treated differently," said Adu. "Me being that young, I don't think I handled that whole thing very well as far as being like, 'Man, how is it that you're going to tell me to pick up these cones and getting on me for being a rookie and hazing me and then being all, like, we're counting on you [to win].' I think I did [get arrogant]. What 14-year-old could handle all this perfectly? Every now and then I just kind of veered off on the wrong path."
Adu also had a hard time reconciling the team's aggressive marketing of United's games as a chance to see the phenom in action while he wasn't starting. "I always had a problem with that."
Most of all, Adu bemoans never having run into a coach in Europe willing to champion his cause and allow him a margin for error. Rather than being afforded time to grow into a role, Adu said, he was expected to contribute immediately -- something he blames on his own stature and salary -- and when he didn't deliver, his development was foisted onto others through loan moves. "Going on loan all the time didn't help," said Adu. "I wish I would have just been in a place where I had a home, where I was able to develop as a player, like a lot of people get a chance to do. But some people just don't. When I got to Benfica, I was 18 years old and they were already expecting me to go out and light it up. It was never going to happen when you make such a big jump from MLS to Benfica."
By the time Adu returned home to MLS this past summer, he yearned for stability. He'd never had his own house since leaving MLS. He wanted that desperately. Ironically, it was a World Cup he didn't play in that had altered the course of his career and brought him home. "Watching the [2010] World Cup from home hit me hard," he said. "Watching the guys I'd trained with for years doing so well and not be there with them, that really hurt."
Before the tournament was over, he'd returned to Greece and was told by Aris that if he didn't take a 50 percent pay cut, he was no longer welcome at practice or games. Adu balked and from July to November scrambled to find a new club. "That whole time, I had a lot of time to reflect and think and said, 'Right now, nothing matters, I need to go play football. I don't care about anything else.' I just said, 'Freddy, you have to step it up -- you do. Because you have too much talent to let yourself drop this far and be in this situation.'"
ESPN FC on Twitter
Don't miss a moment of the latest soccer coverage from around the world. Follow us on Twitter and stay informed. Join »
So Adu swallowed his pride and decided to accept the move to lowly Rizespor, situated in the remote Northeastern corner of Turkey. "It was the hardest decision I'd had to make in my life," said Adu. "I decided to do that because all I cared about was playing at the time and get away from everything and everyone else and just focus on playing soccer. I needed that. No more distractions and just focus on getting myself back. It took a lot of maturity and guts to make that decision because I knew I would get a lot of backlash for it, but I knew I had to do it. I was looking at the big picture."
"

It took a lot of maturity and guts to make that decision because I knew I would get a lot of backlash for it, but I knew I had to do it. I was looking at the big picture.

"

-- Freddy Adu on going to Rizespor
The move worked out well. Then-national team coach Bob Bradley was impressed with Adu's commitment to his career and brought him back to the fold for the 2011 Gold Cup. Adu, who stood out in unexpected appearances in the semifinals and final, parlayed the call-up to a move to the Union, taking a pay cut to enable his return to MLS. (His 2011 salary is listed at a guaranteed $594,884 by the MLS players' union.)
That morning at practice with the Union, Adu had still looked like a boy among men -- puny, and the only one wearing long sleeves and pants on a sunny mid-60s day -- as if time had stood still on him. His baby face, virtually unchanged since he first came to prominence, save for some stubble, belied a matured body, though. Across the table at lunch, he filled out his light blue hooded sweater well, biceps bulging underneath the thin cloth. On the field, he looked as fit and explosive as ever and still capable of stopping on a dime or changing directions without breaking stride, the ball at his feet all the while. Technically, however small he was in stature, he still stood head and shoulders above his peers, dazzling a crowd of a few hundred that turned out for the open practice. But his game had taken on a new, subtle sort of maturity too. Somewhere along the way, Adu -- who at 150 pounds has gained some 15 pounds of bulk -- figured out how to position his smaller body to shield the ball remarkably effectively, once a big hole in his game.
The other knock on Adu had always been his complete disinterest in defending. "When I did go pro, the one thing that did keep me off the field is defense," Adu said. But he no longer shies away from carrying his weight once the ball turns over. "That's night and day for me right now, I've gotten so much better at that."
His vagabond tour of Europe may have seemed like a waste of time, but Adu returned a much better, well-rounded player. That was on display at the Gold Cup, when he opened up the field with a brilliant pass to Landon Donovan after coming on in the semifinals, inducing the 1-0 winner over Panama. In the final, Adu started and was the only American on par with his Mexican opponents, harboring the ball and setting up both goals in the 4-2 loss. With the Union, Adu, coming off the bench for the most part, has been an offensive dynamo, sending accurate long balls, through balls and crosses, scoring twice and even winning balls for his team in midfield.
Off the field, Freddy Adu is changed. "The most glaring difference is that his mom doesn't have to drive him to practice anymore," said Alecko Eskandarian, a teammate of Adu's on United and now the youth technical director for the Union. "Other than that, I think he's smarter, he's wiser, he's learned some life lessons through his mistakes."
Most of all, Adu is happy. He and Nowak butted heads frequently at United, when Adu felt Nowak was "picking on me," but they repaired their relationship on the 2008 U.S. Olympic team and have gotten on well since. Adu has come to appreciate Nowak's tough love and demanding style. "It's important for me," said Adu. "Sometimes I tend to take my foot off the pedal a little bit. And under Peter, that never happens."
[+] Enlarge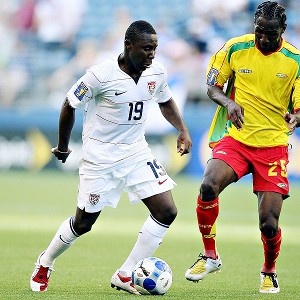 Otto Greule Jr/Getty ImagesAdu got a surprising call-up to the U.S. national team for the 2011 Gold Cup, and played well in both the semifinals and final.
Adu is now an eight-year veteran who hopes to put his meandering past in the service of his future. "I'm just happy I went through that at an early age," he said. "I've learned so much and now my career can start. Hopefully I've got 13, 14 or 15 more years to play, you know? In that way I'm very blessed, because I could be 28, 29 right now going through this. I think everything happens for a reason and all the things that happened to me -- good, bad -- I'm glad they did. It's made me ready for life, for adulthood. I completely, firmly believe I will be where I want to be from here on out."
"He's gotten all these experiences at just 22," said John Ellinger, who coached Adu during his residency with the U-17 national team in Bradenton, Fla., and again at Real Salt Lake. "So maybe the article you write when he's 30 is about how he's torn it up. At 22, you're normally out of college. Think about that, where is he compared to guys coming out of college?"
After lunch, we took a stroll through Rittenhouse Square. I asked Adu why he took this interview when he'd turned down all the others, what he had wanted to say. He stopped walking, paused, and said: "It's very important to me that people understand that I'm still so young. Don't hit the panic button on me yet."
In the tree-lined park, people shot him quizzical looks. He was somebody, that they knew -- you could see it in their eyes. They'd seen that face somewhere, but for their life, they couldn't figure out where or when. They might yet.
We said our goodbyes and Adu slowly walked off toward his house, a few blocks away. He has all the time in the world.
Leander Schaerlaeckens is a soccer writer for ESPN.com. He can be reached at leander.espn@gmail.com. Follow him on Twitter at @LeanderESPN.
Contributing writer, ESPN.com
Leander Schaerlaeckens is a contributing writer for ESPN.com. He has previously written for The Guardian, The Washington Times and UPI.