Commentary
Keys to Newcastle's surprising success
Updated:
November 2, 2011, 9:48 AM ET
By
Michael Cox
| Special to ESPN.com
[+] Enlarge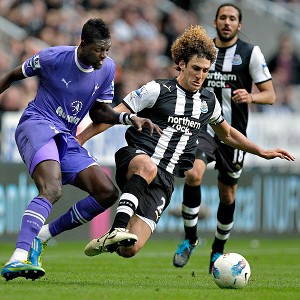 Graham Stuart/AFP/Getty ImagesNewcastle has the best defensive record in the league, thanks to the fact that its back line has been exactly the same throughout its 10 games.
In the buildup to British television's coverage of the Stoke versus Newcastle game Monday night, Gary Neville -- now a pundit, and a very good one at that -- was saying how much more difficult it is to play an offside trap in modern football, compared to when he started out. With so much squad rotation, he said, it is a lot harder to get a settled backline that works instinctively as a unit.
Newcastle is supporting his case: It currently has the best defensive record in the league, and it's also the only side whose back four and goalkeeper have been exactly the same throughout its 10 league games. Coincidence? Probably not.
There's an element of chicken-and-egg, of course, but it's hard to refute the idea that the consistency of selection has helped Newcastle defensively. With the greatest of respect to Tim Krul, Danny Simpson, Steven Taylor, Fabricio Coloccini and Ryan Taylor, none are outstanding individual players. They were all at the club when Newcastle was playing in the Championship in 2009-10 -- no Premier League side considered them good enough to take on. All have improved -- Krul, in particular, has been excellent so far this term -- but their strength comes from their performance as a unit.
Newcastle is the only side preventing the Premier League from falling into the predictability of a clearly defined top six breaking away from the pack. Six wins, four draws and no defeats leave the Magpies ahead of Chelsea, Tottenham, Liverpool and Arsenal, and only one point behind Manchester United and six shy of City. Keep this form up, and they'll finish on 83.6 points; United won the league with 80 last season.
That's overstating their case, but it's a remarkable situation for the club to be in. It's less than a year since owner Mike Ashley was ridiculed for replacing manager Chris Hughton with Alan Pardew. Since then, Newcastle has lost its main striker, Andy Carroll; its captain Kevin Nolan; the team's player of the year, Joey Barton; as well as highly rated left back Jose Enrique.
[+] Enlarge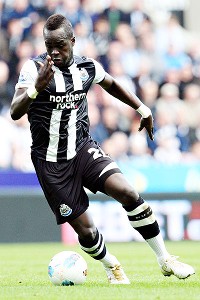 Ian Horrocks/Getty ImagesCheick Tiote, along with his teammate Yohan Cabaye, delivers the perfect mixture of combativity and creativity in the center of midfield.
Yet Newcastle's signings have been superb. In fact, its best signing has been the man in charge of signings, Graham Carr, the chief scout. He has been responsible for some extremely astute purchases across the side, most obviously the central midfield partnership of Cheick Tiote and Yohan Cabaye, a perfect mixture of combativity and creativity. Both arrived having won their league for Twente and Lille, respectively, turning down Champions League football to move to Newcastle.
Carr is incredibly thorough in his scouting for players -- Tiote had been watched for four years, he says -- and there has been a particular focus on bringing in players who will settle immediately. For a club that has often wasted money on players who never looked suited to the league -- Albert Luque and Xisco spring to mind -- it's a huge boost. Few signings have been complete unknowns. The likes of Cabaye, Hatem Ben Arfa and Davide Santon have been highly regarded across Europe for some time, and some will question why a scouting system should be praised for "finding" reasonably well-known players. But the best scouts judge adaptability and suitability, not just raw talent, which is why Carr is getting so many plaudits.
The fact that Newcastle can complete the signings of players of this caliber shows its pulling power. It boasts a packed stadium in a great city. Its signings have generally been around 24 and 25 years old, so they will have early memories of English football of Newcastle challenging Manchester United for the title in the mid 1990s, and rightly regard Newcastle as a big club.
These players have fitted into a fairly standard 4-4-2 system, which may be unpopular at the highest level, but Newcastle isn't exposed because it plays deep, stays compact and breaks at speed. Pardew doesn't open up and let opponents with more midfielders play around Tiote and Cabaye. They focus upon keeping tight -- no other side in the league has seen fewer goals in its matches so far this campaign than Newcastle's 22.
In a way, it's an untypical style for the Magpies. They were the entertainers under Kevin Keegan, but they're the pragmatists under Pardew. Yet the 4-4-2 approach with two center forwards and flying wingers recalls the days of Alan Shearer and Les Ferdinand upfront, with crosses coming in from David Ginola and Keith Gillespie.
ESPN FC on Twitter
Don't miss a moment of the latest soccer coverage from around the world. Follow us on Twitter and stay informed. Join »
Monday's performance against Stoke's aerial bombardment was highly impressive. Newcastle was good positionally, but also hardworking and brave in front of Krul. The opening goal -- which came from a long Krul clearance, then a flick-on, a cross and a headed finish -- highlighted the directness, especially important as Tiote was out injured, robbing them of his guile in the middle of the pitch.
The famous No. 9 shirt is still yet to be filled since Carroll's departure, which initially annoyed Pardew. "The criticism that's going to come from not getting a striker in has some validity to it because seven months [since Carroll left] is a long time," he said in September. But Demba Ba has proved the signing of the season so far -- eight goals in nine games -- and he arrived on a free transfer.
Can Newcastle keep it up? It faces Everton next weekend, but after the international break it will play the other members of the current top four -- Manchester City, Manchester United and Chelsea, back-to-back. A run of three games without a win is far from unthinkable, and we're yet to see how Newcastle responds to a defeat.
Pardew will surely have to rotate at some point to prevent burnout and will be relying on players with little Premier League experience. Some of them bring risks: Santon has had problems with discipline, Marveaux has had problems with injury and the recovering Ben Arfa has had a bit of both. Last week, Cabaye voiced concerns about how much some of his fellow teammates go out, a perennial problem for Newcastle. "Here in England, if you like to go out and you do not have a stable family around you, then things can soon go off the rails," he warned.
Stability is linked to success, he says. So far, that has applied to Newcastle on the pitch, as well as off it.
Michael Cox is a freelance writer for ESPN.com. He also runs zonalmarking.net.
Michael Cox
ESPN.com writer