Commentary
Dysfunction destroyed N.Y.'s season
NEW YORK -- Erik Soler, the New York Red Bulls general manager, ran onto the field. He slalomed through the scattered fragments of his team until he found coach Hans Backe. The two shared a tight, tellingly long hug. It was Oct. 20 and the Red Bulls had secured the final playoff wild-card spot on the regular season's final match day by beating a bored Philadelphia Union 1-0. Total meltdown averted.
It was nevertheless a bizarre scene. The two, imported by the club's Austrian energy drink-making owner Red Bull from Norway and Sweden, respectively, exuded the relief of having shrugged off a mighty burden. They had just taken the league's most expensively assembled team of all time, expected to romp through a weak Eastern Conference, to ... 10th place in the overall standings.
[+] Enlarge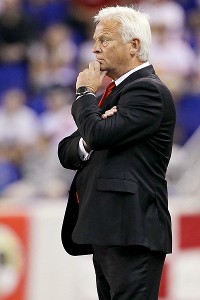 Jim McIsaac/Getty ImagesDespite his team's poor showing this season, Hans Backe says he will return to helm the Red Bulls for the 2012 MLS campaign.
The Red Bulls' season had been, as Hunter S. Thompson once described the Kentucky Derby, "decadent and depraved." Dysfunction had saturated a highly talented team. Underperformance so rampant that what would have seemed like a disaster scenario in March was promoted to the most optimal attainable outcome by midsummer in the midst of a two-wins-in-20 swoon that started May 1 and lasted until Sept. 16.
Before the 4½-month slump, the Red Bulls started the season 4-1-2, including a three-game winning streak. Then the rot set in violently. The Red Bulls wouldn't win back-to-back games again for the rest of the regular season, winning just six of 27.
Whereas the Red Bulls had played sparkling soccer in March and April, their desire to play attractively receded as an unacknowledged but tangible panic grew. This perpetuated problems. Rather than riding out a slump by getting back to the basics of a sound philosophy, Backe tinkered, traded and tampered. An already poorly constructed, Eurocentric, top-heavy, depth-starved roster was chaotically overhauled. In came, for example, attacking midfielder Dwayne de Rosario for two good prospects and a first-round pick when Backe figured he needed a playmaker. Three months later, out went De Rosario for the solid if vastly inferior Dax McCarty when Backe realized De-Ro was getting in the way of deep-lying forward Thierry Henry. The malaise was blamed on the Gold Cup and the call-up of six players to their national teams, but in truth the decay predated the June tournament. And the Gold Cup had been on the schedule long before Soler built a shallow roster.
As the slide worsened, Backe hammered on his team playing "more cynical." Quickly the Red Bulls became a route-one, long-balling team, starved of creativity or ideological substance. Only the last remnants of brilliance that Henry could squeeze out of his boots were worth watching. Veteran soccer columnist Paul Gardner confronted Backe about this "pretty crude stuff" in a news conference. Backe laughed -- "You're too harsh, Paul." But he wasn't, because the football wasn't yielding results, only sustenance. It accomplished just enough to scrape into the playoffs, just enough to keep from famishing. Tactically, the team was still shoddy, overly reliant on high balls thumped in the direction of forward dynamo Luke Rodgers. Defensively, the Red Bulls insisted on giving up early goals on blundering passes out of the back and were pathetically prone on through balls and set pieces, matters easily solved by an organization they never got right.
[+] Enlarge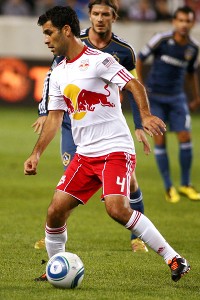 Andy Marlin/Getty ImagesRafa Marquez's lackluster season ended after he was suspended for instigating a brawl following the final whistle of Game 1 of the conference semifinals.
All the while, the atmosphere surrounding the team deteriorated rapidly, visibly eating away at chemistry. On the field, Henry moped, excoriated unworthy teammates, was sometimes heard lobbing insults at fans in the crowd and generally acted like a petulant child. Off the field, Rafa Marquez, the team's other big-money star (whose $4.6 million salary trailed only Henry's $5.6 million on the team and David Beckham's $6.5 million in all the league) called out his peers, saying there wasn't "an equal level between my teammates and I." Through his arrogance, he attempted to cover up for his own many failings on the field, where he looked lazy and wholly disinterested in his profession, unapologetically reinventing the "MLS retirement" of some of the aging stars of the league's early days.
The total lack of leadership and accountability became naked. The Red Bulls ran a closed shop. Against league rules, media access to the locker room was rescinded. Players were briefly brought out to a warmup area to explain themselves on request, and as the season wore on, many players, most notably Marquez, avoided having to justify their actions altogether by quickly making their escape after yet another lackluster performance. Rumors swirled, recently confirmed by a well-placed source, that locker room discontent was at an all-time high.
A late-season revival of sorts, when the Red Bulls won four of their final seven games, salvaged a spot in the postseason by placing 10th overall -- a finish that a year ago, before the playoffs were expanded by two teams, would have gotten them zilch. There was new, if unfounded, hope.
"It's been a rough season for us but now we're in," said the ever-optimistic Backe after the win over the Union. "We should have been out months ago, but every result in the Eastern Conference went our way. We had a relief going into the playoffs, and hopefully that gives us a mental boost. I'm feeling confident when I see our training sessions. You know that better than me, that the team that has qualified [last] the last two years has won the Cup, so everything is possible."
Except that it wasn't. The Red Bulls managed to move past a meek FC Dallas 2-0 to face off with budding archrivals Los Angeles Galaxy in the next round. New York outplayed L.A. in the opener but lost 1-0 while Marquez instigated a brawl afterward that got him suspended for the rest of the playoffs. The Red Bulls scored an equalizer in the fourth minute of the second leg, taking advantage of some poor organization before the Galaxy righted its ship. Beckham deposited a corner on Mike Magee's head that put the Galaxy 2-1 up on aggregate and then earned a penalty leading to the goal that would remove any doubt about which side would advance from the conference semifinal series. For the second consecutive season, the Red Bulls were left stranded two rounds from the championship game, falling to the league's other super club that was everything it was not: consistent, organized, clinical and functional.
In truth, things were never going to turn out well for this team. In MLS, a tight salary cap requires that you make the most of your means. A physical playing style demands cohesive, spirited teams. But the Red Bulls as a whole were less than the sum of their parts.
Of the 2011 season, Red Bulls center back Tim Ream -- who fell from grace somewhat with fans and the national team during his sophomore season -- said simply, "It's something I definitely don't want to experience again."
But Soler and Backe and Marquez and, of course, Henry all have been confirmed as returning in 2012. They might turn it around. But the rot has not been stopped, dead or diseased wood not severed from the trunk. More likely, Ream will have to live through another difficult year. Unless he does what Soler, Backe and Marquez's honor should have compelled them to but didn't and leaves the club.
Leander Schaerlaeckens is a soccer writer for ESPN.com. He can be reached at leander.espn@gmail.com. Follow him on Twitter @LeanderESPN.
Contributing writer, ESPN.com
Leander Schaerlaeckens is a contributing writer for ESPN.com. He has previously written for The Guardian, The Washington Times and UPI.