Commentary
Klinsmann still waiting for goal rush
Updated:
November 11, 2011, 10:42 AM ET
By
Ravi Ubha
| ESPN.com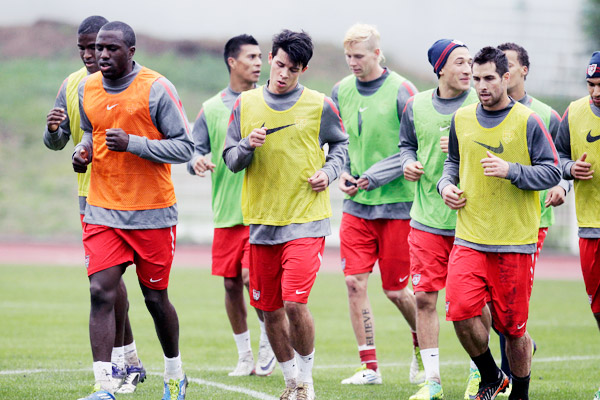 AP Photo/Michel EulerBack to the grind: The U.S. prepares to face France on Friday at Stade de France in Paris.
PARIS -- Oh, the irony. Jurgen Klinsmann was one of Germany's all-time leading scorers and sparkled with clubs such as Bayern Munich, Tottenham and Monaco. He always seemed to be in the right position in the box, and few were better on headers. But ahead of his sixth game in charge of the U.S., and a daunting one at that against France, Klinsmann hasn't yet been able to orchestrate the goal rush and consistent attacking style that American fans crave in the post-Bob Bradley era.
When Klinsmann said this week he was hoping to have coffee with one of his former managers, Frenchman Arsene Wenger, perhaps the ever-keen-to-learn California resident wanted to get a few pointers from the man who has turned Arsenal into one of Europe's most exciting teams. "We're still hoping he shows up," Klinsmann said lightheartedly at Thursday's news conference at the Stade de France. "We would love to have him come by."
Only twice has the U.S. netted under Klinsmann: in his debut against nemesis Mexico in August and last month against Honduras. Costa Rica, Belgium and Ecuador all blanked his side 1-0.
"I was a striker, so I love to see goals," Klinsmann said, turning a little more serious. "We had chance after chance [against Ecuador] and didn't score. I know it will come. I think the players are getting more and more used to what we're trying to build. They know the demand is higher at the international level. We have still a way to go, we know that, but within a very positive atmosphere."
ESPN FC on Twitter
Don't miss a moment of the latest soccer coverage from around the world. Follow us on Twitter and stay informed. Join »
Of course, Klinsmann hasn't benefited from a full squad. Landon Donovan and Clint Dempsey, for a while now the U.S.'s top attacking threats, haven't played together, and the trend is set to continue because Donovan was a late scratch from Friday's game, as he decided to spend more time preparing for the L.A. Galaxy's MLS Cup final against Houston next week. That's a blow.
Club won in this battle of club versus country. Klinsmann wasn't too happy -- the original plan was for Donovan to leave after the outing in France and skip Tuesday's friendly against Slovenia -- but wasn't about to overly criticize one of his star players, either.
The continued absence of midfielder Stuart Holden, one of the breakthrough artists of last season's Premier League with Bolton, is a shame. Holden hasn't featured in the Klinsmann era because of problems with his left knee.
Klinsmann scoffs at suggestions he doesn't possess the players to produce attractive, free-flowing soccer, the kind Germany displayed with Klinsmann directing traffic -- and Joachim Low in tow -- at the 2006 World Cup. "I think we have the players at our disposal," Klinsmann said.
"

I don't give a crap about win records. If we can play Spain, Holland, Germany, Argentina and Brazil, I would love to play them every week risking that my win record wouldn't look so good. [It's about] how the team develops.

"

-- U.S. head coach Jurgen Klinsmann
Besides the usual suspects of Dempsey, fresh off being named the U.S. player of the year for a second time, and Jozy Altidore, excelling at his new club, AZ Alkmaar, Klinsmann will look to Brek Shea for offensive spark against the French. The versatile Shea is set to train with Wenger's Arsenal, and who knows what might happen if he impresses in North London. Shea and German-born fullback Timothy Chandler have developed a fine understanding on the left side, a positive for the U.S.
There's reason to suggest the U.S. could indeed find the back of the net -- and perhaps nick a draw or better -- in Paris to slightly alter a woeful 4-16-3 record in Europe since 2000. Klinsmann, by the way, isn't too bothered about such numbers in the short term. "I don't give a crap about win records," he said. "If we can play Spain, Holland, Germany, Argentina and Brazil, I would love to play them every week risking that my win record wouldn't look so good, believe me. What's important is how the team develops and improves step by step, hopefully with a positive qualification, and plays an impressive World Cup in Brazil. That's our goal."
Meanwhile, French manager Laurent Blanc told reporters this week he was planning to play a weaker side against the U.S., beefing up the lineup when Belgium visits Paris on Tuesday. "We must protect players who are on the go for a long time and are very tired," Blanc said.
Perhaps, then, Karim Benzema, prospering at Real Madrid and happy to be free from Raymond Domenech's clutches (who isn't?) internationally, won't line up. Blanc is already without Philippe Mexes at the back, as a hand injury was the latest setback for the Milan central defender. Eric Abidal, who can play in the center or left side of defense, is unlikely to be risked after being included in Barcelona's Kings Cup squad that beat Hospitalet 1-0 on Wednesday.
A further boost for the U.S. came when Manchester City midfielder Samir Nasri -- who shone for France at the end of Euro 2012 qualifying alongside Jeremy Menez -- withdrew thanks to knee inflammation. Two more English-based midfielders, Florent Malouda and Yohan Cabaye, are nursing minor knocks, and striker Loic Remy is doubtful.
France doesn't share the U.S.'s woes in scoring, although getting goals from strikers -- apart from Benzema -- has been an issue, as Blanc has pointed out. However, Bayern Munich's Franck Ribery, a player Klinsmann knows well and has talked about this week, probably will start, and he has something to prove in a France jersey.
"It won't be easy, but these types of friendly games allow us to focus on performance," French keeper Hugo Lloris said in a news conference. "It will give certain players a chance to play and show what they can do."
Notes
• One player especially pumped about facing the French is Carlos Bocanegra, given that he spent a combined three years at Rennes and St. Etienne. "When Jurgen let us know we were playing France, I was excited," Bocanegra, now a pivotal member of Rangers, said at the news conference. "I'm familiar with a lot of their team and have played against a lot of their guys. They have a lot of players playing at big clubs around the world. These are the opponents we want and need going into qualifying next year and into the World Cup."
Bocanegra has bittersweet memories of the Stade de France. He scored for Rennes against Breton rival Guingamp in the French Cup final in 2009 but was on the losing side.
• If, as expected, Bocanegra plays against France and then Slovenia next week, he'll become the 12th U.S. player to achieve 100 caps. "I'm trying not to think about it too much because it hasn't happened," he said. "If I get on the field tomorrow and against Slovenia, I think looking back on my career it would be a great milestone. It's something I can cherish."
• Dempsey said, in his own chilled fashion, he was chuffed to be named U.S. player of the year for a second time. He won the award early this month. "It's cool, you know," he said in an interview. "You go out with the intention of just playing the game and trying to do the best you can. Any time you're recognized for doing something you love to do, it always feels good. The main focus is just trying to win games. This is the icing on the cake."
London-based Ravi Ubha covers soccer and tennis for ESPN.com. You can follow him on Twitter here.