Commentary
De-Ro still wants your respect
LOS ANGELES -- It's been a long, strange trip for Dwayne De Rosario. The D.C. United and Canada attacking midfielder was traded twice in 2011 -- from his hometown Toronto FC to the New York Red Bulls on April 1 and to United about three months later. After his second trade, De Rosario caught fire, bagging 13 goals and seven assists in 18 games, single-handedly keeping D.C. in the playoff hunt. For his heroics he was named the 2011 MLS Most Valuable Player.
The day after the announcement, De Rosario, 33, sat down for an exclusive one-on-one interview with ESPN.com in a nook of a hotel lobby in downtown Los Angeles. Draped in black from head to toe, finished off with a plaid, black-and-white beret, he spoke quietly about feeling appreciated and all that had troubled him this year.
ESPN FC on Twitter
Don't miss a moment of the latest soccer coverage from around the world. Follow us on Twitter and stay informed. Join »
ESPN.com: You're finally an MVP.
Dwayne De Rosario: "It's a great feeling. It's definitely been the highest personal honor that I've received in my professional career. It's a good feeling when you know people are really appreciating and taking note of what you do as a professional athlete."
A lot of people think it was long overdue.
I think in some respects, yes. But at the same time other guys were deserving of it.
Earlier in your career you felt disrespected because you didn't win an MVP award sooner -- true?
I thought from what I was doing in the past that sometimes I was overlooked for whatever the reason is.
You once said you thought you weren't getting MVP awards because you were Canadian.
Yeah, that crossed by mind. Definitely.
"

When I was receiving my award [for MVP] ... a lot of people were a little shocked because they still don't know some of the things I've accomplished in this league.

"

-- D.C. United's Dwayne De Rosario
You don't feel overlooked anymore?
In some areas, there's still some things that are overlooked. When I was receiving my award yesterday and at the press conference some of my achievements were mentioned, a lot of people were a little shocked because they still don't know some of the things I've accomplished in this league.
Is it harder to be appreciated when you're homegrown and have become a star very gradually, rather than some guys who come in as stars or are heavily hyped at a young age?
Sometimes kids come out of college and haven't really earned that status -- all the power to them, but it's a lot to bear. And then eventually down the road, you look back at it and compare what I have done to what he has done, and how come they're not giving me that same acknowledgement? There's guys in the league that have been continuously successful, and then you have guys that come into this league in the first year and boom, they get all the attention. It's not only me, but a lot of players look at that and they laugh at it.
The seminal moment in your MVP campaign must have been that Aug. 6 game against Toronto FC with United, when you scored three times in a 3-3 draw. That must have been satisfying.
I look at that as everything coming full circle and working its way out -- I'd done everything honestly and had been as good of a professional as I could at that club in Toronto. Things worked out with playing them with D.C. after being traded from New York. That was more the powers than it was actually me.
The powers?
The powers that we sometimes don't have control of. You could call it karma.
Speaking of karma, how are things in your quest for a bigger contract? You've been vocal about wanting more money for a long time now.
A lot of people don't know that this was an option year for me.
Your option or a club option?
It's never the player's option. [Chuckles.]
So that contract.
Thankfully -- knock on wood -- I haven't had any serious injury that could have put me and my family in a very difficult situation. I play because I love it, but I play more for my children and their future. When you have that weight on your shoulders and you're in an option year, a lot of things weigh on your mind. Next year is an option year, too, the last on my contract. D.C. came out and said they want to reward me for my efforts for their club, and I'm really looking forward to that because I think I deserve it. It's long overdue.
"

A lot of us have helped build this league to where it's at today, and a lot of us deserve not only credit but financial reward.

"

-- D.C. United's Dwayne De Rosario
Designated Player-type money at last?
Hopefully so. Hopefully so. If they want the most talented players to stay in this league, you have to reward them. For young players, you have to set a target and say, if you want this you've got to come at least close to what this guy has done and not just get everything at your feet when you haven't accomplished everything.
Are you trying to catch up for money you didn't make earlier in your career because you became a star so gradually?
Money was important for me from day one because I left school and played soccer to help my family financially. At the end of the day, you have to support your family; this is a business. And you are a marketing tool pretty much, you're a walking billboard and you have to know how to utilize that. It has to go both ways, and it can't go too much one way and you not getting the kickback. A lot of us have helped build this league to where it's at today, and a lot of us deserve not only credit but financial reward for that.
[+] Enlarge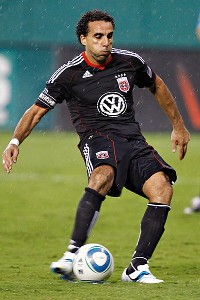 AP Photo/Luis M. AlvarezThe highlight of De-Ro's season was when he put three past one of his former teams, Toronto FC, in August.
Is money also a measure of appreciation for you?
Yes, because when you look at this league and how sometimes money's being thrown around and then you look at the accomplishments other players have done and then you look at yourself and your stats and your accolades, you have to question. You have to say, "Who's accomplished more than I have in this league?"
According to the MLS players' association, you made a guaranteed salary of $493,750? [While this already puts him in the Designated Player category, his salary was bought down with allocation money in 2011.]
Around there.
What happened in New York? One day you were the missing piece of the puzzle and the next you were gone, traded for a fraction of what they'd given up for you.
I still don't know. I just woke up one morning and I was supposed to go to my daughter's graduation, and they called and said, "We traded you for Dax McCarty." I was like, "OK, I'm not a rookie. I was at training in the morning, you could have simply pulled me aside then. It's not like you just got a call and said 'OK, we want to trade him.'" You have to be building this up, and you have to let the player know, especially a player that's been in the league for so long. And that's a big problem that I have with a lot of these teams who don't respect their players. And I felt really disrespected in New York by the way that was handled. It was handled very unprofessionally for a club that's trying to be a mega club and they're treating the players like that. That's just unbelievable. I would have appreciated it if they'd called me in and told me to my face, but to get a call in the morning -- for me, I've never experienced anything like that.
Was that Red Bulls technical director Erik Soler?
Yeah. He should have brought me in. I'm a man; he's a man. He knows I have a family, he knows the situation. He could deal with it like that.
Did that drive you on in the second half of the season?
I was very mad, I'll tell you that much. I pretty much said, "This is a joke. I've never seen this before in my life. It's the end of my career and I'm being thrown all over the place and I'm trying to look after my family." That's why I'm always telling the young kids, "Go after yours, because you never know when your career could finish."
So you moved your family twice in a three-month span?
The Toronto process we knew was coming to a head, and we were eventually going to leave. We already decided the kids were going to stay in school until the end of the school year, and then they were going to move wherever I was going. In New York, it just happened, and we weren't prepared. A week later we were supposed to have my family's stuff shipped down from Toronto. We had everything set up, and then we had to switch everything to D.C. -- change doctors, change schools, relocation, my wife's pregnant and we're moving and I can't be there to box up, it was just chaos. United has done an unbelievable job of taking care of all that stuff and paying for the expenses and making me feel comfortable, though.
You've said you were so frustrated over Toronto's refusal to give you a contract that you found it hard to give 100 percent.
The whole situation there just started off bad. You shouldn't treat professionals the way they've treated a lot of professionals at that club. That was my hometown, I knew that was my fans and I just wanted to perform for them every weekend in spite of the stuff going on off the field that nobody knew about except for my family.
"

Celtic wanted me to stay, and we probably could have built a great partnership. But instead they probably never want to work with a club like Toronto again.

"

--De Rosario
What happened with the Celtic situation, when you went on trial in the offseason and Toronto claimed you'd gone without permission?
Nothing. It was perfectly smooth, everyone knew what was happening. People were saving their own jobs and then threw me under the bus and turned the media and the fans against me. Celtic is one of the biggest clubs in the world; there's no way you're sneaking into Celtic and having a training session, it's impossible. Somewhere along the lines back home, things messed up and people had to cover for each other. I think when I went there and the fans went crazy and people had explaining to do; it wasn't properly clarified on this side and the perception was "We didn't know he was going over there." And I have the emails to prove it. I could have made that public, but I didn't. Celtic wanted me to stay, and we probably could have built a great partnership. But instead they probably never want to work with a club like Toronto again.
Toronto said no?
Yeah. After I was waiting there for five days for an answer. And that's the truth. That's not the watered-down version.
How fit are you? You'll turn 34 in May; how much longer can you go?
Right now, I feel really good. I feel like I have four or five solid years left.
Do you feel like you've found a home -- D.C. made you its captain almost straight away?
I'm happy with where I am right now. Me and the coaching staff have a real good understanding.
Leander Schaerlaeckens is a soccer writer for ESPN.com. He can be reached at leander.espn@gmail.com. Follow him on Twitter @LeanderESPN.
Contributing writer, ESPN.com
Leander Schaerlaeckens is a contributing writer for ESPN.com. He has previously written for The Guardian, The Washington Times and UPI.
Soccer on ESPN.com

Follow Soccer on ESPN: Twitter
Coverage on ESPN FC
Euro 2012 in Review