Commentary
American Samoa's dream team
Updated:
December 8, 2011, 9:41 AM ET
By
Brent Latham
| Special to ESPN.com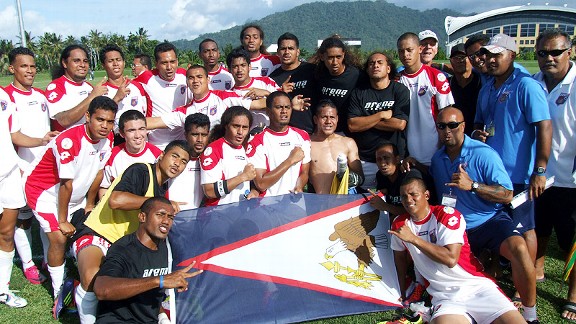 Brian Vitolio/AP Photo/Football Association American SamoaAmerican Samoa players celebrate after a historic a 2-1 win over Tonga in Oceania World Cup qualifying in November.
Earlier this year, in one of those back-room FIFA meetings you usually don't hear too many details about, U.S. Soccer Federation president Sunil Gulati sat down with officials from the Oceania Football Confederation. His goal was to help; the USSF typically offers a range of support, from clinics to technical expertise, to federations of developing nations. But there was one thing the federation of American Samoa -- a remote South Pacific island chain with fewer than 60,000 inhabitants -- needed more urgently than anything else: a head coach.
"It was actually a meeting with the federation of American Samoa and the leadership from Oceania," Gulati said. "We talked about some things that we might be able to do with American Samoa, and of particular interest to them was some coaching assistance, and that eventually led to a process not just where we would send someone over to work on some clinics, but where one of our coaches would actually coach the team in World Cup qualifying."
Gulati had some idea what that might entail from a soccer standpoint. For much of the past decade, American Samoa has been dead last in the FIFA rankings. Worse, the American territory famously held the record for futility in a FIFA match, having been walloped to the tune of 31-0 in a 2001 qualifier against Australia. That loss prompted Oceania to tweak its qualifying tournament to avoid that sort of mismatch by creating a first-round play-in for its four lowest-ranked teams. It also would have scared away any coach in his right mind. Nevertheless, Gulati thought he could help.
"It was a collaboration between Sunil Gulati and the [federation] president from American Samoa," said former U.S. U-20 coach Thomas Rongen. "[They] asked Sunil for some help, particularly in the technical area, and the trickle-down effect was that they asked several people within the U.S. soccer family if they had any interest. I was the first one to jump on it."
[+] Enlarge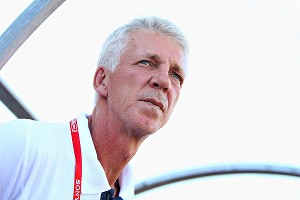 Julian Finney/Getty Images"For me it was an incredible spiritual experience," Thomas Rongen said. The players "taught me a lot about the pureness of human nature, and how to prioritize in life."
Rongen's day-to-day coaching duties with the U-20s had ended in April, after the team missed out on qualifying for the World Cup. But he's still employed by the USSF as a scout. That didn't stop him from becoming the coach of American Samoa.
"We lent his services out to American Samoa. He's still under contract to U.S. soccer," Gulati said. "Thomas's responsibilities with the U-20 team had finished, and it seemed like a good thing to do. He had experience at FIFA world championships at a high level. It's not a very usual thing [to loan out a coach], but it ended up being a good program for everyone involved."
In late October, Rongen packed his bags and headed for the South Pacific, unsure of exactly what to expect in an unfamiliar region, coaching the worst international team in the world. "The more I started looking into it, the more I found out about the challenges," he said.
With Oceania's first round of qualifying for the 2014 World Cup quickly approaching, Rongen at least had some idea what he would face on the field. The American Samoans had never managed even a point in a World Cup qualifying match. In three previous qualifying attempts, marking 12 years of international soccer futility, American Samoa had scored two goals. But if Rongen understood the sporting challenge, he had little idea what surprises awaited in the South Pacific.
"

I had one of the only pickup trucks on the island. The guys would get up at 4:30 a.m. from sleeping on the floor, and I would take eight guys to the tuna boats. [They would] work their tails off for eight hours, come back in the afternoon, and get their butts kicked again by me.

"

-- Thomas Rongen
"Walking in the first day for the first meeting," he said, "there's literally a very good-looking what I thought female walking into the room. And I thought she must be a team administrator, or a massage therapist. And I actually said to her, 'What's your position?' And she said 'center back.' I came to find out that it was a fa'afafine, a third-sex transgendered, who became one of our more important players. So that was an interesting cultural thing, totally accepted in this culture -- dress every day as a woman, date men, but play sports with other males -- and probably became our best defender. So those things are pretty amazing, quite frankly."
Then there were the challenges of dealing with an amateur team whose players earned their livings off the field.
"I had one of the only pickup trucks on the island," Rongen said. "The guys would get up at 4:30 a.m. from sleeping on the floor, no mattress, in one big room, and I would take eight guys and go down to the docks to the tuna boats. [They would] work their tails off for eight hours, come back in the afternoon and get their butts kicked again by me, and always with a smile on their face, for the love of the game, because they're amateurs. I had a high school senior score the winning goal against Tonga. What team in the world has a high school senior starting for the men's national team?"
With three weeks to work, Rongen could be forgiven for thinking that he faced an insurmountable task. The Samoans were behind in all aspects of the game, but the coach chose to work first on the mentality of a team that had no idea what it felt like to win.
"They literally would go into games thinking, 'If we can keep it under 10, then that's great,'" he said. "So a very defeatist attitude, knowing that they would lose games going in. So after two days I really had to figure it out real quick and change the game plan, in terms of what my priorities were, because I only had three weeks. I worked on the mental side as much as I did on the technical, tactical and fitness side, and was able to put a team on the field that became competitive, that believed that they could win a game. I think they had reached a point where I could look them in the eyes before the game and they actually thought that they could compete with those teams. That was a big thing."
"One of the things that we got from him was training every day," said Brian Vitolio, a press officer from the American Samoa federation. "We basically trained very hard every day, and he changed it that we should rest days, off days. He showed that practice sessions, whereas we had it two hours, he brought it down to an hour, hour and fifteen at most, but very intense training. The rest of the time was concentrating on mental training."
"The players were open to his teaching methods," Vitolio added, "and they really took to it because they could see the improvements that he was making. He motivated them to learn faster."
To the surprise of just about everyone else, American Samoa did more than compete in its opener against Tonga. A 1-0 win banished the losing streak to the annals of history, and sparked a furor of media attention around the world. A tie in the second match against the Cook Islands put American Samoa into position for an unlikely ticket to Oceania's second round.
But it would need a win on the final match day over host Samoa. Despite a game effort, the storybook ending wasn't to be for Rongen and his team.
"After the win, which was considered a miracle obviously, we should have beaten Cook Islands," the coach said. "But we tied them 1-1. We were the better team. And then Samoa, in the end, deserved to go on. They were the better team. But at 0-0 we hit the post, and we could have actually won that game."
Despite another elimination for American Samoa, Rongen managed in his brief spell in the South Pacific to earn a little respect for the soccer of a country known for exporting American football players, and some attention for a part of the world in which the game is rarely in the headlines.
"[OFC General Secretary] Tai Nicholas was also very excited about this," Rongen said. "He told me that 'We got 380,000 hits on our Oceania webpage prior to the American Samoa-Samoa game, and that's 360,000 more hits than we've ever had for one event. So you've raised the visibility and standard of Oceania.' And that's the vice president of FIFA."
The ripples reached the U.S. as well: "The whole thing got quite a bit of play here," Gulati said, "because of the win and because previously they had the record for the largest loss."
The team's exploits under Rongen, however modest, also will have helped to erase the memories of that embarrassing record loss. But for all the success on the field, the coach says he'll take with him other lessons from the South Pacific.
"You walk away and you say 'We made great strides in all the components,'" Rongen said. "It was all part of a pretty amazing personal journey. I tried to learn the language; I sang songs with them that they sing before every meal. They're deeply religious. I was born and raised an atheist, and for me it was an incredible spiritual experience, too. Those people taught me a lot about the pureness of human nature, and how to prioritize in life. You can't put a price tag on that, obviously."
Or a score line -- whether it's 31-0, or one simple victory by the minimum difference.
Brent Latham covers soccer for ESPN.com. He previously covered sports throughout Africa for Voice of America radio and now works as a soccer commentator for a national television station in Guatemala. He can be reached at brentlatham@ymail.com.
ESPN Insider
Brent Latham is a soccer commentator who covers the youth national teams for ESPN.com. Based in Guatemala, he has attended youth World Cups from Peru to Egypt, and places in between.